Florida is a swing state where the republican President Donald Trump won in 2016 by 1.4% or by 134.000 votes.
The Florida voters have a good handle on the 2 major candidates running for the US Senate seat in November 2018, who are the republican Governor Rick Scott and the current democratic Senator Bill Nelson.
This recent poll indicates that the voters do not have a good handle about the candidates who are running for the Florida governorship which means the candidates need to figure out ways to improve their name recognition in a positive way. (See poll results below.)
Governor Rick Scott
Before the most recent widely covered national story regarding the 2/14/18 mass shooting tragedy at a Parkland, Florida high school were 17 souls were lost, there have been 2 significant events since November 2016 starting with Hurricane Irma which landed in Florida in September 2017 and then the Interior Secretary Ryan Zinke who announced in January 2018 that Florida's coastal waters were open for oil exploration.
The biggest fubar that Governor Scott did regarding the 2/14/18 mass shooting, was to prematurely condemn solely the FBI which did drop the ball by not following up on tips from individuals which were shared with the FBI's tip line, but that was before he was faced with the reality that many Florida governmental employees were also found wanting.  However, he has ordered a comprehensive investigation as to how Florida governmental employees did their parts to drop the ball. Currently, he is in the process of attempting to legislate some solutions to prevent future mass shootings. The high school students who were victimized by this have become savvy political activists to force lawmakers to do what is right versus their continuing to kow-tow to the extensive lobbying powers of the NRA (National Rifle Association).
Hurricane Irma
Overall, the republican Governor Rick Scott earned good marks for his handling of this storm, Hurricane Irma in September 2017.
The problem with this issue of extreme weather storms is that the republican governor does not believe in climate change science which translates, that if he is in denial he will not prioritize infrastructure improvements for Florida to mitigate against the inevitable negative consequences in Florida.
Oil exploration off Florida's coat line
In April 2017, President Trump signed one of his  executive orders that aimed to allow for off shore oil exploration off the US coastlines. In real time, Governor Scott was mum on this subject.
But then in January 2018, the US Secretary of Interior Ryan Zinke announced his plan to open up more coastal areas in Florida for drilling.
It was then that Governor Scott worked with the president's administration to fix it where Florida is no longer under consideration for oil exploration projects off the coast of Florida.
But the devil is in the details. The Governor Rick Scott did agree to allow for seismic testing which is code for oil exploration testing.
Governor Scott's past record on oil exploration
As per a January 10, 2018 PolitiFact report, "Gov. Rick Scott's Full Flop on oil drilling" by Amy Sherman:
Scott favored drilling in 2010
PolitiFact Florida has tracked Scott's stance on oil drilling since his first campaign in 2010. On his campaign website then, Scott called for more drilling offshore but said that the state's beaches must be protected.
"As we explore the expansion of domestic drilling in the U.S. we must ensure that we have sound policies in place that ensure the companies drilling are doing so in an environmentally sound way and adhering to the strictest of safety standards. … Rick supports expansion of nuclear power, use of alternative fuels and off-shore drilling."
A Scott campaign spokeswoman told PolitiFact Florida in May 2010 that his campaign had initially posted his position before the Deepwater Horizon explosion in April and later updated it to add the phrase about the environment and safety standards.
During that summer, Scott reiterated his call for safe offshore drilling when meeting with Panhandle fishermen. Scott said drilling wouldn't happen in the "foreseeable future. …
Scott never took significant steps toward his promise to explore expansion of drilling in a safe, environmentally sound way. We rated his promise broken in 2013.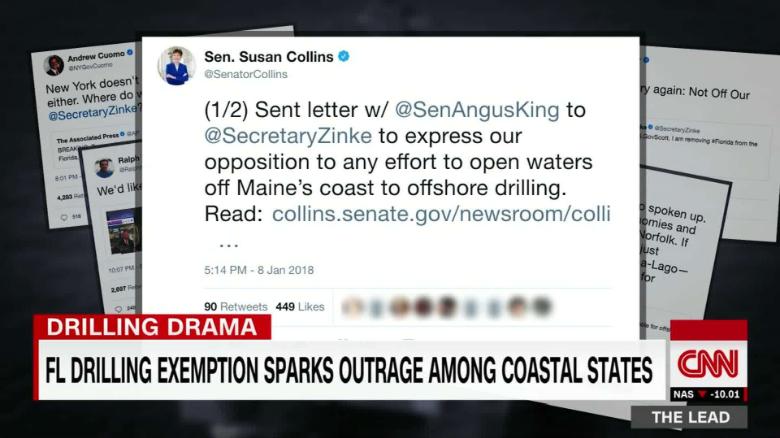 On Jan. 4, (2018) Zinke announced a proposal to open up more coastal areas in Florida, California and the Atlantic to drilling.
Scott expressed his voice quickly on Twitter Jan. 4, saying that he opposed drilling:
"Based on media reports, it is likely that the Department of the Interior will consider Florida as a potential state for offshore oil drilling – which is something I oppose in Florida. "
Governor Scott's Statement on Trump Administration's Plan on Offshore Oil Drilling:
Over the next few days, Scott had multiple meetings with Trump administration officials.
On Jan. 9, when asked what caused the Trump administration to change its position on Florida drilling, Zinke said, "The governor."
Scott praised the Trump administration for removing Florida from consideration.
Oil and gas exploration doesn't seem to be entirely off the table, though. Zinke said seismic testing still would be allowed, but no new drilling. Susan Glickman, Florida Director of the Southern Alliance for Clean Energy, said the only reason to allow seismic testing is to find places to drill.
Our ruling
During his first campaign for governor in 2010, Scott called for drilling offshore. After the Deepwater Horizon explosion, he added language to his campaign website to state that he wanted drilling done in an "environmentally sound way and adhering to the strictest of safety standards."
During his first term, Scott took no meaningful steps to expand drilling.
But when Trump's administration proposed an expansion of offshore drilling Jan. 4, Scott said he opposed the idea and sought a meeting with Zinke. That rejection sounds different from his stance when he first ran for governor in 2010 and he was open to drilling.
We give Scott a Full Flop.
On February 27, 2018, Quinnipiac University Poll published its latest polling results for the State of Florida, "Nelson On Plus Side Of Close Florida Senate Race, Quinnipiac University Poll Finds; Trump, Rubio Have Big Negative Scores, Scott Is Positive"
The U.S. Senate campaign in Florida is a real horse race out of the gate as Democratic incumbent Sen. Bill Nelson has 46 percent to Gov. Rick Scott, the Republican challenger, with 42 percent, according to a Quinnipiac University Poll released today (2/27/18).
Sen. Nelson leads 46 – 33 percent among independent voters and 87 – 7 percent among Democrats, while Gov. Scott takes Republicans 86 – 7 percent, the independent Quinnipiac (KWIN-uh-pe-ack) University Poll finds.
"There are wide gender and racial gaps, as men back Scott 49 – 38 percent, while women back Nelson 53 – 35 percent. White voters go Republican 49 – 40 percent. Nelson leads 74 – 15 percent among black voters and 46 – 37 percent among Hispanic voters."
"Scott, who has a seven-year history of negative approval ratings, gets a positive 49 – 40 percent score, by far his highest score ever."
"Independent voters are divided 44 – 43 percent, as Republicans approve 80 – 11 percent and Democrats disapprove 69 – 23 percent. Men approve 56 – 36 percent, with women divided 43 – 44 percent. Approval is 55 – 37 percent among white voters and 46 – 38 percent among Hispanic voters. Black voters disapprove 60 – 28 percent."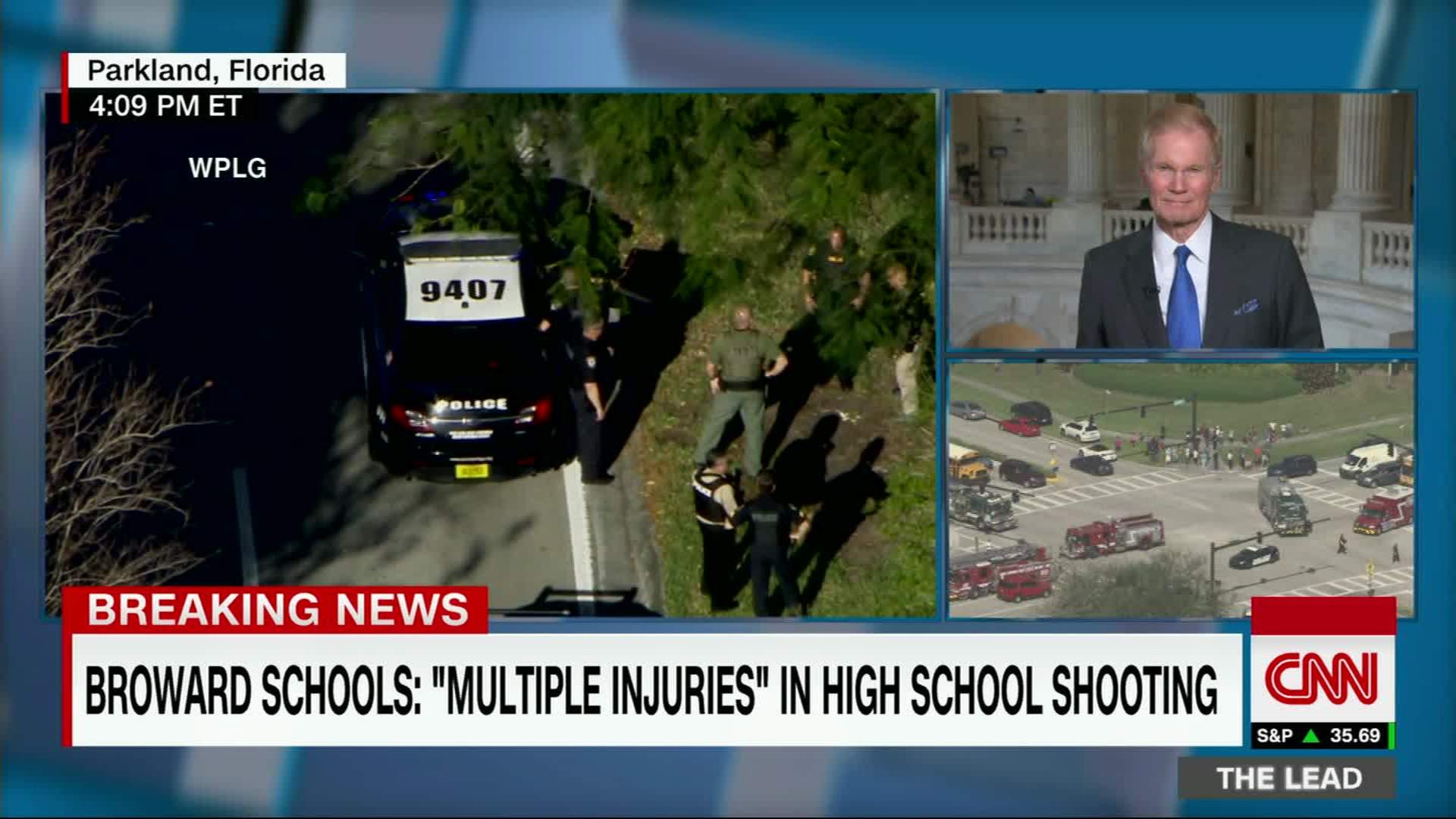 "Florida voters approve 48 – 34 percent of the way Nelson is doing his job, consistent with his scores over the last 15 years. Independent voters approve 48 – 31 percent."
"Florida's Senate race features probably the two best-known politicians in the Sunshine State. A race between two-term Gov. Rick Scott and four-term incumbent Sen. Bill Nelson makes this unusual in that most voters probably already have made up their minds," said Peter A. Brown, assistant director of the Quinnipiac University Poll."
"The race is close, but Nelson's double-digit-lead with independents puts him in slightly better shape eight months from Election Day. This election is likely to be decided by turnout."
"There are huge gender and racial divisions as Florida voters give President Donald Trump a negative 42 – 54 percent approval rating. Men approve 51 – 45 percent, as women disapprove 61 – 35 percent. White voters approve 52 – 44 percent. Disapproval is 87 – 13 percent among black voters and 63 – 30 percent among Hispanic voters."
Republicans approve 81 – 15 percent. Disapproval is 90 – 6 percent among Democrats and 57 – 39 percent among independent voters.
"U.S. Sen. Marco Rubio's approval rating is even worse, a negative 38 – 53 percent. Republicans and white men are the only listed party, gender, education, age or racial groups to approve. Sen. Rubio's approval rating among Republicans is a lackluster 65 – 24 percent. Disapproval is 49 – 44 percent among white voters, 63 – 28 percent among black voters and 66 – 27 percent among Hispanic voters."
Governor's Race
In a question which does not name candidates, Florida voters say 45 – 37 percent that they would vote for a Democratic candidate for governor this year. Independent voters go Democratic 39 – 28 percent.
Candidates for governor are virtually unknown to Florida voters:
84 percent don't know enough about former U.S. Rep. Gwen Graham to form an opinion of her;
81 percent don't know enough about former Miami Beach Mayor Philip Levine;
89 percent don't know enough about Tallahassee Mayor Andrew Gillum;
93 percent don't know enough about business executive Chris King;
75 percent don't know enough about State Commissioner of Agriculture Adam Putnam;
83 percent don't know enough about U.S. Rep. Ron DeSantis;
86 percent don't know enough about Florida House Speaker Richard Corcoran.
"In the governor's race, none of the candidates is well-known. Florida voters can expect massive – and probably nasty – TV advertising as the candidates for governor try to introduce themselves, and their opponents, to the electorate," Brown added.
From February 23 – 26, Quinnipiac University surveyed 1,156 Florida voters with a margin of error of +/- 3.6 percentage points, including the design effect. Live interviewers call landlines and cell phones.