I'd believe in the tooth fairy before I'd believe that the republican President Donald Trump's fingerprints are not all over using an OPR (Department of Justice's Office of Professional Responsibility) report in the Attorney General Jeff Sessions' possession, as a means for Mr. Sessions to fire a 21 year civil servant, FBI Agent Andrew McCabe before his retirement date of 18th of March 2018, whereupon, he could lose any pension rights.
It is well known that the president has a personal vendetta against Mr. McCabe. My opinion is that the president's contempt towards Mr. McCabe dates back to when he dared to back up his former boss, FBI Director James Comey who had been fired by the president, at a hearing by the US Congress. Ever since he has been a favorite target by the president in numerous ways.
According to various news reports, Mr. McCabe became part of an internal review that included an examination of his 2016 decision where he allowed FBI officials to speak with reporters about an investigation into the Clinton Foundation. Allegedly, the review by the Justice Department's inspector general concluded that Mr. McCabe had not been forth-coming during the review about his role in this matter. And then this Inspector General's report triggered an F.B.I. disciplinary process that is now recommending his termination. It is now up to AG Sessions to make the final determination.
But the Attorney General Jeff Sessions is supposed to have recused himself from anything bearing a connection to the FBI's Trump-Russia probe which means he should be barred from making this decision regarding the firing of Mr. McCabe who is likely to be called up as a witness against President. This has "obstruction of justice" implications written all over it and it smells like a good old fashioned set up. Mr. Sessions would do well not to fall for this trap as he is also a potential target by Mr. Mueller, the FBI's Special Counsel in charge of the Trump-Russia inquiry.
In addition there is a process that is required to be followed in the firing of Mr. McCabe but to meet this deadline of March 18, 2018, it means that all the published regulatory procedures would have to circumvented.  This does not pass the smell test.
Just this pat week, we have just witnessed how the president likes to crush anyone who dares to cross his path like the recent firing by tweet, the US Secretary of State Rex Tillerson.  Acquiescence to the president in his wish to crush the FBI Agent McCabe who did not pass his loyalty test, will send a message to other life-time civil servants that the Attorney General Sessions cannot afford. This cannot stand.
Here is the rest of the story…
On March 14, 2018, Katie Benner, Matt Apuzzo and Adam Goldman of the New York Times penned the following report, "Andrew McCabe, a Symbol of Trump's F.B.I. Ire, Faces Possible Firing."
Excerpts:
"Attorney General Jeff Sessions is reviewing a recommendation to fire the former F.B.I. deputy director, Andrew G. McCabe, just days before he is scheduled to retire on Sunday, people briefed on the matter said. Mr. McCabe was a frequent target of attack from President Trump, who taunted him both publicly and privately."
"Mr. McCabe is ensnared in an internal review that includes an examination of his decision in 2016 to allow F.B.I. officials to speak with reporters about an investigation into the Clinton Foundation. The Justice Department's inspector general concluded that Mr. McCabe was not forthcoming during the review, according to the people briefed on the matter. That yet-to-be-released report triggered an F.B.I. disciplinary process that recommended his termination — leaving Mr. Sessions to either accept or reverse that decision."
"Lack of candor is a fireable offense, but like so much at the F.B.I., Mr. McCabe's fate is also entangled in presidential politics and the special counsel investigation. He was involved from the beginning in the investigation into the Trump campaign's ties to Russia. He is also a potential witness in the inquiry into whether Mr. Trump tried to obstruct justice."
"Mr. Trump's supporters have tried to cast Mr. McCabe as part of a "deep state" that operates in secret to undermine the administration. Mr. Trump has goaded Mr. Sessions into taking action against him."
"The department follows a prescribed process by which an employee may be terminated," said the spokeswoman, Sarah Isgur Flores. "That process includes recommendations from career employees, and no termination decision is final until the conclusion of that process. We have no personnel announcements at this time."
"Mr. McCabe's friends and allies have said that he denies any wrongdoing in his dealings with journalists or the inspector general. He stepped down in January and took a leave of absence under pressure over the looming inspector general's report."
"Mr. McCabe is a career agent, not a political appointee, so Mr. Trump has no direct say in his fate. The decision nonetheless comes at a moment of turnover in Mr. Trump's national security team. On Tuesday, the president fired the secretary of state, Rex W. Tillerson, and named the C.I.A. director, Mike Pompeo, to replace him. He tapped a veteran clandestine officer, Gina Haspel, to lead the C.I.A."
"Firing Mr. McCabe, even on the recommendation of the disciplinary office, would be controversial. Among Mr. McCabe's allies, the decision would raise the specter that Mr. Sessions was influenced by Mr. Trump's frequent derisive comments. No deputy director in the history of the F.B.I. has been fired."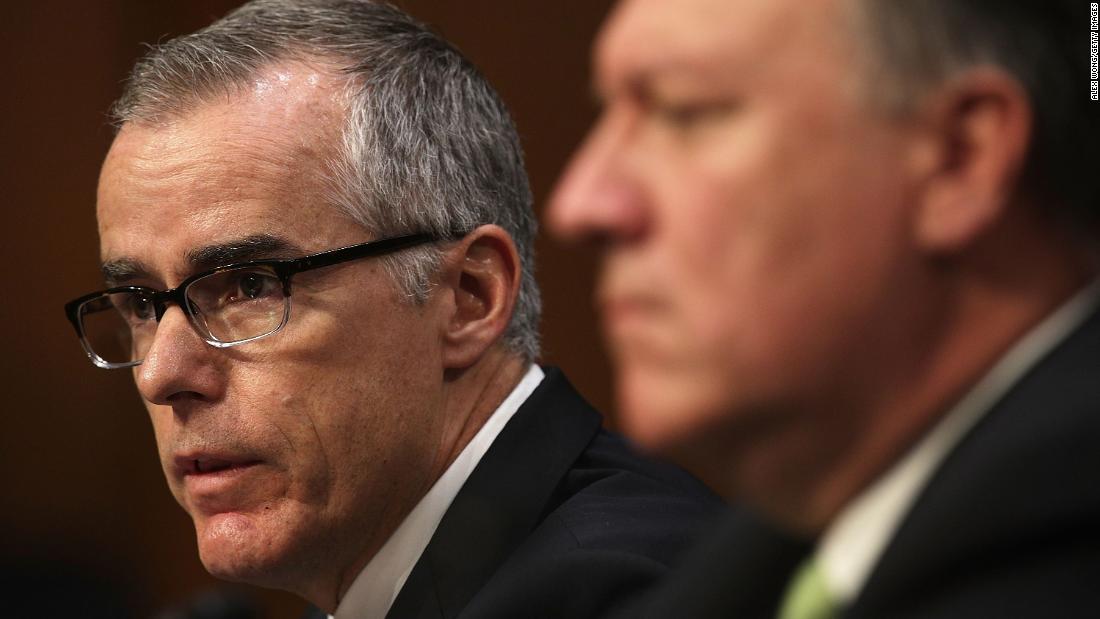 "But Mr. Sessions would be able to point to a critical inspector general's report and say he followed Justice Department protocol. The details of why the inspector general viewed Mr. McCabe as not forthcoming are not clear. Though F.B.I. disciplinary records show that drunken driving, domestic violence and assaults have been punished by suspension, when agents are found to have shown a lack of candor under oath, they are commonly fired."
"The inspector general, Michael Horowitz, announced last year that he would investigate several contentious decisions made at the F.B.I. and Justice Department during the 2016 presidential campaign. In November, Mr. Horowitz indicated that he planned to issue a single report this spring encompassing his entire review, on matters including the F.B.I.'s investigation of Hillary Clinton's use of a private email server."
"Mr. Trump has attacked members of the F.B.I. and the Justice Department for much of his first year in office. But few have been the target of presidential ire like Mr. McCabe. Mr. Trump has repeatedly remarked on the fact that Mr. McCabe's wife, Jill, ran as a Democrat for a State Senate seat in Virginia. Her campaign received hundreds of thousands of dollars in donations from a political committee run by Terry McAuliffe, the Virginia governor at the time and a longtime ally of the Clintons."
"Mrs. McCabe lost the race and Mr. McCabe was later promoted to deputy director, where he oversaw the investigation into Mrs. Clinton. No charges were filed in that case, and Mr. Trump has pointed to the donations to Mr. McCabe's wife's campaign as evidence of F.B.I. bias."
"The allegations revolve around disclosures to The Wall Street Journal, which revealed in October 2016 a dispute between the F.B.I. and Justice Department over how to proceed in an investigation into the Clinton family's foundation. The article said that the Justice Department would not authorize subpoenas in the case. Some F.B.I. agents, the article said, believed that Mr. McCabe had put the brakes on the investigation. Others rejected that notion."
"The inspector general has concluded that Mr. McCabe authorized F.B.I. officials to provide information for that article. The public affairs office arranged a phone call to discuss the case, a common practice in the federal government when officials believe that a journalist has only part of the story."
"In the Journal story, a person described as close to Mr. McCabe pushed back on the notion that he had tried to shut down the Clinton Foundation investigation. To the contrary, the person described a tense conversation with the Justice Department in which Mr. McCabe insisted his agents had the authority to keep investigating."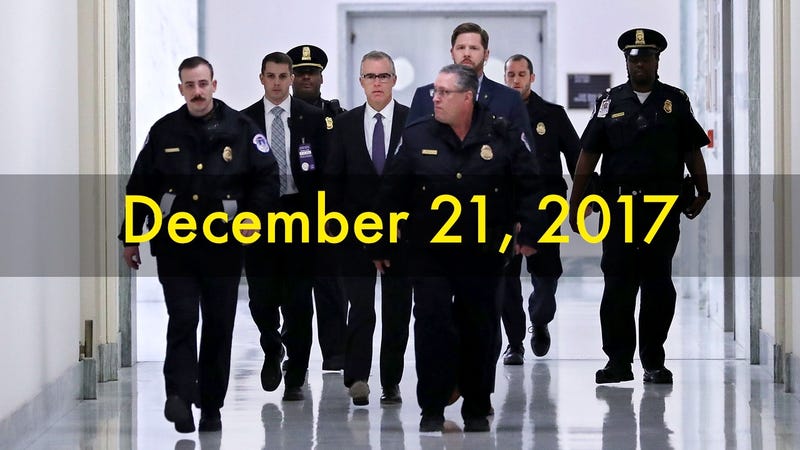 "The article was a negative one for the Clinton campaign — not Mr. Trump. It was published just days before the election, after the F.B.I. reopened its investigation into Mrs. Clinton's email practices. The article, including the F.B.I. disclosures, made it clear that some agents saw evidence of wrongdoing by the Clinton Foundation."
"The deputy director is the chief operations officer at the F.B.I., a job that requires managing relationships with the White House and Congress. That task became unusually difficult as agents investigated the Trump campaign, straining relationships with Mr. Trump."