Everyone by now knows that the President Donald Trump's Secretary of State Rex Tillerson was fired by tweet on Tuesday morning, the 13th of March 2018.He was fired after he dared to back the UK's Prime Minister Theresa May as she condemned Russia for having attempted to murder by chemical weaponry individuals residing within its territorial boundaries. The president had yet to do likewise.
According to various news sources, the president's Chief of Staff General John Kelly had told a room of White House officials and political reporters that Mr. Tillerson had been suffering from a stomach bug during a diplomatic swing through Africa, and he was using a toilet when General Kelly broke the news  of his pending firing to him.
This is a repeat of past lies that General Kelly has stated to provide cover for the US president. The president announcing that he and Mr. Tillerson had been discussing his imminent departure over time is a lie.
What happened after various White House fibs, is that Steve Goldstein, the undersecretary of public affairs at the State Department put out a statement stating unequivocally that Secretary Tillerson found out about his firing on Tuesday, 13th of March by a presidential tweet and that until that time Mr. Tillerson had no intention of stepping down.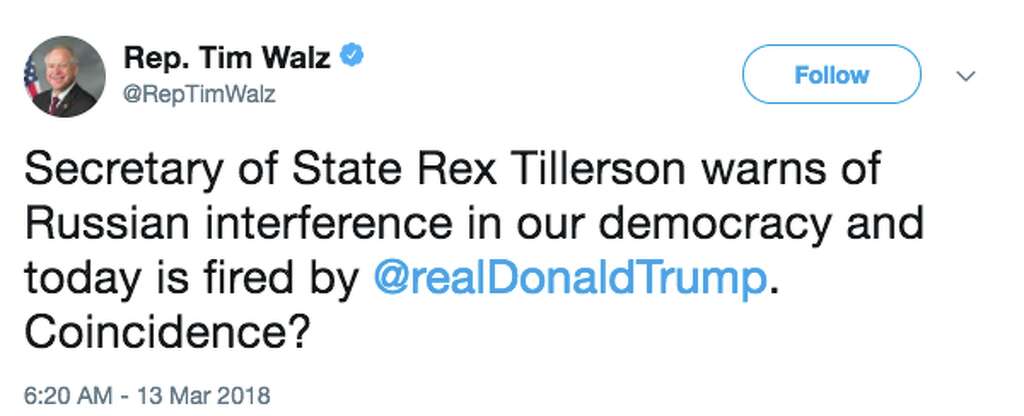 In Steve Goldstein's version of events, Tillerson had never spoken with Trump about his imminent departure at all. He has maintained that General Kelly merely told the State Secretary Tillerson he could "expect a tweet" from the president, not that he would actually be terminated.
Guess what happened next? Mr. Goldstein was summarily fired.
As per 3/15/18 CNN report by Michelle Kosinski, "Just after Secretary of State Rex Tillerson's sudden firing Tuesday morning, American diplomats at posts spanning the globe were then increasingly surprised — and in some cases disturbed — to receive guidance from Washington telling them not to post or retweet the statement from Undersecretary of State Steve Goldstein on how Tillerson was fired by President Donald Trump, according to multiple diplomats who spoke to CNN about the guidance."
"Goldstein, part of Tillerson's tight inner circle of aides, had released a statement to the press and then tweeted words that he says came from Tillerson himself on his firing: "The secretary did not speak to the President this morning and is unaware of the reason, but he is grateful for the opportunity to serve, and still believes strongly that public service is a noble calling and not to be regretted."
This story has legs.
Here's the rest of the story…
On March 13, 2018, Elise Labott of CNN Politics penned the following report, "White House fires top Tillerson aide."
Excerpts:
"Hours after his boss, Secretary of State Rex Tillerson, was ousted Steve Goldstein, the undersecretary of public affairs at the State Department, has been fired by the White House."
"Goldstein publicly contradicted the White House account of how Tillerson was fired on Tuesday morning (3/13/18)."
"Goldstein said Tillerson was officially notified he'd been fired from a tweet from President Donald Trump on Tuesday morning, and in a statement, said Tillerson had "every intention of remaining."
"A senior administration official said Trump asked Tillerson to step aside on Friday and a senior White House official later clarified that chief of staff John Kelly told Tillerson that he would be replaced, but did not specify the timing."
"Asked how Tillerson learned of his dismissal, Trump said Tuesday that "Rex and I have been talking about this a long time." He specifically mentioned the Iran nuclear deal as an example of disagreement."
"We were not really thinking the same," Trump said. "With Mike Pompeo, we have a similar thought process."
"This has been an honor of a lifetime and I'm grateful to the secretary and the President for this opportunity. I wish everyone well and look forward to getting more rest and perhaps winning an indoor rowing competition. We will see what happened next," Goldstein said in a statement to CNN."
"As undersecretary for public diplomacy and public affairs, Goldstein was the fourth highest ranking official at the State Department. He was sworn in on December 4."
"Trump has designated State Department spokesperson Heather Nauert to be the acting undersecretary of state for public diplomacy.
"With Goldstein gone, the State Department has only one permanent undersecretary in place out of six. The other, Undersecretary for Political Affairs Tom Shannon, plans to retire when his successor is confirmed. Two additional nominees are pending approval by the Senate."
"Tillerson's chief of staff, Margaret Peterlin, and deputy chief of staff, Christine Ciccone, also submitted their resignations on Tuesday, according to two senior State Department officials. Both are expected to serve until Tillerson leaves on March 31."
"One of the officials, who is an aide to Tillerson, said that among Tillerson's senior staff, "everyone is totally shocked."
"If this had happened in the fall, it would have been seen as something anticipated. Since he had survived this long, everyone thought he had gotten through the worst part of it," the first official said."
"The first official also said that the announcement of the North Korea talks with Tillerson out of the country was a sign that things were awry. "The diplomatic event of the President's career and the secretary of state is nowhere to be found? That wasn't a good sign."
Tillerson's departure comes just as the Trump administration embarks on its most difficult and ambitious foreign policy goal to date — engaging the nuclear armed North Korean regime. Trump is set to meet leader Kim Jong Un by the end of May."
"Tillerson had spearheaded the maximum pressure campaign that the administration credits with getting the North Koreans to the negotiating table, bringing up the issue in every country meeting he had, no matter how seemingly unrelated."