On the Sunday evening of the 25th of March 2018, I like many others watched the CBS 60 minutes show featuring a tell-all interview with the adult film star Stormy Daniels who claims a sexual dalliance with the republican President Donald Trump around 2006 when the president's wife was pregnant, and the host Anderson Cooper.
Frankly, I was a bit let down by what Stormy Daniels divulged. It was my impression that she attempted to play down the relationship that she and the president had. She described only one sexual interlude but she did mention other contacts. It seems that the president attempted to entice her to pay more attention to him by dangling the hope for a role on his reality show, "Celebrity Apprentice," but she wasn't buying.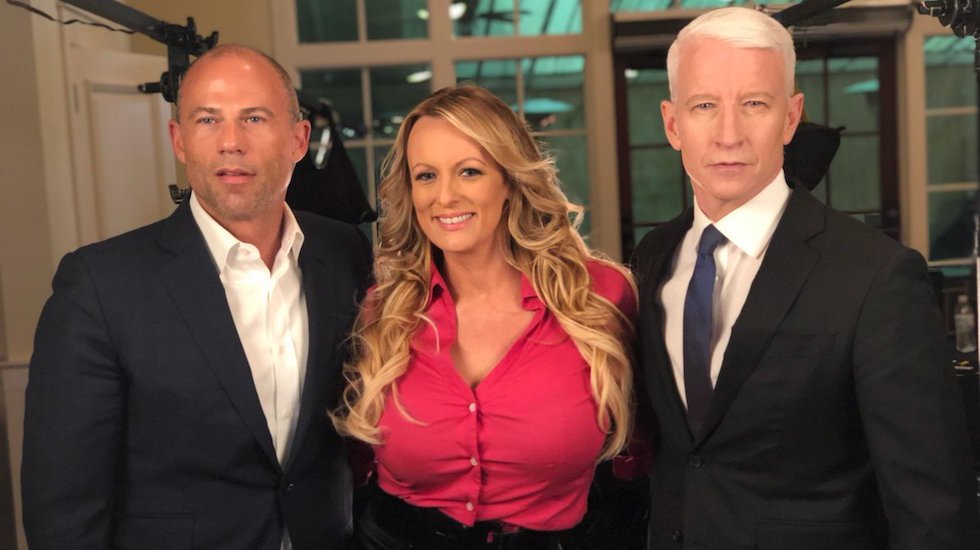 She described how in 2011, she had been in the process of selling her story involving the president to a tabloid news outlet, "In Touch." It was during this time frame, when she with an infant child in her arms was approached by a man out of nowhere. The man threatened her by saying, "it would be a shame if something happened to that beautiful child's mother and that she should not share her tale involving the president. The tabloid news company was also threatened with a myriad of law suits and so nothing came of it.
She fast forwards her tale to the time around October 2016, when the gentleman who Ms. Daniels knew as the billionaire reality show host, was in a position to become the US 45th president.
She claims that she not the source of an October 2016 Wall Street Journal published report about how the president's long time attorney Michael Cohen had paid Stormy Daniels $130,000. She had wanted to honor the agreement that she signed in October 2016, a form (NDA) not to disclose anything about her affair with President Trump. Later she even signed something along the lines that the affair never happened. She had been warned that if she did not cooperate, "they would make her life a living hell in so many, many ways."  She stated for the record, she does not know who "they" are but she suspects the presidents attorney/ fixer Michael Cohen.
During the CBS interview, Ms.Daniels didn't reveal whatever concrete evidence of the alleged affair that is in her possession between her and the president, but she hinted that she isn't yet revealing all she has.
Asked if she has videos, pictures, emails or text messages that corroborate the affair, she responded, "I can't answer that right now."
An interesting point for me, is that the attorney who had represented both Ms. Daniels and another of the president's paramour, Karen McDougal in signing their "Non Disclosure" agreements is the same Keith M. Davidson. I mention this because I suspect that he is the source of the WSJ leak. See A Must Read: 
The Insane Backstory Behind The Lawyer Who Shook Down Donald 
As per a 1/15/18 Observer report by Ryan Holliday, "Why does this five year old conversation matter? Well, according to the Wall Street Journal, Keith M. Davidson is also the lawyer who allegedly brokered a settlement between his client Stephanie Clifford, aka porn star Stormy Daniels, and Donald Trump's lawyer, Michael D. Cohen in October, 2016. For $130,000, and secured through a pseudonymous contract between "Peggy Peterson" and "David Dennison," Davidson negotiated Stormy Daniels' silence over her affair with Donald Trump. Naturally, these allegations have exploded across the media and once again embroiled Donald Trump in controversy.
But once the cat was out of the bag where others were talking about what did ,or did not happen between the president and Ms. Daniels, she wasn't allowed to say boo.
For example, the InTouch interview (full 5,000 word transcript) which was not published in 2011 surfaced after The Wall Street Journal reported in October 2016 that the president's lawyer Michael Cohen, paid Daniels $130,000 in hush money a month before the 2016 presidential election.
Soon after, Mr. Cohen also provided a statement that was signed in the name of Stormy Daniels that called rumors of the affair and hush money "completely false."
This is when Ms Stormy Daniels hired an attorney, Mr. Michael Avenatti who is representing her in fighting the non-disclosure form (NDA) that she signed in October 2016.
See this report about legal issues with Ms. Daniels' NDA form: Another Trump attorney involved in Stormy Daniels case – CNNPolitics
 Even though, Ms. Daniels's has been sued by the president's legal team for $20 million dollars for publicly speaking about the 2006 sexual liaison, she decided to go on the record on the 25th of March 2018, on the CBS "60 Minutes" TV show. 
 My thoughts: Ms. Stephanie Clifford aka Stormy Daniels did not go public with everything she has. But she has given notice for the president and his legal team to where, now that enough of the affair between her and President Trump has been made public, that there is no point in taking additional steps to threaten her or her family.  I suspect that any proof she has, is being held back in case the president further pursues her financially or otherwise.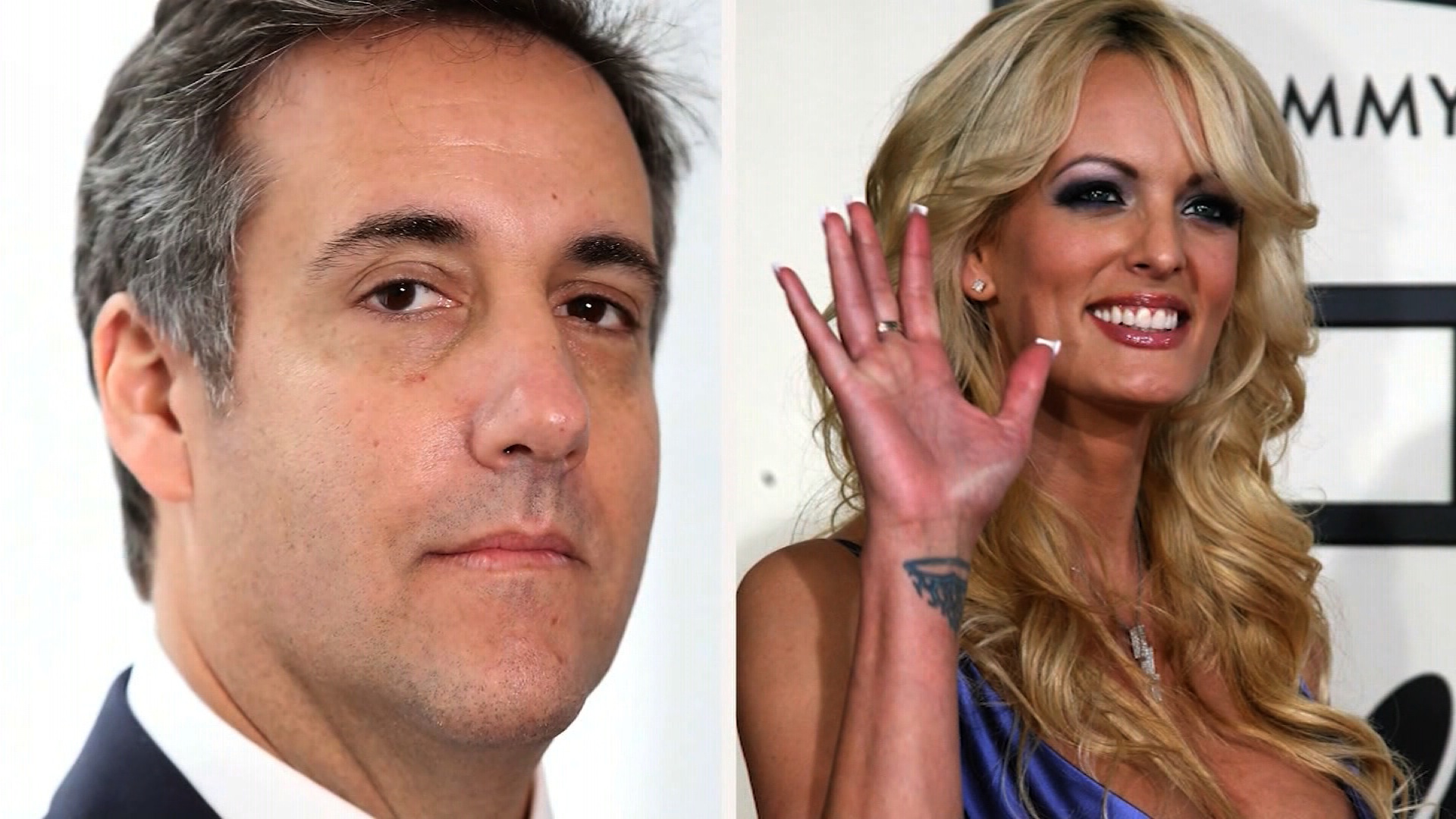 As per a March 26, 2018 CNN report, Mr. Cohen's attorney alleges defamation:
"In the letter, dated Sunday, Cohen attorney Brent Blakely told Daniels' attorney Michael Avenatti that his client had nothing to do with the alleged threat in the parking lot.
Blakely demanded that Daniels cease and desist from making further "false and defamatory" statements about Cohen, and asked for a retraction and apology for the comments she made on Sunday's "60 Minutes" interview."
"In truth, Mr. Cohen had absolutely nothing whatsoever to do with any such person or incident, and does not even believe that any such person exists, or that such incident ever occurred. You and your client's false statements about Mr. Cohen accuse him of criminal conduct and constitute, among other claims, libel per se and intentional infliction of emotional distress," Blakely wrote."
See: Stormy Daniels interview with 60 Minutes' Anderson … – CBS News