This is now becoming an old sick joke. Why has the republican President Donald Trump spared no one from the wrath of his twitter finger except two individuals, Russia's President Vladimir Putin and the adult star Stormy Daniels? The answer is, because they both have kompromat on him.
I was thrilled and surprised, despite the president's reticence to say or do anything against Russia, that US government officials on the 26th of March 2018 announced the toughest set of US sanctions against Russia to date. It was made public that the US government is expelling 60 Russian intelligence agents and diplomats on the basis, that this was in response to the March 4th nerve agent attack in Salisbury, England, which has been traced back to Russia and which critically injured a former spy, Sergei Skripal, and his daughter Yulia while endangering others close-by.
Still, this hard line stance contrasts with how the republican President Donald Trump behaved just a few days ago towards Russia's President Vladimir Putin. That was when he contacted President Putin to congratulate him in winning a recent election where he couldn't possibly lose, despite all the president's aides having advised him not to do this. During the call, the president never even brought up the subject about the unacceptability of Russia's nerve action attack on two individuals living in the UK.
What the president doesn't get is how his laissez-faire attitude towards Russia is headed for a direct conflict with the rest of his foreign policy plans towards Iran and N Korea.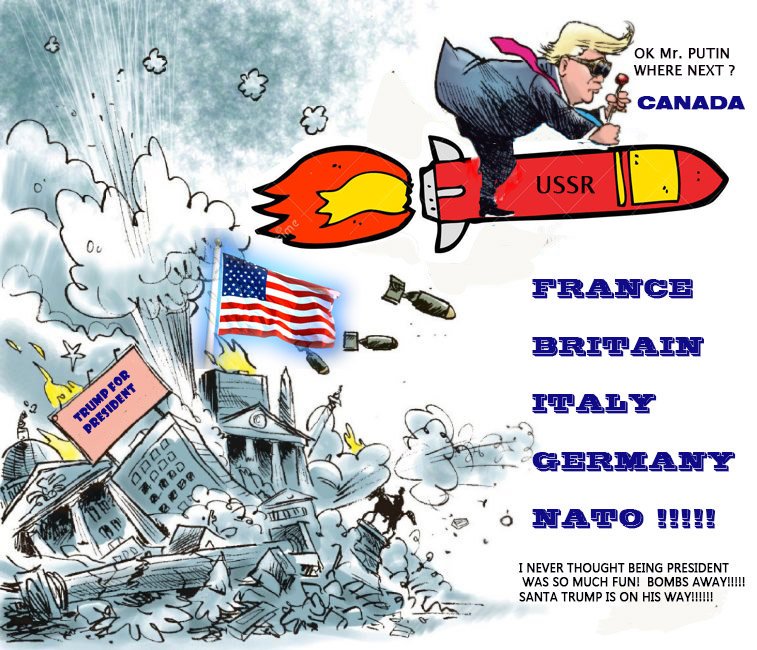 But guess which country is heavily aligned with both Iran and N Korea. The answer is Russia. As the president caters to the countries like Saudi Arabia, UAE and Israeli dignitaries who have been lobbying the president to tear up the 2015 US-Iran nuclear deal which could lead the USA into a war with Iran. This would make the conflict in Iraq look like a "nothing burger."  This move will make Russia ecstatic as President Putin is attempting to create a closer relationship with Iran over this development.
The US president has already given Syria over to the Russian government.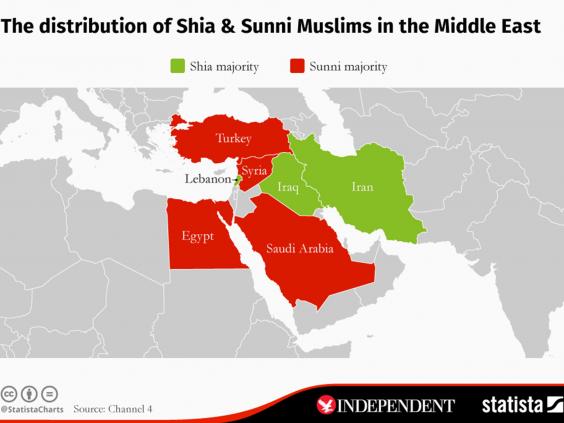 For review, Saudi Arabia and UAE are Sunni led countries. UAE and Israel have established an alliance against Iran, a shia led country. Before Iraq was toppled in 2003, this country was Sunni-led. But because the ruling Sunni party was ousted, what's left is the majority population of Shia Muslims. This means that Iraq and Iran have a commonality that makes the Sunni neighbors nervous.
If the US tears up the US Iran Nuclear deal in May 2018 when it is up for renewal, then there is no way N Korea will enter into any agreement which would include N Korea giving up its only claim to power, its nuclear weaponry capability.
More importantly, the word of the USA  will end up meaning nothing to N. Korea or any other country, as there are no guarantees that any agreements between US officials and those of other nations  will be honored by subsequent US presidential administrations. This does not bode well for the US avoiding a military conflict in this region.
If the president thinks that Russia's President Putin will not be taking advantage over these developments, he is for the biggest surprise of his life, and he's had a few of these lately.
Now the US president must know about some of the connections between Russia and N Korea based on his recent tactics. For example, On February 23, 2018, the republican US President Donald Trump announced a set of sanctions against North Korea which included countries assisting N. Korea to circumvent these US punitive measures. Guess which country was not subjected to these US sanctions? The answer is Russia.
Here is the rest of the story…
On December 28, 2017, John Haltwanger of Newsweek penned the following report, "HOW RUSSIA IS HELPING NORTH KOREA BUILD THE BOMBS THAT COULD START WORLD WAR III"
Excerpts:
"Some of the more advanced missile technology recently put on display for the wider world by North Korea was acquired by the rogue state with the help of Russia, according to new documents acquired by The Washington Post from one of the top Soviet-era missile manufacturers."
"In the early 1990s, after the fall of the Soviet Union, U.S. investors reportedly attempted to work with Russian scientists, who were largely unemployed and desperate for money, to acquire advanced Soviet military technology. But the investors ran into a number of legal hurdles, which reportedly provided an opportunity for North Korea to swoop in. Pyongyang apparently was willing to pay some of the scientists who'd previously worked for Makeyev Rocket Design Bureau more than 200 times what they made at home to provide it with Soviet missile designs. "
"Some of the Russian scientists were prevented from going to North Korea to provide it with Soviet military technology. But U.S. and South Korean intelligence officials have confirmed that Makeyev scientists ultimately did obtain employment as consultants to North Korea,  The Washington Post reported."
The greatest evidence of a Russian–North Korean collaboration is the similarity between features in missiles recently tested by Pyongyang. In June 2016, for example, North Korea tested the Hwasong-10, or Musudan, an intermediate-range ballistic missile, which apparently had distinct similarities to the R-27 Zyb, or Ripple, manufactured by the Makeyev Rocket Design Bureau––including the same engine. In August 2016, North Korea tested a submarine-launched missile called Pukguksong-1 that also had similar features to the Ripple. Joshua Pollack, an analyst at the James Martin Center for Nonproliferation Studies, told The Washington Post that both of those North Korean missiles are "generally regarded as derived from the designs of the Makeyev Bureau's R-27."
"North Korea made major leaps in its missile technology in 2017. The reclusive nation tested its most powerful intercontinental ballistic missile yet in late November; it reached an altitude of 2,800 miles (over 10 times higher than the International Space Station) and traveled for 50 minutes before crashing into the Sea of Japan. The more advanced missile technology Pyongyang has put on display over the course of the year could be a sign it has greater access to Soviet-era designs and blueprints than previously thought, according to The Washington Post report."
"North Korea's missile tests and pursuit of a nuclear weapon capable of reaching the United States have led to major tensions across the world over the course of the year. North Korea is believed to possess as many as 60 nuclear weapons. If war broke out, it could potentially use them on South Korea or Japan, and millions could die. A November report from the Congressional Research Service concluded that a conflict between the U.S. and North Korea would lead to roughly 300,000 deaths in the first few days alone, even without the use of nuclear weapons."
On March 2, 2018 Robin Wright of the New Yorker penned the following report, "Russia and Iran Deepen Ties to Challenge Trump and the United States"
Excerpts:
What a difference a year—and a policy reversal—can make. The Trump Administration's decision to challenge the 2015 Iran nuclear deal now carries a broad geostrategic price. The relationship between Moscow and Tehran—once tactical militarily, coldly calculating diplomatically, and practical economically—has been converted into a growing strategic partnership. Vladimir Putin's relentless quest to make Russia a superpower again is part of it; Iran's goal is just to be a player again. Since President Trump took office, in 2017, Moscow and Tehran have shared increasingly common bonds: growing tensions with Washington and a quest to expand spheres of influence in the Middle East.
"Two years ago, it was the United States that framed regional issues, even for Iran," Kayhan Barzegar, the director of the Institute for Middle East Strategic Studies, in Tehran, and a former fellow at Harvard's Belfer Center, told me in Moscow. "Now that's over. Now it's Russia which is very tempting to regional actors, to attach to the Russian dynamic. The U.S. produced regional confusion. Russia filled the power vacuum."
The deepening ties were reflected when Putin flew to Tehran, in November, for talks with Supreme Leader Ali Khamenei and President Hassan Rouhani. "Our coöperation can isolate America," Khamenei told Putin, according to Iran's media. Putin called the growing Russian-Iran coöperation "very productive."
Putin and Khamenei spent a highly unusual hour together, one on one, accompanied only by interpreters. "The most important thing that Putin said was, 'I will not betray you.' "
"The talks came less than 3 weeks after Trump announced that he would not certify Iran's compliance with the landmark nuclear deal—despite repeated reports by the U.N. nuclear watchdog, the International Atomic Energy Agency, that Tehran had consistently fulfilled its obligations. The White House is required by Congress to certify Iran's compliance every ninety days."
"Trump's decision was a step closer to walking away from an accord negotiated by the world's six major powers—in which the Kerry-Zarif talks were pivotal—and then formally endorsed in a unanimous U.N. Security Council resolution. In what the Times described as a "fire-breathing" speech, Trump said, in October, "We will not continue down a path whose predictable conclusion is more violence, more chaos, the very real threat of Iran's nuclear breakout."
Putin's message to Khamenei was basically, You can trust us, Vaez said. We won't renege like the Americans. "This is a pivotal moment in an evolving alliance that over the past few decades has never gone beyond a tactical relationship," Vaez added. "It has implications across the Middle East and for the world."
"In January, Trump took one step further. He put Iran on notice that he would "terminate" the nuclear deal—formally known by the long-winded title of the Joint Comprehensive Plan of Action, or J.C.P.O.A.—unless it agreed to change the terms. "No one should doubt my word," Trump said in a statement. None of the other major parties—Europe, Russia, or China—support amending the accord."
Far more than the deal is on the line, however. "The stakes are not just the J.C.P.O.A.. It's the future of Iran," Nasser Hadian, a U.S.-educated political scientist at Tehran University, who also taught at Columbia University, told me. "Revolutionary-ness, the fervor, may be over. But what about the mind-set of the people in the future?
The U.S. is pushing us into the arms of the Russians, intentionally or unintentionally. Sometimes, we think that the U.S. prefers Iran to be in the Russian orbit than to have an independent Iran."
Over the past year, military coördination between Moscow and Tehran has also intensified. Qassem Soleimani, the flamboyant head of Iran's élite Quds Force, a branch of the Revolutionary Guards that is roughly equivalent to American Special Operations Forces, was the front man on military coördination between the two nations, especially in Syria, beginning in 2015. Contacts now go much higher. In November, the chief of staff of Russia's armed forces, General Valery Gerasimov, flew to Tehran for talks with his Iranian counterpart, Major General Mohammad Bagheri, a former military intelligence expert in the Revolutionary Guards who now oversees both the Guards and the regular Iranian Army, Navy, and Air Force."
"There is good military coöperation between Iran and Russia, and, of course, there are many areas for expanding coöperation," Bagheri declared. The 2 military chiefs are in increasing contact, Russian and Iranian sources told me.
"In recent months, Russia has followed through by deflecting punitive actions against Iran proposed by Western nations at the United Nations. On February 26th, Russia vetoed a resolution, proposed by the U.K. and backed by the United States, that charged Tehran with violating an arms embargo on Yemen. A U.N. report in January linked Iran with missiles fired by Yemen's Houthi rebels at Saudi Arabia. Russia's U.N. envoy charged the report was "selective and contentious."
Link to entire report: Russia and Iran Deepen Ties to Challenge Trump and the US .
See: How the U.S. Lost the War in Syria to Russia and Iran – Newsweek/ 2017