It is okay for the republican President Donald Trump to pardon a criminal from the right,  like the former Arizona sheriff Joe Arpaio ] but the right who has immeasurable mercy for one of their own like the president, decry the California Governor Jerry Brown showing mercy during this season of Easter to immigrants.

Right wing media outlets like FOX TV have been blowing up out of all proportion the background stories about the crimes for which the 5 pardoned men were convicted, as its hosts castigate Governor Brown, suggesting that he is putting the entire State of California at dire risk.

This is what FOX TV is infamous for, the spreading of falsely distorted information to incite fear and anger in its followers.
As a reminder, the president pardoned Sheriff Arpaio in August of 2017, less than a month after he was convicted of criminal contempt for ignoring a judge's order to stop detaining people merely because he suspected them of being undocumented immigrants.
With the tales emanating from the right wing media, one would think Governor Brown did not do the proper vetting before he granted these pardons, something the White House staffers are definitely guilty of doing themselves.
Here's the rest of the story…
On March 31, 2018, Kristine Phillips of the Washington Post penned the following report, "Why Gov. Jerry Brown pardoned 5 ex-convicts facing deportation, drawing Trump's ire"
Excerpts:
In a Saturday morning tweet from Florida, President Trump took aim at  California Gov. Jerry Brown (D), who a day earlier pardoned five immigrants who were facing deportation.
"Governor Jerry 'Moonbeam' Brown pardoned 5 criminal illegal aliens whose crimes include (1) Kidnapping and Robbery (2) Badly beating wife and threatening a crime with intent to terrorize (3) Dealing drugs. Is this really what the great people of California want? @FoxNews," Trump tweeted. "Moonbeam" was a nickname given to Brown partly because of his interest in space exploration during his earlier terms as California's governor in the 1970s.
"Trump's tweet, sent while the president was traveling from his Mar-a-Lago estate in Palm Beach, Fla., to the nearby Trump International Golf Club, may have been prompted by a report during the 6 a.m. hour of "Fox and Friends," which Trump watches regularly. The show aired a segment titled "Lawless in California." As an infographic described the crimes for which the five pardoned men were convicted, the show's weekend hosts tore into Brown, suggesting that he was putting Californians at risk."
"He wants to show mercy," Fox chief national correspondent Ed Henry said. "But show mercy toward people who maybe have committed a misdemeanor and are now rehabbed. If they're dealing drugs to our children, these are not the folks you want to pardon."
"According to Brown's office, the governor granted pardons Friday to 56 people who had completed their sentences years ago after being convicted of drug-related and other nonviolent crimes. Five of those are immigrants facing deportation, the Sacramento Bee reported. All five have since led law-abiding lives, according to Brown's office."
Trump's tweet is part of the rising tension between his administration and California. On Monday, the state sued the Trump administration over its decision to add a question about citizenship to the 2020 Census. And three weeks earlier, the Justice Department sued California over state laws considered to be friendly to undocumented immigrants.
Two of the immigrants who were granted pardons came to the United States as child refugees.
Sokha Chhan came from Cambodia at age 13. His family had escaped from the brutal  Khmer Rouge regime in the 1970s. Chhan lost his U.S. legal status in 2002 when he was convicted of inflicting corporal injury on spouse or cohabitant and threatening a crime with the intent to terrorize, both misdemeanors. He served nearly a year in jail and three years of probation. According to Brown's office, Chhan served in the Army Reserve and volunteers at his local temple.
After he served his sentence, Chhan raised his five children as a single father by "working in the fields, working as a mechanic, or baking donuts for 12-13 hours every day with no days off," according to one of his daughters, who was quoted in the pardon statement.
Phann Pheach was born at a refugee camp in Thailand and came to the United States as a Cambodian refugee when he was 1, according to a GoFundMe page created by his wife. Sopeant Pheach wrote that her husband grew up in a bad neighborhood and committed drug crimes to "fit in." Phann Pheach was convicted in 2005 of possession of a controlled substance for sale and obstructing a police officer. He served a six-month custodial sentence and 13 months on parole.
The three others who received pardons are Francisco Acevedo Alaniz, Daniel Maher and Sergio Mena.
Alaniz was convicted in 1997 of vehicle theft and served a five-month custodial sentence and 13 months on parole. The pardon statement said that Alaniz is active in his church and volunteers for a youth sports program.
"Maher was convicted in 1995 of kidnapping, robbery and firearm charges. He served 5 years in prison and three years on parole. Originally from Macau, a small Chinese territory, Maher and his family moved to the United States legally when he was 3 years old, KQED reported."
"Maher is now the recycling program director of Ecology Center, a nonprofit organization based in Berkeley, Calif. He had been under the threat of deportation to China since at least 2015, according to the center, which launched a petition, held news conferences and organized a rally in San Francisco on Maher's behalf."
"Daniel's case is of a person who made one mistake as a young adult, served his time and then completely turned his life around," the center said. "He is an asset to all who know him."
"Mena was convicted in 2003 of possession of a controlled substance for sale and served 3 years of probation."
"A gubernatorial pardon does not guarantee that a person will not be deported, but it does erase the conviction that triggered possible deportation. It also makes a person eligible to apply for naturalization, said Margaret Stock, a retired Army officer and an Anchorage-based immigration lawyer."
"Normally, it's not done lightly, and normally it's only done when somebody has shown rehabilitation," Stock said. "We also have a principle in America that we allow people to rehabilitate themselves. … It's a power given to governors and presidents because people think that you should be allowed to forgive people."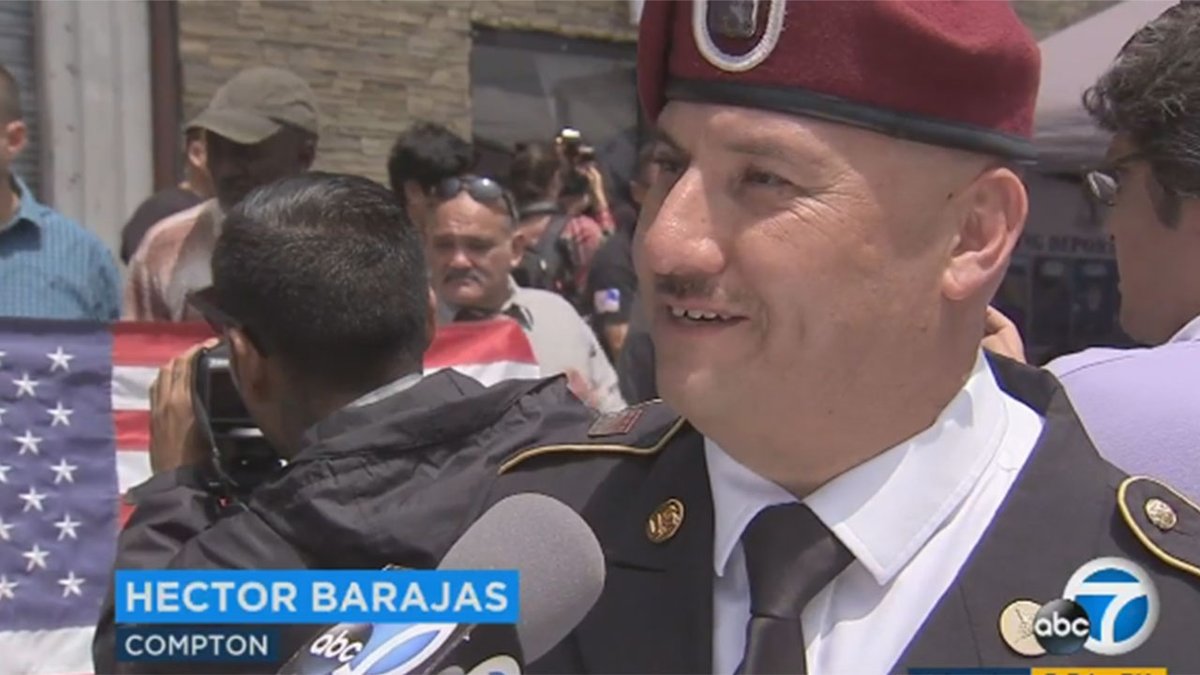 Friday's executive actions weren't the first time Brown has pardoned immigrants facing deportation. In December, the governor pardoned two men who, like Chhan, fled Cambodia as children during the Khmer Rouge regime and later lost their legal status after committing crimes.
In April, Brown pardoned three deported veterans who committed crimes after leaving the military. One is Hector Barajas-Varela, an Army veteran who was granted U.S. citizenship last week, 14 years after he was deported to Mexico.