If there was any doubt as to who was behind the 2016 republican platform being altered regarding the US policy towards Ukraine where Crimea had been invaded by Russia with no provocation in 2014, this Guardian news report will make it clear that this platform alteration bears the stamp of the president's former campaign manager, Paul Manafort.
Make no mistake, Paul Manafort and his former business partner Roger Stone had been political operatives for years helping many of who's who to win in republican elections. Both knew Donald Trump in his younger days. Paul Manafort had a place in the NYC Trump Towers since around 2004. What President Trump may or may not have known about, is how entangled Paul Manafort had become in the politics of Russia and Ukraine for the past couple of decades.
It would have been Roger Stone and another friend Thomas Barrack who hadn't seen Paul Manafort in years, who would vouch for him. Besides, Paul Manafort volunteered to work for free.
Thomas Barrack has been helping Paul Manafort's long time deputy Rick Gates's, steering political work to him and, until October 2017, employing him as director of the Washington office of his real estate investment company.
Rick Gates is now a cooperating witness for the FBI.
The rest is history…
On April 5, 2018, Luke Harding of the Guardian penned the breaking news story, "Former Trump aide approved 'black ops' to help Ukraine president"
"Exclusive: Paul Manafort authorized secret media operation that sought to discredit key opponent of then Ukrainian president"
Excerpts:
"Donald Trump's former campaign manager Paul Manafort authorized a secret media operation on behalf of Ukraine's former president, featuring "black ops", "placed" articles in the Wall Street Journal and US websites, and anonymous briefings against Hillary Clinton."
"The project was designed to boost the reputation of Ukraine's then leader, Viktor Yanukovych. It was part of a multimillion-dollar lobbying effort carried out by Manafort on behalf of Yanukovych's embattled government, emails and documents reveal."
"The strategies included:"
• "Proposing to rewrite Wikipedia entries to smear a key opponent of the then Ukrainian president."
• "Setting up a fake "thinktank" in Vienna to disseminate viewpoints supporting Yanukovych."
• "A social media blitz "aimed at targeted audiences in Europe and the US".
• "Briefing journalists from the right-wing website Breitbart to attack Clinton, when she was US secretary of state."
"Manafort's Ukraine strategy anticipates later efforts by the Kremlin and its troll factory to use Twitter and Facebook to discredit Clinton and to help Trump win the 2016 US election. The material seen by the Guardian dates from 2011 to 2013."
"Robert Mueller, the special counsel investigating claims of collusion between the Trump campaign and Russia, has indicted Manafort on multiple counts. Manafort is accused of "laundering profits" from his lobbying work in Ukraine, carried out over a decade for Yanukovych and his political party."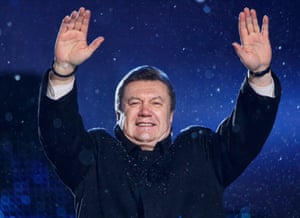 The documents reveal another surreptitious operation to influence international opinion.
This Black Ops plan under the direction of Paul Manafort is a how to win elections book by muddying the reputation of opponents as well as other political dirty tricks.
Here is the entire lengthy article: Ex-Trump aide Paul Manafort approved 'black ops' to help Ukraine