The republican President Donald Trump recently announced his intent to implement a complete withdrawal of US military forces as soon as possible. It is my opinion that when the president made these comments that he set the stage for what has happened in the past week in April 2018. Within a couple of days, officials from Turkey, Iran and Russia were celebrating their good fortune along with ISIS.
Many foreign policy experts were decrying how the president hadn't thought out the negative consequences of his words made in haste. With the US military departure, the Kurds who have been a reliable partner in the US military battle against the terrorist group of ISIS, would be at the mercy of the Turks who define the Kurds presence in northern Syria as being worse than that of ISIS. Too frequently, it has been disclosed that Turkish leaders were acting against US interests, even-though, Turkey is supposed to be a US ally.
The Russian-Iran alliance is counter to the national security interests of Israel. Thus with the world-wide news outlets reporting on the Syrian military recently resorting to the usage of chemical weaponry on its civilians in the Douma area, located north of Damascus, Israel has taken action.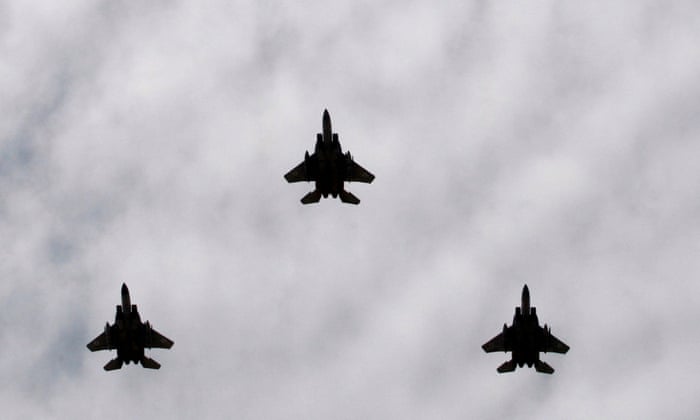 Here's the rest of the story…
On April 9, 2018, Ben Hubbard of the New York Times penned the following report, "Tensions Rise in Syria as Israel Is Accused of Bombing Air Base"
Excerpts:
"Big power tensions in the Syria conflict, already running high after an apparent chemical weapons attack, ratcheted up again on Monday as Syria and Russia blamed Israel for early morning airstrikes on a Syrian military base that a conflict monitoring group said had killed 14 people, including fighters from Iran."
"The strikes came a day after President Trump called President Bashar al-Assad of Syria an "animal" and warned him and his Russian and Iranian backers they would have a "big price to pay" after dozens of people were killed on Saturday near Damascus, in what rescue workers said was a chemical attack."
"The war in Syria has sucked in fighters from around the world, as well as global powers including Iran, Israel, Russia, Turkey and the United States, all of which are seeking to advance their interests in the Middle East while avoiding direct confrontations with the others."
"The latest escalation comes at a pivotal time for the US, as Mr. Trump charts the American course in Syria. He said last week that he wanted to withdraw the approximately 2,000 American troops based in eastern Syria, where they are fighting the jihadists of the Islamic State, but his vow to respond to the reported chemical attack on Saturday risks pulling him into Syria in other ways."
"The airstrikes on Monday (4/9/18) hit a Syrian military base known as T4, in the central province of Homs, that has been used not only by Syrian forces but also by the Iranian-backed militias that have flocked to the country to help Mr. Assad's war effort."
"The Russian military said in a statement on Monday (4/9/18) that 2 Israeli F-15 warplanes had launched the strikes, according to the Russian news agency Interfax. The statement said the planes had fired from Lebanese airspace and that Syria's air defense systems had shot down five of the eight missiles fired."
"The Syrian Observatory for Human Rights, which tracks the conflict in Syria from Britain through contacts on the ground, said that at least 14 people had been killed in the strikes on the air base, including fighters from "Syrian, Arab and Asian nationalities." The group's director told The Associated Press that most of the dead were Iranians or fighters from Iranian-backed militias."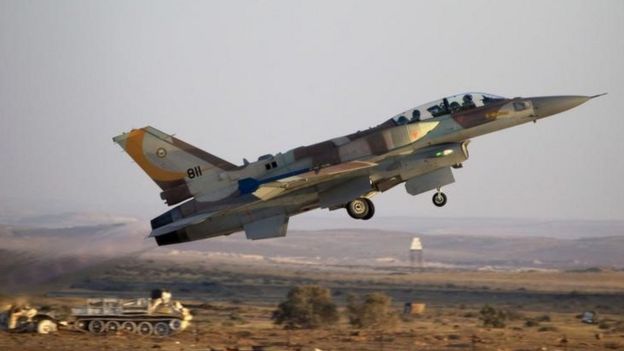 "On Sunday, the National News Agency of Lebanon reported that Israeli surveillance aircraft had been hovering over the country's northeast, near the border with Syria, for three days. The Lebanese Army said in a statement that four Israeli airplanes had violated Lebanon's airspace before dawn on Monday, crossing from the Mediterranean toward the Syrian border. The army did not say whether the planes had carried out the strikes."
"Israel has struck the T4 air base at least once before, in February, after Israel intercepted what it said was an Iranian drone that had penetrated its airspace. Minutes later, the Israeli military attacked what it called the command-and-control center from which Iran had launched the drone, at the Syrian air base near Palmyra. Syrian antiaircraft missiles then shot down one of Israel's F-16 fighter jets on its way back from the mission."
"Throughout 7 years of war in Syria, Israel has resisted direct involvement, but it has repeatedly bombed convoys in Syria that were believed to be transporting weapons and other supplies to Hezbollah, the Lebanese militia and political party that is dedicated to Israel's destruction."
"Despite Mr. Trump's promise to respond to the reported chemical attack in Syria on Saturday (4/7/18), which killed at least 49 people in the Damascus suburb of Douma, it remained unclear what he would do and how it would relate to a broader American policy toward Syria."
"Hours after the attack on Saturday, the rebel group in control of Douma reportedly surrendered, agreeing to a deal with the government that would have thousands of its fighters and tens of thousands of their relatives bused to another rebel-held area in northern Syria."
"The fall of Douma's rebels, who had controlled the town and surrounding ones since the early years of the war, would consolidate the Syrian government's control of the center of the country, making Mr. Assad more secure."
"Dozens of prisoners the Syrian government said had been held by the rebels since 2013 were released early Monday (4/9/18)."
"Israel, which shares a frontier with Syria, has been concerned throughout the conflict about the Syrian government's use of chemical weapons. On Sunday, Yitzchak Yosef, the Sephardi chief rabbi of Israel, condemned the reported chemical attack."
"I have said in the past and I will say it again: What is happening in Syria is genocide of women and children in its cruelest form, using weapons of mass destruction," he said in a statement. "We have a moral obligation not to keep quiet and to try and stop this massacre."
See:Russia outs Israel, says two Israeli fighter jets struck Iranian base in Syria/ Haaretz …
See: Syria and Russia accuse Israel of missile attack on Assad airbase/ Guardian