There are four important points about the Lewis "Scooter" Libby presidential pardon that was announced on the 13th of April 2018 that inquiring minds should know.
1.) Scooter Libby is a very close friend to the president's new National Security Adviser John Bolton.
2.) Remember that frequent FOX TV pundit/ guest attorney Joseph diGenova and his wife Victoria Toensing who were almost recently hired by the president to assist with his legal problems.It turns out that Mrs. Toensing had been lobbying the president for Mr. Libby's pardon for months.
3.) It is no secret that the republican President Donald Trump despises the former FBI Director James Comey whom he fired but who is now dishing it back with his new tell-all book. It was Mr. Comey who had appointed a special counsel to investigate the alleged misdeeds of Scooter Libby.
4.) Before President George W. Bush left the White House, the Vice President Dick Cheney begged him to pardon Scooter Libby but he refused.
Scooter Libby was the the Vice President Dick Cheney's Chief of Staff who was in favor of the US going into Iraq to overthrow its Sunni President Suddam Hussein. The American peoples were being sold the concept that somehow the 9/11 terrorist attack on US territory in 2001 was connected to Iraq which was absolutely "fake news". There was absolutely no connection.
There were other intelligence reports which were somehow being manipulated to justify this 2003 War in Iraq which the US has paid dearly for, in terms of tax payer dollars, years of military men and women on Iraqi soil surpassing a decade, along with 1000s of US military, allied military forces and civilian casualties and injured. It can be argues that it was the 2003 US invasion of Iraq which led to the destabilization of the middle east.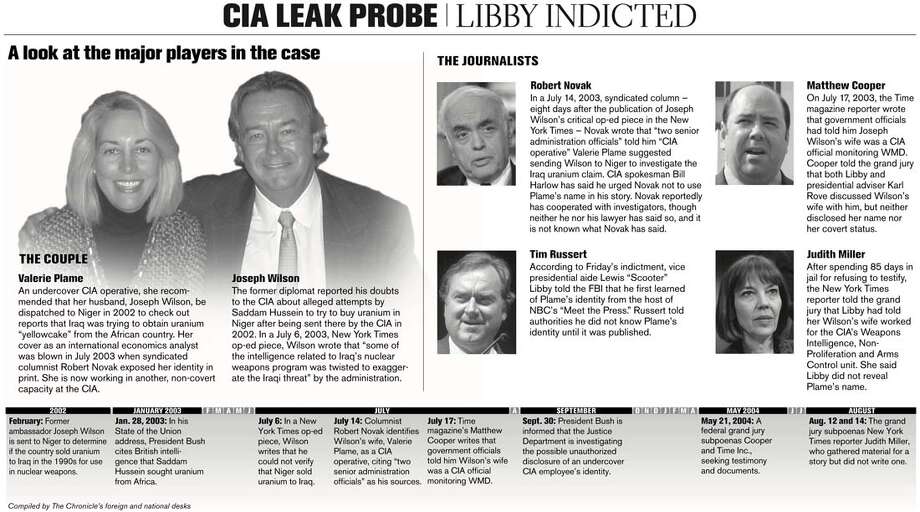 In a cliff notes format, it was Scooter Libby who wanted to discredit information by an Iraqi expert Joseph Wilson who had effectively countered some of the intelligence data that the neocons were peddling. Mr. Libby and friends got even by outing Mr. Wilson's wife, a CIA operative Valerie Plame, by leaking information of who she was to the reporter Robert Novak of the Washington Post.
As per a 7/3/2007 Washington Post report, "On Oct. 28, 2005, a grand jury handed down a five-count indictment in the 22-month-long investigation into whether White House officials illegally leaked the identity of Valerie Plame, a covert CIA agent, in retaliation for public criticisms made by her husband, Joseph Wilson IV, about the Bush administration's case for invading Iraq."
For entire report see: Key Players in the Valerie Plame Affair – Washington Post
To understand more about the Lewis "Scooter" Libby story, we have to travel back in time to the administration of President George Bush, during the pre-Iraq War but post 9/11 terrorist attack.
The Iraqi expert Joseph C. Wilson penned this July 6, 2003 New York Times article, "For 23 years, from 1976 to 1998, I was a career foreign service officer and ambassador. In 1990, as chargé d'affaires in Baghdad, I was the last American diplomat to meet with Saddam Hussein. (I was also a forceful advocate for his removal from Kuwait.) After Iraq, I was President George H. W. Bush's ambassador to Gabon and São Tomé and Príncipe; under President Bill Clinton, I helped direct Africa policy for the National Security Council."
"It was my experience in Africa that led me to play a small role in the effort to verify information about Africa's suspected link to Iraq's non-conventional weapons programs. Those news stories about that unnamed former envoy who went to Niger? That's me."
"In February 2002, I was informed by officials at the Central Intelligence Agency that Vice President Dick Cheney's office had questions about a particular intelligence report. While I never saw the report, I was told that it referred to a memorandum of agreement that documented the sale of uranium yellowcake — a form of lightly processed ore — by Niger to Iraq in the late 1990's. The agency officials asked if I would travel to Niger to check out the story so they could provide a response to the vice president's office."
"After consulting with the State Department's African Affairs Bureau (and through it with Barbro Owens-Kirkpatrick, the United States ambassador to Niger), I agreed to make the trip. The mission I undertook was discreet but by no means secret. While the C.I.A. paid my expenses (my time was offered pro bono), I made it abundantly clear to everyone I met that I was acting on behalf of the United States government."
"In late February 2002, I arrived in Niger's capital, Niamey, where I had been a diplomat in the mid-70's and visited as a National Security Council official in the late 90's. The city was much as I remembered it. "
"The next morning, I met with Ambassador Owens-Kirkpatrick at the embassy. For reasons that are understandable, the embassy staff has always kept a close eye on Niger's uranium business. I was not surprised, then, when the ambassador told me that she knew about the allegations of uranium sales to Iraq — and that she felt she had already debunked them in her reports to Washington. Nevertheless, she and I agreed that my time would be best spent interviewing people who had been in government when the deal supposedly took place, which was before her arrival."
"I spent the next eight days drinking sweet mint tea and meeting with dozens of people: current government officials, former government officials, people associated with the country's uranium business. It did not take long to conclude that it was highly doubtful that any such transaction had ever taken place."
"Given the structure of the consortiums that operated the mines, it would be exceedingly difficult for Niger to transfer uranium to Iraq. Niger's uranium business consists of two mines, Somair and Cominak, which are run by French, Spanish, Japanese, German and Nigerian interests. If the government wanted to remove uranium from a mine, it would have to notify the consortium, which in turn is strictly monitored by the International Atomic Energy Agency. Moreover, because the two mines are closely regulated, quasi-governmental entities, selling uranium would require the approval of the minister of mines, the prime minister and probably the president. In short, there's simply too much oversight over too small an industry for a sale to have transpired."
"(As for the actual memorandum, I never saw it. But news accounts have pointed out that the documents had glaring errors — they were signed, for example, by officials who were no longer in government — and were probably forged. And then there's the fact that Niger formally denied the charges.)" 
"Before I left Niger, I briefed the ambassador on my findings, which were consistent with her own. I also shared my conclusions with members of her staff. In early March, I arrived in Washington and promptly provided a detailed briefing to the C.I.A. I later shared my conclusions with the State Department African Affairs Bureau. There was nothing secret or earth-shattering in my report, just as there was nothing secret about my trip."
"Though I did not file a written report, there should be at least four documents in United States government archives confirming my mission. The documents should include the ambassador's report of my debriefing in Niamey, a separate report written by the embassy staff, a C.I.A. report summing up my trip, and a specific answer from the agency to the office of the vice president (this may have been delivered orally). While I have not seen any of these reports, I have spent enough time in government to know that this is standard operating procedure."
"I thought the Niger matter was settled and went back to my life. (I did take part in the Iraq debate, arguing that a strict containment regime backed by the threat of force was preferable to an invasion.) In September 2002, however, Niger re-emerged. The British government published a "white paper" asserting that Saddam Hussein and his unconventional arms posed an immediate danger. As evidence, the report cited Iraq's attempts to purchase uranium from an African country."
"Then, in January 2003, President Bush, citing the British dossier, repeated the charges about Iraqi efforts to buy uranium from Africa."
 On April 13, 2018, James Hohmann of the Washington Post penned the following report penned the following report, "The Daily 202: Trump 'Scooter' Libby pardon sends a message to witnesses in Mueller probe"
THE BIG IDEA: 
President Trump's pardon of Lewis "Scooter" Libby is the latest signal to his associates that he has the power and inclination to reward those who stay loyal during special counsel Robert Mueller's investigation."
"I don't know Mr. Libby," Trump said in a statement released midday, "but for years I have heard that he has been treated unfairly. Hopefully, this full pardon will help rectify a very sad portion of his life."
"Libby was convicted of 4 felonies, including obstruction of justice and perjury before a grand jury, related to the outing of CIA operative Valerie Plame during his time as Vice President Dick Cheney's chief of staff. Libby was sentenced to 30 months in prison and fined $250,000."
"After talk of the pardon broke early this morning, Richard Painter, who was the chief ethics lawyer in George W. Bush's White House from 2005 to 2007, tweeted: "So what's the message here? Lie to a grand jury to protect political superiors and you will get a full pardon?"
"A decade ago, many conservatives described the prosecution of Libby as a "witch hunt." "The right's narrative about Libby — that he was railroaded by an overreaching, politically-driven special prosecutor — syncs with Trump's view of his own predicament," notes Kyle Swenson. "'A TOTAL WITCH HUNT!!!' the president has tweeted about the Mueller investigation."
— "There's a Comey connection here: Then-Attorney General John Ashcroft recused himself from the Plame affair, which left the decision on how to proceed to then-Deputy Attorney General James B. Comey. Comey appointed his longtime friend and colleague Patrick J. Fitzgerald to become the special counsel. It was Fitzgerald who convicted Libby. There's no way Libby's defenders haven't put this bug in the president's ear."
"Trump just called Comey a "slime ball" on Twitter. The ousted FBI director's  memoir comes out next Tuesday, and cable news this morning is dominated by coverage of what it says. (keep reading for much more on the book):"
James Comey is a proven LEAKER & LIAR. Virtually everyone in Washington thought he should be fired for the terrible job he did-until he was, in fact, fired. He leaked CLASSIFIED information, for which he should be prosecuted. He lied to Congress under OATH. He is a weak and…..
….untruthful slime ball who was, as time has proven, a terrible Director of the FBI. His handling of the Crooked Hillary Clinton case, and the events surrounding it, will go down as one of the worst "botch jobs" of history. It was my great honor to fire James Comey!
— "ABC, which broke the news about Libby, reports that "the president has already signed off on the pardon." 
Several other outlets, including The Washington Post, quickly got confirmation. Two people familiar with the president's thinking told our 
Josh Dawsey and Philip Rucker
 that the pardon has been under consideration for several months." 
– "Bigger picture, Trump continues to be a do-as-I-say, not-as-I-do president. He constantly rails against leaks, yet he's pardoning someone who was convicted of lying about leaking sensitive national security information. Judith Miller, then a reporter for the New York Times, spent 85 days in prison rather than disclose Libby was one of her sources."
— "A potential pardon once again puts into stark relief Trump's bitterness toward the career professionals at the FBI and CIA, who the president sees as part of a "deep state" conspiring against him."
— "It's also another data point of Trump's disdain for the rule of law. Libby unsuccessfully appealed his conviction. He was convicted by a jury."
–" Furthermore, this shows Trump does not believe someone must be contrite to get a pardon. Historically, that's been a requirement or at least a norm."
— "In that respect, this might be another indication of John Bolton's growing influence: Proximity is power in any White House, but it's especially true with Trump. Bolton, who started Monday as national security adviser, is close friends with Libby and a longtime Cheney loyalist. A 2009 story in the New York Times quoted Bolton on the record and said he had "broken with the president in recent years, in part over Mr. Libby's case." This may have been in the pipeline for a while, but it's possible Bolton helped seal the deal."
"Bolton continues to clean house. Deputy national security adviser Ricky Waddell just became the fourth official under his domain to call it quits this week. "Senior White House officials said other personnel changes could happen in the coming days on the National Security Council," Josh Dawsey and Greg Jaffe report. "One former senior administration official called him a 'steady hand and a workhorse.' But he was not known to have a particularly close relationship with Trump."
Lewis "Scooter" Libby, Dick Cheney's former chief of staff, leaves federal court in 2006. (Jim Young/Reuters)
— "A pardon of Mr. Libby would paradoxically put Mr. Trump in the position of absolving one of the chief architects of the Iraq war, which Mr. Trump has denounced as a catastrophic miscalculation," Peter Baker and Maggie Haberman note on the front page of the Times. "Mr. Bush assigned White House lawyers to examine the case, but they advised him the jury had ample reason to convict Mr. Libby and the president rebuffed Mr. Cheney's request. Mr. Bush told aides that he suspected that Mr. Libby had thought he was protecting Mr. Cheney, the real target of the investigation."
Link to entire Washington Post report: Trump 'Scooter' Libby pardon sends a message to witnesses in Mueller probe