There is an excellent "must read" New York magazine article on Felix Sater which shares this following detail:
Cohen, one of Trump's personal attorneys, had known Sater since they were teenagers.
As per 7/25/17 TPM report, "Sater said he most clearly remembers the beginning of his relationship with Cohen from the time the former Trump Organization attorney began dating his now-wife (Lauren Shusterman), whom Sater describes as a girl from his neighborhood of Jewish Soviet expatriates. Cohen told TPM the pair had known each other before then, in their teenage years, and that he hadn't yet begun dating his wife, reportedly a Ukrainian émigré, when he was in his teens."
As per Wikipedia, Feix Sater was born in Moscow into a Russian Jewish family, who grew up in the Russian neighborhood of Brighton Beach. He was the son of Mikhail Sheferovsky who was an underboss for Russian Mafia "boss of bosses"  Semion Mogilevich and convicted of extorting money from local restaurants, grocery stores, and a medical clinic."
Cohen grew up on Long Island as a doctor's son. About the only thing the two seem to have in common is that they are both Jewish and about the same age.
As per Wikipedia, Cohen grew up in the town of Lawrence on Long Island. His mother was a nurse, and his father, who survived the Holocaust, was a surgeon.
An excerpt from an article in Rolling Stone by Seth Hettena, explains how Felix Sater and Michael Cohen could have met as teenagers:
"He grew up on Long Island, the son of a physician who survived the Holocaust in Poland, and spent a childhood around organized crime, specifically the Russian Mafiya. Cohen's uncle, Morton Levine, was a wealthy Brooklyn doctor who owned the El Caribe Country Club, a Brooklyn catering hall and event space that was a well-known hangout for Russian gangsters. Cohen and his siblings all had ownership stakes in the club, which rented for years to the first Mafiya boss of Brighton Beach, Evsei Agron, along with his successors, Marat Balagula and Boris Nayfeld. (Cohen's uncle said his nephew gave up his stake in the club after Trump's election.)"
Their friendship explains how these two men's names with Russian / Ukrainian Jewish ties keep popping up in the life of the republican President Donald Trump.
The connection of the 2 friends at the start of Donald Trump's campaign to become the US president in 2015:
As per the 8/28/17 New York Times report by Matt Apuzzo and Maggie Haberman, "A business associate of President Trump promised in 2015 to engineer a real estate deal with the aid of the president of Russia, Vladimir V. Putin, that he said would help Mr. Trump win the presidency."
"The associate, Felix Sater, wrote a series of emails to Mr. Trump's lawyer, Michael Cohen, in which he boasted about his ties to Mr. Putin. He predicted that building a Trump Tower in Moscow would highlight Mr. Trump's savvy negotiating skills and be a political boon to his candidacy."
"Our boy can become president of the USA and we can engineer it," Mr. Sater wrote in an email. "I will get all of Putins team to buy in on this, I will manage this process."
Felix Sater and Michael Cohen roles in trying to land a Trump Tower in Moscow in late 2015 and early 2016:
As per the 3/16/18 CNN report by Jeremy Herb, "Felix Sater, a mob-linked felon turned FBI informant, is speaking out now after he has figured prominently amid questions about Trump's connections to Russia for his role in trying to land a Trump Tower in Moscow in late 2015 and early 2016, while the presidential campaign was underway."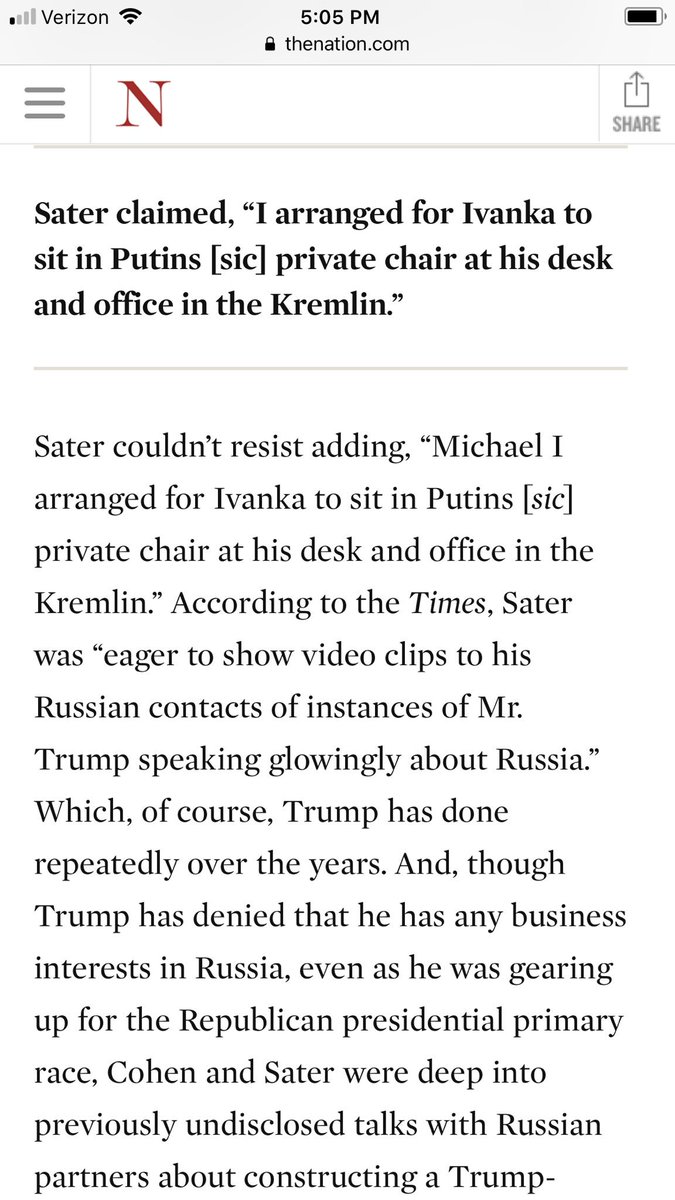 "Trump signed a letter of intent on the Moscow deal, which was a nonbinding agreement, but the venture was ultimately scuttled in 2016."
"Sater worked with Trump's personal attorney Michael Cohen on the deal, and emails exchanged between the two show that Sater thought the deal could "get Donald elected," according to 
The New York Times
. Sater also suggested he could get Russian President Vladimir Putin to say "great things" about Trump if the deal went through, according to 
The Washington Post
."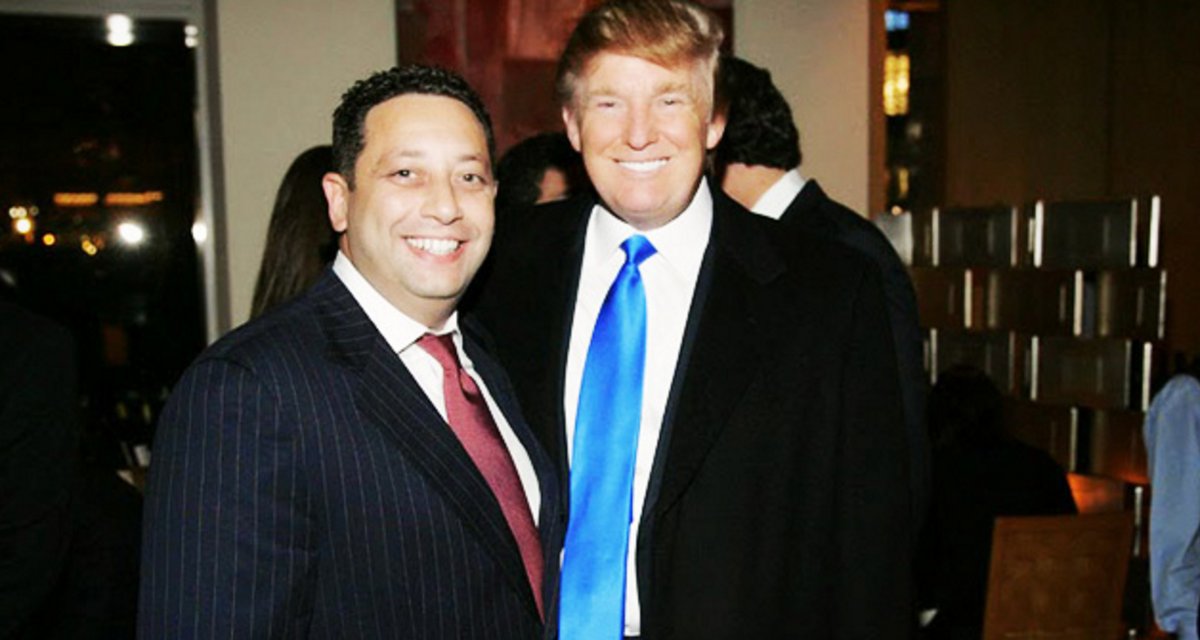 Imagine this. The president has claimed more than once that he does not know this Felix Sater very well. Once in a deposition, the president said he wouldn't recognize him if Mr. Sater passed him on the street…
As per 3/16/18 CNN report by Jeremy Herb, "Felix Sater, the Russian-born onetime business associate of Donald Trump's who worked to build a Trump Tower in Moscow, says the then-business magnate asked him to "look after" his kids when they were pursuing business deals in Russia."
"Sater told CNN's Chris Cuomo on "New Day" Friday that Trump had personally asked him to travel to Russia to be in Moscow with his children (2006)."
"The President asked me to be in Russia at the same time as them to look after them," Sater said, adding that Trump had asked him directly.
"The Trump Organization's general counsel 
has said previously
 Sater was not accompanying the Trump children in Moscow. And Trump himself has downplayed his connections to Sater."
"Felix Sater, boy, I have to even think about it," Trump said in a December 2015 
Associated Press interview
. "I'm not that familiar with him."
Remember that peace plan between Russia and Ukraine that was drafted before the president's National Security Adviser Michael Flynn departed the White House in February of 2017…
"The author Josh Marshall writes, I was intrigued to learn a few days ago that President Trump's personal lawyer, Michael Cohen, once founded an ethanol business in Ukraine. It's referred to as a family business. So presumably he set it up with relatives of his wife, who is Ukrainian. This isn't any big scoop I uncovered with my masterly reporting skills. It's referenced right in one of the biggest stories of the last week in The New York Times, the one about Cohen, Felix Sater and Andrii V. Artemenko, the renegade Ukrainian MP who pitched Cohen (and, he hoped, Mike Flynn and Donald Trump) on his 'peace plan' for Russia and Ukraine and who is now being investigated by the government of Ukraine for treason."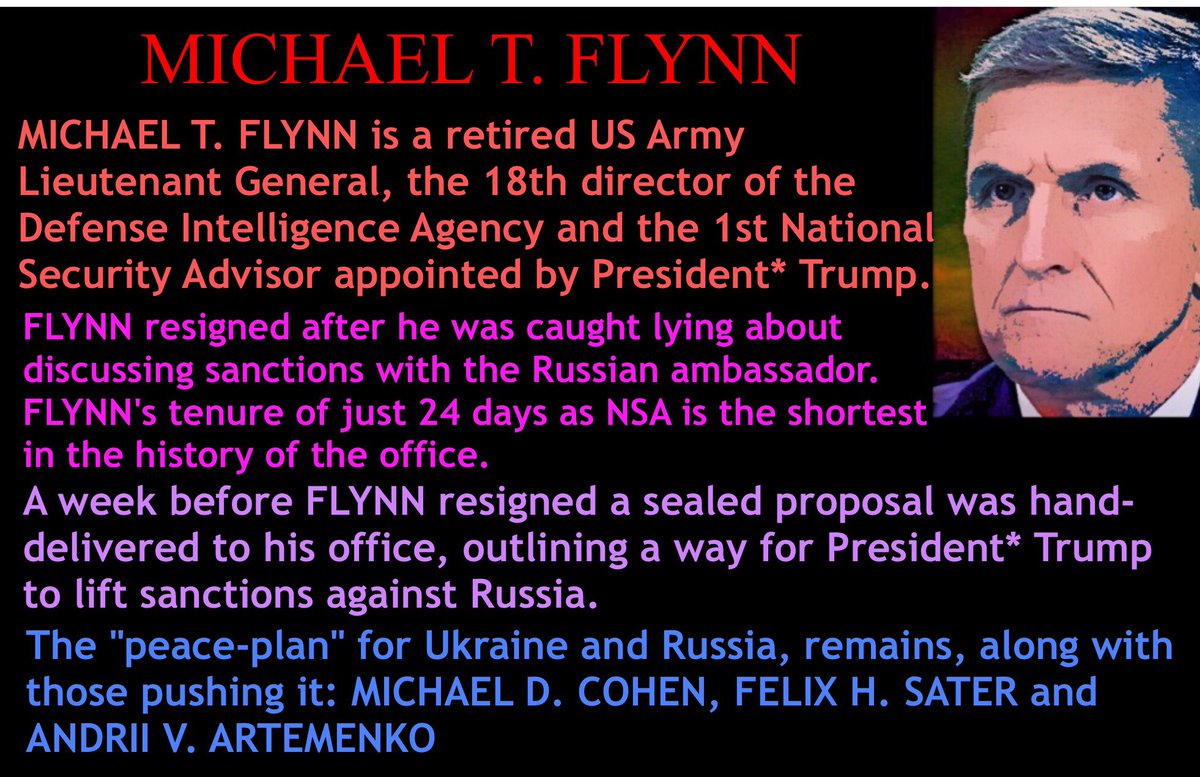 "This article in the English language section of the Urkainian news website Hromadske International has more details. Now, before discussing this I should say that I always try to be cautious dipping into the press of a country I don't know in some detail. It's hard to know the difference between The New York Times and the National Enquirer without your linguistic and cultural-political bearings. However, in this case I spoke to a good friend who is part of the Ukrainian-American community. She is familiar with the publication and the people who run it. So while I cannot specifically confirm the details of this article, I'm confident it is a legitimate publication. The article I'm referencing is an English translation of the original in Ukrainian. The usage is a little rough in places. But it's clear enough."
"In any case, the article is a backgrounder on Artemenko, pivoting off the original story in the Times. It goes into various details about Artemenko's background. Then it gets to Cohen. In an interview at Strana.ua, he says that while Sater is a recent acquaintance, he's known Cohen since back when Cohen was setting up the ethanol business in Ukraine. So at least according to to Artemenko, he and Cohen have known each other for some time. This wasn't just a courtesy meeting Cohen took with a stranger as a favor to Sater."
"And then there's this."
 "
Artemenko told Strana.ua that this wasn't the first time they'd talked about the "peace plan." He says that he was discussing the peace plan with Cohen and Sater "at the time of the primaries, when no one believed that Trump would even be nominated."
"So at least according to Artemenko, discussions about the "peace plan" go back to the first half of 2016."