Remember those promises that the GOP in the US Congress were declaring in order to push through their tax cuts designed to mostly benefit themselves, the rich and corporations around November- December 2017.
I remember the republican President Donald Trump assuring his fellow US congressional republicans that the US GDP (Gross Domestic Product) annual growth would be propelled to exceed even 4% if they had the faith to push through their tax cuts bill.
What happens now, when in the first three months of 2018 or the first quarter, the GDP growth estimate is about 2% (Final figures in May was 2.3%). If this trend continues, this annual growth rate will not even attain their projected growth estimate of 3%.
How will the republicans running to be elected/ reelected for national office in November 2018 explain their foolishness in paying for their 2017 tax cuts in part, by adding $1.5 trillion dollars to the US deficit over a 10 year period? How will they account for no measurable increases in wage rates and/ or in better paying jobs?
Here's the rest of the story…
On April 26, 2018, Sho Chandra of Bloomberg penned the following report, "The U.S. Is About to See How Deep the First-Quarter GDP Pothole Is"
Excerpts: 
-Analysts project growth of 2% after fourth quarter's 2.9% (Actual figure was at 2.3% in May 2018)
-Rebound expected in coming months as tax cuts take hold
"The U.S. economy probably hit its usual first-quarter pothole, and we're about to find out how deep it was this time."
 "Gross domestic product grew at a 2 percent annualized rate over the past three months, a step down after three straight quarters exceeding or near a 3 percent pace, according to the median estimate in a Bloomberg survey ahead of Commerce Department figures due Friday. Consumer spending, the biggest part of the economy, is projected to advance 1.1 percent, the least since mid-2013."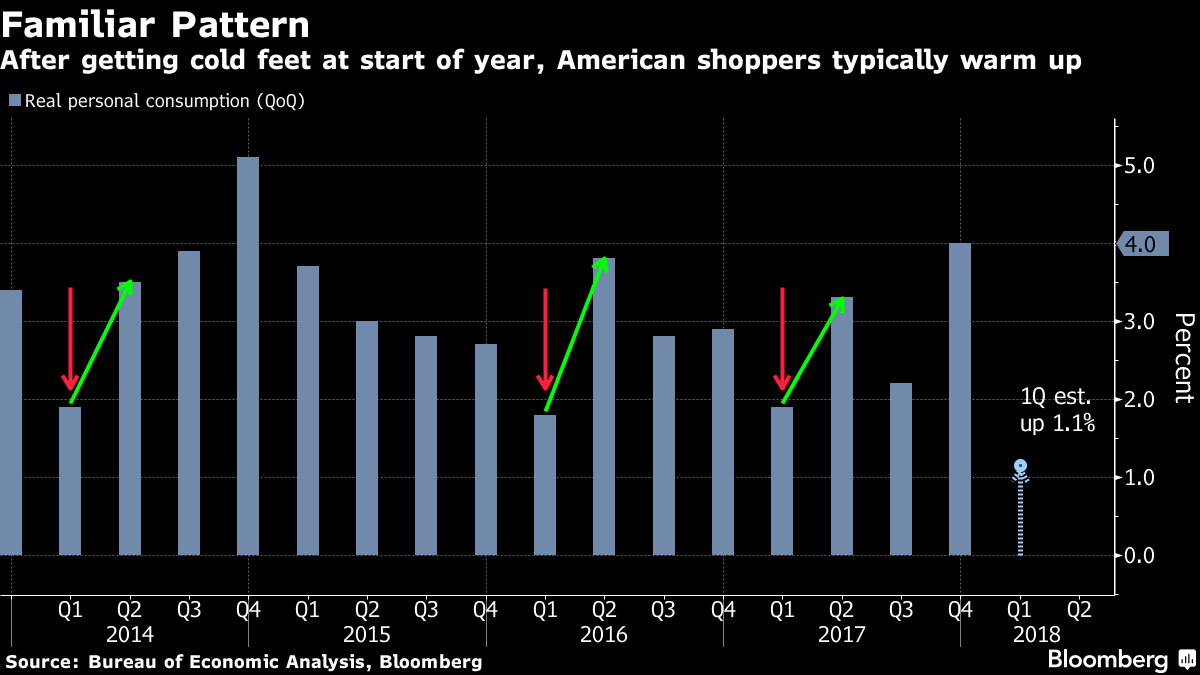 "While the GDP gain may be the best for any first quarter since 2015, the softness is a reminder that the period remains plagued by data quirks the government is trying to remedy. The expected results also underline the difficulty of achieving President Donald Trump's goal of 3 percent sustained growth, despite corporate and individual tax cuts that went into effect in January."
"Demand is expected to regain a firmer footing as the tax cuts and other fiscal stimulus take hold, drawing the economy toward a milestone in May — the second-longest expansion on record. The U.S. is also experiencing the lowest unemployment rate since 2000, healthier finances, contained inflation and borrowing costs still low by historical standards. Federal Reserve policy makers have said they view the first-quarter slowdown as transitory, and investors expect them to raise interest rates in June for the second time this year." 
John Darkow / Columbia Daily Tribune"Everyone "has generally come to terms with the idea of a weak first quarter, as that's often been the case," said Russell Price, senior economist at Ameriprise Financial Inc. in Detroit. "People understand the reasons" including seasonal adjustment challenges."
"Data due next week will flesh out just how strong that rebound could be. Companies are also contending with the impact of Trump's tariffs on imported steel and aluminum, and the threat of a trade war with China that's caused financial-market turbulence. The extra disposable income in consumers' pockets should cushion some of those effects."
"Consumers have the ability and the resources to increase spending," though "trade is a risk factor, no doubt," Price said.
"Reports released Thursday morning showed a better picture for trade but softer investment toward the end of the first quarter. The goods-trade gap narrowed in March to a six-month low as imports plunged by the most in two years, reflecting the fading of a post-hurricane boom in American purchases of foreign-made goods. On the other hand, business-equipment orders placed with U.S. factories unexpectedly fell last month, and shipments of non-defense capital goods excluding aircraft posted the largest decline since May 2016."
"It is a disappointment, it may suggest that business investment isn't as strong" as expected in the second quarter, said Andrew Grantham, an economist at CIBC World Markets. "One thing that may be weighing on company's minds is the uncertainty about trade with the tariffs, with China in particular." The trend on consumer spending and confidence still looks positive for the economy, he said.
"Other recent reports indicated the economy lost the steam it had gathered in late 2017 amid a post-hurricane boost to consumption and corporate investment. Inflation-adjusted consumer spending was little changed in February after a decline in January, the weakest two-month performance in 4 years. Automobile sales cooled for two straight months before improving in March. Factory output expanded at a softer rate in the first quarter after surging in the prior period."
"Kevin Hassett, chairman of Trump's Council of Economic Advisers, said Thursday that "people were looking at their savings accounts and rebalancing" after so much consumption in the second half of 2017. "We expect that incomes are going to rise faster this year, which will support consumer spending," with tax cuts boosting purchases in March and April, he said."
"The Commerce Department's Bureau of Economic Analysis, which produces the GDP report, has been attempting to address statistical quirks, or so-called residual seasonality, behind persistently disappointing readings of first-quarter GDP. In five of the past eight years, the first quarter turned out to be the worst one of the year. The BEA has been revamping its methodology to try to nick the issue."
"A slowdown in early 2017 gave way to a growth spurt as fading headwinds for the energy sector fueled a manufacturing resurgence, and consumer spending remained strong. As for 2018, a pickup would potentially also spur inflation, though the tightest job market in years has yet to produce a widespread, sustained acceleration in labor costs that would feed into price pressures."