The Stormy Daniels case has been paying dividends as far as the press is concerned. Stephanie Clifford aka Stormy Daniels is the porn star who had dealings with the republican President Donald Trump's personal attorney/ fixer/ consigliere Michael Cohen around October 2016 where he negotiated for her to sign a (NDA) Non Disclosure Agreement in exchange for $130,000 for her to keep quiet about the adulterous affair she had with the president in 2006.
This may end up being the case of of the porn star who ended the presidency of Donald J. Trump.
Somehow Ms. Daniels smelled a rat to where she decided to hire her current attorney, Michael Avenatti who soon afterwards shared with the public via the media that the president never signed the NDA form.
But it is through this event that we learned that Mr. Cohen had a NDA cottage industry going where he used a duplicate NDA form for other similar type cases with the same aliases. The president was to sign as David Dennison and the young lady who could spill the beans was to sign as Peggy Peterson. It was during this time frame that Michael Cohen created the shell company, Essentials LLC. This is the name on the form where he was to sign. I am guessing that the attorney Keith M. Dennison who purportedly represented all the young ladies, had been assigned to locate any of the president's former paramours to make certain that they would not come forward to tell all after the Access Hollywood tape became public around October 2016. See: Raid on Trump's Lawyer Sought Records on 'Access Hollywood' Tape /NY Times 
This Stormy Daniels story gained strength to a category 4 level after the president's personal attorney, Michael Cohen places of work had been subject to a surprise FBI raid on the 9th of April 2018. The tell occurred when the president sent out his newly hired attorney/ friend Rudy Giuliani to muddy the waters with every cable news network he could get on as a guest. It seems that the president became concerned that certain sensitive data collected at Mr. Cohen's work locations by the FBI would end up conflicting with the president's past explanations regarding hush monies made to an adult star Stormy Daniels and others for their silence about any adulterous affairs. These presidential worries had not been shared with the president's legal team.
Soon after the April 9, 2018 raid, there was another NDA/ Cohen scandal that was published by the Wall Street Journal on the 13th of April 2018 and then it was picked up by the NY Times. It is my guess that whoever had attempted to plant this news report shopped it around to several news outlets but most turned it down. But the Wall Street Journal and then the NY Times may have jumped on this planted story a little too soon, as the story doesn't add up. There are serious suspicions that the republican fundraiser who has a history for being a strong advocate for Israel. UAE, Elliott Broidy took the hit for the president in order to cover up for the president's later affair with Playboy model Shera Bechard.
See: Theory: Playboy Model Had Affair With Trump, Not Broidy – NYMag
See: Was there another Playboy Playmate in Donald … – The Mercury News
Within this past week, it has been Stormy Daniels' attorney Michael Avenatti who has shared banking data with the media that involved a minimum of $4.4 million dollars which passed through the shell company, Essential Consultants L.L.C. developed by the republican Donald Trump's personal attorney Michael Cohen around the time period of October 2016- January 2018.
CLICK HERE TO READ THE AVENATTI DOSSIER/ from jillwinebanks.com/ 5/8/18
See: Michael Cohen clients: companies' odd explanations for hiring a … – Vox
Russian connections with Essentials LLC.:
See: Firm Tied to Russian Oligarch Made Payments to Michael Cohen – NYT 
See: Columbus Nova's Viktor Vekselberg connections stronger than it lets on-Slate.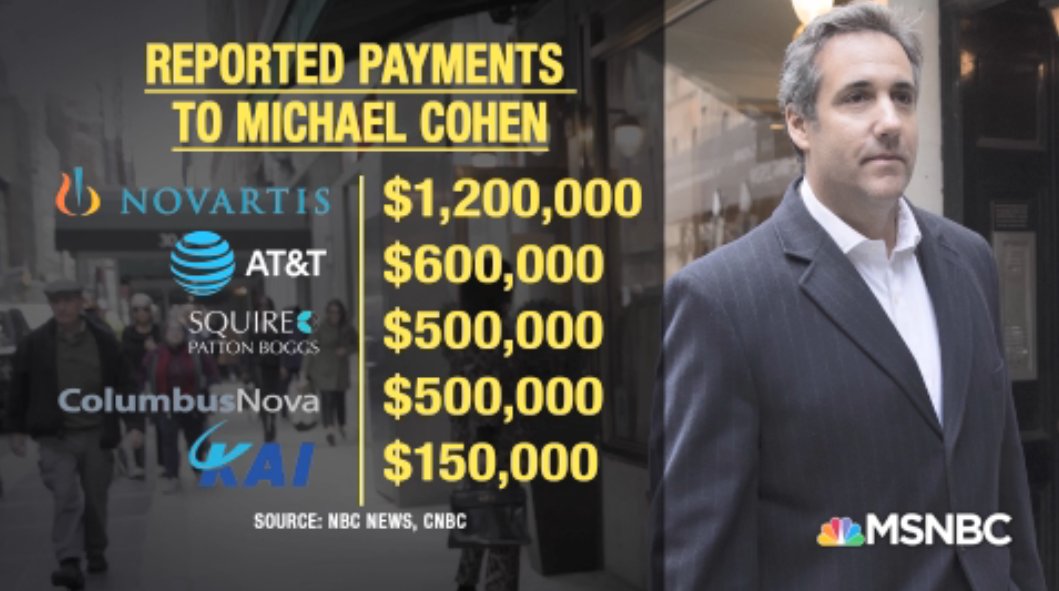 According to news reports, AT&T had been contacted about the monies it paid to Michael Cohen's LLC around November 2017 by the FBI regarding its Trump-Russia probe being led by the Special Counsel Robert Mueller III. The Novartis company has admitted to sharing information regarding this account around January 2018. "We the people" now know that the FBI is tracking down this lead.
If my addition is correct, Elliott Broidy forwarded about $575,000 to this LLC, aacount which is far short of $1.6 million dollars.
See: Cohen's $600000 deal with AT&T specified he … – Washington Post
Here's the rest of the story…
On May 9, 2018, Ed Silverman of STAT penned the following report,  "Trump's lawyer pitched himself as a fixer to Novartis and got paid $1.2 million"
Excerpts:
"The curious relationship between one of the world's biggest drug makers and President Trump's personal lawyer began early last year when Michael Cohen, a longtime fixer for the president, reached out to Novartis's then-chief executive officer Joe Jimenez, promising help gaining access to Trump and influential officials in the new administration, according to an employee inside Novartis familiar with the matter."
"Jimenez took the call and then instructed his team to reach a deal with Cohen. A one-year contract worth $1.2 million was signed with Cohen in February 2017. The company's hope was that Cohen could help it navigate a bevy of uncertain issues facing the drug maker — from potential changes to the Affordable Care Act and tax reform to navigating reimbursement challenges for medicines."
"He reached out to us," the Novartis employee said, providing STAT with the company's version of events as it scrambles to contain the fallout from being entangled in the investigations surrounding Trump and his inner circle, including Cohen. "With a new administration coming in, basically, all the traditional contacts disappeared and they were all new players. We were trying to find an inroad into the administration. Cohen promised access to not just Trump, but also the circle around him. It was almost as if we were hiring him as a lobbyist."
"In March 2017, a group of Novartis employees, mostly from the government affairs and lobbying teams, met with Cohen in New York to discuss specific issues and strategies. But the meeting was a disappointment, the insider explained, and the Novartis squad left with the impression that Cohen and Essential Consultants — the firm controlled by Cohen that Novartis was making payments to — may not be able to deliver."
Link to entire report: Trump's lawyer pitched himself as a fixer to Novartis and got paid $1.2