It was the last straw. On the 10th of May 2018, there were press releases about Sheldon Adelson having issued a $30 million dollar check to assist GOP members in the US Congress with financial aid to be used in their reelection campaigns this November 2018.
Mr. Adelson has plenty to be grateful for, to where he would award this thank you note to the GOP in the US Congress. He was a major proponent for the republican President Donald Trump's decision to move the US Embassy in Israel from Tel Aviv to Jerusalem.
The pressure on Trump to act goes deeper than his promise to voters. His biggest campaign contributor, billionaire casino magnate Sheldon Adelson, was showing marked impatience with Trump's slowness in moving the embassy. The president hesitated as did previous administrations because this relocation of the embassy would be viewed as a provocation to Palestinians who claim Jerusalem as the capital of a future Palestinian state. Past presidents have refused to move the embassy on the basis that it would upset potential peace talks between Israeli and Palestinian negotiators.
In the past, Jared Kushner as part of the president's transition team had developed a working relationship with Israel's far-right prime minister, Benjamin Netanyahu to defeat a UN resolution criticizing Israel's ongoing settlement construction.
As per a December 1, 2017 National Post report by Eli Lake of Bloomberg,  (Under Jared Kushner's instructions), "two former officials with the Trump transition team who worked closely with Flynn say that during the last days of the Obama administration, the retired general was instructed to contact foreign ambassadors and foreign ministers of countries on the UN Security Council, ahead of a vote condemning Israeli settlements. Flynn was told to try to get them to delay that vote until after Barack Obama had left office, or oppose the resolution altogether."
That is relevant now because one of Flynn's lies to the FBI was when he said that he never asked Russia's ambassador to Washington, Sergey Kislyak, to delay the vote for the U.N. Security Council resolution. The indictment released today from the office of special prosecutor Robert Mueller describes this lie: "On or about December 22, 2016, Flynn did not ask the Russian Ambassador to delay the vote on or defeat a pending United Nations Security Council resolution."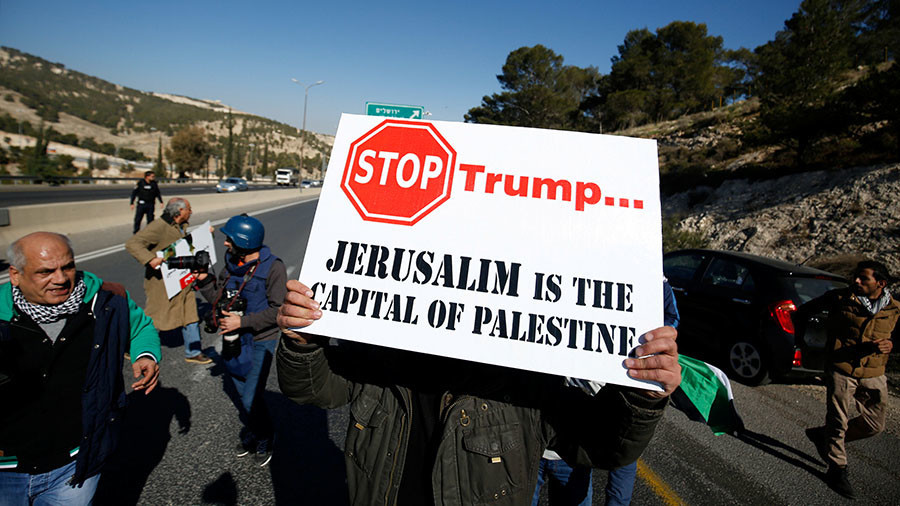 "At the time, the U.N. Security Council resolution on Israeli settlements was a big deal. Even though the Obama administration had less than a month left in office, the president instructed his ambassador to the United Nations to abstain from a resolution, breaking a precedent that went back to 1980 when it came to one-sided anti-Israel resolutions at the U.N."
"This was the context of Kushner's instruction to Flynn last December. One transition official at the time said Kushner called Flynn to tell him he needed to get every foreign minister or ambassador from a country on the U.N. Security Council to delay or vote against the resolution. Much of this appeared to be coordinated also with Israeli prime minister Benjamin Netanyahu, whose envoys shared their own intelligence about the Obama administration's lobbying efforts to get member states to support the resolution with the Trump transition team."
This could be a potential violation of the Logan Act, which criminalizes negotiations by unauthorized persons such as those on a transition team with foreign governments having a dispute with the U.S.
It is well known fact that the major advocate for the president making the unilateral decision to back out of the 2015 Iran Nuclear agreement which most foreign policy experts warned against, was the Israeli Prime Minister Benjamin Netanyahu.
As per 5/8/18 Lobe Log report "President Donald Trump has just fulfilled a campaign pledge to tear up the Obama administration's signature foreign policy achievement, a multilateral agreement constraining Iran's nuclear enrichment (Joint Comprehensive Plan of Action or JCPOA). In doing so, the president went against the advice of, among many others, his secretary of defense, House Foreign Affairs Committee Chairman Ed Royce (R-CA), Washington's three most important European allies, and almost-two thirds of Americans who believe that the U.S. should not withdraw from the deal, according to a CNN poll released on Tuesday morning."
"Indeed, today's unpopular announcement may have been exactly what two of Trump's biggest donors, Sheldon Adelson and Bernard Marcus, and what one of his biggest inaugural supporters, Paul Singer, paid for when they threw their financial weight behind Trump. Marcus and Adelson, who are also board members of the Likudist Republican Jewish Coalition, have already received substantial returns on their investment: total alignment by the U.S. behind Israel, next week's move of the U.S. embassy in Israel to Jerusalem, and the official dropping of "occupied territories" to describe the West Bank and East Jerusalem."
"Adelson, for his part, was Trump and the GOP's biggest campaign supporter. He and his wife Miriam contributed $35 million in outside spending to elect Trump, $20 million to the Congressional Leadership Fund (a super PAC exclusively dedicated to securing a GOP majority in the House of Representatives), and $35 million to the Senate Leadership Fund (the Senate counterpart) in the 2016 election cycle."
"Trump, who had previously complained that Adelson was seeking to "mold [Marco Rubio] into the perfect little puppet," quickly snapped around and echoed Adelson's hawkish positions on the Israeli-Palestinian peace process and moving the U.S. embassy to Jerusalem after Trump won the Republican nomination and secured Adelson's backing."
"Adelson, for his part, has advocated launching a nuclear weapon against Iran as a negotiating tactic and threatening to nuke Tehran, a city with a population of 8.8 million, if Iran does not completely abandon its nuclear program."
This action also helps President Trump, in his inexplicable need to please Russia's President Vladimir Putin, as the re-imposition of sanctions against Iran will end up increasing the price of oil which would prove to be a huge economic boost to Russia.
Somehow Israel and Russia have reached an understanding to where Israel has been bombing Iranian sites in Syria without interference from Russia. This way, Russia's primary concern is assured, which is Russia's permanent access to a naval base in Syria.
The US president has been in the process of  enacting the Israeli officials' wish list, to where donors supportive of Israeli causes have been extremely generous to the tune of millions of dollars.  This is why folks like Sheldon Adelson and Safra Catz, CEO of Oracle have been backing the likes of the republican Rep. Devin Nunes of California, the chair of the US House Intel Comittee who has been the president's number one attack dog against the "rule of law" which includes demonizing top officials at the US Department of Justice and discrediting the FBI's Trump-Russia probe being led by the Special Counsel Robert Mueller III. It explains why the US House Speaker Paul Ryan has been backing all the actions of Rep. Nunes. Israel and its supporters have every reason to back, support, bolster President Trump's continuation in office.
Here is the rest of the story… 
On May 10, 2018, Matthew Yglesias of VOX penned the following report, "Sheldon Adelson cuts $30 million check to help House Republicans win the midterms"
Excerpts:
"House Republicans have lagged consistently in the generic ballot and performed even worse than those poll numbers would suggest in special elections. Their hopes for holding a majority in the US House of Representatives remain fairly bright, however, because thanks to gerrymandering, Republicans can almost certainly hold their majority while losing the popular vote by 3 or 4 points and could very possibly hold it while losing by 5 or 6 points."
The other edge they'll have, of course, is money. GOP megadonor Sheldon Adelson announced Thursday morning that he'll cut a $30 million check to the Congressional Leadership Fund, a Super PAC that helps House Republicans.
"Money alone is no guarantee of victory, of course."
"As Axios's Alexi McCammond wrote yesterday, Republicans have been drastically outspending Democrats in every House special election and badly underperforming the partisan tilt of the districts nonetheless. Conor Lamb's big win in the Pennsylvania 18 special election came in the face of a particularly large spending disadvantage."
Good morning! I'll be on @MSNBC x @axios 1BigThing at 5:55a talking about my latest reporting on Dems spending less per vote in special elections and outperforming in every one https://www.axios.com/money-spent-on-special-elections-republicans-democrats-30adf6d4-d8ed-4fca-a70b-a7d98b20dc54.html …

Wave watch: Democrats getting more votes for their money

It's another sign of the uphill battle Republicans are facing in races around the country.

axios.com
Still, all this money is coming from somewhere, and it is coming for a reason.
"And the commitment of the likes of Adelson to the GOP cause is a reminder that despite the way culture war topics dominate the messaging of Republican Party politicians, economic issues remain core to the actual stakes of American politics. The $30 million the octogenarian casino billionaire is spending on the midterms may sound like a lot, but it's actually a drop in the bucket compared to what Adelson's heirs will gain thanks to the estate tax cut provisions of Trump tax bill alone."
On May 10, 2018, Devlin Barrett of the Washington Post penned the following report, 
Nunes's confrontation with Justice ""Department appears to ease
Excerpts:
"House Intelligence Committee Chairman Devin Nunes (R-Calif.) backed away from an open confrontation with the Justice Department on Thursday 5/10/18) after a private meeting with senior intelligence officials who said they could not give him top-secret information about an intelligence source who had aided special counsel Robert S. Mueller III, according to people familiar with the matter."
"Since the weekend, Nunes has said he may seek a contempt vote against Attorney General Jeff Sessions if the Justice Department does not produce documents in response to a subpoena. That subpoena asked for all files related to a specific individual."
"The request set off alarm bells at the CIA, FBI and Office of the Director of National Intelligence (DNI) because the individual in question is a longtime U.S. intelligence source, and officials feared providing such information could risk the person's safety and anger foreign partners who share intelligence with the United States."
 "White House officials have urged the two sides to meet and try to resolve their differences, and Nunes traveled to the Justice Department Thursday with Rep. Trey Gowdy (R-S.C.) for a meeting with Deputy Attorney General Rod J. Rosenstein as well as DNI and FBI officials."
Nunes and Gowdy, chairman of the House Oversight and Government Reform Committee, did not speak to reporters after the hour-long meeting but issued a joint statement later in the day."
"We had a productive discussion today with officials from the Office of the Director of National Intelligence, Department of Justice, and FBI in which we raised questions related to information requested from the Intelligence Community," the lawmakers said in their statement. "The officials committed to holding further discussions of these matters, and we look forward to continuing our dialogue next week to satisfy the Committee's request."
The senior Democrat on the committee, Rep. Adam Schiff (D-Calif.), received a separate briefing on the subject later in the day"
"Also Thursday, Nunes received public support in his battle from House Speaker Paul D. Ryan (R-Wis.), who called Nunes's request "wholly appropriate."
"I expect that we will be able to have an accommodation to honor this request because first of all it's our job to do oversight of the executive branch," he said. "This request is perfectly appropriate within the scope of the committee's investigation, and I hope and believe and expect that they'll be complied with."
"Nunes and Republicans on his committee have repeatedly charged that the Justice Department and FBI have misused the top-secret surveillance court process to unfairly investigate supporters of President Trump, and they have charged that senior Justice Department officials — all Trump appointees — are stonewalling efforts to expose misuse of surveillance power."
"Rep. Mark Meadows (R-N.C.), a close ally of Trump, has threatened to seek the impeachment of Rosenstein if he does not turn over a secret document identifying who is under investigation in the Mueller probe and what possible crimes are being investigated."
"Democrats have accused Nunes and others of creating a political smokescreen to protect the president and hobble the Russia probe."
"Nunes has insisted he is seeking documents only to show that FBI and Justice Department officials misled the Foreign Intelligence Surveillance Court in applications for surveillance authority. Nunes has repeatedly challenged the accuracy of applications the department made to conduct surveillance on Carter Page, a former Trump campaign adviser who had contacts with Russians that the FBI deemed suspicious."
"Starting in October 2016, the FBI sought and received authority from the FISA court to surveil Page — surveillance that extended into 2017."
"On Monday, Nunes told reporters that his latest request did not seek information about a specific person. "I've never referenced an individual. They did. They did that. I didn't," he said, referring to the Justice Department."
"Senior intelligence officials alarmed by Nunes's subpoena warned White House Chief of Staff John F. Kelly last week that the information being sought could not be turned over because it could do serious damage to intelligence-sharing relationships with other countries, The Washington Post reported Tuesday."
"Kelly and President Trump sided with Justice, but Nunes and some of his colleagues say they ultimately may win the fight over access to the source's files."
See: At Las Vegas confab, Republican Jews  / JTA
See:Who Is Financing The Saga And Mystery Of Rep. Devin Nunes
See: Trump Ordered DOJ to Hire Ezra Cohen-Watnick, Sources Say/ Bloomberg …