The republican US House Intelligence Committee Chair Devin Nunes (R-CA) has become infamous for making at least  three attempts to cover for the republican President Donald Trump to where he has shared classified intelligence in various ways to divert attention away from the FBI's Trump-Russia probe.
The obvious question for me, has been that despite Rep. Nunes unethical actions, how is it that the US House Speaker Paul Ryan (R-WI) has been allowing him to continue as the Intel Committee chairman?
I never quite answer the above question, but I did uncover some interesting tidbits.
My research starts with a gentleman Ezra Cohen-Watnick who was the White House's intelligence staffer who originally shared sensitive data around July 2017 with Rep Nunes, so that the representative could give a press conference demonstrating that he had uncovered information, proving that President Trump had been justified in his concern about being under surveillance. The press figured all of this out to where Mr. Nunes' act was a dud.
This Mr. Cohen-Watnick had been hired by General Mike Flynn. He ended up working as part of the National Security Council (NSC) long after General Flynn had been fired. In his 30s, he had formed a friendship with the president's son-in-law and senior adviser Jared Kushner.
But after his name was associated as the one who shared intelligence data with Rep. Nunes, he was fired by the National Security Adviser General H.R. McMaster in August 2017.
Mr. Ezra Cohen's spouse had been working  at a public-relations firm Ketchum, which was retained until 2015 by the Russian government.
In September 2017, Ezra Cohen was hired by the company Oracle. Its executives have all been donating monies exclusively to the campaign coffers of Rep. Devin Nunes.
Here's the rest of the story…
As per a 7/23/17 Atlantic article by Rosie Gray, "Washington got its first real look at Cohen-Watnick when he was identified as one of two White House sources who provided House Intelligence chairman Devin Nunes with evidence that former national security adviser Susan Rice requested the "unmasking" of the names of Trump associates in intelligence documents. In the intelligence world, incidental collection refers to intelligence agencies obtaining, in the course of monitoring foreigners, communications that either refer to or involve Americans, whose names are typically "masked" unless officials request that they be "unmasked."
The incident, coming in the aftermath of Trump baselessly accusing his predecessor of wiretapping Trump Tower, became one of the first dust-ups related to the investigations into possible Russian collusion during the 2016 campaign that have gripped the White House. The president later accused Rice of having committed a crime; for her part, Rice has denied that she ordered the unmasking for political purposes.
Despite that early controversy, Cohen-Watnick retains one of the most consequential intelligence jobs in the nation, and his influence is rising. He is in the thick of some of the most important policy fights at the White House; he is viewed as an Iran hawk and has been characterized, for instance, as a main proponent of expanding U.S. efforts against Iran-backed militias in Syria. And beyond policy specifics, he's become a flashpoint in the long-running tension between Trump and the intelligence community, a part of the U.S. government that the president has at times, openly disdained.
Yet what we don't know about Cohen-Watnick far outstrips what we do. Was he a central player in the Nunes scandal, or just a bystander? Has he retained his job due to his talent, or is he being protected because he's advancing the agenda of powerful West Wing patrons? What, besides loyalty to the president, are his credentials? Is he Flynn's mole on the council, or does he not even know the deposed national-security adviser all that well? Is he brash and difficult to work with, or modest and brilliant? And perhaps most important: Now that he has the president's ear, what will he whisper into it?
See: The Mystery of Ezra Cohen-Watnick – The Atlantic
Around August 2017, the National Security Adviser H.R. McMaster finally managed to push out a top White House intelligence aide Ezra Cohen-Watnick. The dismissal of Ezra Cohen-Watnick was the latest in a string of NSC staff members removed at the behest of General McMaster, who had been steadily letting go of aides that had been brought on by his short-lived predecessor General Michael Flynn.
As per the 4/4/17 Jewish Journal by Eitan Arom,  "New information suggests Cohen-Watnick's wife worked on behalf of the Russian government as a Washington D.C-based public relations specialist before they married."
"In November 2016, the 30-year-old Trump aide celebrated his upcoming wedding with Rebecca Miller, a content executive at the multinational public-relations firm Ketchum, which was retained until 2015 by the Russian government. While at Ketchum, Miller reportedly worked to "make Russia look better."
 "The information comes from an oral history interview of Miller's mother, Vicki Fraser, by the State Historical Society of Missouri in August 2014 (Fraser was born in St. Louis).""Her big challenges right now are Ketchum is responsible for providing PR and marketing to try to make Russia look better," Fraser told the interviewer of her daughter, "which is particularly difficult when they're invading other countries and when Putin is somewhat out of control."
As per a 4/5/17 Palmer Report by Bill Palmer, "The first piece of the puzzle came from another reporter, Laura Rozen from Al-Monitor, a popular and respected international publication which focuses on the Middle East. She reported on Twitter that "Cohen was in NROTC in college but quit senior year so that he didn't have to serve the 5 years. applied to CIA, ended up at DIA" according to one of his friends (link)."
"The most potentially relevant known detail about Ezra Cohen-Watnick remains the fact that his wife was a publicist for Vladimir Putin, through a United States public relations firm called Ketchum. This was initially unearthed by respected Holocaust attorney E. Randol Schoenberg (link), and we've since elaborated on the political context (link). The bottom line: his wife has received income (most likely indirectly) from the Kremlin."
"As was pointed out on-air by NBC News intel analyst Malcolm Nance over the weekend, Ezra Cohen-Watnick is too young and has too thin of a resume to legitimately hold the senior job that he currently has on Donald Trump's White House National Security Council. That, combined with his difficult to ascertain past, his involvement in the Nunes scandal, his untouchable nature in Donald Trump's eyes even after new National Security Adviser H.R. McMaster tried to fire him (source: NY Times), and his wife's ties to Putin, it all means that the American public is owed more information about who he is – and why he's in the crucial public servant position that he's in. Considering his job title, this is literally a matter of national security."
On February 12, 2018, Lachlan Markay and Sam Stein of the Daily Beast penned the following report, "The Silicon Valley Giant Bankrolling Devin Nunes"
Excerpts:
"Weeks after they hired a controversial former Trump national security aide with ties to House Intelligence Committee Chairman Devin Nunes (R-CA), top executives at the tech company Oracle made substantial donations to Nunes' 2018 re-election campaign."
"The donations, which totalled nearly $35,000 came from five executives, several of whom gave so much that they surpassed the legal limit and had to be refunded. What made the donations stand out, however, was not the size of them—$35,000 was a relatively small amount considering the more than $1.2 million that Nunes has raised so far this cycle. It was the timing of the giving."
"Ezra Cohen-Watnick, who worked as a top White House intelligence aide linked to former National Security Adviser Michael Flynn, joined Oracle just weeks before its executives began writing checks to Nunes. Cohen-Watnick had arrived at the company under a cloud of controversy. During his time in the administration, New York Times had identified him as having provided Nunes with reports that showed former National Security Adviser Susan Rice had requested the unmasking of several Trump aides listed in classified documents. Subsequent reports by the Washington Post and the Associated Press called Watnick's role into question, depicting him as the internal source of reports that were passed on to Nunes by others in the White House. That disclosure resulted in an ethics investigation into Nunes, who was eventually cleared of any wrongdoing."
The "unmasking" scandal turned out to be vastly overstated. And it raised additional questions about Cohen-Watnick's qualifications for the job. He ultimately was let go from the administration in August as part of a staff cleansing by Flynn's successor, National Security Adviser H.R. McMaster.
News that Oracle had hired Cohen-Watnick in its Washington DC office came in September. In early and mid-October, Oracle's top officials began giving to Nunes. Edward Lloyd Screven, the company's chief corporate architect, wrote two checks to the congressman for $2,700 each that month. On October 16, Kenneth Glueck, a senior vice president, wrote two checks to Nunes for $2,700 each. That same day, Safra Catz, Oracle's president, wrote a check to Nunes for $2,500. In late November, she wrote three more worth $5,200 (she was later refunded $2,500). Mark Hurd, CEO, would donate $5,400 in late November as well. So too would Oracle's billionaire chairman and CTO Larry Ellison. He had $2,700 of his $8,100 in contributions refunded.
Oracle is a Republican outlier in Silicon Valley, and its executives' right-leaning politics (and political contributions) present opportunities in Trump's Washington unavailable to competitors like Amazon, a frequent target of Trump's ire. Catz and Hurd are particularly close to the Trump administration, having both advised his transition team. They've also enjoyed personal access to high-level Trump administration officials—most notably McMaster. Catz dined with him in July, a dinner over which the National Security Adviser reportedly called President Donald Trump an "idiot" and a "dope."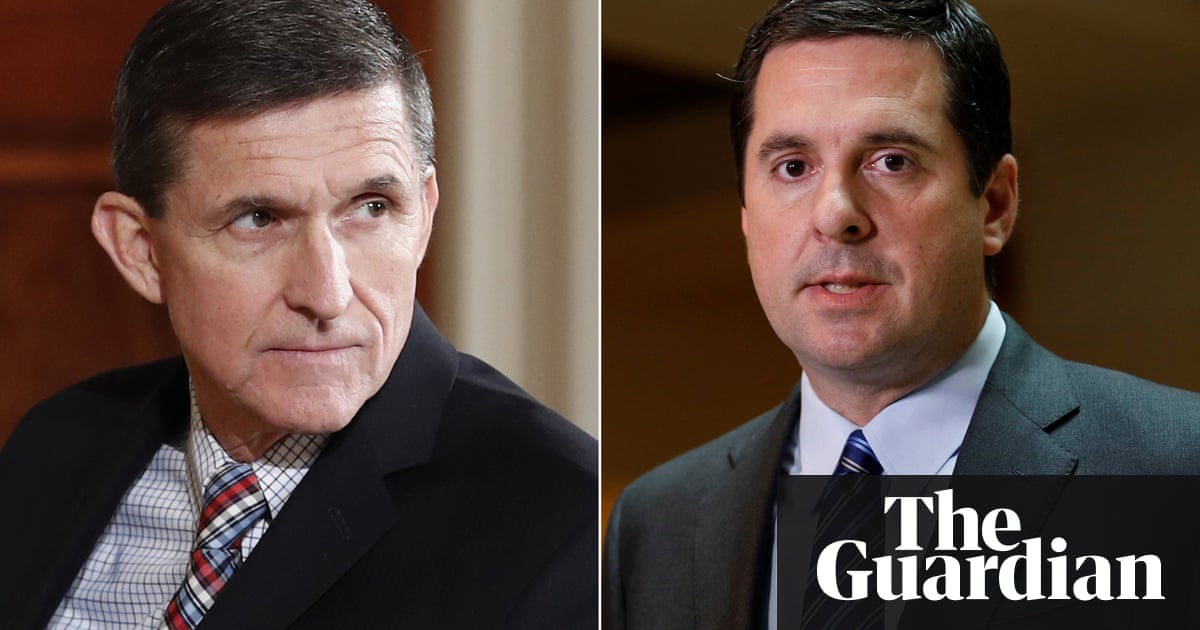 The congressman does have influence over legislation involving government surveillance law, on which Oracle has spent a fair amount of money lobbying, including in 
the last quarter of 2017
. Oracle has 
gone out of its way
 in the past to praise Nunes and his Democratic counterpart on the House Intelligence Committee, California Rep. Adam Schiff, for their handling of cyber-security issues. The company's political action committee has donated to both congressmen. It would be slightly more than a month after the donations were made that Congress began seriously considering whether to extend, repeal or reform Section 702 of the Foreign Intelligence Surveillance Act (FISA).
But these five Oracle executives have not personally donated to Schiff this cycle or, for that matter, the chairmen or ranking members of the Senate Judiciary or Intelligence committees, all of whom would have played an outsized role in that debate over the 702 program as well. Indeed, for all but one of these executives, Nunes has been the only House member to whom they have donated this current cycle.