A huuuuuuuuuuge thank you to Stormy Daniel's attorney Michael Avenatti who has just delivered a stupendous Mother's Day gift that is an almost too good to be true type of prize to all of us "Never Trumper" Moms.
He has been teasing those of us who have paying attention to his tweets with this promise of a surprise package and he finally delivered the goods.
Tweet:

@MICHAELAVENATTI: If you're out there and you have stuff related to your relationships with #MichaelCohen that you're concerned are going to come out you should be concerned because they are going to come out… that's a stern warning….
Here's the rest of the story…
After the Michael Avenatti shared his bombshell news, Grant Stern has been tweeting up a storm about the importance of Ahmed Al-Rumaihi being named director over a $100 billion dollar portfolio for Qatar around May 2016 which included Qatar National Bank and Qatar Airlines which has its US offices located in Trump Towers during a crucial time period December 2016.
Grant Stern also tweeted that this same Ahmed al Rumaihi had bragged about a payoff to President Donald Trump's National Security Adviser General Mike Flynn when he went to Trump Tower on December 12, 2016 during Trump's administration's transition time period where he did meet with General Flynn.
He tweeted this block buster. "Qatar purchased part of a state-owned Russian Oil company named Rosneft just three days before Al-Rumaihi's meeting at Trump Tower with Michael Cohen, and presumably with Gen. Flynn." "This could verify Page 30 of the #TrumpRussia dossier."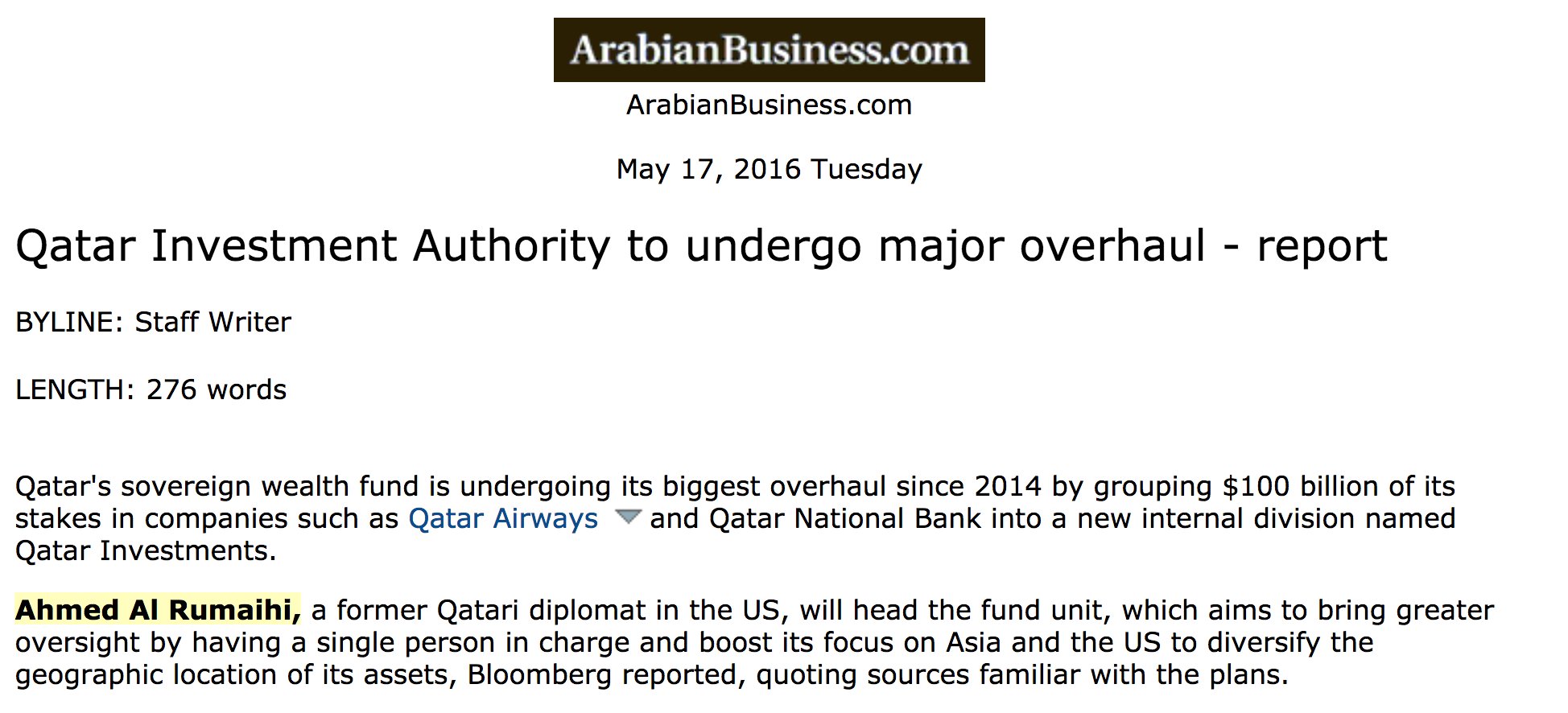 On May 13, 2018, Dan Friedman of Mother Jones penned the following report, "Qatari Investor Accused in Bribery Plot Appears With Michael Cohen in Picture Posted by Stormy Daniel's Lawyer" ("He's shown meeting with Cohen at Trump Tower shortly after the election.")
Excerpts:
"Members of the Trump transition team appear to have met on December 12, 2016 with a group from Qatar that included Ahmed al-Rumaihi, the former Qatari diplomat and current head of a division of Qatar's massive sovereign wealth fund who is accused in a recent lawsuit of scheming to bribe Trump administration officials."
"Michael Avenatti, a lawyer for adult film actress Stormy Daniel, on Sunday shared an ambiguous tweet showing a group of unidentified men in a Trump Tower elevator with Michael Cohen, Trump's personal attorney."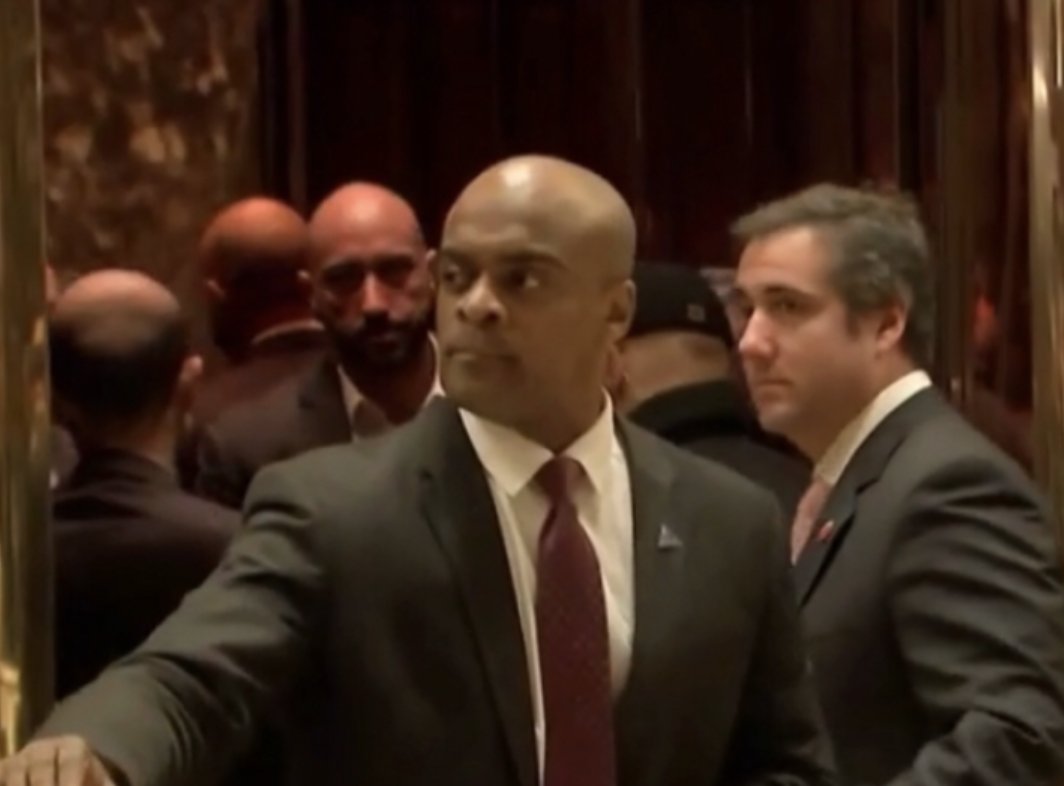 The photos include a person who appears to be al-Rumaihi, who in late 2016 and 2017 was part of an aggressive Qatari effort to forge ties with members of the Trump administration. It has not previously been reported that Qataris, including al-Rumaihi, met with Cohen in December 2016. Avenatti later followed up with another tweet asking why Cohen was meeting with Al-Rumaihi and Michael Flynn, Trump's former national security advisor."
Ice Cube, the rapper and actor, and his business partner Jeff Kwatinetz recently filed a $1.2 billion lawsuit that includes an allegation that Al-Rumaihi and other Qatari officials attempted use an investment in the men's BIG3 basketball league to gain access to Trump administration officials. "Mr Al-Rumaihi requested I set up a meeting between him, the Qatari government, and Stephen Bannon, and to tell Steve Bannon that Qatar would underwrite all of his political efforts in return for his support," Kwatinetz said in the court filing. Kwatinetz says he rejected the offer, which he viewed as bribe.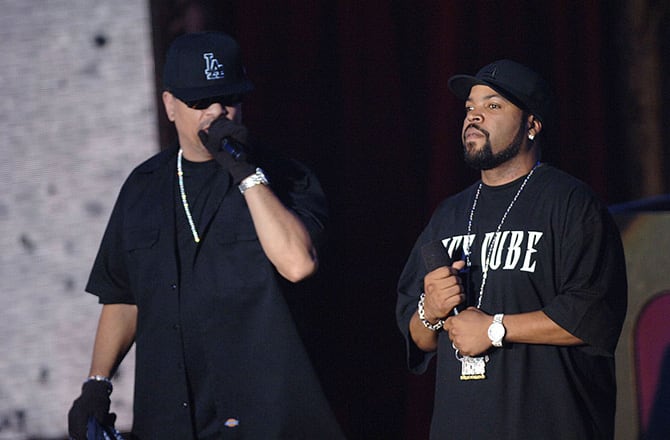 "In response, Kwatinetz claims, "Al-Rumaihi laughed and then stated to me that I shouldn't be naive, that so many Washington politicians take our money, and stated 'do you think Flynn turned down our money?'" That's a reference to Michael Flynn, who was fired as Trump's national security adviser after lying about his contacts with then Russian Ambassador Sergey Kislyak."
Last week Avenatti released a report, later largely confirmed, that detailed secret payments by a several corporations to a limited liability corporation set up by Cohen. In another picture Avenatti posted along with the photos of Al-Rumaihi, Cohen speaks with Flynn. Avenatti's photo of Flynn appears to be a screenshot of a YouTube video that does not feature the footage of Al-Rumaihi. Flynn, who was fired by Trump after lying about his contacts with then Russian Ambassador Sergey Kislyak, has pleaded guilty to lying to FBI agents and is cooperating with Special Counsel Robert Mueller's investigation into Trump campaign ties to Russia.
Here are the May 13, 2018 Daily Mail bullet points by Geoff Earle :
"Stormy's lawyer tweets Trump Tower images of Michael Cohen and Mike Flynn from 2016 and asks why they met Qatari investor who according to a court claim once boasted Flynn 'took our money'
"Stormy Daniels lawyer Michael Avenetti is calling for those who did business with longtime Trump lawyer Michael Cohen to 'come clean'
"He attached pictures from the lobby of Trump Tower on Dec. 12, 2016"
"One image showed fired national security advisor Mike Flynn and Cohen in the lobby of Trump tower; another shows Cohen with a crowd of people behind him"
"Trump Tower footage shows a discussion between Cohen, Flynn, and now-Energy secretary Rick Perry"
"One man in the photo could be a Qatari investor who once said Flynn tried to bribe him"
"Ahmed Al-Rumaihi appears in a shocking legal case where rapper Ice Cube and investor Jeff Kwatinetz claim he used investments to try to get to Steve Bannon."
"According to a court document he once said: 'Do you think Flynn turned down our money?'
Link to entire article: Stormy's lawyer tweets out cryptic 2016 images of Michael Cohen
See: December 12, 2016: a date that will live in #TrumpRussia infancy?/ DailyKos
See: Russia signs Rosneft deal with Qatar, Glencore | Reuters/ 12/10/16
See: Russia Sells $11 Billion Stake in Rosneft to Glencore, Qatar – Bloomber/ 12/7/16