Once upon a time there was a larger than life New York City Mayor Rudy Giuliani who was beloved by most of his constituents in this complicated big city. He was the leader who helped transform the city infested with crime to a much safer metropolitan area. Then he led the city through the recovery and healing period after the 9/11 terrorist attack in 2001.
As per the 2009 City Journal, "Just 20 years ago, New York City was racked with crime: murders, burglaries, drug deals, car thefts, thefts from cars. (Remember the signs in car windows advising no radio?) Unlike many cities' crime problems, New York's were not limited to a few inner-city neighborhoods that could be avoided. Bryant Park, in the heart of midtown and adjacent to the New York Public Library, was an open-air drug market; Grand Central Terminal, a gigantic flophouse; the Port Authority Bus Terminal, "a grim gauntlet for bus passengers dodging beggars, drunks, thieves, and destitute drug addicts," as the New York Times put it in 1992. In July 1985, the Citizens Crime Commission of New York City published a study showing widespread fear of theft and assault in downtown Brooklyn, Fordham Road in the Bronx, and Jamaica Center in Queens. Riders abandoned the subway in droves, fearing assault from lunatics and gangs."
"New York's drop in crime during the 1990s was correspondingly astonishing—indeed, "one of the most remarkable stories in the history of urban crime," according to University of California law professor Franklin Zimring. While other cities experienced major declines, none was as steep as New York's."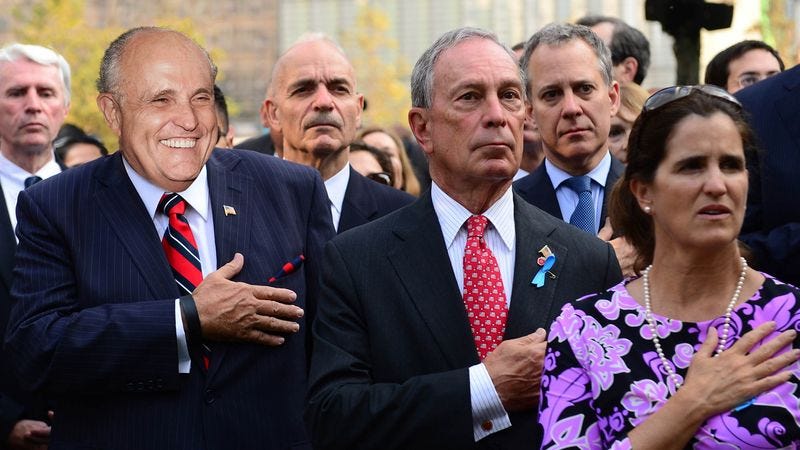 But now, he stands to turn a respected legacy to one where he is reviled by those who used to think of him in positive terms. Like many others, he is paying a steep price with his own reputation by continuing to back the republican President Donald Trump with all of his TV news appearances where he disparages the rule of law, the FBI and the DOJ. He is doing this when he knows better. Before he became the mayor of NYC, he was the former US Attorney in the Southern District of NY, which is the office currently probing the president's personal attorney, Michael Cohen. He was part of the law enforcement community that he is now deliberately attacking, in order to sow doubt in the peoples' minds about these institutions and in particular, the work product of the FBI's Trump-Russia probe being led by the Special Counsel Robert Mueller III.
This is not a case where history will be forgiving.
On the 28th of May, 2018, the former mayor was celebrating his birthday by attending a local Yankee's game. When his attendance and birthday was announced, the crowds greeted him with boos.
As per the May 28, 2018 NY Daily News report, "Yankee fans gave Rudy Giuliani the Giancarlo Stanton treatment. The former NYC mayor was at the Stadium to celebrate his 74th birthday on Memorial Day, with the announcer wishing him a happy birthday to the crowd."
"The fans, however, greeted him with hearty boos."
Here is the rest of the story…
On May 28, 2018, Rawstory published the following report by Taylor Link of Salon, "If Giuliani is getting booed at Yankee Stadium where is Trump going to live after his presidency"
"At Yankee Stadium on Monday, Rudy Giuliani could not even draw a polite round of applause for his birthday, speaking to his ruined legacy in the community. Instead, Yankee fans viciously booed Giuliani on Memorial Day, a humiliating blow for the former mayor who oversaw the aftermath of Sept. 11."
"The 74 year old has never been the most popular political figure in the five boroughs. But reports from Yankee Stadium suggest his support has reached an all-time low."
"Giuliani spends most of his days lately on TV, where he steadfastly defends President Donald Trump, serving as his personal attorney. Giuliani has attracted criticism for his TV appearances — both for his blatant obfuscation and his proneness to gaffes, such as when he admitted Trump repaid Michael Cohen for the hush money given to adult-film actress Stormy Daniels."
"While Yankee fans do not represent all of New York City, it is safe to assume they were speaking for the whole community when they rained boos down on Giuliani on Monday. The treatment Giuliani received raised an interesting question from New York Times reporter Maggie Haberman: "Where is Trump going to live post-presidency?"
Maggie Haberman Retweeted Josh Dawsey
Where is Trump going to live post-presidency? NYC presents some real challenges given his dislike of protests.
Maggie Haberman added,
"Like Giuliani, Trump has little fanfare in his hometown. The city voted for his political opponent, Hillary Clinton, overwhelmingly, and his election win only prompted mass protests throughout Manhattan. Trump attained stardom thanks to the personality he helped cultivate in New York tabloids. Trump's property in New York served as the premise for his hit-TV show "The Apprentice," which further established his national celebrity. Yet there's a real, genuine possibility Trump will no longer be able to have his domicile in New York. His sensitive disposition may not allow him to overcome the open hostility he would face on the streets."
"While many Americans are unconcerned about Trump's welfare after the White House, the notion that Trump cannot return home is unrivaled in recent memory. Former President Barack Obama has already dedicated much of his post-presidency to building his presidential library in his hometown of Chicago. New Yorkers are likely not ready to start thinking about a Trump library. In their defense, it's kind of an absurd concept."