I've been wondering if the American public has noticed that the republican President Donald Trump has a frequent penchant for stereotyping in a negative way those of the immigration community and peoples of color. He can't even handle Muslim and Black gold star family members with the respect due them. The opposite is true. He has been stingy on praise to anyone who does not comport with his negative narratives.
For example, after about three weeks, President Trump finally acknowledged the bravery of a Black young man James Shaw Jr. who acted heroically to prevent additional victims from being fatally shot by a mass shooter around 4/22/18 at an Antioch Waffle House.
As per a TMZ interview on Wednesday (5/16/17) , Waffle House hero James Shaw Jr. said Trump called him, but based on his description of the phone conversation from the president on Monday (5/14/18), it wasn't as riveting as you might think. As per Mr. Shaw, the president thanked him for his "heroic actions and quick thinking last month. Shaw admitted to TMZ that the talk was somewhat "lackluster but he appreciated the gesture."
Below is a comparison between how President Trump's acted towards James Shaw Jr. to how France's President Emmanuel Macron honored a young migrant hero Mamoudou Gassama, who's being called "the French Spiderman."
Here's the rest of the story…
The Waffle House hero
As per the 4/22/18 Tennessean report by Jason Gonzales, "A 29-year-old man credited with saving numerous lives Sunday morning after he disarmed a man who opened fire on a Tennessee Waffle House said he was just trying to stay alive."
"James Shaw Jr. said he saw an opportunity to tackle the man shooting into an Antioch Waffle House after feeling cornered. He said he doesn't feel like a hero."
"Police spokesman Don Aaron told reporters Sunday morning that the Waffle House hero rushed the suspected shooter, disarmed him and threw the assault rifle he was carrying over the Waffle House counter."
"I don't really know, when everyone said that, it feels selfish," Shaw Jr. said. "I was just trying to get myself out. I saw the opportunity and pretty much took it."
"Shaw Jr. said he was at a fraternity house party before heading to the Bell Road Waffle House at about 2:30 a.m. with some friends. They left soon after because it was too packed, he said."
"They decided on the Waffle House on Murfreesboro Road, which was just over 2 miles away."
"The group pulled into the Waffle House at about 3:20 a.m. Not soon after, chaos broke out."
"Police said the suspected shooter opened fire at about 3:25 a.m. at the Waffle House in Antioch. The shooting left at least four dead and four injured. "
"Shaw Jr. can't recall how many shots there were, just that a man was on the floor. Shaw Jr. said a bullet grazed and he jumped toward the bathroom."
"I remember I was like 'Dang, I'm basically in a barrel,' " Shaw Jr. said. "There is no place for me to go."
"As the suspect came through the door, he needed to reload, Shaw Jr. said. That's when he said he rushed him."
"When he came in, I distinctively remember thinking that he is going to have to work for this kill," Shaw Jr. said. "I had a chance to stop him and thankfully I stopped him."
"He added: "I grabbed the gun and kept it down. He had one hand on it. I pulled it away and threw it over the bar."
The French Spiderman  
On May 28, 2018, Jessica McKinney of Yahoo News penned the following report, "French Spiderman" Granted Citizenship After Climbing Building To Save Dangling Child"
Excerpts:
People are raving about the "French Spiderman" who scaled a building in order to rescue a child who was hanging from a fourth-floor balcony in Paris over the weekend (May 26). Mamoudou Gassama, 22, was reportedly an immigrant, but will be granted French citizenship after his heroic act, Elysee Palace announced on Monday (May 28).
Gassama's good deed was caught on tape and spread throughout social media. In the now-viral video, he is seen climbing up the building in order to get to the child who was dangling from the balcony. In less than one minute, Gassama was able to reach the boy and yank him back up to safety.
Gassama was reportedly in the neighborhood to watch a soccer match at a local restaurant when he reportedly leapt into superhero mode, ABC News reports. Emergency services were reportedly called to the scene, but by the time they had arrived, the child was already safe.
"Following the incident, Gassama was reportedly invited to the Elysee Palace, where he met with French President Emmanuel Macron."
"I did not really think, I started climbing directly," he said. "As I was climbing up, I felt more and more confident."
The 22-year-old also informed Paris Mayor Anne Hidalgo that he migrated to France from Mali only a few months ago.
"That his heroic gesture was an example for all citizens and that the city of Paris will obviously be keen to support him in his efforts to settle in France," Hidalgo wrote on Twitter.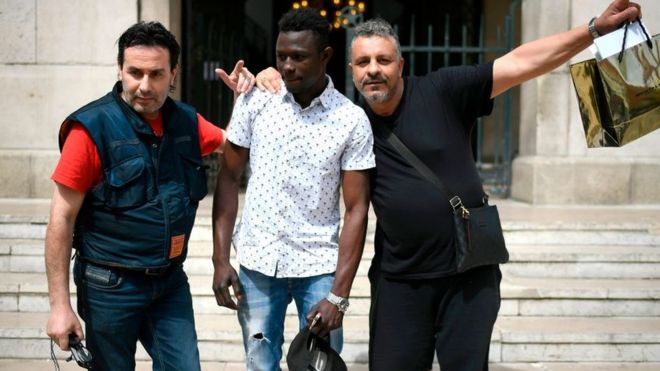 The Malian immigrant was reportedly offered a role in the fire service. Congratulations, Mamoudou Gassama!