The US Supreme Court has ruled with (7-2 verdict ) in favor of the baker who had refused to bake a wedding cake for a same sex couple getting married on the basis that same-sex marriages were counter to his religious beliefs. His attorneys argued along the lines that his freedom to express his art in the creation of his cakes, was impinged to where his right to free speech was being compromised.  In addition, the baker claimed that he experienced anti-Christian animus by a regulator (the Colorado Civil Rights Commission)  who declined to apply the anti discrimination statute, fairly to both sides.
The court held that the Colorado Civil Rights Commission had not adequately taken into account the religious beliefs of the baker. In fact, Justice Kennedy commented, the commission had been hostile to Baker's faith, denying him the neutral consideration he deserved.
The two dissenting opinions were from the Justices Ruth Bader Ginsberg and Samuel A. Alito.
According to a CNN News flash on this day of the 4th of June, 2018, the supreme court ruling seems to be so narrowly construed that it is inevitable that there will be another similar case to be reviewed by the US Supreme Court.
See: Justices Sharply Divided in Gay Rights Case – NYT
Lawrence Tribe, Harvard Law professor and author tweeted, "the Justice Kennedy's narrow 7-2 Court opinion for the baker invoked anti-Christian animus by a regulator who declined to apply the anti discrimination statute. Let's see if Kennedy and the other six Justices invoke Trump's overt anti-Muslim animus to strike down his travel ban."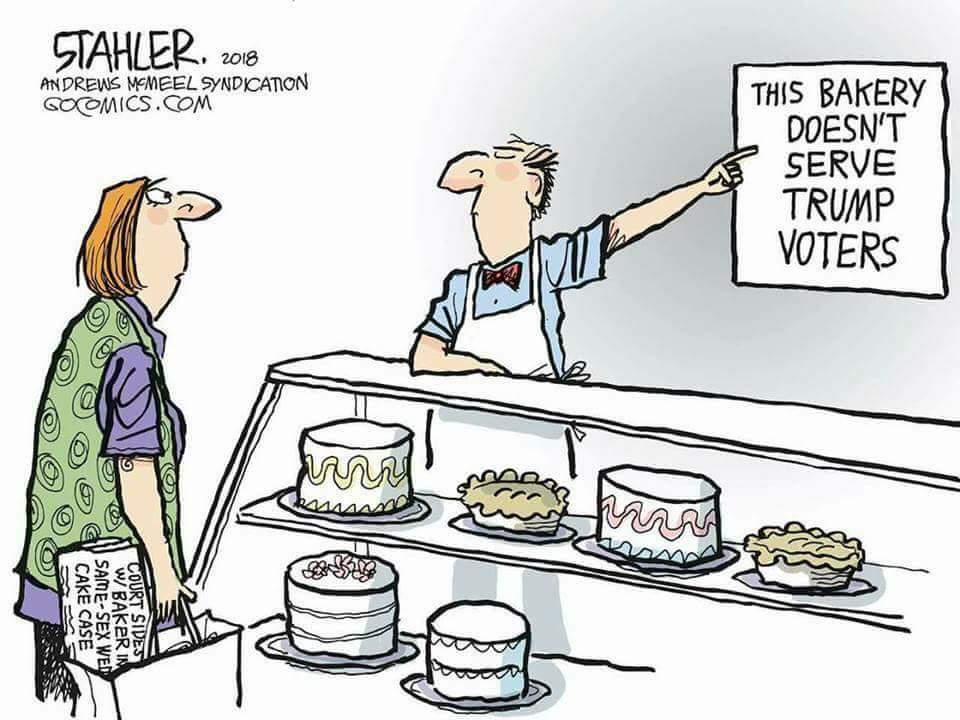 Here's the rest of the story…
On June 4, 2018, Richard Wolf of the Coloradoan penned the following report, "Supreme Court sides with Colorado baker on same-sex wedding cake"
Excerpts:
"A divided Supreme Court on Monday absolved a Colorado baker of discrimination for refusing to create a custom wedding cake for a same-sex couple."
"The verdict criticized the state's treatment of Jack Phillips' religious objections to gay marriage, ruling that a civil rights commission was biased against him."
"The decision did not resolve whether other opponents of same-sex marriage, such as florists and photographers, can refuse commercial wedding services to gay couples."
"Justice Anthony Kennedy wrote the court's 7-2 decision against the same-sex couple, departing from his long history of opinions in favor of gay rights dating back a generation. Included among them was the court's 2015 decision legalizing gay marriage nationwide."
"The outcome of cases like this in other circumstances must await further elaboration in the courts," Kennedy said. "These disputes must be resolved with tolerance, without undue disrespect to sincere religious beliefs, and without subjecting gay persons to indignities when they seek goods and services in an open market."
"Kennedy reasoned that Phillips, in refusing to create a same-sex wedding cake, had good reason to believe he was within his rights. State law at the time allowed merchants some latitude to decline specific messages, such as those demeaning gay people and gay marriages."
"The government cannot impose regulations hostile to citizens' religious beliefs, the ruling said."
"During oral argument in December, Kennedy and other conservative justices had expressed concern about the potential effect on other merchants with strong religious objections to same-sex marriage, from chefs to florists."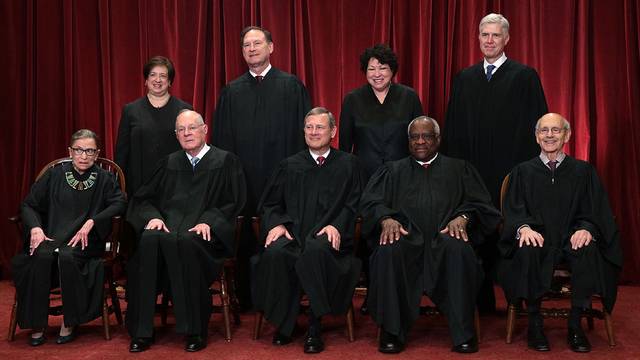 "The five-year-old legal battle between Phillips and customers Charlie Craig and David Mullins represented a test between the Constitution's guarantees of free speech and religion and laws in 22 states prohibiting discrimination against the LGBT community.
"Phillips, 62, owner of Masterpiece Cakeshop, was fighting for the rights of "creative artists" to choose what they will sell. Craig, 37, and Mullins, 33, were fighting for the rights of LGBT customers to choose what they will buy."
"Craig and Mullins won before the Colorado Civil Rights Commission and the state Court of Appeals, thanks to the state's inclusion of sexual orientation in its anti-discrimination law. Twenty-one other states have similar laws."
"But the Supreme Court, bolstered last April by the addition of stalwart conservative and  fellow Coloradan Neil Gorsuch, represented a tougher test."
"The high court had weighed in twice before on the subject of same-sex marriage. In 2013, it ruled that the federal government must recognize gay and lesbian marriages in the 12 states that had legalized them. In 2015, it extended same-sex marriage nationwide."
"But even as he authored the court's landmark decision, Kennedy held out an olive branch to religious conservatives."
"It must be emphasized that religions, and those who adhere to religious doctrines, may continue to advocate with utmost, sincere conviction that, by divine precepts, same-sex marriage should not be condoned," Kennedy wrote in 2015."