Before the days of the republican President Donald Trump being ensconced in the White House, the USA used stand solidly on the side of democracy, the "rule of law"and our US State Department diplomats habitually trumpeted human rights' causes.
Because of President Trump and his GOP sycophants in the US Congress, the USA has an ambassador who decides that it is okay for him to work to empower" right-wing leaders in Europe, and he recently specifically praised the anti-immigrant chancellor of Austria.
We here in the USA cannot have diplomats acting abroad in a way that is inimical to the most basic values, that most of us in the USA hold dear, while messing in a counter productive way in the local politics.
Republicans were screaming "bloody murder" as democrats held up/ delayed the nomination process in the US Senate in this case, because this is obviously their kind of guy. As a former Fox TV contributor, he looked the part.
As per a 10/23/17 Washington Blade report, "President Trump's nominee for U.S. ambassador to Germany — the first major openly gay appointment of the administration — came under fire in the recent past for snide comments on Twitter about the physical appearance of several prominent women — but a 1995 Washington Post profile story on him reveals he was making such comments long before the arrival of social media."
"The more than 20-year-old profile piece on Ric Grenell, sent to the Washington Blade on Saturday, takes a look at his personality long before the Trump nominee served as spokesperson for the U.S. mission to the United Nations during the George W. Bush administration or as a Fox News commentator. The piece was written during Grenell's days as press secretary to Rep. Mark Sanford (R-S.C.) at the dawn of the "Gingrich Revolution."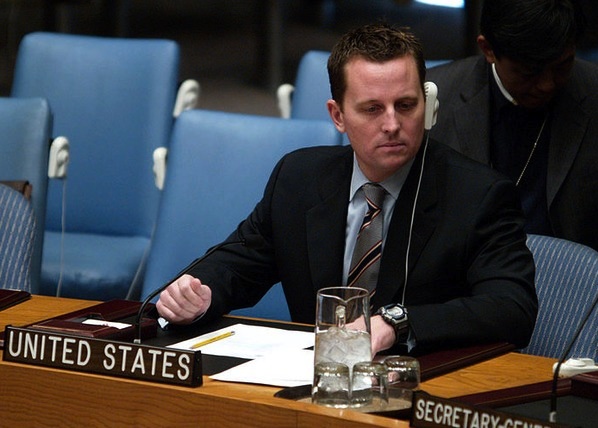 "A key portion of the profile quotes Laurie Blackford, then a producer for Chris Matthews long before he came to MSNBC, recalling remarks Grenell allegedly made to a fellow campaign staffer on the 1992 Bush-Quayle re-election campaign."
"One of our staff people came in and had on a flowery dress and red shoes and Ric looked at her and said, 'Didn't your mother ever tell you only whores and very small children wear red shoes?'" Blackford is quoted as saying." (He later acknowledged this as a joke.)
Here is the rest of the story…
On June 4, 2018, Tommy Christopher of Shareblue Media penned the following report, "Trump's ambassador to Germany disgraces US for second time in a month"
Excerpts:
"The same Trump ambassador who just threatened one of our closest allies a few weeks ago now says he wants to "empower" right-wing leaders in Europe, and specifically praised the anti-immigrant chancellor of Austria."
"U.S. ambassador to Germany Richard Grenell said, in a interview with Breitbart London, "I absolutely want to empower other conservatives throughout Europe, other leaders. I think there is a groundswell of conservative policies that are taking hold because of the failed policies of the left."
"There's no question about that and it's an exciting time for me," he added. "I look across the landscape and we've got a lot of work to do but I think the election of Donald Trump has empowered individuals and people to say that they can't just allow the political class to determine before an election takes place, who's going to win and who should run."
Grennell also singled out Austrian Chancellor Sebastian Kurz for praise, calling him a "rock star."
"Kurz is an anti-immigrant politician who gained power by first emulating, and then forming a coalition government with, the white supremacist "Freedom Party." Grenell's comments are an unambiguous nod to the white nationalist movement that is sweeping Europe, and his words have already sparked outcry from the German government:"
"We have asked the U.S. side for clarification, and whether (the remarks) were made as reported," a foreign ministry spokesman told a regular government news conference."

"Rolf Muetzenich, deputy leader of the Social Democrats in parliament, said the issue should be raised quickly with Secretary of State Mike Pompeo."

"Clearly the U.S. ambassador sees himself as an extension of a right-wing conservative world movement," he told Reuters. Muetzenich added that Grenell's actions violated the 1961 Vienna Convention, under which diplomats do not interfere in the domestic affairs of a country."
"Grenell promised, during his confirmation hearing, not to politicize his post if confirmed."
"But in short order, Grenell caused an international incident when he tried to threaten Germany into violating the Iran nuclear deal along with Trump."
"Now, Grenell is meddling in the politics of our European allies, and empowering a right-wing extremist from Austria. What could go wrong?"