The republican President Donald Trump along with his cabinet including his Commerce Secretary Wilbur Ross and the Director of Trade and Industrial Policy, Peter Navarro are just plain wrong with the way they are imposing tariffs on steel and aluminum products on our neighbors Canada and Mexico along with our allies, the (EU) European Union countries and the UK on the basis that this is in the US national security interests.
We've tried this in the past and all attempts ended up in disasters. The worst time was with the 1930 Smoot-Hawley Tariff act which was enacted by the US Congress. At the time over 1000 economists signed a letter addressed to the US Congress begging the legislators not to pass the tariffs because of the inevitable foreseeable negative consequences. The US Congress lawmakers thought they knew better and so they passed the bill. It did not take long for the US economy to tank by 26%. It took years for the US economy to recover from this catastrophic event that we created. This was one of the reasons as to why this power was eventually transferred to the President to manage.
In 2002, President George Bush did impose tariffs on steel products at 30%.  As per a 4/4/18 MarketMatch report, "The Bush administration withdrew the tariffs in December 2003, about 21 months after they were imposed, but not without a cost. The Consuming Industries Trade Action Coalition found that 200,000 workers in U.S. manufacturing lost their jobs as a result of the tariffs. For comparison, the entire U.S. steel industry employed 197,000 at the time."
While tariffs may not play well with policy wonks, economists or even a large swathe of the US public, they do get President Trump's base excited, at a time when the president needs to shore up political support with his base. Similar to promising his followers a US-Mexico border wall, blocking trade gives Trump's backers the illusion that he is tackling a real problem, head on. The president has to appear as if he is listening to his base but in this case, this is one of his core beliefs.
Trump isn't the first politician to ignore economists and history. There are many other instances of politics trumping economic rationale when it comes to trade.They simply have all ended up being unmitigated disasters.
The American public cannot afford for the president to figure this out the hard way. It is time for the US Congress to take back this responsibility.
If our neighbors and allies decide to file a complaint with the World Trade Organization to contest the U.S. tariffs, the US could lose. The claim that the president is acting to impose tariffs because of US national security interests may not be sufficiently persuasive.
Here is the rest of the story…
On June 5, 2018, the Editorial Board of the Washington Post penned the following report, "It's time for Congress to take back trade"
"AS IT becomes increasingly apparent that President Trump's imposition of tariffs on metal products from the United States' close allies is a strategic policy shift, and not a mere negotiating tactic, the question naturally arises: What, if anything, can be done to prevent it? The allies themselves are planning to push back, both by imposing countervailing tariffs and by presenting a united front against the president's policies at the Group of 7 summit beginning Friday in Canada. They may also seek redress through legal action at the World Trade Organization."
"Yet such efforts may well be costly for all concerned in the short run without succeeding in the long run. Mr. Trump is exploiting a "national security" loophole in international trade law to justify his tariffs, and international tribunals may have little choice but to defer to his sovereign determination in this regard, even if it's not in good faith. At least one European company and a U.S. counterpart have already sued in a U.S. federal court, claiming that Mr. Trump's national security rationale is bogus and the tariffs unlawful, but given courts' usual avoidance of foreign policy issues, that suit is a long shot."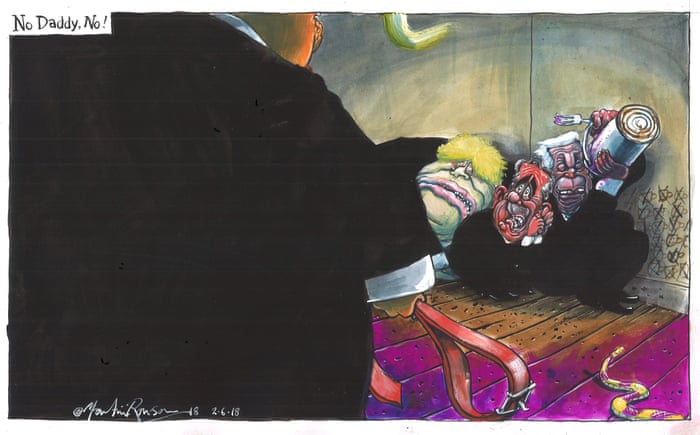 "No, if there is going to be effective restraint placed on Mr. Trump's abuse of his authority in this area, it must come from the same body that delegated it to him in the first place: Congress."
"In 1962, Congress passed a landmark statute, the Trade Expansion Act, which gave the president power to negotiate tariff-setting agreements with other countries, as opposed to previous procedures which had involved byzantine tariff-drafting work by lawmakers themselves. As a Cold War-era safeguard, the law permitted a broad "national security" exception, similar to the one in the WTO. No one at the time could imagine a president who would use the power to antagonize allies. Now that we have such a president, the statute should be amended."
"Fortunately, there is movement in that direction among Republicans. Sen. Mike Lee (R-Utah), with admirable foresight, proposed a measure on Inauguration Day last year that would require both houses of Congress to sign off on any "unilateral trade action" by the president. His bill has four co-sponsors so far. Senate Foreign Relations Committee Chairman Bob Corker (R-Tenn.) has announced  a similar proposal. Mr. Trump wields a presidential veto, but one way around that might be to attach the measure to the must-pass defense authorization bill."
"The Republican default rule heretofore has been to let Mr. Trump have his way, out of fear of antagonizing his voter base, which is also the congressional GOP's. But if there were ever a time to show some independence and leadership, this is it. The executive branch threatens vital economic and political relationships, requiring a legislative check. Article I, Section 8 clearly assigns the legislative branch the power to "lay and collect . . . duties," and "to regulate commerce with foreign nations." It's time for Capitol Hill to take it back."