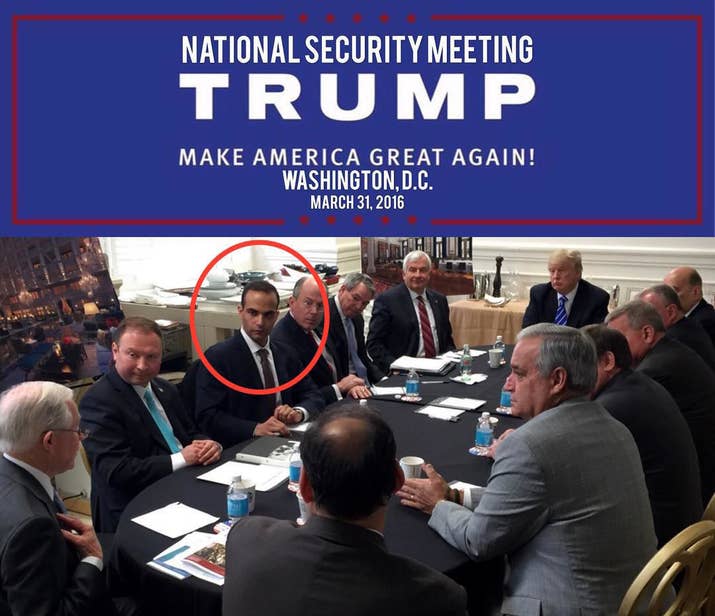 One of my blogging family members, Crustyolemothman mentioned that he recently saw on a MSN.com site a blip about a FOX TV show, where the spouse of George Papadopoulos was asking the republican President Donald Trump to grant her husband a pardon. He is the former president's adviser who pleaded guilty to lying to FBI in its Trump -Russia probe being led by the Special Counsel Robert Mueller III.
This puzzles me because the jail time he's facing is from 0-6 months if he cooperates with the FBI, So, I don't see why his wife is going on FOX TV to ask for a pardon, unless, of course there is more to Mr. Papadopoulos than meets the eye.
This started me on a quick research project which indicates not only his ties with Russia, but with Israel (involving its West Bank settlement issue) and in developing energy projects.
(Note: Jared Kushner actions on West Settlement issue):
As per a December 1, 2017 National Post report by Eli Lake of Bloomberg,  (Under Jared Kushner's instructions), "two former officials with the Trump transition team who worked closely with Flynn say that during the last days of the Obama administration, the retired general was instructed to contact foreign ambassadors and foreign ministers of countries on the UN Security Council, ahead of a vote condemning Israeli settlements. Flynn was told to try to get them to delay that vote until after Barack Obama had left office, or oppose the resolution altogether."
"That is relevant now because one of Flynn's lies to the FBI was when he said that he never asked Russia's ambassador to Washington, Sergey Kislyak, to delay the vote for the U.N. Security Council resolution. The indictment released today from the office of special prosecutor Robert Mueller describes this lie: "On or about December 22, 2016, Flynn did not ask the Russian Ambassador to delay the vote on or defeat a pending United Nations Security Council resolution." (This pertained to settlements in the West Bank of Israel.)
Papadopoulos actions on West Bank settlement:
As per a 10/31/17, Jerusalem Post report by Tovah Lazaroff,  "Samaria Regional Council head Yossi Dagan had posed for the camera with Trump Advisor George Papadopoulos, who was indicted for his alleged contacts with Russian government officials during the 2016 US presidential campaign. Dagan was the only settler leader to publicly endorse Trump prior to the election, and held a number of meetings with his advisors, during both the campaign and inauguration week, to sway the administration into taking a positive stance with regard to West Bank settlements."
"Papadopoulos' ties to the Middle East, including supportive statements he made about Israel's right to Judea and Samaria, are not part of the indictment."
"A short video of the meeting, shot by the Samaria Regional Council and published by The Jerusalem Post, reflected the euphoria of the first days of Trump's administration."
"Dagan at the time had been particularly hopeful that Trump would be more accepting of West Bank settlements than his predecessor, Barak Obama."
"Papadopoulos' words helped support that feeling, particularly his use of the phrase "Judea and Samaria", as opposed to "West Bank settlements".
As per October 3, 2017 Forward report by Nathan Guzman:
"To Israelis, the young adviser is well known."
"As a consultant on energy issues, he took special interest in emerging gas deals between Israel, Greece and Cyprus and advised Israel to use its newly found gas reserves to forge a alliance with Greece and Cyprus."
"Papadopoulos was also an honored guest at a pre-inauguration reception held by representatives of the Jewish settler community in the West Bank. At the event, which took place in Washington, where he expressed his support, in a short video to the settlers, stating: "We hope that the people of Judea and Samaria will have a great 2017. We are looking forward to ushering in a new relationship with all of Israel, including the historic Judea and Samaria." In the report about the meeting, Papadopoulos was described as an adviser to President Trump, although at the time he did not hold any official capacity with the administration."
Read more: https://forward.com/fast-forward/386418/george-papadopoulos-was-ally-of-israeli-settlers/
On November 3, 2017, Borzou Daragahi of BuzzFeed penned the following report, "Papadopoulos And Flynn Client Both Tied To Israeli Energy Consortium"
Excerpts:
"Both George Papadopoulos and Michael Flynn's client, Turkish businessman Kamil Ekim Alptekin, are tied to Israeli gas dealings and attended energy conferences in Tel Aviv last year."
"The former Trump adviser who pleaded guilty to lying to federal investigators examining Russian influence in the 2016 Trump campaign attended conferences that included the same energy firm that was a source of funding for a controversial lobbying contract with former National Security Adviser Michael Flynn."
"George Papadopoulos, an adviser to the Trump campaign now cooperating with special investigator Robert Mueller's team, worked for years in the oil and energy business, focusing on cultivating deals emerging from the Leviathan gas field along the eastern Mediterranean."
"Last year, while serving as a Trump foreign policy adviser, Papadopoulos appeared on an Israeli energy conference panel that included Yigal Landau, CEO of Ratio Oil Exploration, one of several Israeli and US firms that are part of the consortium exploiting Leviathan."
"Documents obtained and reviewed by BuzzFeed News earlier this year showed Ratio had a business relationship with Kamil Ekim Alptekin. The Dutch-Turkish businessman has been subpoenaed by Mueller's investigators in connection to his hiring of Flynn's consulting firm."
"Alptekin attended a November 2016 energy conference in Tel Aviv as a guest of Ratio, but a source close to Alptekin denied he had any ties to Papadopoulos, and described both men's connection to the Leviathan project as coincidental."
"The connection may add to the growing picture of Papadopoulos, who has become a subject of scrutiny since his plea deal was unsealed. Although The Daily Caller  reported that former Trump campaign official Sam Clovis approved of his joining the Trump camp in March 2016 — he also appears in a photo of the March 2016 meeting with Trump, Clovis and now-Attorney General Jeff Sessions among others — it remains unclear how he was brought into the Trump camp's orbit."
"Alptekin told BuzzFeed News he hired the now-defunct Flynn Intelligence Group in part to advise him on the Ratio contract, but later clarified that he also asked Flynn to research the activities of the movement led by Fethullah Gulen, a US-based Islamic scholar wanted by the Turkish government for his alleged role in a 2016 coup attempt. A Ratio spokesperson earlier this year denied ties to Alptekin, despite the existence of numerous documents, emails, photographs and bank statements showing a business relationship. Ratio did not respond to an email sent Thursday to its spokesperson and 2 other executives for comment."
"The Leviathan field, one of the largest gas finds worldwide, has attracted enormous interest within the energy sector."
"We want to see Israeli partnerships with European countries, especially from the Mediterranean, such as Greece, Cyprus and Turkey," Papadopoulos said during his panel at the energy conference, held on April 4, 2016 at the Hilton Hotel in Tel Aviv, according to a report by Israel Defense."
"While there is no evidence of a connection between the panel and the energy deal, Alptekin's firm Inovo and Ratio signed a consulting deal on April 13 last year, according to documents reviewed by BuzzFeed News."
"Significant energy finds such as Leviathan often draw the attention of ambitious businessmen such as the 30-year-old Papadopoulos and Alptekin, a well-connected 39-year-old whose primary business has been aerospace and real estate."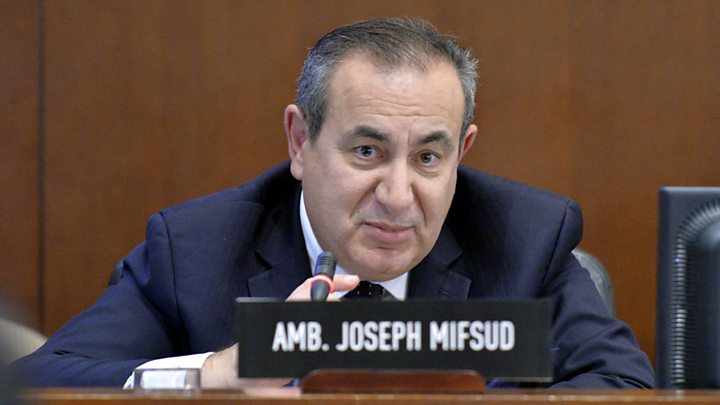 "In another possible coincidence, both Alptekin and Josef Mifsud, a London-based Maltese scholar who has acknowledged that he is the unnamed "overseas professor" in the Papadopoulos case, are among several hundred international relations specialists and players who are members of the European Council of Foreign Relations, a mainstream think tank with offices in seven countries. According to the plea deal, Papadopoulos sought to reach out to sources in Moscow after the UK-based professor informed him in April 2016 that the Russians had incriminating material that could be used to damage the presidential candidacy of Hillary Clinton."
See: Indicted Trump adviser had on-camera moment with settler leader /J Post 2017