The republican President Donald Trump loves to dish it out but he doesn't like to have to face the incoming angry tirades that are the  result from him imposing tariffs on our neighbors and allies.
We do have serious trade issues with China. As per 4/16/18 EveryCRSReport.com, "Major areas of concern expressed by U.S. policymakers and stakeholders include China's alleged widespread cyber economic espionage against U.S. firms; relatively ineffective record of enforcing intellectual property rights (IPR); discriminatory innovation policies; mixed record on implementing its World Trade Organization (WTO) obligations; extensive use of industrial policies (such as subsidies and trade and investment barriers) to promote and protect industries favored by the government; and interventionist policies to influence the value of its currency. Many U.S. policymakers argue that such policies adversely impact U.S. economic interests and have contributed to U.S. job losses in some sectors."
But instead of the president primarily focusing on improving the US trade status with regards to China, he is also targeting our neighbors and allies like Canada, Mexico, EU European Union countries and the UK with tariffs on aluminum and steel imports, using the excuse that the US is acting to protect US national security interests. Our neighbors and friends have not taken this news well at all.
According to Canada's President Justin Trudeau, Canada, Mexico and the USA had finalized the outline of an updated NAFTA trade agreement but it was blown up when the US Vice President Mike Pence insisted at the last minute on a sunset clause for 5 years.
Now our US president has to meet many of these countries' leaders at the annual G7 (Group of Seven) summit which kicks off in Quebec on the 8th of May 2018, where the stage is set for a major showdown between the US and its allies.
This is where the leaders of the G7, an informal bloc of some of the world's most powerful industrialized countries, including Germany, the UK, and Japan, get together every year. Typically they collaborate on issues like global security, the international economy, and climate change. This time the leaders will be united to confront the US republican President Donald Trump about his tariffs.
At the end of the summit, they usually get together to sign a joint statement detailing the policy positions and initiatives they've agree upon, that is until this year of 2018.
See: G7 summit will be a political fistfight for European members | Guardian 
As per a 6/7/18 Washington Press report by Colin Taylor, "In a stunning show of childish petulance, the White House has announced that President Trump will be pulling out of the G-7 economic summit early, departing on early Saturday morning instead of attending the scheduled meetings on fighting climate change, clean energy, and cleaning up the oceans."
Here's the reality. The US has a trade (goods and services) surplus with Canada. Trade does not just involve goods like lumber, steel and aluminum but it consists also of services. When the president talks about trade deficits, he is using numbers that refers to goods only which isn't an accurate reflection of the status of US trade in relation to our neighbors and allies.
Overall the US has a trade deficit because we have a consumer driven economy. We buy lots of cheap goods from around the world but these same countries in return, buy US treasury bonds.
This is an axiom. As the US economy becomes stronger, the US trade deficit increases but when the US economy contracts, the US deficit numbers decrease.
In short, the president is not presenting the entire picture as to the status of US trade but only a partial portrayal which is worrisome as this possibly demonstrates the president's lack of understanding of how the US economy works.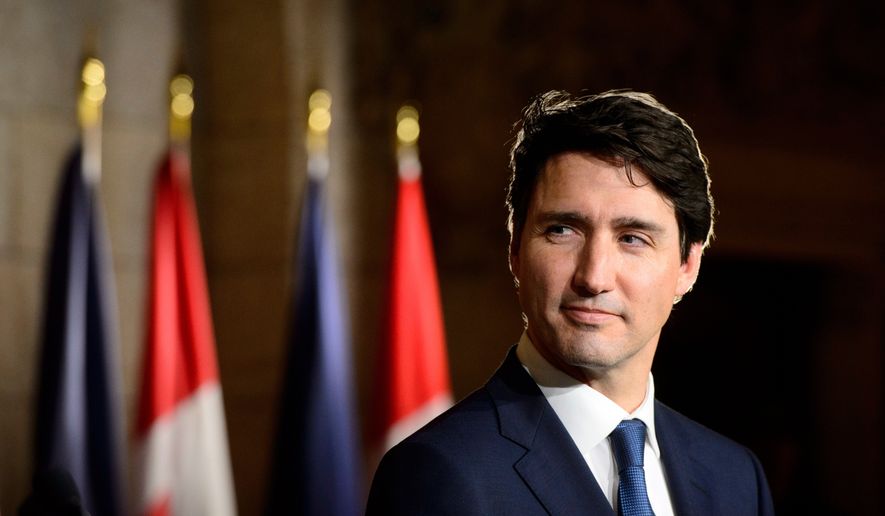 As per a 3/16/18 CNN Money report, "Here's how the 2017 trade deficit is calculated:"
"The US had a deficit of $23.2 billion last year with Canada just in goods — everything from toys to cars."
"But the US had a surplus of $25.9 billion with Canada last year in services — everything from tourism to technology to health care."
"Subtract the goods deficit from the services surplus, and you get an overall US trade surplus of $2.7 billion with Canada."
"White House Press Secretary Sarah Sanders said Thursday that Trump was referencing just trade in goods, as opposed to goods and services."
"She defended Trump by citing statistics from the Census Bureau, which uses a different formula to count imports and exports than the Bureau of Economic Analysis uses."
"According to the Census Bureau, the United States ran a $17.6 billion deficit with Canada, but it counts only goods."
"Trump tends to mention only the goods deficit, which is misleading. The US economy today is much more driven by services: Hospitals, universities, tech companies, banks and so on. Manufacturing, an industry Trump focuses on, makes up about 10% of US economic output."
"Globally, the United States has a trade deficit and that makes sense because the US economy is driven by consumer spending. Americans spending at stores and online make up about two-thirds of US economic activity."
"Many economists say the trade deficit is not the right way to measure the fairness of trade deals, the trade balance or the health of the US economy. As the economy grew last year and unemployment fell, the trade deficit got bigger. During the financial crisis a decade ago, the trade deficit shrunk."
"The United States can stomach such large trade deficits because foreign companies and governments take the money they get from US buyers and often reinvest that cash in US Treasury bonds. Although the US has a trade deficit, it still remains the top place for foreign investors to park their money. Those investments help to offset the trade deficit."
Here's the rest of the story…
On June 7, 2018, Oliver Willis of Shareblue Media penned the following report, "Trump is afraid to go to Canada after trashing US allies
Excerpts:
"Trump does not want to visit Canada for the upcoming G-7 conference after trash-talking that nation and other top allies."
"The Washington Post reports that he "fears attending the Group of Seven summit" because " he is diametrically opposed on many key issues with his counterparts — and does not want to be lectured by them."
"Historically, these nations have had broad agreement with the United States on most major international issues. Trump, however, has decided to upend these alliances while cozying up to rogue international leaders like Vladimir Putin and Rodrigo Duterte."
"The Post notes that Trump "has griped" about Germany's Angela Merkel — some of her fellow Germans want Trump's new ambassador (Richard Grenell) expelled after just a month on the job — and he believes British Prime Minister Theresa May is "too politically correct."
"May had to publicly lecture Trump for promoting an anti-Muslim British hate leader on his Twitter account. He has yet to visit England on an official state visit for fear of massive protests."
The Post reports that Trump "has vented privately" about Canadian Prime Minister Justin Trudeau. Trudeau recently called him out for his decision to launch a trade war against America's allies. The trade war is already hurting Americans, especially those in red states.
"Trump's ignorance on trade has been baffling for the Canadian leader."
"Senior European Union officials have openly noted how much Trump has oriented America against the alliance on his watch."
"Donald Tusk, president of the European Council, wrote, "Looking at latest decisions of @realDonaldTrump someone could even think: with friends like that who needs enemies."
"It is far beyond the bounds of traditional diplomacy for an American president to fear visiting Canada, of all places. It is even stranger that Trump fears normal interactions with leaders from Germany, England, and Canada itself."
"Meanwhile, he warmly embraces pariah nations and their leaders."
"Alliances have made America strong over the years. Fearing allies while currying favor with the worst of the worst makes the nation weak."