It has become apparent that the republican President Donald J Trump's administration is hot to Impose tariffs on imports with all of the US neighboring countries and our allies. But Inquiring minds like mine, want to know why Australia has been spared from President Trump's ire when it comes to tariffs on aluminum imports (10%) and steel imports (25%).
A comment from one of my followers, Gary J. prompted me to do some research on this topic.
There are at least 6 possible reasons:
1.) In 2014, 28 Australians, some being soldiers were among the 283 passengers killed in a flight traveling en route from Amsterdam to Kuala Lampur when it was hit by a Russian Buk missile as it was flying over Ukraine.
As per a 9/ 29/2016 BBC News report, "Flight MH17, en route from Amsterdam to Kuala Lumpur, was travelling over conflict-hit Ukraine on 17 July 2014 when it disappeared from radar."
"A total of 283 passengers, including 80 children, and 15 crew members were on board.
The Malaysia Airlines plane crashed after being hit by a Russian-made Buk missile over eastern Ukraine, a 15-month investigation by the Dutch Safety Board (DSB) found in October 2015."
"In September 2016, an international team of criminal investigators said evidence showed the Buk missile had been brought in from Russian territory and was fired from a field controlled by pro-Russian fighters."
In 2016, the crash investigators were still trying to establish who the perpetrators were, to where they appealed for witnesses to come forward to assist the continuing investigation.
See: MH17 Ukraine plane crash: What we know – BBC News – BBC.com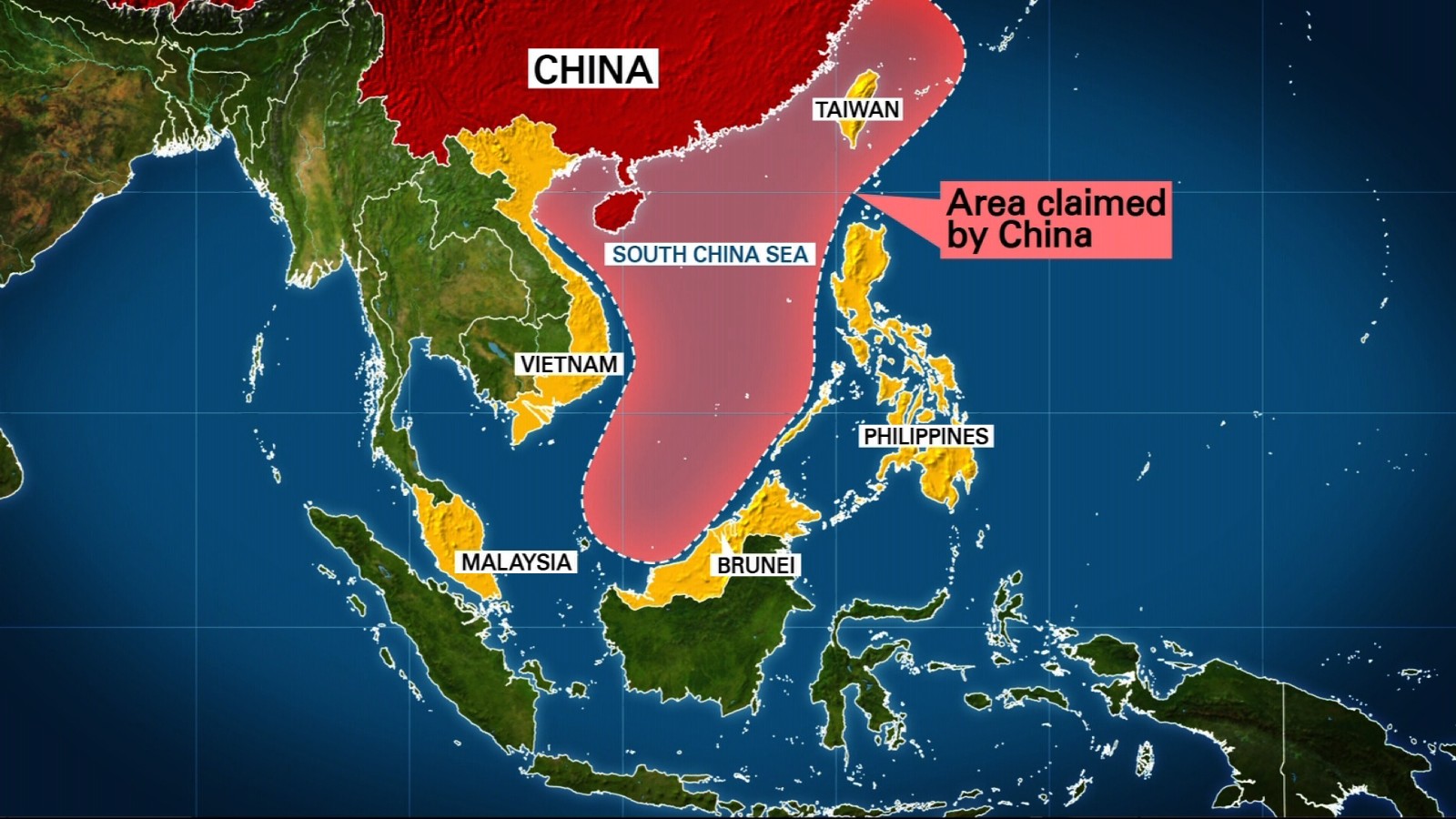 2.) USA policy in South China Sea requires more proactive response from Australia.
As per the 1/12/2017 Guardian report by Stuart Rollo, "Speaking before the Senate committee on foreign relations, Tillerson raised the issues of both construction in the South China Sea, and the unilateral declaration of an Air Defense Identification Zone over a large swathe of the East China Sea. He stated that the US would have to send a strong message to China over this activity, that the construction in the South China Sea must stop, and that China's access to the installations it has already constructed is to be disallowed."
"The Chinese military construction in the South China Sea has proceeded at such a pace that it now constitutes a number of significant installations. Two years ago the news that China had placed mobile artillery pieces on one of its artificial islands reverberated across headlines around the world. Today China commands anti-aircraft, anti-ship, and anti-missile systems, surveillance and intelligence facilities, naval port facilities, and military aircraft housing, across a number of island installations, some of which have ballooned in size both approaching and beyond the US naval base at Pearl Harbour."
"Unilateral Chinese expansion in the South China Sea should be discouraged through a variety of economic, diplomatic, and even military means, in the form of freedom of navigation exercises. But if Tillerson's policy was to be implemented, nothing short of direct American military intervention would foreseeably prevent China from accessing these installations in what it considers its own sovereign territory. The mere prospect of this raises important questions regarding Australia's role in regional security, and its alliance with the US."
Link to article: Australia needs a new foreign policy. Tillerson's remarks on China Seas /The Guardian/ 2017 ..
3.) Marines are now based in Darwin NT (Australia)
As per the 1/12/2017 Guardian report by Stuart Rollo, "The US marine base in Darwin is an important component of this regional military build-up, and the implications it holds for Australian freedom of action should the US decide to militarily intervene in the South China Sea are troubling. The Marine Air-Ground Task Force stationed there specializes in the exact amphibious operations and integration with air assets which would be necessary to enforce the kind of intervention that Tillerson has called for. "
4.) On August 19, 2017, Ryan Gallagher of the Intercept with ABC penned the following report,  "The US Spy Hub In The Heart Of Australia"
Excerpts:
"A SHORT DRIVE south of Alice Springs, the second largest population center in Australia's Northern Territory, there is a high-security compound, code-named "RAINFALL." The remote base, in the heart of the country's barren outback, is one of the most important covert surveillance sites in the eastern hemisphere."
"Hundreds of Australian and American employees come and go every day from Joint Defence Facility Pine Gap, as the base is formally known. The official "cover story," as outlined in a secret U.S. intelligence document, is to "support the national security of both the U.S. and Australia. The [facility] contributes to verifying arms control and disarmament agreements and monitoring military developments." But, at best, that is an economical version of the truth. Pine Gap has a far broader mission — and more powerful capabilities — than the Australian or American governments have ever publicly acknowledged."
"An investigation, published Saturday by the Australian Broadcasting Corporation in collaboration with The Intercept, punctures the wall of secrecy surrounding Pine Gap, revealing for the first time a wide range of details about its function."
"The base is an important ground station from which U.S. spy satellites are controlled and communications are monitored across several continents, according to classified documents obtained by The Intercept from the National Security Agency whistleblower Edward Snowden."
"Together with the NSA's Menwith Hill base in England, Pine Gap has in recent years been used as a command post for two missions. The first, named M7600, involved at least two spy satellites and was said in a secret 2005 document to provide "continuous coverage of the majority of the Eurasian landmass and Africa." This initiative was later upgraded as part of a second mission, named M8300, which involved "a four satellite constellation" and covered the former Soviet Union, China, South Asia, East Asia, the Middle East, Eastern Europe, and territories in the Atlantic Ocean."
"The satellites are described as being "geosynchronous," which means they are likely positioned high in orbit at more than 20,000 miles above the earth's surface. They are equipped with powerful surveillance technology used to monitor wireless communications on the ground, such as those sent and received by cellphones, radios, and satellite uplinks. They gather "strategic and tactical military, scientific, political, and economic communications signals," according to the documents, and also keep tabs on missile or weapons tests in targeted countries, sweep up intelligence from foreign military data systems, and provide surveillance support to U.S. forces."
Link to article: THE U.S. SPY HUB IN THE HEART OF AUSTRALIA
5.) Over the past few years, Australia's Military Defense Force has invested more then $10 billion dollars on military equipment from the USA.
As per a 12/28/ 2017 Australia Broadcasting News report by Andrew Greene, "According to the ANAO, Australia's total spending on US Foreign Military Sales was $10.3 billion over the four-year reporting period, with just over $500 million of that going to IT, broadcasting and telecommunication contracts, or engineering, research and technology-based services contracts."
Link to report: Australian Defence Force spends over $10 billion on US arms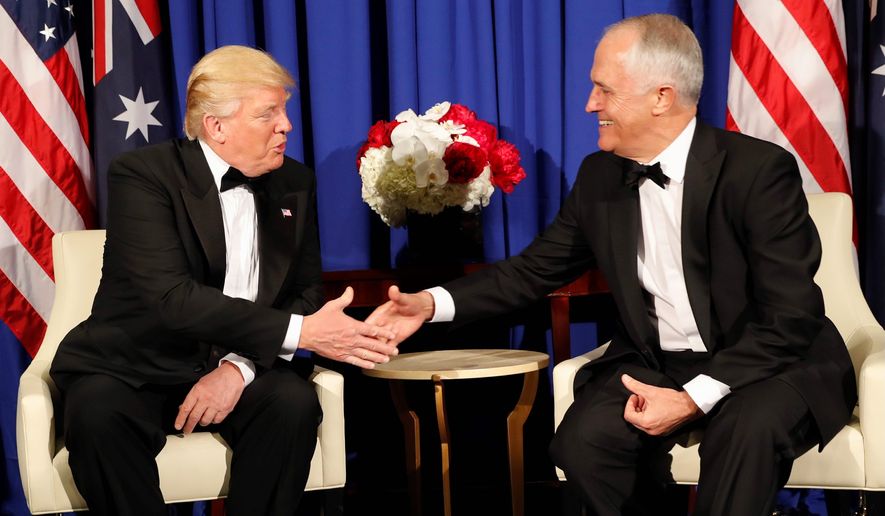 6.) The US President Donald Trump and the Australian PM Malcolm Turnball are on the same page when it comes to their anti-immigration policies.
As per The 4/24/18 Australian report by Dennis Shananahan, "Malcolm Turnbull has delivered an impassioned defense in Germany of Australia's tough border protection policies, declaring it is "absolutely essential" that governments protect their sovereign borders to gain the trust of the public to allow immigration and have a successful multicultural society."
Link to report: Malcolm Turnbull defends tough border protection policies