Who's afraid of the big bad wolf? Senator Bob Corker (R-TN) has accused his fellow republicans of being afraid of poking the bear, the republican President Donald Trump. Senator Corker had attempted to introduce an amendment to the Defense Act to impede the president from continuing to impose his arbitrary tariffs on US neighbors and allies on the basis of US national security interests, but he was blocked by his leadership, Sen. James M. Inhofe (R-Okla.) at the behest of the Senate Majority Leader Senator Mitch McConnell. .
After he was barred from introducing his bill Senator Corker, red faced, got on the floor where he delivered an impassioned speech accusing his leadership and others of cowardice among other unflattering attributes.
Republicans are afraid of going against President Trump as the president is known for attacking these lawmakers by twitter which guarantees a backlash from the president's base/ voters.
Here is the rest of the story…
On June 12, 2018, Erica Werner of Washington Post penned the following report, "Corker says GOP cowers before Trump after party leaders block trade bill"
Senate GOP leaders blocked a vote Tuesday (6/12/18)on legislation that would give Congress veto power over certain presidential tariffs — prompting Sen. Bob Corker (R-Tenn.) to accuse his Republican colleagues of being afraid to vote against President Trump."
" 'Gosh, we might poke the bear' is the language I've been hearing in the hallways," Corker, who authored the amendment in question, said in a fiery floor speech."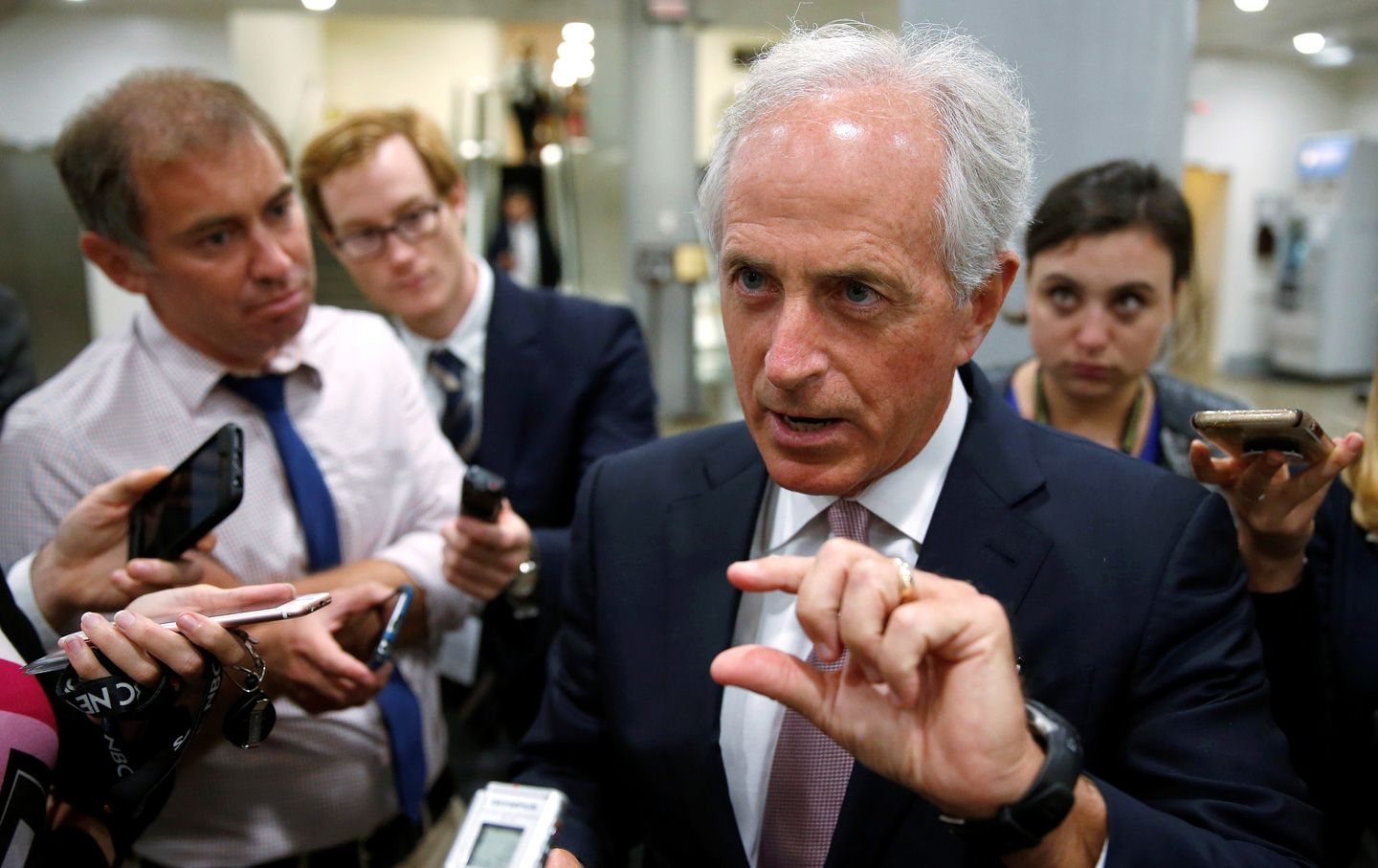 "We might poke the bear. The president might get upset with us as United States senators if we vote on the Corker amendment, so we're going to do everything we can to block it," said Corker, who is retiring at year's end."
"The leadership move, which blocked Corker from including his legislation as an amendment on a pending defense bill, probably killed it for good — and with it, Congress's best chance of taking any action to confront Trump on trade. Corker had assembled a bipartisan coalition of more than a dozen senators to sign on to his bill, which would have given Congress veto power over tariffs issued in the name of national security, but Senate Majority Leader Mitch McConnell (R-Ky.) and other members of leadership had been cool to it all along. McConnell termed it an "exercise in futility" because Trump would never sign such legislation."
"Tuesday's outcome probably ensures that despite the GOP's longstanding support of free trade, and Republicans' discomfort with many of Trump's protectionist moves, the president will continue to have a free hand as he upends U.S. trade policy established over decades. Corker did not hide his frustration."
"The United States Senate, right now, on June 12, is becoming a body where, well, we'll do what we can do, but my gosh, if the president gets upset with us, then we might not be in the majority," Corker said. "And so let's don't do anything that might upset the president."
"Corker's legislation, written in response to Trump's recent tariffs on steel and aluminum imports from Canada, Mexico and the European Union, would have required congressional approval of so-called "Section 232″ tariffs, which are issued in the name of protecting  national security. Invoking national security allows the administration to skirt certain processes otherwise involved in levying tariffs. Many in the GOP, traditionally the party of free trade, opposed the tariffs, and some said Trump abused his authority in invoking national security to issue them — especially after the president declared over Twitter that they were actually a response to Canada's tariffs on dairy."
"Corker said the ability to cite national security to issue tariffs at will, as Trump is now threatening to do on auto imports, allows the president to "wake up one morning, without going through any of these processes, and decide that on national security grounds he is going to put tariffs in place."
"Yet under pressure from the White House, senators had been unwilling to sign on to Corker's bill. Trump brought a group of Republican senators to the White House last week to argue against the need for the Corker legislation, and called other GOP senators individually, including from Singapore as he prepared for the North Korea summit."
"However, the stated rationale Tuesday for blocking Corker's bill, which he'd hoped to include as an amendment on the National Defense Authorization Act, involved procedural objections and concerns that its inclusion might slow down completion of the annual defense policy bill."
"I don't want to do anything that is either going to jeopardize the passage of the defense authorization bill or delay the passage," said Sen. James M. Inhofe (R-Okla.), who is managing the defense bill and offered the objection. Inhofe said he would work with Corker to find another bill that could serve as a vehicle for his amendment "but not to the defense authorization bill. I think this would cause a lot of damage. Corker dismissed those objections as he went on a tear against his Republican colleagues."
"Gosh almighty," Corker said. Referencing Sen. John Cornyn (R-Tex.), the No. 2 Senate Republican, Corker said, "I heard the senator from Texas, the senior senator from Texas, saying the other day, 'Well, gosh, we might upset the president. We might upset the president of the United States before the midterms.' "
"Corker, who leads the Senate Foreign Relations Committee, concluded by essentially conceding defeat. "I know that no matter what I do, this is going to be objected to," he said."