This is an updated reblog of an earlier Post.
The June 14, 2018, the DOJ'S Inspector General Michael Horrowitz released its report to the public, based on an 18 month inquiry into the FBI's actions pertaining to how they handled its Hillary Clinton's email scandal. In this publication, there is commentary stating that the leaks that were coming out of the NYC FBI's office in 2016 is still under review. There have been reports of a group of "Clinton Cash" NYC FBI haters of Hillary Clinton who were notorious for leaking and for pushing to "lock her up" while forcefully issuing demands to continue investigating the "Clinton Foundation."
The republicans have been throwing mud en masse at the FBI to diminish the credibility of its work product pertaining to its Trump/ Russian probe. They have been complaining for ages as to why the FBI dropped the ball by not investigating "the Uranium One" deal as described in the "Clinton Cash" book where donations were allegedly made to the Clinton Foundation in exchange for the Secretary of State Hillary Clinton approving a deal in 2010.
This Breitbart published "Clinton Cash" book assertions have been debunked numerous times by credible fact checking entities but it keeps popping up as a red herring every time there is the perception that the FBI's Trump / Russian probe is getting too close to the White House.
The Uranium One right wing conspiracy theory has even been debunked by FOX TV's own news host, Shepard Smith.
"Stewart Baker, a former top lawyer in the George W. Bush administration and an expert in the CFIUS process, said he doubted that the Uranium One decision ever reached Clinton's desk."
"Clinton has said she was not involved in the deliberations and played no role in the decision."
"At every turn this storyline has been debunked on the merits," said the spokesman, Nick Merrill. "This latest iteration is simply more of the right doing Trump's bidding for him to distract from his own Russia problems, which are real and a grave threat to our national security."
Any investigation into the bias by the NYC FBI "Clinton Cash" agents who may have unfairly interfered with US politics in the 2016 presidential elections in a politically charged partisan way, would have to include a review of this gentleman, James Kallstrom, an ex-FBI assistant director of the NYC FBI office, and long time friend to both Rudy Giuliani, the former NYC mayor, and President Trump. These FBI agents within the NYC FBI office who had been aggressively lobbying for an investigation against Hillary Clinton's foundation were shut down by the FBI Director James Comey and the DOJ head, Loretta Lynch due to a lack of evidence and the reality that they would not okay an inquiry based on a politically inspired book.
But their zealousness and actions explain in part why Director Comey wrote his October 28, 2016 surprise letter about the discovery of Mrs. Clinton's emails related to her work as US secretary of state from 2009-2013, which just happened to be on a lap top that they had confiscated a month earlier from the home of Anthony Weiner who had been arrested for sexting with a minor while he was the husband of a long time aid to Mrs. Clinton. But supposedly, the FBI Director James Comey was informed about the existence of the emails by these same agents the day before he issued the 2016 October surprise letter.
But P.S.,  As mentioned above, the FBI's actions surrounding the Director James Comey's handling and the public disclosure of the discovery of the extra emails by Hillary Clinton just prior to his issuing the FBI's October 28, 2016 surprise letter is still under investigation by the Justice Department's Inspector General Michael E. Horowitz.
On the 18th of June 2018, at a US Senate hearing Senator Patrick Leahy (D-VT) questioned the current FBI Director Christopher Wray regarding the leaks from the NYC FBI office to either Mr. Kallstrom and Mr. Giuliani to confirm that these assertions are still under investigation.
As per a March 2017 Vanity Fair magazine report by Bethany McLean, "F.B.I. agents still tend to be white males. In a way, this situation is systemic: to be promoted, you have to be willing to relocate, which can be difficult for women with children. A current agent also says that there's a strong conservative bent: if a TV is on in an F.B.I. building, it's likely to be Fox News."
"But even within the F.B.I., there are tensions. "There are three F.B.I.'s," this agent tells me. "There are the [56] field offices, there's [headquarters in] Washington, and then there's [the field office in] New York."
"Often, a retired agent says, those in the field are suspicious of Washington. "Dreamland," they called it in his day, because they believed those who weren't on the ground investigating cases were clueless. "[Agents] out in the field never want to give a case to D.C., because they believe headquarters is a hindrance to their investigations," says the agent, who also notes there is a paranoia that politics might interfere at headquarters. New York has an especially dim view of Washington and a reputation for fierce independence. "There is a renegade quality to the New York F.B.I.," says a former prosecutor, which, he claims, can take the form of agents leaking to the press to advance their own interests or to influence an investigation. "New York leaks like a sieve," concurs another former prosecutor."
Here's the rest of the story…
On 11/6/16 By Quaid of the Daily Kos penned the following report, "New York FBI Office with Ties to Giuliani & Trump in Charge of Investigating Clinton Foundation."
PARTISAN AGENTS IN NEW YORK FBI OFFICE WITH TIES TO TRUMP & GIULIANI APPARENTLY ABUSING THEIR POWER
"There are a small group of FBI agents with close ties to Giuliani and Trump's campaign that are apparently using their office as a partisan tool to attack Clinton.  There is reporting that a small group of partisan FBI agents close with Giuliani and close to the Trump campaign are abusing their positions and power and have been calling on the FBI to investigate the Clinton Foundation based on hearsay and alt-right wing Brietbart conspiracy theories, including the Clinton Cash book."  
"The investigation of the Clinton Foundation (had been) operating out of the New York FBI office with partisan ties to Trump and Giuliani. The partisan New York FBI agents (had) been leaking information in an attempt to influence the election, including, a false rumor that an indictment of Hillary is imminent.  They (were) clearly using the FBI and all of its power as an illegal partisan tool.  Apparently, the only reason Comey wrote the letter to Congress about the review of the new emails was because he knew the New York partisan FBI agents would leak the information to try to influence the election."
"Here's a list of the ties we currently know between Giuliani and the Trump campaign and the New York FBI office:
James Kallstrom was the former Assistant Director in Charge of the FBI office in New York
Kallstrom is a friend of Trump and a Trump supporter endorsing and campaigning for Trump
Kallstrom is a good friend of Rudy Giuliani
Rudy Giuliani is Trump's main campaign surrogate
Kallstrom is an often Trump Surrogate on Fox News
Trump gave $1.3 million to Kallstrom's Foundation (much of it was given this year)
Kallestrom's Foundation has not been rated or reviewed by Charity Watch or Charity Navigator for whether it is a legitimate charity Foundation
Trump allegedly raised an additional $6 million for Kallstrom's Foundation from wealthy donors
Kallstrom's Foundation gave Trump the "Commandant's Leadership Award" at a Gala in New York last year
Rush Limbaugh is one of the Director's of Kallstrom's Foundation as well as a donor
Trump skipped the GOP debate in Iowa to attend Kallstrom's fundraiser for his Foundation in New York this year
Kallstrom and Giuliani have been on an anti-Comey attack on Fox News for months
Giuliani's security firms employ the former head of the New York FBI office as well as another former FBI official from the New York office
The Trump campaign, Kallstrom, and Giuliani have purportedly been pushing the New York FBI to investigate Clinton based on alt-right wing conspiracy theories and The Clinton Cash book which its own author has said it was not meant to withstand legal scrutiny.
The so-called FBI leaks appear to be all coming out of the New York office and through Giuliani and Kallstrom who are trying to rig the election with false FBI reports."
"
It appears that Trump gave $1.3 million to Kallstrom's Foundation and Kallstrom and Giuliani have been abusing their power and connections to try to influence the New FBI office into investigating and going after Hillary Clinton.  Or, at the least least to spread a lie and smear campaign to try to influence the election.  There are a small group of alt-right wing Trump supporters in the New York FBI office who are peddling the alt-right wing conspiracy theories as facts."
"Giuliani has been pushing the lie on Fox News that Hillary is about to be indicted.
Giuliani, Kallstrom, and Trump appear to be behind these false stories and they are using their friends and connections at the New York FBI to try to perpetuate this.
It appears that Trump and Giuliani are using their ties to the New York FBI office to have them go after their political opponent.
Giuliani and Kallstrom both have said on Fox News that they knew that something big was coming from the FBI in advance and that they had knowledge of an indictment coming as well as other information leaking out of the FBI.
Was the Weiner investigation by the New York FBI just another partisan attempt to gain information for the Trump campaign to use against Hillary?  Did they just want to access Hillary's aide's emails?
Are the partisan's in the NY FBI office stifling investigations into Trump's ties with Russia?"
"Wayne Barrett has written about what he sees as an alliance between Kallstrom, Rudy Giuliani, and pro-Trump supporters in the FBI.[11]"
Here are sources reporting on this:
Added background about James Kallstom
On 10/30/16, Regina F. Graham of the Daily Mail penned the following article, "Ex-FBI assistant director calls the Clintons a 'crime family' and claims their 'foundation is a cesspool."
Highlights:
Former assistant director of the FBI James Kallstrom spoke out against the Clintons on a radio show Sunday morning (10/30/16)
He likened them to a 'crime family' and said the 'Clinton Foundation is a cesspool'
He also said Hillary is a 'pathological liar' and said the FBI's investigation into her email server was 'never a real investigation' 
James Kallstrom, the former assistant director of the FBI, spoke out against the Clinton family on Sunday in a radio interview with host and Greek-American billionaire businessman John Catsimatidis on 'The Cats Roundtable'.
'It's just outrageous how Hillary Clinton sold her office for money.
'And she's a pathological liar, and she's always been a liar. And God forbid if we put someone like that in the White House.'
'They never had grand jury empaneled. And the reason … was that Loretta Lynch would not go along with that,' Kallstrom said.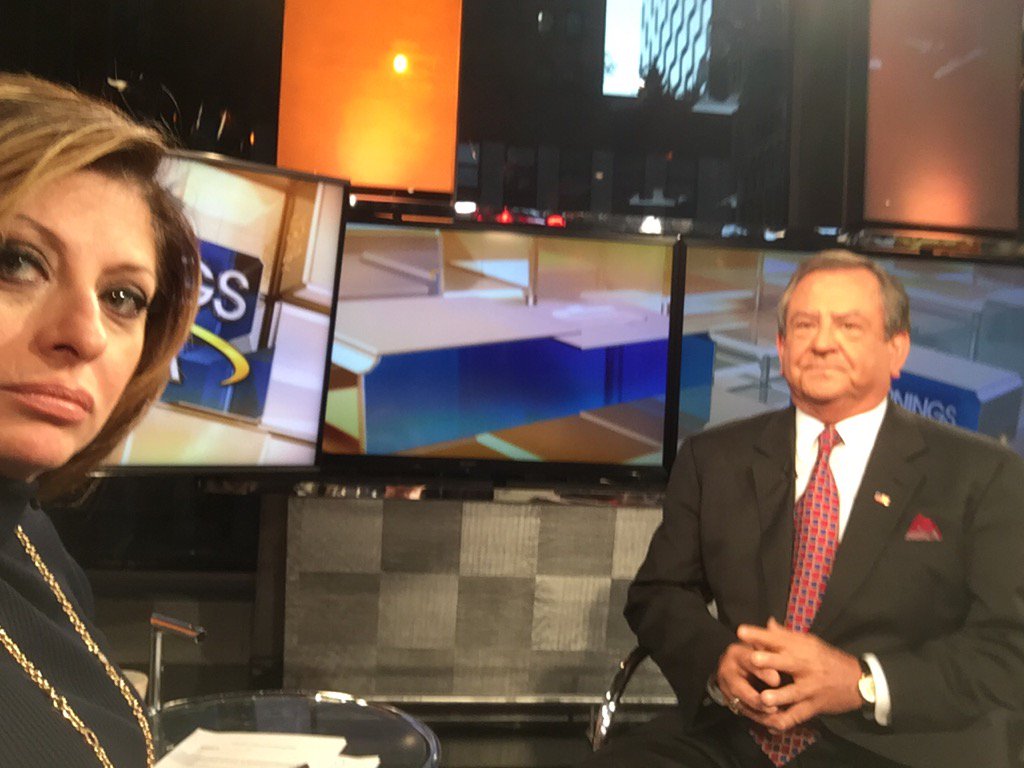 On 12/10/1997, Benjamin Weiser ot the NY Times wrote the following story, "F.B.I.'s Kallstrom, Head of Flight 800 Inquest, to Retire."
Excerpts:
"James K. Kallstrom, the F.B.I. official in New York will probably be best remembered for his criminal inquiry into the explosion that blew apart Trans World Airlines Flight 800, said yesterday that he would retire from the bureau to take a job in the private sector."
"The ex-marine said he would probably have retired earlier had it not been for the lengthy investigation into the Flight 800 disaster, which killed all 230 people on board. Mr. Kallstrom led an exhaustive investigation that lasted 16 months and involved more than 1,000 agents. Ultimately, he said, the investigation disproved his initial hunches."
"When Mr. Kallstrom, a wiretap expert, took over the New York office in February of 1995, he already had a reputation as a technical wizard who had built the bureau's engineering research facilities at Quantico, Va., and whose surveillance techniques had helped build cases against major organized crime figures and terrorists in New York since the mid-1970's."
"While running the New York office, Mr. Kallstrom continued to testify on Capitol Hill on such issues as electronic surveillance, the Internet, and encryption. "
A critical analysis about the investigation of the TWA 800 explosion was published on the CNN website, 6/19/13 and reported on by Jake Tapper.
"Former FBI official: New theory on Flight TWA 800 is a bunch of bull crap." 
Excerpts:
"All 230 people aboard TWA Flight 800 died when the plane exploded over the  Atlantic minutes after take-off from New York's John F. Kennedy airport in 1996."
"After a four-year investigation, which included scouring the ocean to piece together most of the jumbo jet, the National Transportation Safety Board said the cause was a spark from bad wiring that set off fuel tank vapors."
"Almost 2 decades later, 6 retired members of that investigative team are changing their story in a new documentary, "TWA Flight 800."
"The film claims the fuel tank theory is bogus and that an explosion outside of the plane brought it down."
"Former, retired investigators are now suggesting there was a cover-up, and that they were directed to say the crash was an accident."
Kallstrom's reponse
"I think it's a bunch of bull crap," said former FBI assistant director James Kallstrom, who headed the criminal probe."

"We did an exhaustive investigation. I had 1,000 agents assigned at the peak. And we took very seriously the idea that a missile could have shot down the plane. You know, 747s don't blow up in fireballs that can be seen 40 miles away," said Kallstrom.
Link to report which counters Mr Kallstrom's version: FACT CHECKING: James Kallstrom | TWA Flight 800/ https://flight800doc.com/