On the evening of the 19th of June 2018, another 17 year old  unarmed Black teenager was  fatally shot by East Pittsburgh police as he was fleeing a car stopped by law enforcement. The shooting has led to several days of large local protests to where it is now garnering national attention because of US history of vast racial disparities in police fatal shootings of unarmed suspects.
According to the Post-Gazette, "Pennsylvania law allows police officers to use deadly force to prevent someone from escaping arrest if that person has committed a forcible felony, possesses a deadly weapon or if the person has indicated he or she will endanger human life or inflict bodily injury if not arrested."
A bystander video-tapped the police shooting.
Here is the rest of the story…
On June 20, 2018, Christina Caron of the New York Times penned the following report, "East Pittsburgh Police Kill Antwon Rose, Unarmed 17-Year-Old, as He Flees"
Excerpts:
"An unarmed 17-year-old boy was shot and killed by the East Pittsburgh police on Tuesday night as he tried to flee a traffic stop, law enforcement officials said on Wednesday."
"The teenager, Antwon Rose II, was a passenger in a car that had been pulled over because it matched the description of a vehicle that fled an earlier shooting in which a 22-year-old man was wounded, the Allegheny County Police Department said in a statement."
"A video that recorded the fatal shooting and was posted on Facebookshows two people running from police vehicles as three shots are fired."
"Why are they shooting?" the woman recording the video says. "All they did was run and they're shooting at them!"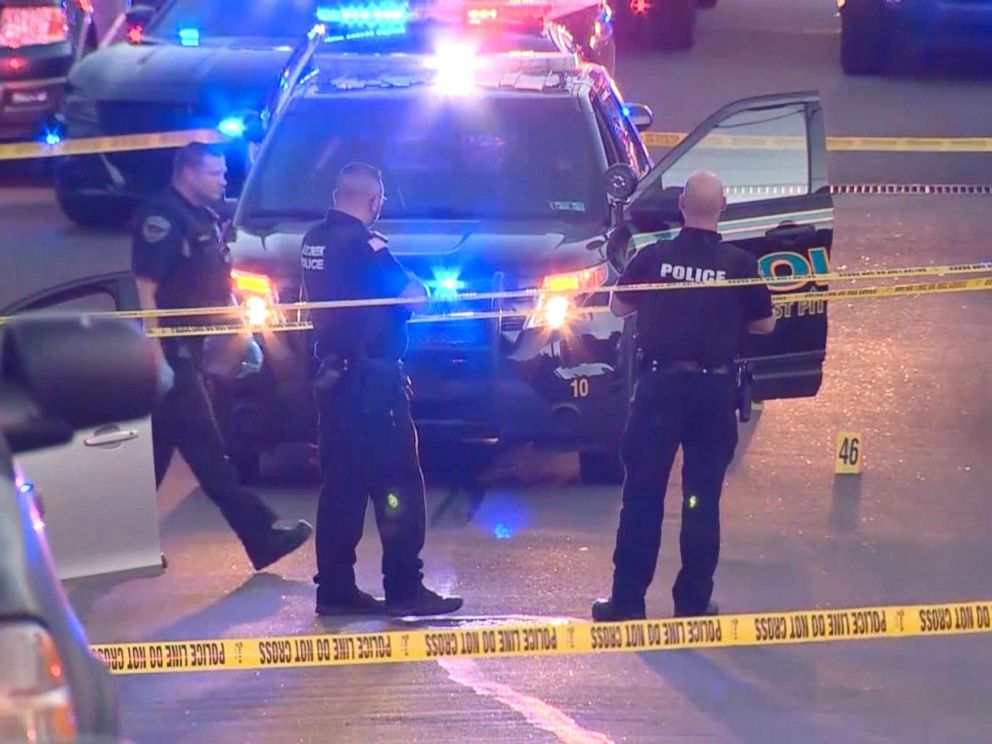 "The Allegheny County Police Department, which is investigating the encounter, said that two firearms were found on the floor of the car. When asked if the teenager was found with a weapon on his person, Coleman McDonough, the department's superintendent, said he was not."
"The Pittsburgh Post-Gazette on Wednesday quoted Mayor Louis Payne of East Pittsburgh as saying that the officer who shot Antwon was hired in mid-May and had been formally sworn in hours before the shooting."
"In a statement on Wednesday night, S. Lee Merritt, a lawyer representing Antwon's family, said: "We know very little about the circumstances surrounding his death at this early stage. We must emphasize that rumors of him being involved in a separate shooting are unsubstantiated. We know that he was not armed at the time he was shot down, that he posed no immediate threat to anyone, and that, significantly, the driver of the vehicle he occupied was released from police custody."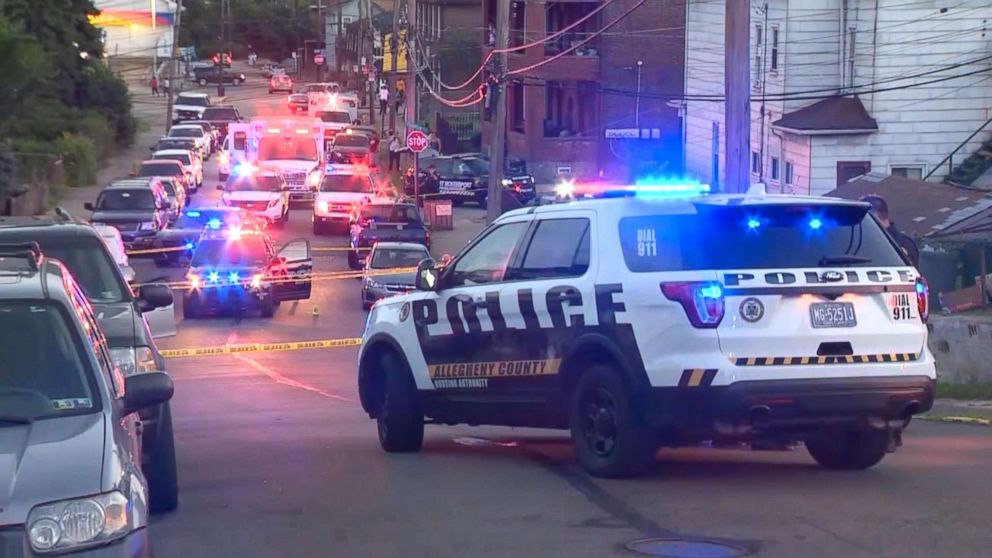 "On Wednesday evening, dozens of people gathered outside the East Pittsburgh Police Department to protest the black teenager's death. "No justice, no peace!" they chanted. Some carried signs that said, "Justice4Antwon" and "#BlackLivesMatter."
"Those who knew Antwon described him as bright, lively and funny. He was a senior at Woodland Hills High School who was expected to graduate at the end of the year, the superintendent, Al Johnson, said in an interview on Wednesday."
"He was an excellent student," Mr. Johnson said, adding that Antwon was taking Advanced Placement classes."
"Kim Ransom, the owner of Pittsburgh Gymnastics Club, where Antwon worked for about a year, recalled the sweltering day in 2015 that he interviewed to work at the club as an instructor."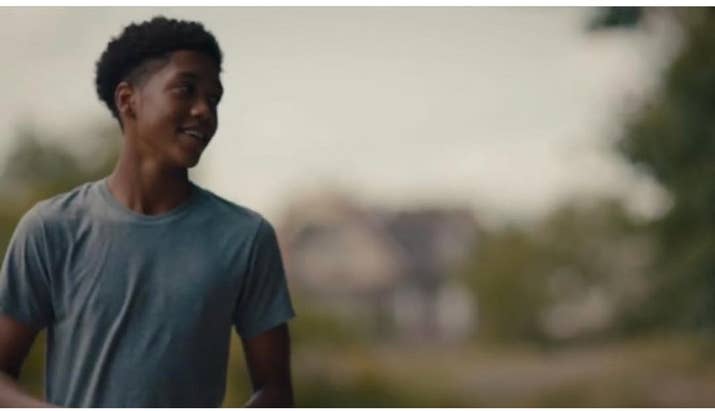 "He brought his typed-up résumé and he was wearing a full three-piece suit with his shiny shoes and he was sweating profusely," she said."
"She had never seen someone arrive at the club so formally dressed for an interview."
"I just thought it was very cute. I think he was 14 at the time," she said. "Someone in his life must have been guiding him in the right direction."
"He got the job and began coaching children in an after-school program and other classes."
"Everybody loved him here," she said. "He was very mature."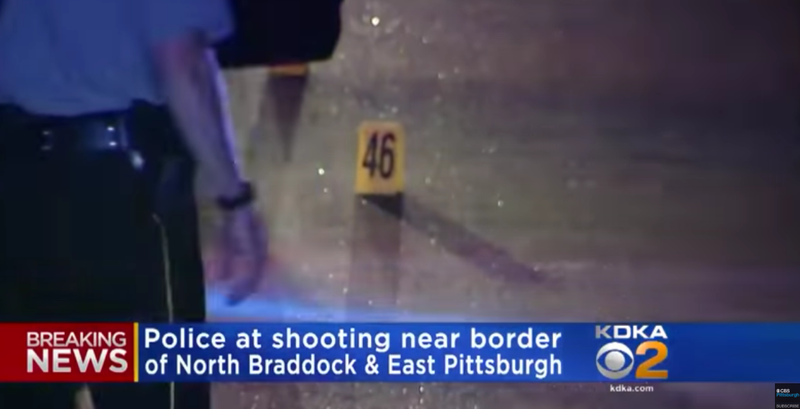 "The traffic stop on Tuesday that led to the deadly shooting occurred after multiple 911 calls earlier in the night reported a shooting in North Braddock, Pa., that had wounded a 22-year-old man in the abdomen, the police said. He was treated at a trauma center and later released."
"Investigators said a gunman in a passing vehicle had fired nine .40-caliber rounds at the 22-year-old, who returned fire."
"The 911 callers provided a description of a vehicle they saw fleeing the scene, the police said, and an East Pittsburgh officer saw a similar vehicle, a silver Chevrolet Cruze that appeared to have ballistics damage to its rear window."
"I'm very confident that that was the vehicle involved in the shooting," Superintendent McDonough said."
"The officer stopped the car at 8:40 p.m. and took the driver into custody."
"While he was putting the driver into handcuffs, two other occupants ran from the car," the Allegheny County police said. An East Pittsburgh officer started shooting, striking the 17-year-old "several times."
"The teenager was taken to U.P.M.C. McKeesport hospital, where he was pronounced dead at 9:19 p.m., Superintendent McDonough said."
"We believe he was hit three times," he added. "He was hit in various places on his body."
"The driver of the car was later released after being interviewed."
"The police are still searching for the second person who ran from the officers."
"The officer who shot the teenager has been placed on administrative leave, officials said."
"Mayor William Peduto of Pittsburgh said in a statement, "This is a devastating situation and I am saddened for Antwon Rose and his family."
"Gisele Barreto Fetterman, whose husband is the mayor of Braddock, Pa., said on Face-book that Antwon had volunteered at the Free Store, an organization she created that gives away surplus and donated items to those in need. When he was 14, she wrote, "and only a few weeks into summer vacation," he asked about volunteering at the Free Store, and he "was scheduled to return this summer."
"Reached by phone on Wednesday, Ms. Fetterman recalled Antwon's politeness when he would stop by to help on Saturday mornings. "He would always call me Ms. G or Ma'am."
Link to entire article:17-Year-Old Fatally Shot as He Ran From East Pittsburgh Police
As per a 6/21/18 VOX report by German Lopez, "Black people are much more likely to be killed by police than their white peers:"
"Based on nationwide data collected by the Guardian, black Americans are more than twice as likely as their white counterparts to be killed by police when accounting for population. In 2016, police killed black Americans at a rate of 6.66 per 1 million people, compared to 2.9 per 1 million for white Americans."
"There have also been several high-profile police killings since 2014 involving black suspects. In Baltimore, Freddie Gray died while in police custody — leading to protests and riots. In North Charleston, South Carolina, Michael Slager shot Walter Scott, who was fleeing and unarmed at the time. In Ferguson, Darren Wilson killed unarmed 18-year-old Michael Brown. In New York City, NYPD officer Daniel Pantaleo killed Eric Garner by putting the unarmed 43-year-old black man in a chokehold."
"One possible explanation for the racial disparities: Police tend to patrol high-crime neighborhoods, which are disproportionately black. That means they're going to be generally more likely to initiate a policing action, from traffic stops to more serious arrests, against a black person who lives in these areas."
"That's not to say that higher crime rates in black communities explain the entire racial disparity in police shootings. A 2015 study by researcher Cody Ross found, "There is no relationship between county-level racial bias in police shootings and crime rates (even race-specific crime rates), meaning that the racial bias observed in police shootings in this data set is not explainable as a response to local-level crime rates." That suggests something else — such as, potentially, racial bias — is going on."
"One reason to believe racial bias is a factor: Studies show that officers are quicker to shoot black suspects in video game simulations. Josh Correll, a University of Colorado Boulder psychology professor who conducted the research, said it's possible the bias could lead to even more skewed outcomes in the field. "In the very situation in which [officers] most need their training," he previously told me, "we have some reason to believe that their training will be most likely to fail them."
"Part of the solution to potential bias is better training that helps cops acknowledge and deal with their potential prejudices. But critics also argue that more accountability could help deter future brutality or excessive use of force, since it would make it clear that there are consequences to the misuse and abuse of police powers. Lax legal standards make it difficult to legally punish individual police officers for use of force, even when it might be excessive."
Police only have to reasonably perceive a threat to justify shooting
"Legally, what most matters in police shootings is whether police officers reasonably believed that their lives were in immediate danger, not whether the shooting victim actually posed a threat."
"In the 1980s, a pair of Supreme Court decisions — Tennessee v. Garner and Graham v. Connor — set up a framework for determining when deadly force by cops is reasonable."
"Constitutionally, "police officers are allowed to shoot under two circumstances," David Klinger, a University of Missouri St. Louis professor who studies use of force, previously told Dara Lind for Vox. The first circumstance is "to protect their life or the life of another innocent party" — what departments call the "defense-of-life" standard. The second circumstance is to prevent a suspect from escaping, but only if the officer has probable cause to think the suspect poses a dangerous threat to others."
"The logic behind the second circumstance, Klinger said, comes from a Supreme Court decision called Tennessee v. Garner. That case involved a pair of police officers who shot a 15-year-old boy as he fled from a burglary. (He'd stolen $10 and a purse from a house.) The court ruled that cops couldn't shoot every felon who tried to escape. But, as Klinger said, "they basically say that the job of a cop is to protect people from violence, and if you've got a violent person who's fleeing, you can shoot them to stop their flight."
"The key to both of the legal standards — defense of life and fleeing a violent felony — is that it doesn't matter whether there is an actual threat when force is used. Instead, what matters is the officer's "objectively reasonable" belief that there is a threat."
"That standard comes from the other Supreme Court case that guides use-of-force decisions: Graham v. Connor. This was a civil lawsuit brought by a man who'd survived his encounter with police officers, but who'd been treated roughly, had his face shoved into the hood of a car, and broken his foot — all while he was suffering a diabetic attack."
"The court didn't rule on whether the officers' treatment of him had been justified, but it did say that the officers couldn't justify their conduct just based on whether their intentions were good. They had to demonstrate that their actions were "objectively reasonable," given the circumstances and compared to what other police officers might do."
"What's "objectively reasonable" changes as the circumstances change. "One can't just say, 'Because I could use deadly force 10 seconds ago, that means I can use deadly force again now,'" Walter Katz, a California attorney who specializes in oversight of law enforcement agencies, previously said."
"For some critics, the question isn't what's legally justified but rather what's preventable. "We have to get beyond what is legal and start focusing on what is preventable. Most are preventable," Ronald Davis, a former police chief who previously headed the Justice Department's Office of Community Oriented Policing Services, told the Washington Post. Police "need to stop chasing down suspects, hopping fences, and landing on top of someone with a gun," he added. "When they do that, they have no choice but to shoot."
Link to entire article: 17-year-old Antwon Rose was fleeing and unarmed when police shot