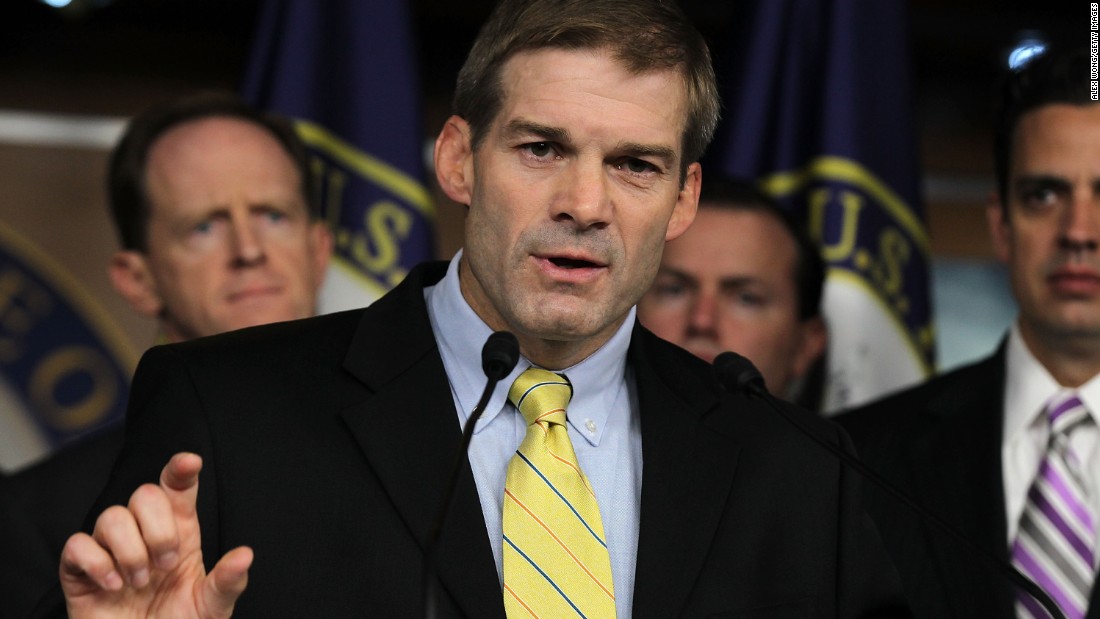 The GOP US Representative Jim Jordan of Ohio, as a member of the US House "Freedom Caucus" and the US House Judiciary Committee, has developed a reputation for his aggressive style in defending his standard bearer President Donald Trump. For example, he didn't hesitate to act unhinged, disrespectful and abusive in his June 2018 questioning of the FBI Director Christopher Wray and the Deputy Attorney General Rod Rosenstein who is in charge of the FBI's Trump-Russia probe being led by the  Special Counsel Robert Mueller III.
Rep. Jordan along with his fellow republican colleagues on the US House Judiciary Committee have been working overtime in attacking the FBI and the DOJ in an attempt to discredit whatever work product they might produce which would portray President Trump in a negative way, facts and evidence be damned.
The below video is an example of their efforts:
But it looks like Rep. Jordan will be facing his own legal issues…
On July 3, 2018, John Amato of Crooks and Liars penned the following report, "Rep. Jim Jordan Accused Of Covering Up Sexual Assaults As Wrestling Coach At Ohio State"
Excerpts:
"One of Trump's favorite henchmen in the House Freedom Caucus, Rep. Jim Jordan is now being accused by former wrestlers who he coached at Ohio State for failing to stop a team doctor from sexually abusing them in the 90's."
"If you can't protect your own players from a disgusting team doctor, WTF are you good for?"
"Three former wrestlers told NBC News that it was common knowledge that Strauss showered regularly with the students and inappropriately touched them during appointments, and said it would have been impossible for Jordan to be unaware; one wrestler said he told Jordan directly about the abuse."
"Rep. Jordan has denied knowing anything about this, but one of his former wrestlers, Mike DiSabato, whose allegations kicked off the investigations called Jordan a "liar."
"I considered Jim Jordan a friend," DiSabato said. "But at the end of the day, he is absolutely lying if he says he doesn't know what was going on."
"Not only is he being called a liar, but DiSabato informed him that he was going public this year and Jordan asked him to keep his name out of it."
"A wrestler named Dunyasha Yetts, who has a criminal past told NBC News that he and others informed Rep. Jordan about the abusing doctor."
Another, who asked to not be named was perplexed that Jordan would deny knowing anything now.
"I love Jimmy to death," the ex-wrestler said. "It was a head-scratcher to me why he would say he didn't know anything. Doc used to take showers with the team even though he didn't do any workouts, and everybody used to snicker about how you go into his office for a sore shoulder and he tells you to take your pants down."
It's not shocking for Jordan [allegedly] to now try and cover up what he knew then and why he did nothing to stop the sexual assault of young men under his care.
My question is why did he stay silent when his players were screaming about a pervert in his own hen house?
Link to entire article: Rep. Jim Jordan Accused Of Covering Up Sexual Assaults As Wrestling Coach At Ohio State
See: Report: Rep. Jim Jordan allegedly ignored sexual abuse at Ohio State/ VOX
See: NBC report: Former Ohio State wrestlers say Jim Jordan knew