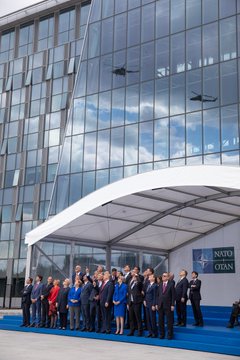 On 12th of July 2018, the republican President Donald Trump was observed speaking in a much more conciliatory tone at NATO during a press conference. He was unrecognizable  from the prickly, intemperate man of yesterday.
He did say that he has met with representatives from Ukraine and Georgia, countries where Russia had been aggressive towards as in Russia invading unprovoked both Georgia in 2008 and Ukraine in 2014. It has been reported that at this meeting President Trump went off again on his pet peeve that the NATO member countries were not paying enough towards their own defense budgets where he threatened that if nothing changed he would reconsider the US continuing to remain with NATO which turned this security meeting into an emergency meeting.
This was followed by President Trump holding a press conference.
President Trump sidestepped questions about what the US plans to do to help the Kurds in Syria, and about Russia's actions toward Georgia and Ukraine.
The New York Times reports that for right now, ""President Trump reaffirms his commitment to NATO and says he won big spending concessions."
France's President Emmanuel Macron had to announce after President Trump's press conference, a denial that he and other world leaders had made any such concessions to President Trump, as he alleged.
For the record the US does not pay 90% of the expenses of NATO and so his statements along these lines are outright lies. As for NATO expenses itself, the US pays 22% but for total military spending, the US contributes between 66-67%. Just so everyone knows, the member nations of NATO had agreed to increase the defense spending in their respective countries to the level of 2% of GDP way back in 2006. In 2011, the former Secretary of Defense Bob Gates prompted the member states of NATO to up their game in reaching their own stated goals of paying more monies towards their defense budgets.
(NYT reporters fact-checked the president's claims on the financial relationship between the United States and other NATO countries.)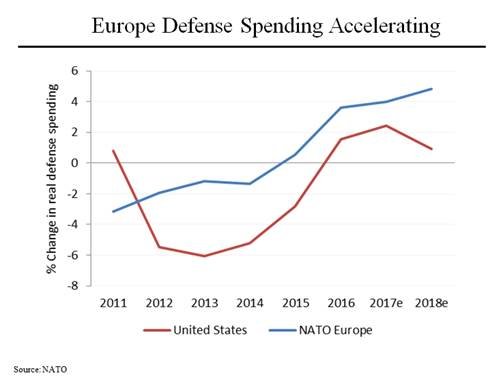 In addition, the European pay $12 billion dollars towards assisting the poor around the world in comparison to the US of only $6 billion dollars, annually.
In short, President Trump directed his own reality show where he created a crisis that didn't really exist to where he could then claim victory. The irony is that he could have claimed this victory at the start but then he wouldn't have had his show where he was the center of attention.
Here is the rest of the story…
On July 12, 2018, The New York Times published the following report, "Trump Calls U.S. Ties to NATO 'Very Strong': Live Updates"
Excerpts:
•" President Trump is on a seven-day, three-nation European trip — to Belgium, Britain and then Finland for talks with President Vladimir V. Putin of Russia — that highlights the ways he has utterly transformed United States foreign policy."
• "Mr. Trump said that the allies had agreed to his demand that they significantly increase military spending. The alliance, he said, is "very unified, very strong, no problem."
• "Mr. Trump signed on to a joint statement that largely reaffirmed existing NATO commitments, and was at odds with some of his own statements."
• "The final day of the NATO talks will include a heads-of-state meeting with Georgia and Ukraine and a discussion on Afghanistan. Mr. Trump is also scheduled to hold separate private meetings with the leaders of Azerbaijan, Georgia, Romania and Ukraine. He travels to London in the afternoon."
"Mr. Trump strongly recommitted American support for NATO on Thursday."
"The United States was not being treated fairly, but now we are," the president said at a news conference, after the NATO leaders held an emergency meeting to address Mr. Trump's complaints. "I believe in NATO."
"Yesterday I let them know that I was extremely unhappy with what was happening and they have substantially upped their commitment," he said, but he did not elaborate.
"The allies have agreed to spend 2 percent of gross national product on defense by 2024, but Mr. Trump has demanded that they meet that threshold right away. Yesterday, he told his counterparts that they should double the long-term target to 4 percent, the White House press secretary said."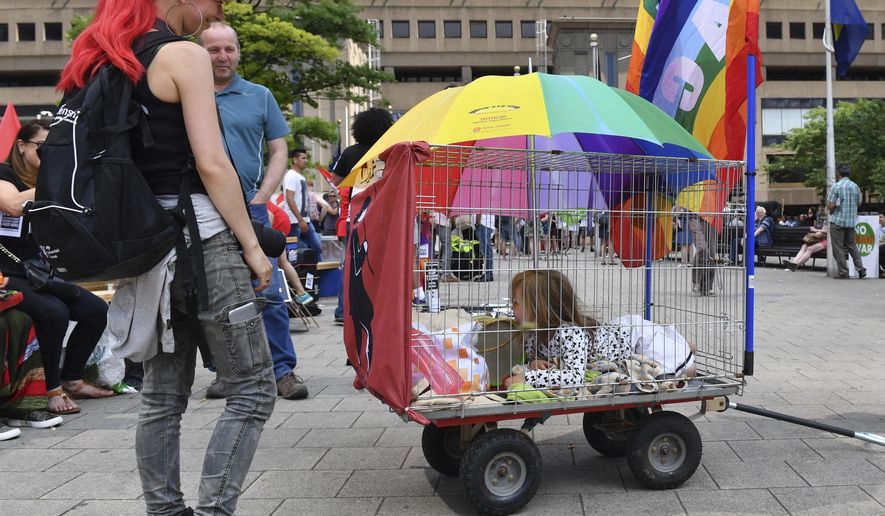 "Mr. Trump threw the meeting into turmoil on Thursday by using a session on Ukraine and Georgia, countries partially occupied by Russia, as another chance to complain about NATO defense spending."
"According to a person briefed on the meeting, Mr. Trump told other NATO leaders that if their countries did not meet the 2 percent standard by January, the United States "would go it alone."
"What that would mean was not clear to the officials who were present. White House officials did not immediately respond to requests to explain Mr. Trump's outburst or to say whether "go it alone" was a threat to withdraw the United States from NATO. — Steven Erlanger"
Trump keeps up pressure on NATO allies
"After spending the first day of the summit meeting complaining bitterly about NATO allies, Mr. Trump spent the morning of Day Two on Thursday tweeting his grievances from afar, arriving late to alliance headquarters for a multilateral session with the leaders of Georgia and Ukraine."
"Presidents have been trying unsuccessfully for years to get Germany and other rich NATO Nations to pay more toward their protection from Russia," Mr. Trump said on Twitter before arriving for meetings, repeating gripes he aired on Wednesday. "They pay only a fraction of their cost. The U.S. pays tens of Billions of Dollars too much to subsidize Europe, and loses Big on Trade!"
"The president was alluding once again to the fact that few NATO member countries have reached the target set for 2024 to spend 2 percent of their economic output on the military."
"In talks on Wednesday, Mr. Trump told the allies that the 2 percent threshold should be met immediately, and the spending target should actually be twice that, his press secretary said."
"He was vocal on Twitter, but Mr. Trump appeared to be in no rush to confront European allies in person Thursday morning. He strolled into NATO headquarters 30 minutes late, with the first gathering of the day already well underway. — Julie Hirschfeld Davis"
"Despite his attacks on allied countries and his insistence that they should pay much more, Mr. Trump joined 28 other national leaders on Wednesday in signing a NATO declaration that reaffirmed existing commitments, including the 2 percent military spending target."
"That contrasts with Mr. Trump's departure last month from the Group of 7 summit meeting, when he refused to sign onto the usual carefully crafted communiqué."
[Read the full story here.]
"The 23-page, 79-point NATO declaration, which reflects months of negotiation, censured Russia's actions in Ukraine in the bluntest terms: "We strongly condemn Russia's illegal and illegitimate annexation of Crimea, which we do not and will not recognize."
"Just over a week ago, the president told reporters on Air Force One that he was considering supporting Russia's claim to Crimea, which it seized in 2014."
"The allies agreed to a NATO Readiness Initiative, which would allow the group to assemble a fighting force of 30 land battalions, 30 aircraft squadrons and 30 warships within 30 days. The initiative reflects a "30-30-30-30" plan pushed by Defense Secretary Jim Mattis and meant to deter Russian aggression in Europe."
"Signing onto a declaration that contrasted sharply with some of his own statements, Mr. Trump left allies and analysts alike a bit off balance."
"Trump is coming through and saying, 'What have you done for me lately?'" Jorge Benitez, a senior fellow at the Atlantic Council, said in an interview. "Trump seems to be defining U.S. national interests that are competitive with our allies and yet cooperative with North Korea, cooperative with Russia, and cooperative with China. That doesn't seem consistent." — Katie Rogers"
"American presidents have long pressed their NATO counterparts to increase military spending. But Mr. Trump's insistence that the other nations owe money misstates how the alliance works, and the figures he cites are misleading."
"NATO has a budget to cover shared costs and some equipment used in joint operations, and all 29 member countries contribute to it. None of the allies has failed to pay its contribution.
"According to NATO, all members have significantly raised military spending since 2014, and eight are expected to meet the goal this year."
"Mr. Trump tweeted on Monday that the US accounted for 90 percent of military spending by NATO countries, but the alliance says the real figure is about 67 percent. And most American military spending is not NATO-related."
"Even so, the organization says on its website, "There is an overreliance by the alliance as a whole on the United States for the provision of essential capabilities, including, for instance, in regard to intelligence, surveillance and reconnaissance; air-to-air refueling; ballistic missile defense; and airborne electronic warfare."
— Julie Hirschfeld Davis and Steven Erlanger
A show of solidarity with Ukraine
"NATO leaders are set to meet with their Ukrainian counterparts on Thursday to show solidarity with Kiev, after the Russian annexation of Crimea in 2014, and in the face of Moscow's continuing military support of rebels in eastern Ukraine."
"The meeting is a pointed reminder from the West of the principle that one nation should not violate the territorial integrity of another. Talks on resolving the dispute in Ukraine have essentially stalled."
"NATO leaders are also to meet with the leaders of Georgia on Thursday, in a similar show of support for Tbilisi against Russia, which has occupied parts of the country since 2008."
"Ukraine and Georgia will be invited to discuss their progress in security and defense overhauls and their cooperation with NATO."  — Steven Erlanger"
"The next leg of Mr. Trump's trip will take him to Britain from Thursday through Sunday, where he will be greeted with pomp and protests. The president will meet with Prime Minister Theresa May and Queen Elizabeth II, while thousands of people are expected to demonstrate against him."
"(Stephen Castle and Kimiko de Freytas-Tamura, looking ahead to Trump's visit to Britain, explain why the American president's visit could be an ordeal more than anything else, despite the "special relationship.")— Katie Rogers"