The Russian Foreign Minister Sergey Lavrov stated on a RT interview that it was the US republican President Donald Trump who made the request for the one-on-one meet between him and the Russian President Vladimir Putin, and so Russia is accommodating his request. Although President Putin speaks English, he prefers to negotiate in his native language and so he will have a translator.  This means that President Trump should be accompanied by his own translator who will take notes which will not be available to the American public.
Remember that this meeting with President Putin was initiated by President Trump during the phone call where he called the Russian leader to congratulate him on his election win, against the instructions by all his advisers not to do this. He is giving President Putin a win right at the start by allowing for this summit which elevates him on the world stage.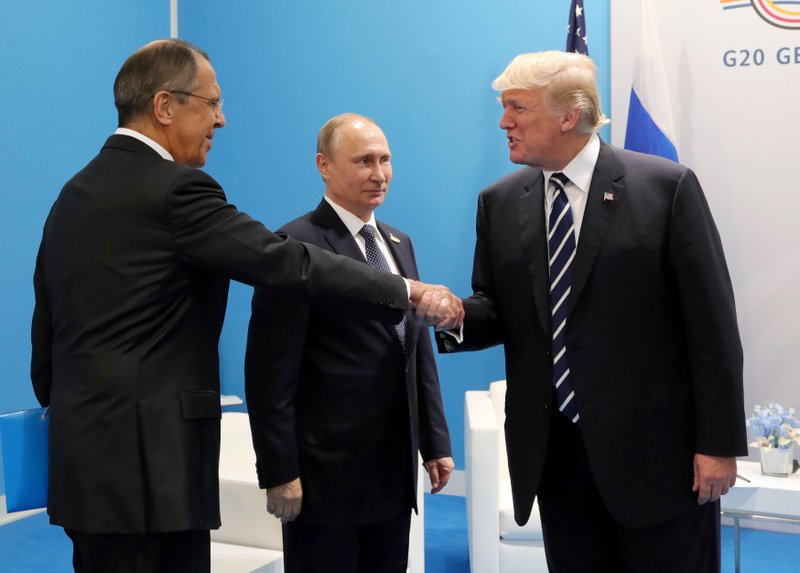 President Trump has insisted on continuing with his plans to have his one-on-one tete-a-tete with the Russian President Putin on the 16th of July 2018 in Helsinki, Finland, despite the Deputy Attorney General Attorney Rod Rosenstein having announced on the 13th of July, that the US department of Justice had filed indictments against 12 Russian GRU operatives for having interfered with the 2016 US election in order to effect the outcome in favor of Mr. Trump.
See: Mueller probe indictment of 12 Russians for hacking Democrats/ Washington Post
As per a CNN report,"both presidents have previously spoken in-person, but the Finland meeting will be the first without interpreters or top diplomats in attendance."
The republican Senator John McCain of Arizona is going public to recommend against this summit going forward unless President Trump is willing to confront President Putin about his having ordered his GRU operatives to attack the US elections infrastructure in 2016.
I doubt that this confrontation will take place as it was President Trump who benefited from the Russian assist. I can't help but wonder if the reason that President Trump hasn't led the charge to take steps to prevent similar attacks in future US elections, is that he welcomes this help from Russia.
See: Just Sitting Down With Trump, Putin Comes Out Ahead – The NYT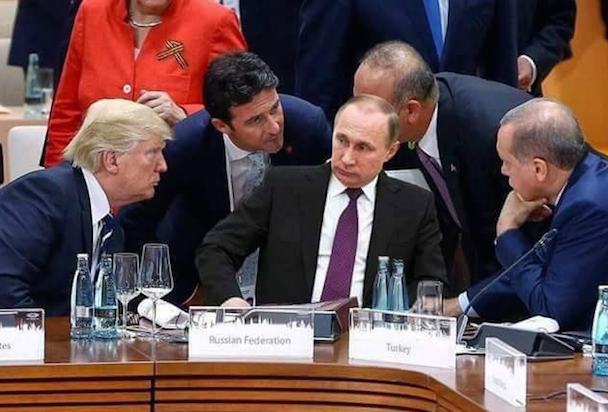 Here's the rest of the story…
On July 13, 2018, Katie Reilly of Time Magazine penned the following report, "John McCain Calls on President Trump to 'Hold Putin Accountable' or Cancel Helsinki Summit"
Excerpts:
"Arizona Sen. John McCain on Friday (7/13/18) praised the Justice Department's indictment of 12 Russian intelligence officers and called on President Donald Trump to cancel his upcoming summit with Russian President Vladimir Putin if he is "not prepared to hold Putin accountable."
"The Russian intelligence officers were charged with hacking the Democratic National Committee and Hillary Clinton's presidential campaign — the latest charges brought in Special Counsel Robert Mueller's investigation into Russia's interference in the 2016 presidential election."
"These revelations add to a body of evidence confirming an extensive plot by Vladimir Putin's government to attack the 2016 election, sow chaos and dissension among the American electorate, and undermine faith in our democracy,"McCain said in a statement on (7/13/18). "And despite repeated warnings from our nation's top intelligence and military leaders, the Kremlin's efforts to weaken our institutions have continued unabated with insufficient action taken by the administration or Congress to strengthen our cyber defenses, safeguard our election systems, and deter further destabilizing activities."
"President Trump must be willing to confront Putin from a position of strength and demonstrate that there will be a serious price to pay for his ongoing aggression towards the United States and democracies around the world," McCain said. "If President Trump is not prepared to hold Putin accountable, the summit in Helsinki should not move forward."
Trump said Tuesday that his meeting with Putin "may be the easiest" out of all his other meetings with NATO leaders this week. And on Friday, he voiced skepticism that the meeting with Putin would result in a confession about election meddling.
"I don't think you'll have any 'Gee, I did it, I did it, you got me,'" Trump said Friday morning before the indictments were announced. "There won't be a Perry Mason here, I don't think, but you never know what happens, right?"