If I was a betting person, I'd have put my monies on Croatia, the team from the smallest country ever to have made it to the World Cup Finals. It's a could thing that I didn't as France won by a score of 4-2 with one of France's goal being a penalty kick.
I have spent time in Croatia, mostly Dubrovnik in the 1980's for several months when Croatia was still a part of Yugoslavia. I would list this as one of my top 5 adventures. The biggest draw, is the beauty of Dubrovnik's old town with its limestone streets, baroque buildings and the endless shimmer of the Adriatic Sea. One can't help but be inspired by a walk along the ancient city walls that protected this capital of a sophisticated republic for centuries. Most of its citizens speak English as their second language.
See: Croatia profile – Timeline – BBC News – BBC.com
The First Half
What a game! In the first 18 minutes, France scored a goal. Within 28 minutes, Croatia tied the score with its goal. France takes the lead in a penalty kick within 38 minutes. At the half time, France is ahead by 2-1 despite Croatia having possession of the ball for about 61% of the time.
The Second Half
France scores another goal for the total pf 3-1 score giving it a 2 score advantage with only 30 minutes left to play.  Within a few more minutes France scored another another goal, upping its advantage by 3 goals at 4-1.. With 22 minutes left in the game, Croatia scores a goal to make the score 4-2. It looks like this will be France's win.
Here's why my money was on Croatia…
On July 14, 2018, Dean Bilton of ABC in Europe penned the following analysis, "World Cup: Why Croatia will beat France in the final to claim a first-ever title"
"For the first time in history, Croatia will play in a World Cup final with only France standing in the way of it reaching the ultimate footballing glory."
"It's quite a story for what is a comparatively small nation, whose one and only semi-final appearance in 1998 had, until now, stood as its finest footballing accomplishment."
"Having seen off England in the semi-final, belief is sky-high among the Vatreni and the team looks to be in a fantastic position to have a crack at Les Bleus."
"There's a lot for Croatian fans to be excited about."
Luka Modric
It really is that simple. On Monday morning (AEST), Luka Modric will be the best player on the Luzhniki Stadium pitch.
The Real Madrid man has had a wonderful tournament so far, dictating play and controlling games from midfield at a level far beyond any other player in Russia.
Win or lose, Modric will have to be a serious front-runner for the Golden Ball, but you can be sure that individual prize will be miles from his mind once kick-off arrives.
No, Modric will do what he always does — relentlessly move the ball around with absurd precision, pick his perfect moments to press and defend and make sure France can never get a serious stranglehold on the game.
Croatia has been the best team in possession in Russia
The field is not exceptionally tough in this regard, with really only Spain and Brazil showing the capacity to dominate possession for extended periods of time, and they both came a cropper when it came to turning that into goalscoring chances.
Croatia has been a little sluggish and blunt at times, but more than any other team at this tournament has shown it is capable of keeping possession and finding openings at the end of the phases of play.
Modric is key to that of course, but so is Ivan Rakitic in a central position, and wide players like Ivan Perisic and Ante Rebic who are often the final piece of the puzzle.
France might be happy to let Croatia have the ball to a certain extent, because Les Bleus will want to counter as much as possible, but that's a risky tactic against a genuinely talented midfield.
A tough road hardens them for battle
As the semi-final against England moved into extra-time, the prevailing wisdom was that Croatia would start to tire — its first two knockout games against Denmark and Russia had both gone to penalties, after all.
"But instead, the opposite seemed to happen. The Croatians showed tremendous resilience having gone behind, but then even greater composure after the 90 had finished to overcome the seemingly-fresher England."
"It points to a never-say-die mentality that has been fostered through a tough qualifying campaign, and then through a World Cup that has very much been navigated the hard way."
"Yet, through it all, Croatia remains the only team left at this tournament to have won every match it has played. It has no reason not to believe."
Okay, well, what could go wrong? (This is how France Prevailed)
"France is, of course a formidable team in its own right. The form of Kylian Mbappe, Antoine Griezmann and Paul Pogba in an attacking sense has been excellent, but their defence has been rock solid as well."
"The danger France poses is in its rapid counter-attacks, so it's something Croatia will have to keep in mind when deciding what sort of midfield to play, and how much effort to commit to breaking down Raphael Varane and Samuel Umtiti at the back."
"But Croatia has played teams like that already in this tournament — it swept aside Argentina 3-0 and was by far the better team against England."
"It looms as a pretty even contest, a battle of styles and a battle of some of the world's best players. But of the two teams, Croatia is best equipped to dominate the ball and get the game on its terms, and possesses the greatest weapon in a Luka Modric one game away from the glory a player of his stature deserves."
France won a well fought contest for a score of
CROATIA'S LINEUP
For Croatia, Marcelo Brozovic has been chosen ahead of Andrej Kramaric. Brozovic was the pick against Denmark in the round of 16, but Kramaric played in the quarterfinal against Russia. The choice of Brozovic is a defense-oriented move, as he is a deeper-lying midfielder, while Kramaric plays just behind the striker, Mario Mandzukic.
Goalkeeper: 23 Danijel Subasic (Monaco)
Defenders: 21 Domagoj Vida (Besiktas), 3 Ivan Strinic (Milan), 6 Dejan Lovren (Liverpool), 2 Sime Vrsaljko (Atletico Madrid)
Midfielders: 10 Luka Modric (Real Madrid), 7 Ivan Rakitic (Barcelona), 11 Marcelo Brozovic (Inter Milan)
Forwards: 17 Mario Mandzukic (Juventus), 4 Ivan Perisic (Inter Milan), 18 Ante Rebic (Fiorentina)
FRANCE'S LINEUP
France sticks with what's worked: Pavard-Varane-Umtiti-Hernandez across the back, protected by Kanté and Pogba as needed. Matuidi, Griezmann and Mbappé will swirl in and around Giroud, who starts alone up top
Goalkeeper: 1 Hugo Lloris (Tottenham)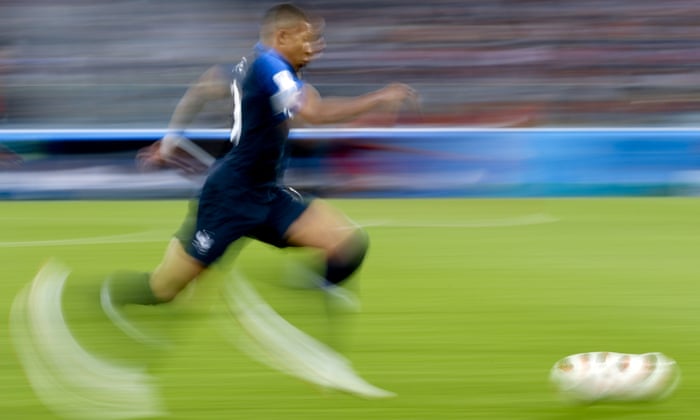 Defenders: 21 Lucas Hernandez (Atletico Madrid), 2 Benjamin Pavard (Stuttgart), 5 Samuel Umtiti (Barcelona), 4 Raphael Varane (Real Madrid)
Midfielders: 13 N'Golo Kante (Chelsea), 14 Blaise Matuidi (Juventus), 6 Paul Pogba (Manchester United)
Forwards: 9 Olivier Giroud (Chelsea), 7 Antoine Griezmann (Atletico Madrid), 10 Kylian Mbappe (Paris St Germain)
See: World Cup 2018 final: France v Croatia – live updates! | Football | Guardian