One has to ask what on earth is up with Judge T.S. Ellis III who has been overseeing the trial of Paul Manafort, the republican Donald Trump's former campaign manager.
Normally if a judge has as issue with the attorneys for the prosecution or the defense team, he calls the offending party up to the bench where he covers the mike to discuss whatever needs reviewing with the attorney. He doesn't blurt out what he thinks to the jury.
It has been reported that he had even been voicing his opinion as to the quality of the evidence which is what the jury is supposed to determine. Just the other day, he complained about a prosecution witness being present in the courtroom when he was the one who had approved this.
Then on the 10th of August 2018, the judge ordered a recess/ pause but no one knows why. Later, the trial was back on track.
Here is the rest of the story.
On August 10, 2018, Darren Samuelsohn and Josh Gerstein of Politico penned the following report, "Manafort trial Day 9: Rumors swirl as trial screeches to a halt" ("People in the Virginia courtroom speculated that the sudden delay could mean anything from a looming guilty plea to Judge T.S. Ellis III conceding his second mistake in two days.")
Excerpts:
"Paul Manafort's criminal trial on bank- and tax-fraud charges, speeding along for nearly two weeks, came to a mysterious halt Friday morning as the federal judge and lawyers for both sides huddled out of earshot of the public."
"Rumors swirled through the ninth-floor courtroom in Alexandria, Virginia, about what the delay could mean — from a looming guilty plea from the former Trump campaign manager, to Judge T.S. Ellis III conceding his second mistake in two days, to an issue with the jury — but there were no clear answers."
"Instead, Ellis, a 78-year-old Ronald Reagan appointee explained briefly to the court that he had a busy docket of more than 200 to 300 cases that he also has to "keep moving" and sent the overflow crowd off for an early lunch."
"I assure you this was all necessary," Ellis said."
"The trial is set to resume at 1:45 p.m. with special counsel Robert Mueller's prosecutors questioning their final cluster of witnesses before resting their case and turning things over to Manafort's defense."
"The trial is expected to end next week with jurors."
"The scene inside Ellis's courtroom Friday morning was unusual in comparison to any other morning in the Manafort trial, now into its ninth day. Before the jury was summoned into the room, Ellis immediately called a bench conference with prosecutors and Manafort's attorneys."
"After that brief meeting with the judge broke up, Manafort got up from his seat and huddled with his entire team of lawyers as the entire courtroom quieted down. From the front row, a friend of Manafort's wife, Kathleen Manafort, remarked aloud that she thought everyone was trying to listen in to the conversation. She also asked the reporters sitting in the row behind them what they thought was happening."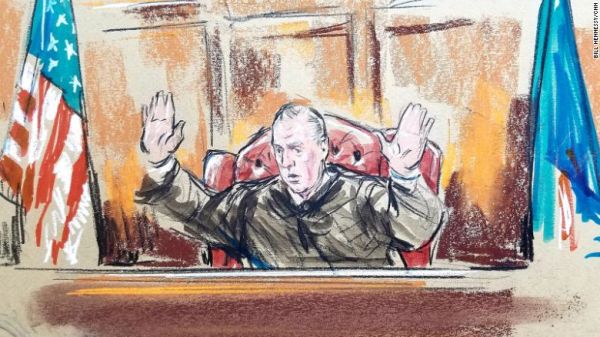 "Paul Manafort, dressed in a blue suit, smiled and had an animated look on his face as his conference with his lawyers transitioned to individual conversations."
"Ellis then called lawyers back for a second conference. This time, everyone from Manafort's team joined the huddle, leaving the defendant by himself at his table to scribble notes as a deputy U.S. marshal sitting behind him kept watch. The judge then took the unusual step of calling the courtroom security officer over to participate — that move fueled speculation about a jury-related issue since that official is in charge of logistics issues involving the jurors."
"The conference broke after a short discussion and Ellis announced he needed to recess for about 15 minutes "to consider an issue." Oddly, he exited the courtroom through a door opposite his own chambers and in the direction of the jury room. The court's stenographer followed."
"This wait lasted longer than Ellis predicted — about 45 minutes — and when the judge returned, he summoned in the jury, took attendance and told them the court would be going back out for the early lunch break. As he has repeatedly throughout the trial, Ellis then delivered multiple warnings about not discussing the case with anyone, even among themselves and added: "Keep an open mind until all the evidence is in."
"As the courtroom emptied and prosecutors carrying all of their materials waited for the elevators, reporters asked Mueller lawyer Uzo Asonye for an update and also whether he could say what was in his cardboard box."
"I could," Asonye said as an FBI agent loomed to his side, "but I'd have to kill you."
"Whatever is transpiring, the delay seems likely to threaten prosecutors' prediction that they would wrap up their case against Manafort Friday. They had planned to call four additional witnesses before turning the reins over to the defense to present its case next week."
Prosecutors protest another rebuke from judge
"Before Friday's mysterious courtroom action, prosecutors filed a formal, written motion with Ellis asking him to retract a comment he made Thursday in front of jurors."
"The new filing objects to a remark that seemed to dismiss the significance of a bank fraud conspiracy charge against Manafort that stems from a loan he sought, but never received."
"After the prosecution spent about 40 minutes Thursday afternoon questioning a bank employee about Manafort's unsuccessful effort to get a $5.5 million construction loan on a Brooklyn brownstone, Ellis implied that the testimony had been a waste of time, or at least overkill."
"You might want to spend time on a loan that was granted," the judge scoffed at prosecutor Uzo Asonye, prompting him to jump up from his seat."
"Your honor, this is a charged count in the indictment," the prosecutor said."
"I know that," Ellis shot back."
"In the new motion, prosecutors protested the judge's comment and asked him to tell the jury to ignore it."
"The statement, prosecutors wrote, "misrepresents the law regarding bank fraud conspiracy, improperly conveys the Court's opinion of the facts, and is likely to confuse and mislead the jury. The Court should provide a curative instruction in order to avoid any potential prejudice to the government."
"Prosecutors filed a similar motion Thursday, objecting to the judge's actions a day earlier rebuking the prosecution for allowing an expert witness to sit through the trial prior to his testimony. Ellis said that defied his usual policy barring witnesses from listening to other testimony. However, court transcripts showed that on the trial's first day, the judge specifically gave permission for the expert to sit in on other witnesses."
"In response to the prosecution's motion, Ellis issued what seemed like a grudging apology in front of the jury, saying he "may have" made a mistake and instructed jurors to disregard what he said."
Link to entire article: Manafort trial Day 9: Trial resumes after mysterious delay – POLITICO