Today, the 12th of August 2018 Unite the Rally 2, which is comprised of racist/ hate groups was held in two cities, Charlottesville, VA. and Washington DC, With counter-protest groups, present the rallies went off without any major incidents. The counter-protesters far outnumbered the far right participants.
Only 30 White Nationalists showed up for the "Unite Rally 2" in Washington DC.  Its organizer Jason Kessler had paid for an event permit for 400 people. They rode in their own train car with a bunch of reporters. This was a dismal failure.
As per a 8/13/18 CNN report by Dakin Adone, Mallory Simon and Sara Sidner, "Kessler, who organized last year's "Unite the Right" rally in Charlottesville, blamed the low turnout on logistical issues and confusion regarding the group's transportation — a claim echoed by at least two men who spoke to reporters. "People are scared to come out after what happened last year," one of the men added."
As per the 8/12/ 18 CNN report by Dakin Adone, "President Trump — who has drawn   accusations of furthering the racial divide in America — condemned last year's events in Charlottesville in a tweet Saturday morning, saying they "resulted in senseless death and division"
"We must come together as a nation," he wrote. "I condemn all types of racism and acts of violence. Peace to ALL Americans!"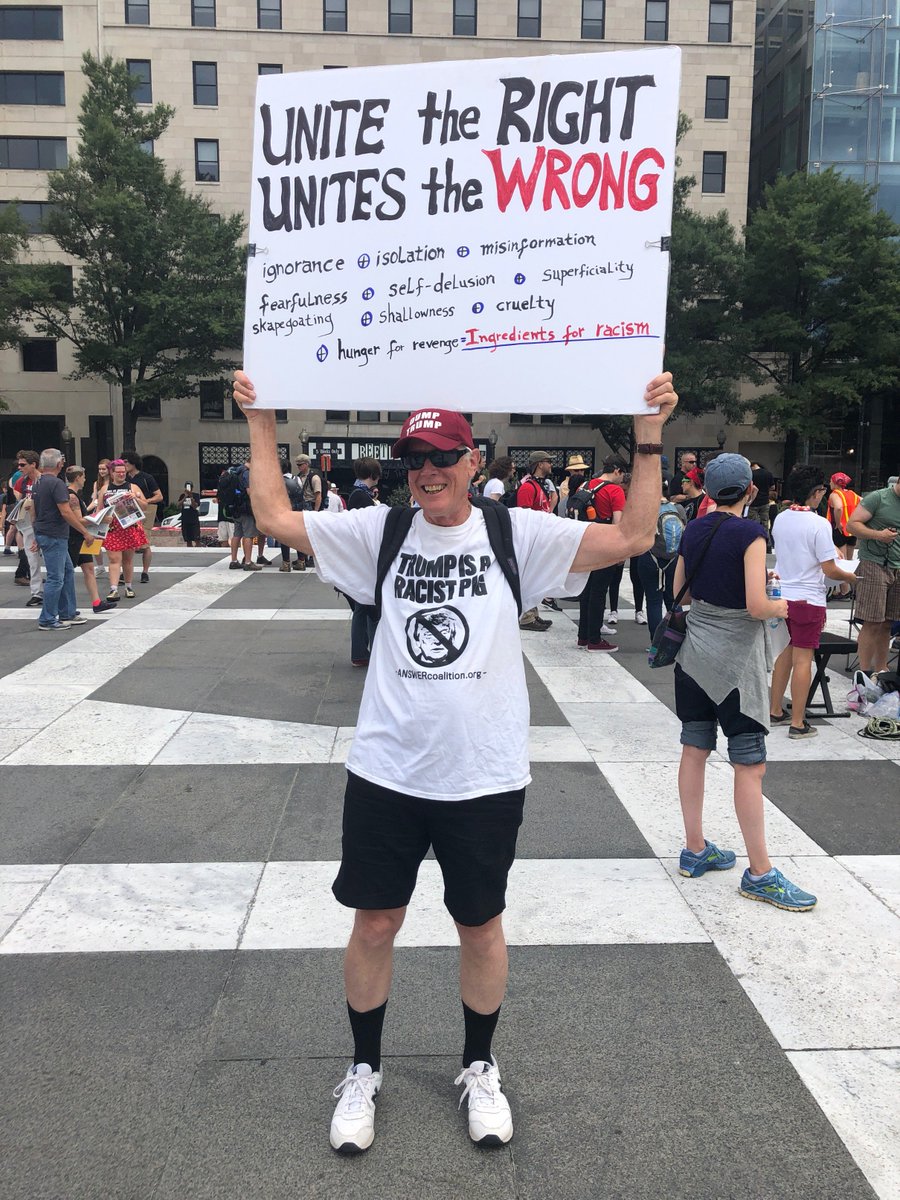 Here's the rest of the story…
On August 12, 2018, Ryan W. Miller, Laura Peters, and Mike Tripp of USA Today penned the following report, 'Old Jim Crow, new Jim Crow!' Charlottesville confronts racism, then and now'
Excerpts: 
"Last year's explosion of violence before a white nationalist rally on this city's streets may have garnered national headlines, but counter-protesters say white supremacy existed in the community for years – and that can't be ignored."
"That was the recurring message echoed Sunday as a few hundred boisterous activists, University of Virginia students and area residents converged on Booker T. Washington Park to mark the first anniversary of the deadly Unite the Right."
"The crowd sported shirts and signs that read "Black Lives Matter" and "C'ville Fights Back." They listened to speakers and chanted "Old Jim Crow, new Jim Crow, this racist system's got to go."
"White supremacy doesn't just look like Nazis walking through the streets," said rally participant Grace Aheron, 27.'
"Aheron said she took a lot of pride in the city's ability to rebound. "It's not an easy day for most of us," she said. "And for the spirit to be one of resilience and power and strength was incredibly empowering to me."
"Don Gathers, a member of the local Black Lives Matter Movement, told the crowd oppression and racism must be defeated – and the city must be held accountable."
"We cannot continue to let hate win," he said. "It is imperative that each one of us get out there and do our part."
"Community activist Rosia Parker said the city "was built on the hands of black people."
"A year ago, the "Unite the Right" rally here ended in tragedy. A car slammed into a counterprotest, killing demonstrator Heather Heyer and injuring many more. A white supremacist is awaiting trial in the case."
"I know it's important to recognize and uphold the memory of Heather," Gathers said. "Heather lives on through all of us and through gatherings like this."
"Throughout the day, police stayed out of the park, remaining on the road outside. Some of the protesters burned sage to dispel negativity, a sharp contrast to last year's torch-burning march of white supremacists.
"By about 4 p.m., the mass of people largely dispersed and police checkpoints were taken down."
"Katrina Turner's family has seen struggles, from enslaved ancestors to battles with the KKK to losing a son to illness. She was at the rally last year and was almost hit by the car herself."
"We also need to think of the other victims on that day," she told the crowd. "We cannot let them be forgotten."
Later in the day, a vigil was held for Heyer. Her mother, Susan Bro, spoke to the solemn crowd.
"There are mothers who lose their children all the time. And we don't give a damn," Bro said to the crowd at the vigil. She added: "We have a long way to go" in terms of racial justice.
Bro, channeling her daughter's activism, said the gathering at Charlottesville is part of the larger fight against racial injustice. "
Community and clergy members locked arms around Bro and other mourners to give them privacy as they reflected at a memorial in Heyer's honor. Flowers and messages of support written in chalk for the Charlottesville community lined the sidewalks and walls.
"Meanwhile, the Rev. Brittany Caine-Conley stood in front of the Robert E. Lee statue."
On August 12, 2018, Christal Hayes, Caroline Simon and John Bacon of USA Today penned the following report, "Not in my town': Counterprotesters outnumber Unite the Right 2 white nationalists in DC"
Excerpts:
"A couple dozen far-right activists holding a "Unite the Right 2″ rally Sunday were heavily outnumbered by law enforcement officers and counter-protesters, who shouted emphatically and urged the group to go home."
"Unite the Right 2 organizer Jason Kessler said he expected 100 to 400 white nationalists to attend. A much smaller group arrived at a subway station near the White House and was escorted by police to the rally site at nearby Lafayette Square."
"Prior to their arrival, thousands of counter-protesters were out in force all day to mark the one-year anniversary of a white nationalist rally a year ago in Charlottesville, Virginia. That event, the first Unite the Right rally, sparked chaos, violence and resulted in the death of counter-protester Heather Heyer, 32."
"Some of the counter-protesters went to Lafayette Square as well, but police kept the 2 groups apart."
"White nationalists wearing American flags around their faces and capes arrived in the city to expletives and livid demonstrators. Police escorted them in a tight square, blocked by bicycles and motorcycles."
"As the white nationalists proceeded to Lafayette Square, counter-protesters tried pushing into the group and at least one hurled what appeared to be stones at police and the rally-goers."
"One counter-protester reached over the caution tape and grabbed one of the nationalists, ripping his American flag."
"Punch a Nazi in the face!" a large group of antifa protesters screamed. The group joined forces with Black Lives Matter protesters and walked back and forth around the heavily guarded White House perimeter."
"At one point, a counter-protester ignited what appeared to be a smoke flare, leading to Secret Service pulling out batons to break up the crowd."
"Tensions escalated further as a rain spell came through about 5 p.m. Counter-protesters threw water and a chemical substance on a man and woman wearing "Trump 2020" T-shirts as they walked away from Lafayette Square."
"Some counter-protesters who had their faces covered and wore all black pushed the couple, pulled their hair and screamed, "how you like my city now?"
"The couple were protected by a group of peace officers who held one another's hand to keep a barrier until they got to police. It was unclear whether the couple were with the white nationalists."
"Meanwhile, Kessler kicked off Unite the Right 2 speeches, discussing what he sees as the injustice of last year's events in Charlottesville."
"That's why I wanted to speak to President Trump at the White House," he said. "It was criminal conduct by the Charlottesville government."
"Those watching the speeches carried American flags and White Lives Matter signs.  Speakers addressed alleged civil rights abuses, including "interracial rape of white women" and attacks on white people in South Africa. Others spoke more generally about free speech and being American, arguing any white person who loves their country counts as a white nationalist."
"Charles Edward Lincoln, the second speaker, slammed the "power elite" that is "trying to destroy everything that's good about the USA."
"But his words were nearly drowned out by the continuing cries of counter-protesters."
"Earlier, a few blocks away at Freedom Plaza, rap and reggaeton blared from large speakers where hundreds of counter-protesters carried anti-fascist flags and signs. One group chanted, "No KKK, no fascist USA."
"When I first heard that these folks were coming to D.C., I had to say, 'Hell no" the Rev. Graylan Hagler told the crowd."