Income inequality has been increasingly problematic in the US over a time frame of at least three decades. Good hard working Americans haven't seen a real pay increase beyond the rate of inflation in years.
I have been advocating for democrats or a PAC (political action committee) to launch an education campaign for the voters as to the real reasons behind their stagnant wages without ever mentioning words like Republican Party, President Donald Trump, US jobs going overseas, or immigration.
I am convinced that there are solutions but you can bet and probably even imagine what they are, but then you can also predict with 100% accuracy, that CEOs (and Republicans) won't like any of them, like for example, reinstating the higher top income tax rate, and allowing a company's shareholders to have more influence in setting CEO pay.
Of course, corporation CEOs are capable of developing their own solutions based on the reality, that with these businesses incurring record profits and increases in productivity, excluding their front-line workers from sharing more in the spoils, is no longer optional.
The democratic Senator Elizabeth Warren has come up with a solution that she has been touting.
Here is the rest of the story…
On August 15, 2018, Matthew Yglesias of VOX penned the following report, "Elizabeth Warren has a plan to save capitalism" ("She's unveiling a bill to make corporate governance great again")
Excerpts:
"Elizabeth Warren has a big idea that challenges how the Democratic Party thinks about solving the problem of inequality."
"Instead of advocating for expensive new social programs like free college or health care, she's introducing a bill Wednesday, the Accountable Capitalism Act, that would redistribute trillions of dollars from rich executives and shareholders to the middle class — without costing a dime."
"Warren's plan starts from the premise that corporations that claim the legal rights of personhood should be legally required to accept the moral obligations of personhood."
"Traditionally, she writes in a companion op-ed for the Wall Street Journal, "corporations sought to succeed in the marketplace, but they also recognized their obligations to employees, customers and the community." In recent decades they stopped, in favor of a singular devotion to enriching shareholders. And that's what Warren wants to change."
"The new energy on the left is all about making government bigger and bolder, an ideal driven by a burgeoning movement toward democratic socialism. It's inspired likely 2020 Democratic contenders to draw battle lines around how far they'd go to change the role of government in American life."
"Warren supports expanding many of the programs in play, and she's voted to do so. But the rollout of her bill suggests that as she weighs whether to get into the presidential race, she'll focus on how to prioritize workers in the American economic system while leaving businesses as the primary driver of it."
"Warren wants to eliminate the huge financial incentives that entice CEOs to flush cash out to shareholders rather than reinvest in businesses. She wants to curb corporations' political activities. And for the biggest corporations, she's proposing a dramatic step that would ensure workers and not just shareholders get a voice on big strategic decisions."
"Warren hopes this will spur a return to greater corporate responsibility, and bring back some other aspects of the more egalitarian era of American capitalism post-World War II — more business investment, more meaningful career ladders for workers, more financial stability, and higher pay."
"As much as Warren's proposal is about ending inequality, it's also about saving capitalism."
"The conceit tying together Warren's ideas is that if corporations are going to have the legal rights of persons, they should be expected to act like decent citizens who uphold their fair share of the social contract and not act like sociopaths whose sole obligation is profitability — as is currently conventional in American business thinking."
"Warren wants to create an Office of United States Corporations inside the Department of Commerce and require any corporation with revenue over $1 billion — only a few thousand companies, but a large share of overall employment and economic activity — to obtain a federal charter of corporate citizenship."
"The charter tells company directors to consider the interests of all relevant stakeholders — shareholders, but also customers, employees, and the communities in which the company operates — when making decisions. That could concretely shift the outcome of some shareholder lawsuits but is aimed more broadly at shifting American business culture out of its current shareholders-first framework and back toward something more like the broad ethic of social responsibility that took hold during WWII and continued for several decades."
"Business executives, like everyone else, want to have good reputations and be regarded as good people but, when pressed about topics of social concern, frequently fall back on the idea that their first obligation is to do what's right for shareholders. A new charter would remove that crutch, and leave executives accountable as human beings for the rights and wrongs of their own decisions."
"More concretely, United States Corporations would be required to allow their workers to elect 40 percent of the membership of their board of directors."
"Warren also tacks on a couple of more modest ideas. One is to limit corporate executives' ability to sell shares of stock that they receive as pay — requiring that such shares be held for at least five years after they were received, and at least three years after a share buyback. The aim is to disincentivize stock-based compensation in general as well as the use of share buybacks as a tactic for executives to maximize their one pay."
"The other proposal is to require corporate political activity to be authorized specifically by both 75 percent of shareholders and 75 percent of board members (many of whom would be worker representatives under the full bill), to ensure that corporate political activity truly represents a consensus among stakeholders, rather than C-suite class solidarity."
"It's easy to imagine the restrictions on corporate political activity and some curbs on stock sales shenanigans becoming broad consensus points for congressional Democrats, and even part of a 2019 legislative agenda if the midterms go well. But the bigger ideas about corporate governance would be a revolution in American business practice to undo about a generation's worth of shareholder supremacy."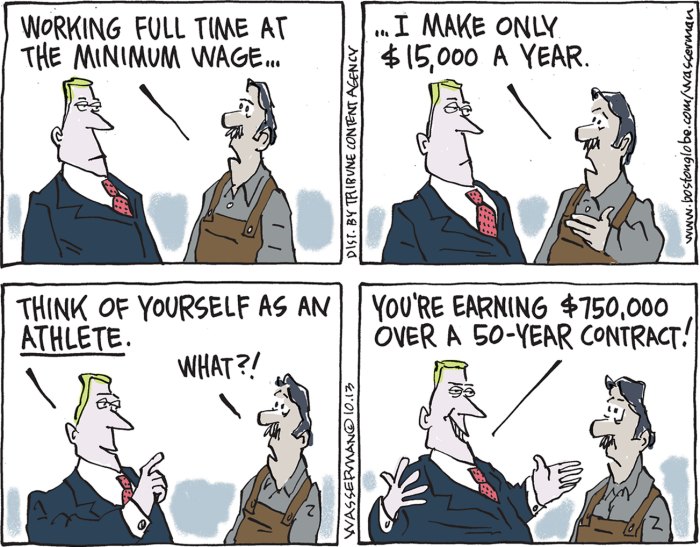 The rise of shareholder capitalism
"The conceptual foundations of the current version of American capitalism are found in Milton Friedman's well-titled 1970 New York Times Magazine article "The Social Responsibility of Business Is to Increase its Profits."
"Friedman meant this provocative thesis quite literally. In his view, which has since become the dominant perspective in American law and finance, corporate shareholders should be understood to own the company and its executives should be seen as their hired help. The shareholders, as individuals, can obviously have a variety of goals they favor in life. But their common goal is to maximize the value of their shares."
"Therefore, for executives to set aside shareholder profits in pursuit of some other goal like environmental protection, racial justice, community stability, or simple common decency would be a form of theft. If reformulating your product to be more addictive or less healthy increases sales, then it's not only permissible but actually required to do so. If closing a profitable plant and outsourcing the work to a low-wage country could make your company even more profitable, then it's the right thing to do."
Link to entire report, Elizabeth Warren has a plan to save capitalism – Vox