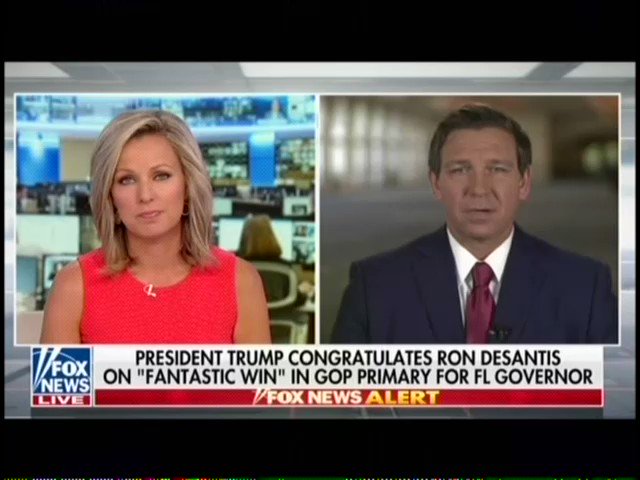 On the 28th of August 2018, a major upset occurred when the progressive democratic candidate, the Tallahassee, FL. Mayor Andrew Gillum garnered the majority of votes to represent its citizenry as their gubernatorial candidate for the upcoming November 2018 elections. This development had not been expected. The establishment candidate, Gwen Graham had been ahead in the polls for weeks and had outspent him by several millions of dollars.
Mr. Gillum will be competing in the Florida governor's race against the republican President Donald Trump's pick, Ron DeSantis who started off his campaign with a bang that has been back-firing.
Mr. Desantis, already a favorite guest on FOX TV, took a page out of President Trump's book during another FOX TV news interview as he described his democratic opponent, Mr. Gillum as being a very articulate candidate and then he added the following:
 "The last thing we need to do is to monkey this up by trying to embrace a socialist agenda with huge tax increases and bankrupting the state."
Of course, the campaign staff of Mr. Desantis has been protesting and denying that it was his intent to issue the above racist statement.
My reticence in accepting the word of Mr. Desantis at face value is that he has been a staunch supporter of the Racist-in-Chief living in the White House and a frequent guest on FOX TV shows where he felt comfortable enough to speak his mind to a favorable audience.
Now, there is a news report indicating that Mr. Desantis had been until very recently, the moderator of a racist conspiratorial Facebook group.
As per the 8/31/18 Orlando Sentinel, "Republican candidate for governor Ron DeSantis says he knew nothing about a racist Facebook page that liberal groups claimed he moderated, the Tampa Bay Times is reporting."
"DeSantis' membership in the 95,000-member Tea Party group was first noted by American Ledger, a website run by the liberal group American Bridge."
"A DeSantis spokesman denied that DeSantis had ever been an administrator of the group or that he even knew he was a member. He immediately left the page when notified about the matter, the spokesman said."
"A Facebook user can be added to a page without his or her knowledge and does not have to approve themselves becoming an administrator to groups."
The point is that Mr. Desantis membership alone is troubling.
As per a 7/25/18 Orlando Weekly report, "Only a short time prior to the announcement of his run for Florida governor, U.S. Rep. Ron DeSantis accepted a paid trip to attend a conference featuring a cast of extremely racist, hateful speakers, reports the Naples Daily News.
"Those speakers included alt-right provocateurs such as Proud Boys founder Gavin McInnes, former Trump advisor Sebastian Gorka and former White House chief strategist Steven Bannon, among others.  Some of the platforms these speakers have touched on in the past include defending a candidate accused of child molestation, suggesting the killing of Muslims and referencing how women are less likely to be in leadership roles because of "biological causes."
"Florida's own U.S. Rep. Brian Mast was also in attendance, per the website Right Wing Watch. "
Here is the rest of the story…
On August 30, 2018, Caleb Ecarma of Media-ite penned the following report, "GOP Gubernatorial Nominee Ron DeSantis Moderated Racist, Conspiratorial Facebook Group"
Excerpts:
"Florida's GOP gubernatorial nominee Rep. Ron DeSantis administered a racist and conspiracy-obsessed Facebook group, until yesterday when research from Media Matters staffer Natalie Martinez revealed the lawmaker's role on the page and forced him to leave it."
Natalie Martinez

@natijomartinez
Another admin/moderator for the racist, conspiracy Facebook group has also been promoting Ron DeSantis' campaign, and specifically named DeSantis as an admin, and said the Central Florida Post writer Taylor Foland was specifically brought on to promote DeSantis. pic.twitter.com/tXcqDmDrAX
"DeSantis, who was under fire yesterday for making what many deemed a racist remark toward his black opponent 
Andrew Gillum
, helped manage the 95,000 members strong group as one of its 52 administrators. The other managers included failed Arizona Republican Senate candidate and conspiracy theorist 
Kelli Ward
, white nationalist-tied Virginia GOP Senate candidate 
Corey Stewart
, and outspoken anti-Muslim activist 
Pamela Geller
."
"As for the page's content, members shared posts comparing Parkland high school shooting victims and Black Lives Matter activists to Adolf Hitler, accused NFL players protesting police brutality of kneeling "like ISIS," and accusing Muslims of worshipping a religion dedicated to "pedophilia, sex slavery, rape gangs, and honor killings." Other members pushed wild conspiracy theories common in right-wing Facebook culture, even claiming the Charlottesville white supremacist rally was actually "orchestrated by the left."
The news came as DeSantis was already under fire for telling Florida voters not "monkey this up" by voting for his Democratic rival Gillum — who is of African American descent."
This post was last updated on 8/31/18.
Link to article: Ron DeSantis Moderated Racist, Conspiratorial Facebook Group