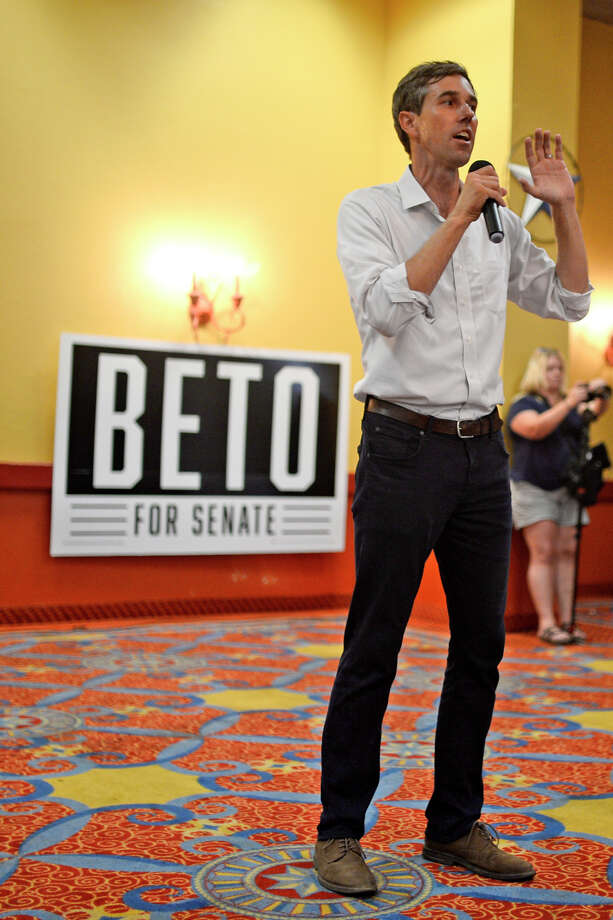 Never in a million years did the republican Texan and US Senator Ted Cruz dream that there would be a local democratic candidate Beto O'Rourke would be nipping at his heels in what has long been considered a blood red (very republican) state. Recent polls show that both candidates are in a virtual tie or within the margin of error.
There is irony in that the republican President Donald Trump has in the past disparaged the looks of Senator Cruz's wife and had spread "fake news" about his Dad having a possible connection to the assassination of President Kennedy.
As per a 5/3/16 Politico report by Nolan D. McCaskill, "Donald Trump on Tuesday alleged that Ted Cruz's father was with John F. Kennedy's assassin shortly before he murdered the president, parroting a National Enquirer story claiming that Rafael Cruz was pictured with Lee Harvey Oswald handing out pro-Fidel Castro pamphlets in New Orleans in 1963."
"A Cruz campaign spokesperson told the Miami Herald, which pointed out numerous flaws in the Enquirer story (owned by a personal friend to President Trump), that it was "another garbage story in a tabloid full of garbage."
Here is the rest of the story…
As per a 8/22/18 NBC News report, "As Texas Democrats attempt to win a major statewide contest for the first time in almost three decades, a new NBC News/Marist poll finds Democrat Beto O'Rourke trailing Republican Sen. Ted Cruz by just 4 percentage points."
"O'Rourke, a congressman from El Paso who has ignited Democratic hopes with his impressive fundraising, has 45 percent support among registered voters compared with Cruz's 49 percent. Six percent of voters remain undecided."
"While both candidates have largely consolidated their bases — with O'Rourke capturing the support of 90 percent of Democrats and Cruz securing 91 percent of Republicans — independents in the state are equally split: Forty-six percent of them back O'Rourke, while 45 percent support Cruz."
On August 31, 2018, Alex Samuels of the Texas Tribune penned the following report, "Donald Trump says he'll campaign for Ted Cruz at "biggest stadium in Texas we can find"
Excerpts:
In a tweet Friday, President Donald Trump announced that he'd be coming to Texas in October to participate in "a major rally" for U.S. Sen. Ted Cruz, a Republican incumbent facing a tougher-than-usual challenge this year against Democratic U.S. Rep. Beto O'Rourke of El Paso.
"I will be doing a major rally for Senator Ted Cruz in October. I'm picking the biggest stadium in Texas we can find," Trump tweeted Friday afternoon."
Cruz previously said he hoped the president would make a trip to Texas prior to the 2018 midterms. Donald Trump Jr., the son of the president, is also planning to visit the Lone Star State in September to campaign with Cruz, The Washington Post reported.
"The rally will bring together two former political adversaries. During the 2016 election cycle, Cruz and Trump were pitted against each other in the GOP primary for president. During the race, Trump suggested during the 2016 presidential election that he had "dirt" on Cruz's wife and that Cruz's father was connected to the assassination of John F. Kennedy. Cruz condemned Trump's statements at the timeas "classless," calling him a "coward." Cruz later angered many Trump supporters by telling attendees at the national GOP convention to "vote your conscience" rather than explicitly endorsing Trump."
"Since Trump was elected president, Cruz has proven to be a strong ally. And Trump's administration has warmed to Cruz. In January, Vice President Mike Pence called the senator "the pride of Texas." And ahead of the March 6 primary elections, Trump tweeted his support for eight Republican statewide elected officials — including Cruz."
Cruz previously warned fellow members of the GOP to prepare for a volatile race this cycle. His opponent, O'Rourke, has significantly outfundraised him and recent polls have shown a single-digit race between the two men. On Tuesday, Club for Growth, a big-spending national conservative group, announced it putting together a seven-figure ad buy against O'Rourke.