On the evening of the 21st of October 2018, I was doing the happy dance as I watched the Florida's Democratic Party's Candidate and the current Tallahassee Mayor Andrew Gillum face off against the very Trumpian republican US former Representative Ron DeSantis in the CNN televised debate hosted by Jake Tapper.
Currently and as per the latest polls, Mayor Gillum is up by 12 points over his opponent Rep. Ron Desantis who is backed by President Donald Trump. But no one is depending on these poll numbers in the State of Florida, infamous for its close races.
Throughout the debate, Mayor Gillum held his own by punching back on Rep. Desantis revisionist history, misleading characterizations of Mayor Gillum's record with facts and without losing his dignity. He did the State of Florida proud and as per his own motto, "He brought it home."
Mayor Gillum kept restating his accomplishments for the city of Tallahassee like it has seen a major drop in overall crime under his watch, as mayor starting in 2013 and it is projected to drop even further. He told how he hired 50 additional police officers help with crime reduction.
But Rep. DeSantis repeatedly referred to Tallahasse's high murder rate. The murder rate in Tallahssee is so low to where an increase from 2 murders in one year to 5 in another year can look like a huge percentage increase in murders. Context is important.
As per the October 19, 2018, PolitiFact ruled on the GOP talking point of spike in murder rate in Tallahassee, as being false. "The attack stems from data showing that the murder rate increased from 4.6 per 100,000 residents between 2002-09 — when Gillum was on the city commission — to 7 per 100,000 residents between 2010-17, when Gillum was on the commission and then became mayor (2013). The math works out to 52 percent."
"Highlighting this number with no context is a scare tactic. The annual numbers of murders are small, where any increase can lead to a large rate spike. By stating that Gillum "oversaw" that murder increase suggests that he is to blame when in fact he is one of a handful of votes on the commission. Crime is influenced by factors beyond a mayor's control."
"We rate this statement Mostly False."
Mayor Andrew Gillum kept fighting back all the GOP talking points with facts including with the quip, that he believes in science.  I loved this quote, " What Florida voters need to know is that when they elect me governor they're gonna have a governor who believes in science, which we haven't had for quite some time in this state."
These two candidates covered subjects ranging from health care, preexisting conditions, the Florida environment which has been suffering from red tide and blue algae problems, climate change in the face of Hurricane Michael, immigration, sensible gun control measures following the Parkland high school mass shooting tragedy and a myriad of other subjects.
At no time did Mayor Gilliam allow himself to be sucked into Rep. Desantis game of trying to buy into his misleading innuendos like trying to associate him as somehow as being being part of a FBI investigation. Mayor Gillum simply pointed out the facts that he had cooperated with the FBI, provided all pertinent records immediately regarding an associate under investigation, but affirmed that he wasn't party to anything untoward. He drove home the point that he is not being investigated by the FBI. Then he contrasted his high level of cooperation, his respect for the 'rule of law' while Rep. Desantis in the US House was part of the crowd doing everything possible to cover up for the republican President Donald Trump.
The one question that Rep. Desantis had the most difficulty with, had to do with what he thought of President Trump as a role model for children. He never responded but instead he pivoted to an issue having to do with Israel.
As per the October 21, 2018 Raw Story publication by Sarah K. Burris, "In a strange moment of the Florida Governor's Race on CNN Sunday, Rep. Ron DeSantis pivoted to talk about Israel when he was asked about President Donald Trump. It was enough to confuse his Democratic opponent Andrew Gillium with the bizarre pivot that he confessed he was lost.
"Whoever wins the governorship on November 6 will have to work with the federal government and with President Trump," CNN debate moderator Jake Tapper began. "Congressman DeSantis, you featured your children in a campaign ad in which you were encouraging them to, quote, build a wall out of toy blocks and reading a children's story about the president saying you're fired. Do you think President Trump is a good role model for the children of Florida?"
"My wife and I were poking a little fun at ourselves because of the way the campaign was going and I'm proud of my family though," DeSantis began. "I don't actually read The Art of the Deal to my son Mason. He smiles at anything but that's not necessarily his cup of tea. Here's what I know: You know, I was very passionate about moving our American embassy from Tel Aviv to Jerusalem. Andrew opposed that, a couple of months said it was a mistake and said we shouldn't recognize Jerusalem as Israel's capital. Every president for 25 years has promised that on the campaign trail. Once in office. They didn't do it. Donald Trump promised it and followed through with it, so to me when you give your word and you follow through with it as an elected official, that is the model that we're supposed to do. He was right to move the embassy to Jerusalem. I was there for an historic event. I know Andrew didn't support that and doesn't think that's right but to me that was true leadership."
"Mr. Mayor?" Tapper asked.
"I'm confused by the question," Gillium confessed.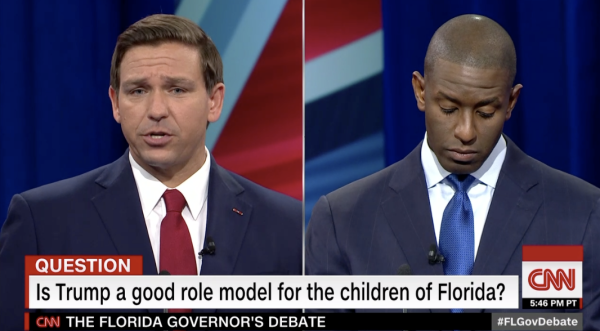 "The question is whether or not he thinks President Trump is a good role model for the children of Florida," Tapper said.
"That's what I thought. I got confused," Gillium said.
"The audience laughed."
"No, he's not," Gillium said and the audience laughed again. "Donald Trump — Donald Trump is weak. As all week people do they become bullies and Mr. DeSantis is his acolyte."
Mayor Gillum did push back on Rep. DeSantis racist leanings.
As per a 10/21/18 CNN report by Greg Krieg, "Ron DeSantis was just asked about his controversial remark in which he said voters would "monkey this up" if they elected his African-American Democratic opponent, Andrew Gillum, to be governor, immediately drawing accusations of racism."
"The congressman let us know where he was going to take this race the day after he won the nomination," Gillum said of DeSantis's remarks on Fox News after he won the nomination."
"The 'monkey up' comment said it all," Gillum said about DeSantis (Read more about that comment here).
"The Democrat alleged that the Republican's campaign has tried to undermine his campaign with racist dog whistles."
"And (DeSantis) has only continued in the course of his campaign to draw all the attention he can to the color of my skin," Gillum said."
"He added: "The truth is, I've been black all of my life. So far as I know, I will die black."
"DeSantis denied that the remark was a reference to race and accused Gillum of being insufficiently pro-Israel, to which Gillum recalled a report that found DeSantis had been part of far right Facebook group.