On the 24th of October 2018, the US stock market took a dive, wiping out any gains for the year of 2018 to date. The financial market experts are referring to several causes such as the increase in consumer goods' prices due to republican President Donald J. Trump's penchant for trade fights with other countries, the uncertainty of the midterm November 2018 elections, the measured increase in interest rates.
My thinking is that the candy of mass deregulation and the 2017 tax cuts paid by a huge increase in the US deficit is wearing off and that the corporations have reached a peak that can't be stretched much longer.
Meanwhile,  the average Joe workers' wages have remained flat and we are learning that the tax cuts did not generate the added tax revenues to offset the increase in the deficit, as promised by the White House and the GOP lawmakers in the US Congress. The GDP (gross domestic product) growth is not expected to exceed 3% for the year which again, is much less than what our elected officials had promised when they passed the 2017 tax cuts bill.
Then there is the president's hard line attitude against even legal immigration because he is using this issue to gain favor with the anti-immigration faction of his base. He is looking to cut back on legal immigration from 40-50% which is another drag on the economy as businesses need these added employees.
This drop in the stock market is a major hit to GOP lawmakers who are seeking reelection this November 2018 because this has been their major bragging point. When the president talks about how the US economy is booming, he refers to how great the US stock market has been doing.
Here is the rest of the story…
On October 24, 2018, Matt Phillips of the New York Times penned toe following report, "Slumping Stock Market Enters Negative Territory for the Year"
Excerpts:
"Another wave of selling hit the nearly decade-long bull market as investors worried that the ideal climate they have long enjoyed — a surging economy, low interest rates and fast-growing corporate profits — would soon be behind them."
"The benchmark Standard & Poor's 500-stock index shed 3 percent on Wednesday, wiping out its gains for the year. The tech-heavy Nasdaq composite index was down 4.4 percent, and has fallen more than 12 percent since early September."
"Markets in Japan, China and Hong Kong matched Wall Street's drop on Thursday morning trading. In one potentially positive sign, futures markets that track the performance of stocks in the United States rose, suggesting investor attitudes might brighten when Wall Street opens."
"Just over a month ago, the S.&P. 500 was up nearly 10 percent for 2018, with expectations that coming quarterly corporate earnings reports — juiced by a generous tax cut and strong economic growth — would keep sending stock prices upward."
"Instead of celebrating quarterly profit and sales numbers that have largely lived up to expectations, investors have zeroed in on potential risks to the economic and corporate profit outlook for the coming year. Rising commodity costs tied to tariffs on imports, expectations that the Federal Reserve will keep raising interest rates, and an economic slowdown in China could all start to bite. And that's on top of investors' anxiety about what the midterm elections could mean for their portfolios."
"It was kind of a market that was looking for a reason to have some money come out of it," said Tony Dwyer, chief market strategist with the brokerage firm Canaccord Genuity in New York. "And it found it."
"The Dow Jones industrial average fell 608 points, or 2.4 percent, on Wednesday. And the Nasdaq has now fallen into correction territory — a decline of more than 10 percent from an earlier peak, which indicates a drop that's more serious than a garden-variety slump. The S.&P. 500 is down to 2,656.10, more than 9 percent off its recent peak on Sept. 20, meaning it, too, is nearing a correction."
"The sell-off has come as political discord has jumped with Election Day less than two weeks away. On Wednesday, the discovery of explosive packages sent to prominent Democrats, including former President Barack Obama and Hillary Clinton, the former secretary of state, as well as CNN, added to an already tense environment."
"Some market observers think that investors may be moving to the sidelines before what could be a very close and bitter election."
"President Trump has repeatedly cited the strong performance of the stock market as evidence of the success of his administration's business-friendly approach. And as the market has slid lately, he has ratcheted up his criticism of the Federal Reserve's plan to raise interest rates as economic growth remains strong."
"Low interest rates have helped support economic growth and the stock market since the financial crisis 10 years ago. But with unemployment at a 49-year low, the Fed is now raising interest rates, saying it wants to keep the economy from overheating, which could set off inflation. The Fed is expected to raise interest rates again at its next meeting in December."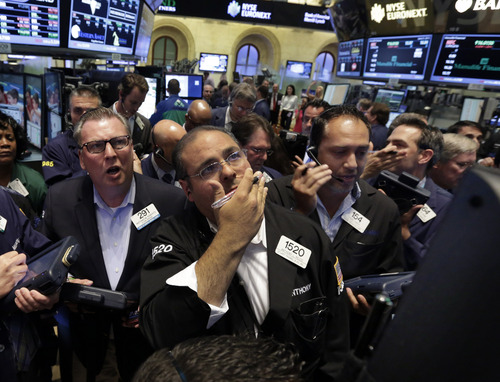 "The rise in interest rates has been particularly painful for some pockets of the markets. Shares of homebuilders are down more than 16 percent this month, as rising mortgage rates have made houses less affordable. Smaller companies — which are heavily exposed to floating-rate debt — have also been hurt by rising rates, which increases the cost of their debt payments. The Russell 2000 index of small-capitalization stocks has fallen more than 13 percent in October."
"And the president's trade war with China has increasingly preoccupied the markets, analysts said. Official numbers released by Beijing last week showed China's economic growth has slowed to 6.5 percent, its lowest level since 2009."
The slowdown in China, the world's second-largest economy, could mean falling sales for American companies that export to that market. As large consumers of metal who have invested heavily to gain access to the Chinese auto market — the world's largest — carmakers are particularly vulnerable to such risks. On Wednesday, Ford cited weak sales in China for falling profits. Company officials said issues surrounding trade disputes — including tariffs on imported steel and aluminum — could cost Ford $1 billion this year.
"What is really happening here is that people are saying, 'We just don't know about trade. We don't know how that's going to hit the margins or the earnings streams next year,'" said Michael Purves, chief global strategist at the brokerage firm Weeden & Company.
Mr. Purves said investors were eager for a resolution to the trade dispute."
"I think there is a game of chicken going on between Trump and the markets right now," he added."
"On Wednesday, the market tumble snowballed over the course of the day. Technology companies that have driven big market gains were badly battered. Shares in the tech heavyweights Amazon, Microsoft and Facebook all fell more than 5 percent. Netflix fell more than 9 percent after a media report that Apple planned to announce a subscription television service that would go head-to-head with its streaming service."
"The news wasn't all bad for tech. Later Wednesday, Microsoft reported results that exceeded analyst expectations, sending its shares higher in after-hours trading. And Tesla shares also rose in after-hours trading after the electric-car maker reported its first profit in two years.
More high-profile results from tech companies are due in the coming days. Google's parent company, Alphabet; Amazon; and Twitter are scheduled to report results on Thursday. And Facebook's earnings report on Tuesday will be of intense interest: The company's report last quarter sent its stock price diving, erasing more than $100 billion in shareholder wealth."
Link for graph: Slumping Stock Market Enters Negative Territory for the Year
See: The Dow Lost All of Its Gains From 2018 and the Nasdaq Is in Correction Territory