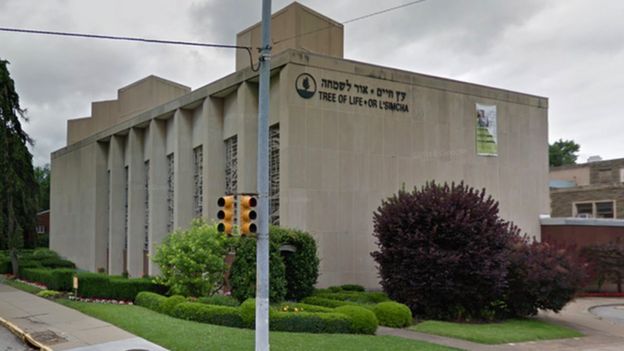 TV news reports are announcing that a 46 year-old shooter, Robert Bowers who has been placed in police custody, had in his possession an AR15 style rifle and 3 hand guns, when he entered the Tree of Life Synagogue around 9:45 am to begin his mass shooting campaign.
It appears that there have been 17 peoples who have been shot with about 11 being fatalities. 6 victims with injuries, including 4 police officers who ran towards line of fire, in the Tree of Life Synagogue, located in Pittsburgh, Pennsylvania.
The mass shooter had been overheard yelling epithets against those of the Jewish faith. His on-line rantings contained numerous antisemitic writings.
Police sources told KDKA the gunman walked into the building and yelled, "all Jews must die."
This tragedy is being regarded by law enforcement as a hate crime.
This is about the 275th mass shooting in the USA in 2018-to-date.
Here is a list of the victims:
Joyce Fienberg,
75 Richard Gottfried
Rose Mallinger, 97
Jerry Rabinowitz, 66
Cecil Rosenthal, 59,
David Rosenthal, 54
Bernice Simon, 84
Sylvan Simon, 86
Daniel Stein, 71
Melvin Wax, 86
Irving Younger, 69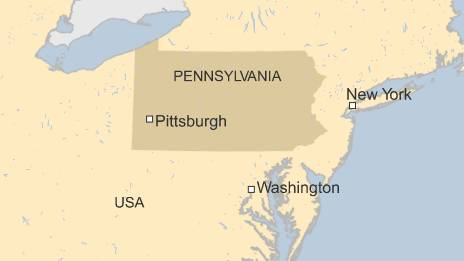 This is a developing story…
On October 27, 2018, Christoper Mele of the NY Times penned the following report, "Multiple Casualties' Reported at Pittsburgh Synagogue Shooting, Police Say"
Excerpts:
"The police in Pittsburgh reported "multiple casualties" after responding to a report of an active shooter at a synagogue, a police commander said."
"The commander, Jason Lando, told CNN that "right now we have multiple casualties, we're working the situation."
"Erika Strassburger, the city councilwoman for the district where the synagogue, the Tree of Life Congregation, is, said that "two police officers are down."
"It was not immediately clear how many other people had been shot."
"Ben Opie, 55, who can see the synagogue from his backyard, said his wife was about to leave the house on Saturday morning to do some volunteer work when SWAT officers approached their home and said there was an active shooter in the synagogue."
"They chased my wife inside," he said. "They just said get in the house."
"Justin Matase was returning home around 10:30 a.m. when he saw more than 30 police cars along Shady Avenue and Wilkins Avenue, he said. Mr. Matase said he lives fewer than 1,000 feet away from the synagogue."
"Mr. Matase said the neighborhood is predominantly Jewish."