Most Americans raise their children with certain rules of decency. For example, it is not okay to lie. They are taught to take responsibility if they did something wrong and to accept the consequences. Apologizing and making restitution are signs of strength, not weakness.
We do our best to instill and nourish their character when we tell them that it is NOT okay to cheat on a test or in game/ sports/ competition in order to win. We explain that if they have to cheat to win, they are acting like losers, no matter what the outcome.
We do our best to insure that our children do NOT act like bullies, that they know to treat others with courtesy and to avoid those who don't act accordingly. Both my children stepped up to the plate to advise me when they knew of a child who was being bullied. Then I as the adult would take over to remedy the situation.
Personally, I would be ashamed if my children emulated the behaviors/ actions of the republican President Donald Trump and the GOP lawmakers in the US Congress as they are acting counter to all the behaviors that I've tried to instill in my children. My wish for my progeny has always been the same, that they grow up to be decent honorable adults who are content, at peace with their lives.
Why do "we the people" have to be stuck with losers as our elected officials. The Trumpian republican Party has been catering to the White Supremacists folks in their midst where racism, Xenophobia and Antisemitism have become more normalized. It should be obvious that a racist who belongs to a Neo-Nazis group will also be prone to being anti-Semitic and anti-immigration, and especially against those migrants from President Trump's list of sh*thole countries.
Thus the president and his GOP buddies who are desperate to mitigate their expected losses to Democratic Party candidates after the November 2018 elections, have decided to cater to the anti-immigration faction of their base before the election day of 11/6/18.
They have been portraying the Honduran refugee caravan as being financed by their favorite bogeyman, the Jewish billionaire George Soros who does donate to democratic causes; that there are criminals and middle eastern terrorists traveling with the caravan; and that the refugees/ INVADERS are carrying diseases like leprosy, small pox and TB.
This conspiracy tale ended up motivating a mass shooter to fatally wound 11 Jewish members of the Tree of Life Synagogue in Pittsburgh, PA, on the 27th of October 2018.
There is no ambiguity here. The president and the GOP have been using the anti-immigration issue especially of those Honduran refugees of color who have formed a caravan to walk at a rate of about 20 miles per day towards the US-Mexican border via Guatemala and Mexico, to motivate their followers to get out to vote.
These Honduran refugees are fleeing gang violence which is rampant in Honduras. Many have already lost loved ones who have been murdered, tortured or threatened by these gangs. As per US law and International laws, it is legal for these refugees to seek asylum in the USA.
As per the website UN.org, "The International Convention on the Protection of the Rights of All Migrant Workers and Members of their Families, for example, provides guidance for human rights safeguards which address the specific situation of migrant workers and their families."
"The Durban Declaration recognized that xenophobia against non-nationals, including migrants, constitutes one of the main sources of contemporary racism and that there are frequent and widespread human rights violations against members of such groups."
"Human rights mechanisms, such as the Special Rapporteur on the Human Rights of Migrants and the Committee on Migrant Workers, have been clear in stating that although countries have a sovereign right to determine conditions of entry and stay in their territories, they also have an obligation to respect, protect and fulfill the human rights of all individuals under their jurisdiction, regardless of their nationality or origin and regardless of their immigration status."
"Human rights violations against migrants can include a denial of civil and political rights such as arbitrary detention, torture, or a lack of due process, as well as economic, social and cultural rights such as the rights to health, housing or education. The denial of migrants' rights is often closely linked to discriminatory laws and to deep-seated attitudes of prejudice or xenophobia. (We can include forced separation of children from their refugee parents/ guardians.)"
"In this context, OHCHR (Office of the United Nations High Commissioner for Human Rights) works to promote, protect and fulfill the human rights of all migrants, regardless of their status, with a particular focus on those women, men and children who are most at risk of human rights violations. "
Incidentally, most undocumented workers in the USA are peoples who have remained in the USA, even after their visas have expired.

Republicans were the ones who chose not to vote on a comprehensive immigration bill that was passed overwhelmingly on a bipartisan basis by the US Senate in 2013.
This 2013 senate bill would have provided for better border management of migrants and a myriad of other reforms, but it died in the US Congress because the republican leadership would not allow the bill to come to the floor to be voted on, even though they knew that it would have passed.
The Honduran refugee caravan that is en-route to the USA is not expected to arrive at the US-Mexican border until the first week in December 2018 which is about a month later than the US midterm elections day scheduled for the 6th of November 2018.
But that fact was not a consideration as the president initially ordered 5,000 active military personnel to be deployed asap to the US Southern border. Heck, this makes for a great photo-op to bolster his anti-immigration bona fides for his base of Xenophobic voters.
How to impress President's anti-immigration faction of his base…
"As per the 10/31/18 Military Times report, President Donald Trump said Wednesday that the number of troops he is sending to the U.S.-Mexico border could grow to as many as 15,000 active duty and National Guard personnel, putting the deployment on par with the military's wartime operations in Afghanistan."
"The number of troops would include the initial wave of 5,239 active duty troops, 2,100 National Guard forces already there, and another 2,000 to 3,000 on prepare-to-deploy orders. It would eclipse any previous border deployment in recent memory by administrations that have also sought to quell either violence or immigration influxes at the border."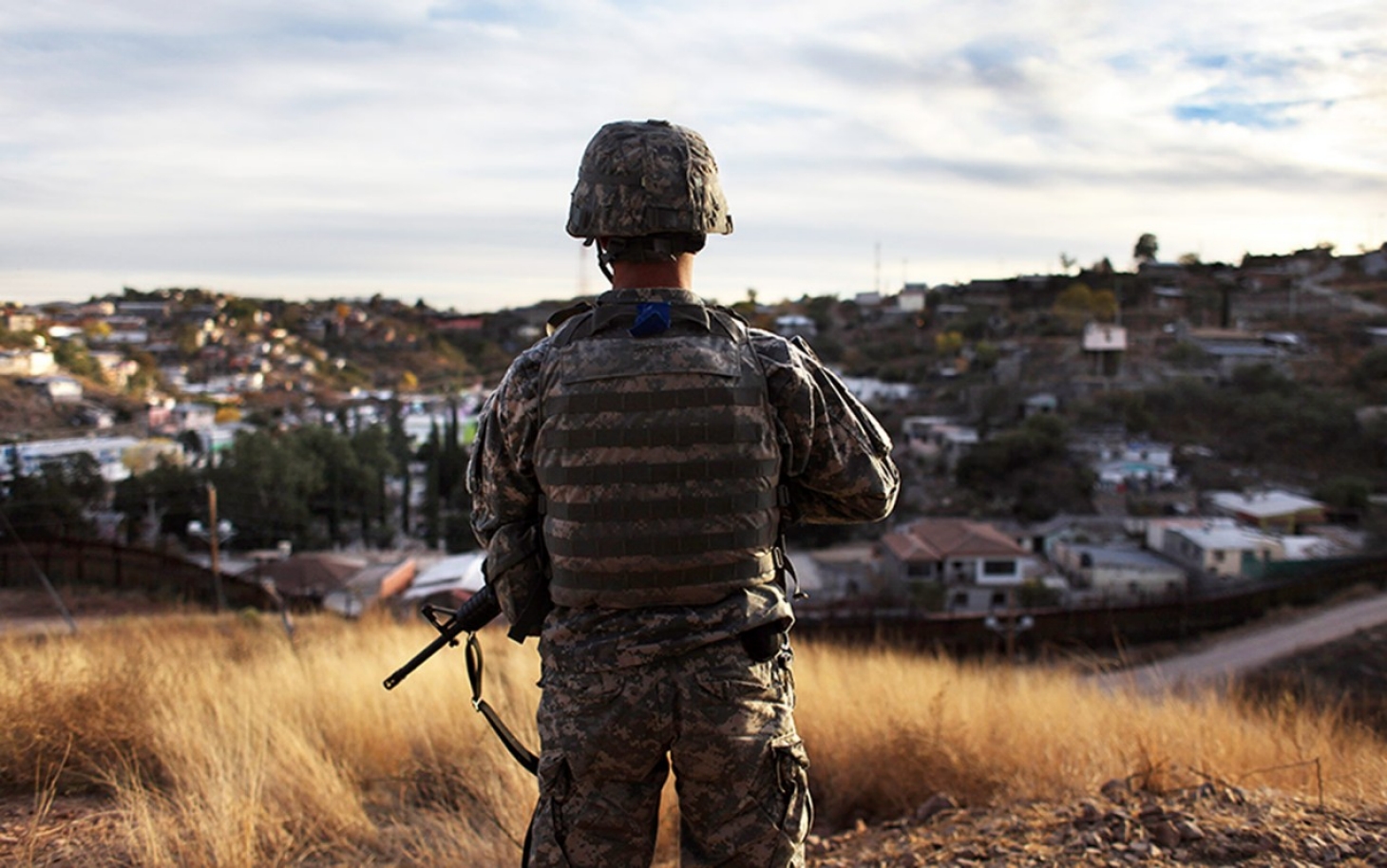 Then to make an even better splash with the president's Xenophobic members of his base, he has decided that he can do away with the 14th amendment which states that anyone born in US territory, is automatically a US citizen. When the US House Speaker of the US Congress Paul Ryan disputed this claim, the president took him to the woodshed and publicly rebuked him for knowing nothing about this subject.
When the White House spokesperson Kelly Ann Conway backed her boss's assertions, her husband George Conway, a scholar of the US Constitution wrote an op-ed piece for the Washington Post, disputing her analysis of the 14th amendment.
President Trump approved the following racist video which depicts a criminal who was deported under President Bill Clinton's administration but he returned to the USA under the republican George W. Bush's administration. These facts are omitted in the video.
This blog was updated on November 1, 2018.