A NPR/Ipsos poll  conducted on January 9-10, 2019  has published its results showing that three-quarters of all respondents as well as a majority of republicans believe that the ongoing shutdown is "embarrassing."
So why is the US Senate's Majority Leader Mitch McConnell blocking any bills from being voted on that would end the shutdown while still allowing for a robust debate about enhancing US SW border security measures?
As per a 1/3/19 Washington post report, "By absenting himself, Mr. McConnell had hoped to push the blame for a prolonged shutdown onto Democrats while protecting vulnerable Republicans running for re-election in 2020 — including himself from having to vote on a shutdown bill without the president having been granted his demand of funding for his infamous boondoggle of a wall at $5.7 billion dollars. (The president made this last minute demand after US senators had already voted to pass an agreement on the 18th of December, that they thought they had with him, and many had already headed home for the holidays.)
So, how long will it take for republicans to pay a price for a this government shutdown that started on the 22nd of December 2018 and is currently setting the record for the longest ever in US history, based on political gamesmanship?
Remember that this shutdown sows distrust in the hearts of many Americans towards its US government which plays into Russia accomplishes one of its major objectives. How can  Americans have any faith in a government that's willing to impose hardships on 800,000 government public servants who have to forgo their pay plus their families plus the small business owners which cater to this population plus the American citizens being deprived of essential government services, after they've learned about the FBI having opened a counter-intelligence case regarding whether the president had been possibly acting in Russia's best interests instead of the US national security interests?
DURING WEEK OF 1/14/19, Its time to for us who are opposed to this shutdown to contact all our republican US senators to let them know, enough is enough. 
One recommended phone number is 877-650-0039. Other contacts phone members and fax methods are listed below.
Find Your Representative · House.gov – U.S. House of Representatives
TO FAX:  Resistbot will do it all for you. Text "RESIST" to 50409 or message Resistbot on Facebook and it will walk you through the steps to fax your Senator and will tell you when your fax has been delivered.
The main US Senate phone line 202-225-3121 (202-224-3121) or  YOU CAN FIND PHONE NUMBERS FOR EVERY SENATOR HERE. or U.S. Senate: Senators of the 115th Congress.
As per 11/10/18 CNN Politics Report:
Here is the list of the  republican senators whose seats will be on the ballot in 2020:
Lamar Alexander (R-Tennessee)
Shelley Moore Capito (R-West Virginia)
Bill Cassidy (R-Louisiana)
Susan Collins (R-Maine)
John Cornyn (R-Texas)
Tom Cotton (R-Arkansas)
Steve Daines (R-Montana)
Mike Enzi (R-Wyoming)
Joni Ernst (R-Iowa)
Cory Gardner (R-Colorado)
Lindsey Graham (R-South Carolina)
Cindy Hyde-Smith (R-Mississippi) — Hyde-Smith was appointed by Mississippi Gov. Phil Bryant to fill the seat vacated by Sen. Thad Cochran who resigned due to health issues. She competed in the 2018 special election to fill the term. CNN projects the race will go to a runoff. Hyde-Smith will compete against Democratic challenger Mike Espy since no candidate received 50% of the vote total. The contest will take place on Tuesday, November 27. A full six-year term election will be held in 2020.
James Inhofe (R-Oklahoma)
Jon Kyl (R-Arizona) — It is expected that there will be an open special election in 2020 for the seat because Kyl has said he will not run in 2020. A full six-year term election will take place in 2022.
Mitch McConnell (R-Kentucky)
David Perdue (R-GA)
Jim Risch (R-Idaho)
Pat Roberts (R-Kansas)
Mike Rounds (R-South Dakota)
Ben Sasse (R-Nebraska)
Dan Sullivan (R-Alaska)
Thom Tillis (R-North Carolina)
As per a 1/11/19 Hill report, "Poll: Majority of GOP say shutdown is 'embarrassing for the country'" by Owen Daugherty,  "A majority of Republicans in a new survey say the partial government shutdown is "embarrassing for the country."
"The new NPR/Ipsos poll reports that three-quarters of all respondents believe the ongoing shutdown is "embarrassing."
"Nearly 70 percent of respondents in the survey said the shutdown is going to hurt the country and the economy. The same portion of respondents say Congress should pass a bill to reopen the government now, while only 30 percent believe the government should stay closed until there is funding for a border wall."
"The president has said he'll move to declare a national emergency over the border if talks with Democrats fail to move forward."
Here is the rest of the story…
On January 3, 2019, Sheryl Gay Stolberg and Nicholas Fandos of the New York Times penned the following report, "McConnell Faces Pressure From Republicans to Stop Avoiding Shutdown Fight"
Excerpts:
"For weeks, Senator Mitch McConnell, the Republican leader, has remained conspicuously on the sidelines, insisting that it was up to President Trump and Democrats to negotiate an end to the partial shutdown of the federal government."
"But with the shutdown soon to enter its third week, and Mr. Trump dug in on his demand for $5 billion to build a border wall, Mr. McConnell for the first time is facing pressure from members of his own party to step in to resolve the stalemate that has left 800,000 federal workers either furloughed or working without pay."
"By absenting himself, Mr. McConnell had hoped to push the blame for a prolonged shutdown onto Democrats while protecting Republicans running for re-election in 2020 — including himself. Much as Democrats did in 2018, Republicans will face a difficult map in 2020, with a handful of incumbent senators facing re-election in swing states or states won by Hillary Clinton in the 2016 presidential race."
"But on Thursday, as a new era of divided government opened in Washington, perhaps the most vulnerable Republican, Senator Cory Gardner of Colorado, broke ranks to become the first member of his party to call for an end to the shutdown — with or without Mr. Trump's wall funding."
"I think we should pass a continuing resolution to get the government back open," Mr. Gardner, whose state has a heavy federal presence, told The Hill newspaper."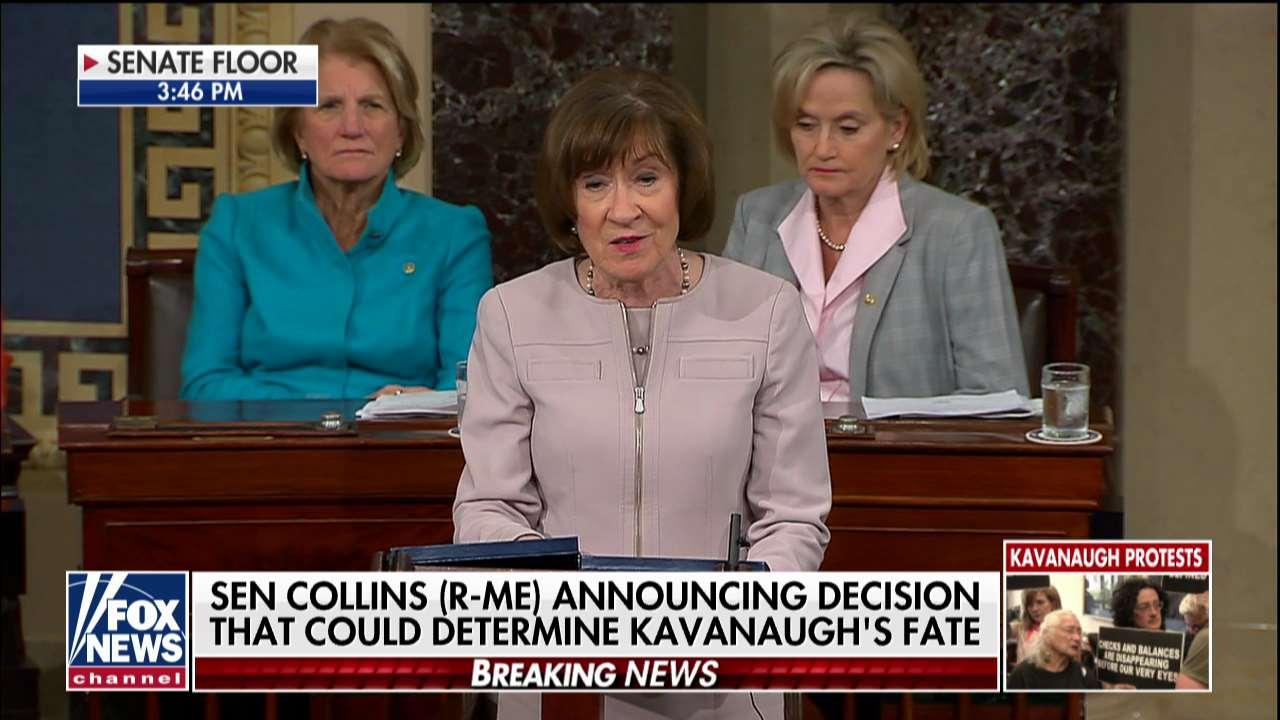 "A second vulnerable Republican, Senator Susan Collins of Maine, one of the chamber's most moderate members, said Thursday that she would support separating homeland security funding from the other bipartisan appropriations bills already approved in committee to reopen much of the government — as Democrats have proposed. But Mr. McConnell is refusing to take up the Democrats' measures."
"It would be great to have them signed into law because there is not great controversy over them, and at least we'd be getting those workers back to work," Ms. Collins said."
"Mr. McConnell's distant posture reflects his new status as the man in the middle in a Capitol where Democrats now control the House of Representatives and Republicans have netted two seats to hold a 53-to-47 majority in the Senate. He has repeatedly said he'll not bring up legislation that Mr. Trump does not support."
"I've made it clear on several occasions, and let me say it again: The Senate will not take up any proposal that does not have a real chance of passing this chamber and getting a presidential signature," Mr. McConnell said. "
"Senator Richard J. Durbin, Democrat of Illinois and Mr. Schumer's No. 2 predicted that Mr. McConnell's approach — to simply stand in the way so that Mr. Trump is not forced to use his veto pen — would only change if Republican senators up for re-election begin to fear political costs."