For the duration of this presidential shutdown, 800,000 federal employees are harmed because they will have to forgo or have their paychecks delayed, along with the loss of reliable income for their families, the small businesses that cater to these employees and then, there are the American peoples who will be  deprived of necessary services.
As a reminder, President Trump made this demand after the 18th of December when the US senators had already voted on an agreement which included funding for $1.6 billion dollars for his wall and which had the prior approval of the president, to where after voting, many senators had left town to celebrate the holidays.
For me, there's never been a satisfactory explanation as to why President Trump submitted his budget for the year 2019, with the requested spending at $1.6 billion dollars for his wall, which was published in February 2018, if this wasn't a satisfactory figure. Did he even bother to read his own budget proposal, on page 57?
I'm convinced that this shutdown had been dramatically rolled out as a political stunt, to where President Trump never intended to negotiate with democratic lawmakers in good faith. He wanted to keep this issue of the wall alive as a political tool.
The president figures that his shutdown is a way to impress his base of hard-line anti-immigration voters. While there is a recent CNN poll indicating that only 25% of the US population approve of the president's shutdown in return for him being granted additional funding for his border wall, the president's base is cheering him on. He needs to please these voters so that they will hold any recalcitrant GOP legislators in the US Senate, in line where they will continue to fear him.
President Trump had been threatening this shutdown due to inadequate wall funding dating back to at least May 2017. In addition, this critically needed wall would take up to 2 years to build, and his current demands for $5.7 billion dollars don't match up with expert construction  estimates regarding his wall at $20 Billion dollars, for starters.
The harm the president is causing with this longest shutdown in us history on good hard working  public servants as they attempt to make do with no pay or a delay in pay is immeasurable and it's based on a phony crisis.
"We the People" can't wait for the FBI'S Trump-Russia's report to be finalized by the Special Counsel before the US House in the US Congress starts to draft "Articles of Impeachment.

There's no good reason to delay, any longer!
There couldn't be a more perfect example of President Trump abusing the power of his office than with this shut down, as a political stunt. It's time for the US Congress to start drafting Articles of Impeachment, yesterday. 
Here is the rest of the story…
On January 13, 2019, Jason Lemon of Newsweek penned the following report, "MUELLER DRAFT REPORT SAYS TRUMP 'HELPED PUTIN DESTABILIZE THE UNITED STATES', WATERGATE JOURNALIST SAYS"
Excerpts:
"Legendary journalist Carl Bernstein has said that he's been told that special counsel Robert Mueller's report will show how President Donald Trump helped Russia "destabilize the United States."
"Bernstein, who is renowned for his coverage of the Watergate scandal that led to the resignation of former President Richard Nixon, appeared on CNN's Reliable Sources on Sunday to discuss two bombshell reports released this weekend, one from The New York Times and one from The Washington Post, which revealed new details about whether or not Trump and his aides have colluded with Russia."
"The Post reported that Trump has gone to "extraordinary lengths" to conceal direct conversations he has had with Russian President Vladimir Putin. The Times article revealed that the FBI opened a counterintelligence investigation into Trump after he fired former bureau director James Comey in 2017, suspecting the president could be working on behalf of Russia. Trump has angrily denied allegations that he worked with Russia and has regularly attacked the media for reporting on the investigation. But Bernstein slammed Trump's dismissal of the probe."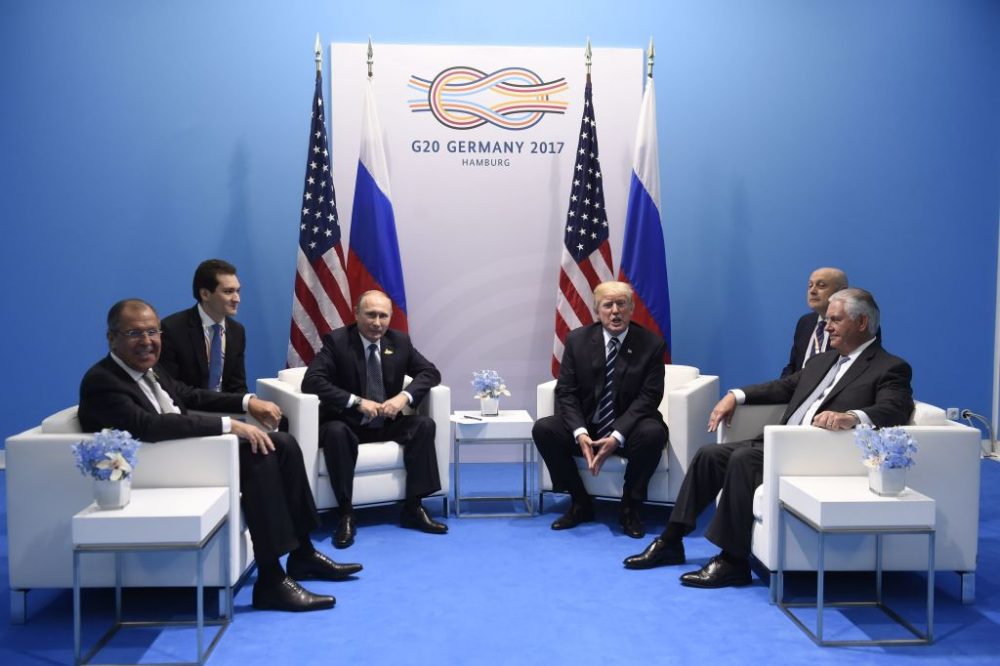 "This is about the most serious counterintelligence people we have in the U.S. government saying, 'Oh, my God, the president's words and actions lead us to conclude that somehow he has become a witting, unwitting, or half-witting pawn, certainly in some regards, to Vladimir Putin,'" Bernstein explained during his appearance on Reliable Sources ."
"From a point of view of strength… rather, he has done what appears to be Putin's goals. He has helped Putin destabilize the United States and interfere in the election, no matter whether it was purposeful or not," the journalist added. He then explained that he knew from his own high-level sources that Mueller's report would discuss this assessment."
"And that is part of what the draft of Mueller's report, I'm told, is to be about," he said. "We know there has been collusion by [former national security adviser Michael] Flynn. We know there has been collusion of some sort by [Trump's former campaign chairman Paul] Manafort. The question is, yes, what did the president know and when did he know it?"
"Trump has defended himself against such reports, arguing, inaccurately, that he has taken a hardline stance against Russia."
"I have been FAR tougher on Russia than Obama, Bush or Clinton. Maybe tougher than any other President. At the same time, & as I have often said, getting along with Russia is a good thing, not a bad thing. I fully expect that someday we will have good relations with Russia again! [sic]," he wrote on Twitter on Saturday."
Link to entire report: newsweek.com/mueller…
President Trump's assertions about his being tough on Russia are based on misleading GOP talking points. See: Dear GOP Lawmakers: Why Are You Continuing To Support A Russian Asset In The White House?