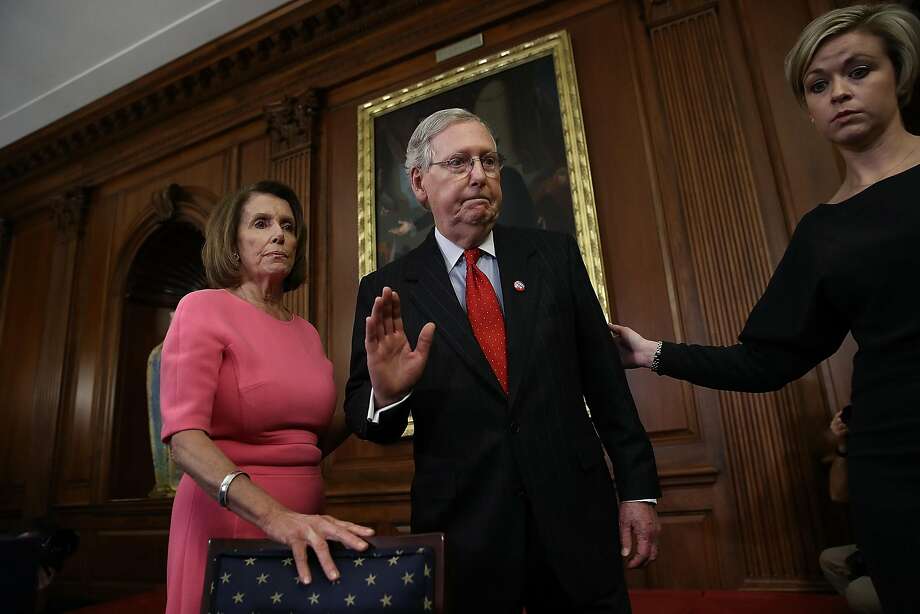 Thanks to Politico, Full text: Trump's shutdown offer to Dems
Here's a good analysis as to why Dems are viewing the republican President Donald Trump's 1/19/19 proposals to end the government shutdown as a non-starter…
On January 19, 2019, Dara Lind and Li Zhoa of VOX penned the following report, "Here's Trump's latest offer to end the shutdown-and why Democrats aren't interested" ("The "deal" Trump is offering on immigration and DACA, explained.")
Excerpts:
"President Donald Trump just blinked on the government shutdown. But his standoff with congressional Democrats doesn't appear to be headed to a resolution anytime soon."
"On Saturday, in remarks billed as a "major announcement" on the border and the shutdown, Trump proposed a deal to Democrats. He continues to insist that any bill to reopen the government include billions of dollars for a physical barrier on the US-Mexico border — a "wall" — but is now open to such a bill including other immigration provisions as well."
"Most notably, he's open to extending existing protections for the 700,000 or so immigrants currently protected by the Deferred Action for Childhood Arrivals (DACA) program and the hundreds of thousands of immigrants who currently have legal status under Temporary Protected Status. The Trump administration has moved to sunset DACA, and to end protections for most of the immigrants covered under TPS. Both of those plans are currently held up in litigation."
"Democrats aren't particularly interested in what Trump's proposing. "Democrats were not consulted on this and have rejected similar overtures previously," a Democratic aide told Vox. "It's clearly a non-serious product of negotiations amongst White House staff to try to clean up messes the president created in the first place. POTUS is holding more people hostage for his wall."
"After weeks of all-or-nothing intransigence, Trump's announcement Saturday indicates that the White House realizes they're losing the shutdown in the eyes of most Americans, and are willing to compromise to reopen the government. But Democrats also know the White House is losing the shutdown, and the compromise now on offer is something they are unlikely to take."
What Trump's offering: $5.7 billion for the wall in exchange for extensions of existing protections for some immigrants
"Trump's pitching this as a compromise: He wants the wall, Democrats want to help DACA and TPS recipients. But the deal isn't the result of conversations with Democrats. It's reportedly the result of discussions that Vice President Mike Pence and presidential son-in-law Jared Kushner have had with congressional Republicans (most notably Sen. Lindsey Graham (R-SC))"
"And it shows. What Trump's offering — temporary extensions of existing protections for both groups of immigrants — isn't something that Democrats have been wildly enthusiastic about in the past. Furthermore, with Trump's efforts to strip existing protections held up in court, it's essentially a short extension of the status quo."
"DACA recipients are currently being allowed to extend their protections for two years, just as they could under the Obama administration, while the administration fights in court to end the program. (People who don't already have protections are no longer allowed to apply.) Without knowing when the Supreme Court will rule — or how the Trump administration will proceed if the Supreme Court agrees they can end DACA, since their original plan (issuing no renewals for expirations after March 2018) is obviously moot — it's hard to say for sure that a three-year one-time extension will protect DACA recipients for longer than waiting for the Supreme Court."
Here's what he offered Saturday:
"$5.7 billion in funding for a physical barrier on the US-Mexico border. Trump's not budging on this. The White House has already "conceded" that the barrier will be made of steel poles — which is what experts and border agents wanted anyway — rather than solid concrete. Per a letter sent earlier this month, the administration could build 243 miles of barriers with the $5.7 billion it's requesting, most of which would be built in the Rio Grande Valley.'
"Three years of temporary protections for DACA recipients. On DACA, Trump is embracing a version of Graham's BRIDGE Act, which would extend DACA recipients' existing deportation protections and work permits for three more years. (The original BRIDGE Act applied also to immigrants who were eligible for DACA but not currently protected.) In theory, Congress would use that time to work out a permanent solution for DREAMers; but the last time the White House tried that, by giving Congress six months to address DACA before sunsetting it entirely, the gambit did not succeed. During that debate in late 2017 and early 2018, many Republicans gravitated toward bills that would offer DREAMers access to permanent legal status and ultimately to citizenship — a more moderate approach than what Trump is offering now."
A three-year extension of protections for TPS holders. Trump is also offering to extend ( for three years as well) the legal protections that hundreds of thousands of immigrants have under the Temporary Protected Status program — which is supposed to allow people to stay in the US while their countries recover from war or natural disasters, but which, over the years, has allowed many people to stay and put down roots in the US. TPS, unlike DACA, grants official legal status, but it doesn't offer any way to apply for a green card or citizenship. Trump's efforts to end TPS for most countries are held up in a different court fight — so this proposal, like the DACA proposal, would essentially be a legislative extension of the current judicially-imposed status quo.
$800 million to improve care for children and families at the border — with millions more for enforcement. The rest of Trump's proposal is a modified version of what the White House originally floated to Democrats in negotiations two weeks ago, codified in a letter sent by the Office of Management and Budget. Those demands include $800 million to deal with the actually-urgent humanitarian crisis at the US/Mexico border — the fact that unprecedented numbers of children and families are coming to the US (often to seek asylum) and border agents aren't equipped to deal with them. Trump's also demanding 2,750 more border agents and other law enforcement officials; millions of dollars in screening technology to detect drugs at ports of entry; and the hiring of 75 new immigration judges to address the immigration-court backlog, which is currently the biggest barrier to deporting people quickly (and which the current shutdown has exacerbated).
Modest changes to asylum for Central American children and teenagers. The Trump administration is floating allowing Central American children and teenagers to apply for asylum in their home countries — a modification of an Obama-administration program Trump ended in 2017. In return, they want to change current law to eliminate automatic court hearings for children and teens who come to the US from Central America and other countries — making it much easier to summarily deport them.
Trump is in a weakening position on the shutdown — and on immigration
"Trump could have proposed this deal at any time since before the government shut down; Graham has been pushing it for weeks. But as recently as Wednesday, Trump was telling reporters that he was waiting for Democrats to come back to the table to negotiate. And as recently as last week, Vice President Mike Pence told reporters that the president was firmly opposed, in particular, to any wall deal that addressed the DACA issue".
Link to entire report: Here's Trump's latest offer to end the shutdown — and why Democrats …