Like any faith-based entity, there are those who operate on the extreme fringes like with the Black Hebrew Israelites. Some could be heard acting out in racist and anti-Semitic ways, who were present at the vicinity of a March for Life rally held in Washington DC, on the 18th of January 2019. There were involved in an incident that has become embroiled in controversy.
As per the August 2008, Southern Poverty Law Center publication," Around the country, thousands of men and women have joined black supremacist groups on the extremist fringe of the Hebrew Israelite movement, a black nationalist theology that dates back to the 19th century. Its doctrine asserts that African Americans are God's true chosen people because they, not the people known to the world today as Jews, are the real descendants of the Hebrews of the Bible. Although most Hebrew Israelites are neither explicitly racist nor anti-Semitic and do not advocate violence, there is a rising extremist sector within the Hebrew Israelite movement whose adherents believe that Jews are devilish impostors and who openly condemn whites as evil personified, deserving only death or slavery.
See: US Black Brothers And Sisters Claim To Be The Hebrew Israelites Of Jacob?
There's a video that's gone viral which appears to show High School male teenagers wearing red MAGA (Make America Great Again) caps being disrespectful  to an Omaha elder Nathan Phillips as he sang and drummed in close proximity.
These young men were getting ready to head home to the Cincinnati, Ohio via a school bus after they had participated all day in a "March for Life" (anti-abortion group) rally in Washington DC, around the Lincoln Memorial area, on the 18th of January 2019.
Close by, there were some who claimed to be of the Black Hebrew Israelites who were purportedly shouting racist slurs. They say that they were reciting the bible. Witnesses claim that they were shouting insults at both the Covington Catholic High School  teenage boys and those present from the Indigenous community. In reaction to the Hebrew Israelites racist slurs, the teenage boys explained that they started singing / chanting to drown out their voices.
The third group standing in the area were Native American activists who had been taking part in the Indigenous Peoples March.  One of their members, a 64 year old  frequent protester on behalf of Indigenous causes, Nathan Phillips had been observing these events.
Mr. Phillips became concerned that tensions could escalate. In more than one interview, he describes how he was the one who headed in the direction of the boys to insert himself between them and the epithet slurring Black Hebrew Israelites, as a form of distraction as he chanted a prayer while beating a drum that he had borrowed from someone else who was present.
Some of the high-schoolers surrounding Mr. Phillips started singing, dancing and chanting as well.
The controversy begins at the point where one of the students, Nick Sandmann was videoed, photographed, to where it appeared that he was invading Mr. Nathan Phillip's space, smiling and staring him down. The video depicting this scenario went viral, incurring lots of negative feedback and animosity towards Nick Sandmann as well as those, defending him from the right. 
His own Kentucky Covington Catholic High School had announced that an investigation would be done and that if appropriate, the boys could face expulsion. That was just for starters.
But most folks had not been aware as to how the entire scene had played out, from start to finish.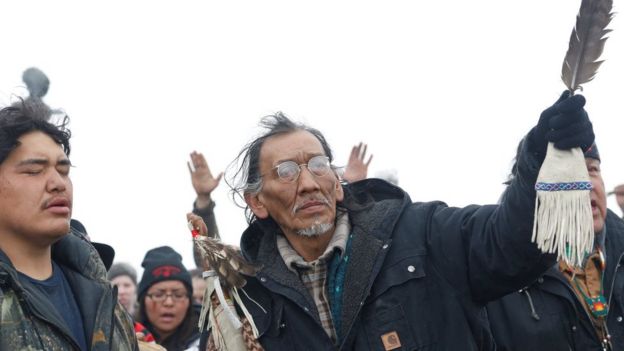 While I do not credit those of the Hebrew Israelites with clean hands, I say the same about the teenage students.
Whoever were the adults who thought it was okay for these youngsters to wear MAGA red caps, did not do right by these young men.  These boys were making a political statement with their apparel which they may not have intended, while representing a religious school which is supposed to be a tax exempt organization, not promoting a particular political party. If I had been a parent, they would have been wearing t-shirts while carrying signs advertising their pro-life religious stance. That was why they were supposed to be there.
In addition, I would have instructed Nick Sandmann to take a few steps backward to allow his elder some reasonable amount of space. Frankly, I don't care who was right or wrong. Mr. Sandmann could have moved a few steps away.
There is confusion about whether the boys chanted rhetoric similar to what President Trump has yelled, "Build that wall build that wall!" But if they did, that reflects an intent that is far from innocent. But without proof, the boys should be spared the piling on against them. There will be an investigation as to what occurred.
A fellow blogger, doubledragon61@yahoo.com found the following video link where these same Covington High School students could be heard chanting, "Build the Wall:"
https://newsmaven.io/indiancountrytoday/news/woman-posts-brief-video-covington-catholic-boys-harrassed-my-friends-and-i-mkdq5uqY0Ei4eAOfbGjyAQ/
See: Statement of Nick Sandmann, Covington Catholic High School junior / CNN…
See: A Kentucky (GOP) PR firm was reportedly behind high schooler Nick …
As per a 1/19/19 BBC report,  "In a statement released by a PR company, Mr Sandmann said "outright lies" were being spread about him and his family and that he had received death threats as a result of the incident."
What is Nick Sandmann's account?
"He said the group of African American protesters had called the students "racists" and "incest kids".
"Because we were being loudly attacked and taunted in public, a student in our group asked one of our teacher chaperones for permission to begin our school spirit chants to counter the hateful things that were being shouted at our group."
"Then, he said, the Native American protesters approached the students, including Mr Phillips, who was playing his drum."
"I did not see anyone try to block his path," he said. "He locked eyes with me and approached me, coming within inches of my face. He played his drum the entire time he was in my face."
"To be honest, I was startled and confused as to why he had approached me," he said.
"I never felt like I was blocking the Native American protester. He did not make any attempt to go around me… I was not intentionally making faces at the protester. I did smile at one point because I wanted him to know that I was not going to become angry, intimidated or be provoked into a larger confrontation."
"I respect this person's right to protest and engage in free speech activities… I believe he should re-think his tactics of invading the personal space of others, but that is his choice to make."
What do other accounts say?
"Mr Sandmann said the students had only used school chants, and he had not heard anyone make hateful or racist remarks."
("He said that he had remained "motionless and calm" in an effort to defuse the situation. bit that he realized everyone had cameras and that perhaps a group of adults was trying to provoke a group of teenagers into a larger conflict.)"
"However, Mr Phillips, who appeared upset in a video after that encounter, said he had heard the students saying "build that wall". Other witnesses backed him up about what the boys were chanting."
Here's the rest of the story…
As per 1/20/19 New York Times report, "Fuller Picture Emerges of Viral Video of Native American Man and Catholic Students"  by Sarah Mervosh and Emily S. Rueb, "A fuller and more complicated picture emerged on Sunday of the videotaped encounter between a Native American man and a throng of high school boys wearing "Make America Great Again" gear outside the Lincoln Memorial in Washington."
"Interviews and additional video footage suggest that an explosive convergence of race, religion and ideological beliefs — against a national backdrop of political tension — set the stage for the viral moment. Early video excerpts from the encounter obscured the larger context, inflaming outrage."
"Leading up to the encounter Friday (1/18/19), a rally for Native Americans and other indigenous people was wrapping up. Dozens of students from Covington Catholic High School in Kentucky, who had been in Washington for the March for Life rally, were standing on the steps of the Lincoln Memorial, many of them white and wearing apparel bearing the President Donald Trump's slogan (Red MAGA caps). There were also black men who identified themselves as Hebrew Israelites, preaching their beliefs and shouting racially combative comments at the Native Americans and the students, according to witnesses and video on social media."
Soon, the Native American man, Nathan Phillips, 64, was encircled by an animated group of high school boys. He beat a ceremonial drum as a boy wearing a red "Make America Great Again" hat stood inches away. It was a provocative image that rocketed across social media, leading many — including the students' own school — to condemn the boys' behavior as disrespectful."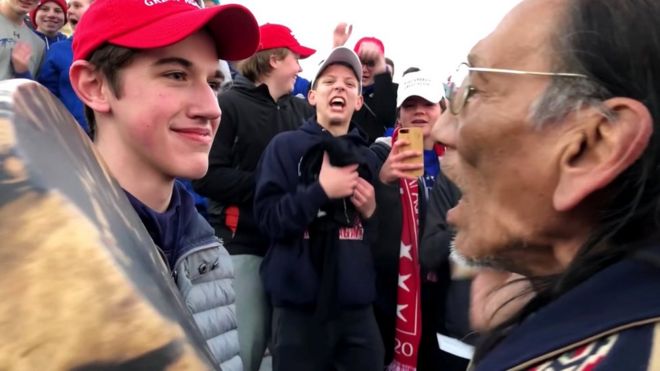 But on Sunday, Phillips clarified that it was he who had approached the crowd and that he had intervened because racial tensions — primarily between the white students and the black men — were "coming to a boiling point."
"I stepped in between to pray," he said."
"The encounter became the latest touch point for racial and political tensions in America, with diverging views about what really had happened."
"Conservatives and other supporters maintained that the students had been unfairly vilified out of context, while those affiliated with the Indigenous Peoples March said they perceived the combination of the group's size, behavior and political apparel as threatening."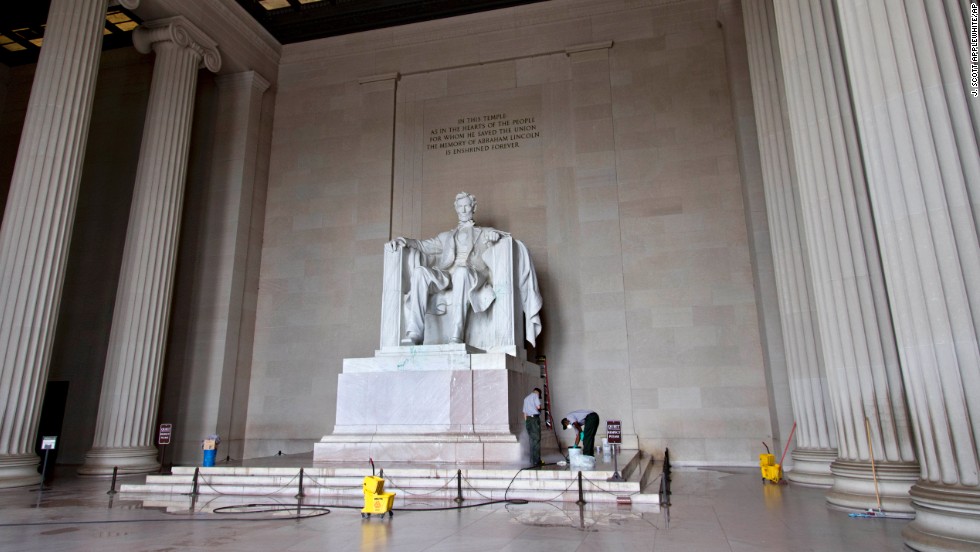 "For some, invoking the name of Trump — who has made inflammatory comments about Mexicans and Muslims — has become a racially charged taunt, inspiration for hateful graffiti and high school sports cheers alike. Trump also recently mocked Sen. Elizabeth Warren, whom he called "Pocahontas," with a reference to Wounded Knee and Little Bighorn, sacred ground for Native Americans."
"It did not go unnoticed that Friday's episode took place at the same location where the Rev. Dr. Martin Luther King Jr. delivered his most famous address, calling for an end to racism in the US.
But there was little resolution Sunday."
"A parent of a Covington Catholic sophomore, who spoke on the condition of anonymity because of safety concerns for his family, said his son, who attended the event, said the students were shouting school chants to drown out harassment from the black men."
"The parent and the student's statement denied that the students chanted about building a wall at the border with Mexico, as Phillips has said. But in an interview Sunday, Chase Iron Eyes, a spokesman for the Indigenous Peoples Movement, which organized the march, said he had also heard chants of "build that wall."
"Marcus Frejo, an indigenous hip-hop artist said, Phillips approached, asking to borrow a drum. Together, they headed into the center of the students, creating a sort of prayer circle. They sang what he said was a well-known spiritual song associated with the American Indian Movement of the 1960s and used for prayer and resistance."
In separate interviews, Frejo and Phillips said they heard the students making noises that seemed to mock Native American chanting. But Frejo also said he heard some of the students sing along. "Regardless of their ignorance and bigotry," he said, the "spirits moved through them."
Moments later, the group of students disbanded. But to many, the interaction — and the disparate way it was perceived — reflected the national mood.
Frejo, who works with youths to prevent suicide and alcohol abuse, saw this as "a teachable moment" to help show what can happen when you push past anger and hatred.
Link to article:  Fuller Picture Emerges of Viral Video of Native American Man and and Catholic Students …