It is unfathomable about how too many rich folks are so impervious to the suffering that is being endured by the 800,000 plus federal  government employees where they are being forced to forgo their pay checks or have them delayed, as of the 22nd of December 2018 with no end in sight. These missing paychecks affect not only the individual  public servants but their families who are dependent on theses monies; those business owners who cater to government workers; and to the American taxpayers who have to do without essential services provided by government workers.
As per a 1/9/19 CNBC report by Emmie Martin, "Nearly 80 percent of American workers (78 percent) say they're living paycheck to paycheck, according to a 2017 report by employment website CareerBuilder. Women are particularly vulnerable: 81 percent of them report living paycheck to paycheck, compared with 75 percent of men."
I don't believe that most GOP leaders lawmakers get how their cavalier attitudes towards the very real dire plights of these government workers, are a bullhorn sounding alarm to all the hardworking Americans throughout all those red-leaning states, that the president doesn't truly give a hoot about them and that his campaign rhetoric that he would never harm them, are nothing more than 'fools gold'/ empty words. They've been sold a lot of BS.

The president's base has been steady but he will lose those MI, WI. PA voters who had previously voted for a Democratic Party President Barack Obama in 2008 and 2012, but who had decided to take a chance in 2016 by voting for the Republican Party candidate Donald Trump based on his rhetoric regarding his intent to improve their lot in life. It was their votes that won Donald Trump the electoral college vote by less than 80,000 ballots which is a puny result when compared to Hillary Clinton winning almost 3 million of the popular vote.
Let's start with some recent examples of tone-deaf rich folks:
There's the president's daughter-in-law and former campaign adviser, Lara Trump who in a recent interview with Bold TV, publicly declared to the hurting government personnel having to forgo their paychecks or have them delayed, the following:
" It will be worth it. Listen, it's not fair to you, and we all get this, but this is so much bigger than any one person. It's a little bit of pain, but it's going to be for the future of our country.  Future Americans will be grateful for the shutdown. Their children and their grandchildren will thank them for their sacrifice right now."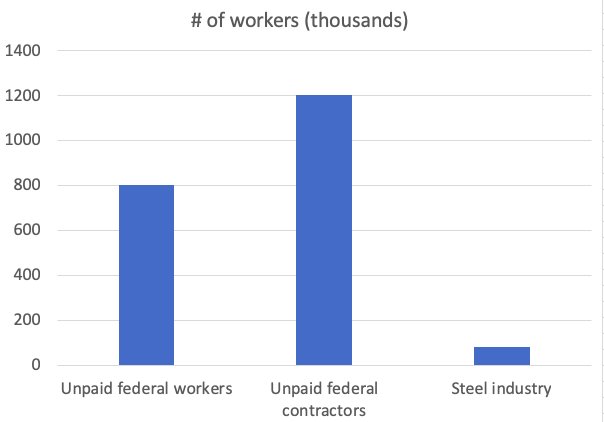 Then there's the freshman mega rich GOP Utah Senator Mitt Romney who's currently supporting President Trump regarding his demands for added wall funding and the associated government shutdown. He obviously hasn't learned the lessons when this cavalier attitude towards the working population was in full display, when he ran to be the 45th US president in 2012 and lost in part, because of a recording which went viral about what he thought of those 47% of Americans who purportedly don't pay taxes.
The reason Mr. Romney's words regarding these 47% of Americans, rang true in 2012, was because he had been speaking to a room of very wealthy Americans to where he was parroting their own words back to them. He was affirming their thoughts about the Americans at the bottom 50% rung as far as income goes. In short, he was empathizing with the same mega rich GOP donors who have been supporting the US presidency of Donald J. Trump.
Finally, there's the republican President Trump's billionaire Commerce Secretary Wilbur Ross who shared publicly on 1/24/19, that he doesn't see why there are lines of government workers in line at soup kitchens, homeless shelters and food banks.
He doesn't even think that the 1st quarter GDP economic numbers for 2019 will be adjusted downward because of this 2019 longest government shutdown in US history due to President's last minutes demands for additional funds for the construction of his US SW border wall from funds allocated by the US Congress.
Here's the rest of the story…
On January 24, 2019, Dylan Stableford of Yahoo News penned the following report, "Wilbur Ross says he doesn't understand why federal workers are turning to food banks in shutdown"
Excerpts:
"U.S. Commerce Secretary Wilbur Ross said on Thursday (1/24/29) that he doesn't understand why some federal workers who have been furloughed or are working without pay during the ongoing partial government shutdown are having to turn to food banks and homeless shelters to feed themselves and their families."
"I know they are, and I don't really quite understand why," Ross said in an interview CNBC.
"Ross, whose net worth in 2016 was estimated to be $2.9 billion, said those workers should seek loans because "the banks and the credit unions should be making credit available to them."
"True, the people might have to pay a little bit of interest," Ross added. "But the idea that it's paycheck or zero isn't a really valid idea."
"The commerce secretary also downplayed the number of federal employees affected by the shutdown, now in its 34th day."
"Put it in perspective, you're talking about 800,000 workers," he said. "And while I feel sorry for the individuals that have hardship cases, 800,000 workers if they never got their pay — which isn't the case, they'll eventually get it — but if they never got it, you're talking about a third of a percent on our GDP. So, it's not like it's a gigantic number overall."
"Ross said it was "disappointing" that some of the affected federal employees ordered back to work by President Trump are refusing to do so."
"There really isn't a good excuse why there really should be a liquidity crisis," he said."
"At her weekly press conference, House Speaker Nancy Pelosi said she doesn't understand why Ross doesn't understand the hardship of workers who are missing their paychecks."
"Is this the 'Let them eat cake' kind of attitude or 'call your father for money' or 'this is character-building for you, it's all going to end up very well'?" she said."
Trump himself has claimed repeatedly that most federal workers support his tactic of shutting down the government to enforce his demand for a border wall — including those directly affected by it. But a recent poll of government employees shows that few actually do."
"According to a Government Business Council survey released last week, 71 percent of federal workers oppose the shutdown, compared to just 21 percent who support it."