In my opinion, the most generous reading is that the Starbucks ex-CEO Howard Schultz and his supporters have a very nuanced view of the current ballooning US budget deficit. They want to reduce it, but only in ways that increase inequality rather than reducing it. What they want is an alternative to President Trump who will do everything possible to maintain their current levels of taxation as per the 2017 GOP tax cuts bill and the current drive for deregulation, while not being so toxic. They get that this objective is not possible via the Democratic Party as its members would never go for cuts to entitlements without also taking a look at increasing taxes. The truth is that both are required to adequately address the issue of the US ballooning debt levels.
In short, there are numerous well-off business type executives who shut their eyes, held their noses when they voted for the republican President Donald Trump in 2016. They voted their pocketbooks as they had been assured that President Trump and the GOP majorities in the US Congress would fulfill their long held dream for major corporate tax cuts and for a cessation of government regulations being imposed on their businesses. They have been granted their wish in spades under President Trump's administration.
However, many of these corporate executives regret having voted in favor of President Trump to where they would like an alternative who would be more pro-legal immigration, less divisive, more pro-NATO, more pro-trade agreements like TPP and someone who's not perceived to be a Russian asset.
The answer comes in the form of Howard Schultz as an Independent centrist who would fight to maintain their current tax rates and the current state of government deregulation. I've come to believe that this plan was being formed before he retired as Starbucks' CEO in July, 2018.
But, even his communications director Bill Burton, a political consultant who had been the deputy White House press secretary for President Barack Obama, had previously advised against 3rd party candidates acting as a spoiler, like Jill Stein who helped catapult Donald Trump into the White House as she pulled crucial votes from the Democratic Party contender, Hillary Clinton. I believe that Mr. Schultz could again be this spoiler in 2020.
See HuffPost article on Bill Burton: Former Barack Obama Aide To Advise Howard Schultz On Presidential Bid …
As per 1/30/19 FiveThirtyEight report, "Schultz's announcement was met with swift backlash from many in the Democratic Party, including those who fear that a third-party candidate will pave the path for Trump's re-election. Others, such as David Frum at The Atlantic, have argued that Schultz might be the kind of candidate needed to defeat Trump, as the anti-Trump majority is strong, but it isn't all that progressive."
Link: Why Is Howard Schultz Getting So Much 2020 Attention?
Here's the rest of the story on how addressing income inequality, paying down the US deficit will require more than cutting back on entitlements…
As per October 23, 2018 ITEP Institute On Taxation and Economic Policy report, "Tax Policies Have Increased Inequality, and So Would Entitlement Cuts:"
"Conversations about economics often take place on different planets, it seems. Economists and analysts note rising inequality in America. And it's not just lefty analysts. The credit ratings firm Moody's chimed in earlier this month, warning that inequality "is a key social consideration that will impact the U.S.' credit profile through multiple rating factors, including economic, institutional and fiscal strength."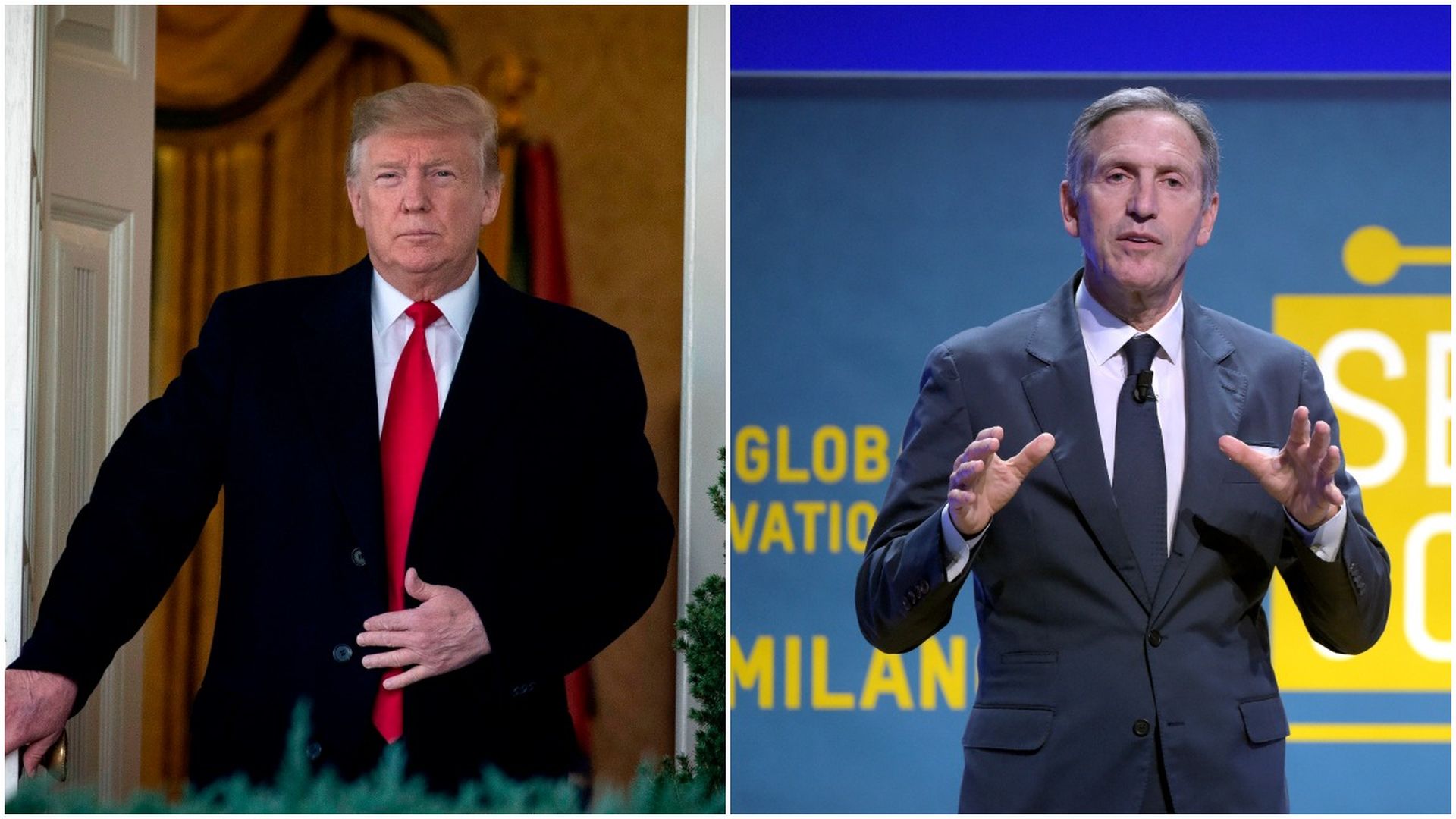 "As Moody's report noted, "Since 1995, the top 10% of U.S. income earners have experienced an overall median net worth increase of close to 200%, while the bottom 40% of income earners have seen a decline."
"How has Congress responded to rising inequality over the past several years? Mostly by cutting taxes for rich people. Earlier this year, ITEP released a report that reveals just how much federal tax policy has favored the wealthy over everyone else. It examined tax cuts enacted since 2000 and found that nearly two-thirds went to the richest fifth of Americans."
"ITEP's report also found that by 2025, tax cuts enacted since 2000 will have delivered a cumulative $2 trillion windfall to the top 1 percent alone. As the Democrats on the Congressional Joint Economic Committee have pointed out, that figure looks a lot like the $2 trillion that House Republicans proposed to cut from programs like Medicare, Medicaid and the Affordable Care Act in their last budget plan."
"In other words, the ongoing discussion about inequality has not even begun to penetrate the minds of congressional Republicans. Fresh off their most recent tax cut that increases the deficit and disproportionately benefits the rich, they propose to "address" the budget deficit by cutting programs that middle-income families rely on."
"The House's proposed budget cuts to programs that benefit middle-income families are no fluke. Last week, Senate majority leader Mitch McConnell confirmed this position and said that Democrats were the only thing preventing such cuts from being enacted."
"Regarding the rising national debt, McConnell said, "It's a bipartisan problem: unwillingness to address the real drivers of the debt by doing anything to adjust those programs to the demographics of America in the future." He added that it would be "very difficult to do entitlement reform, and we're talking about Medicare, Social Security and Medicaid" with just one party pushing these cuts through."
"As the ITEP report notes, two decisions taken by lawmakers since 2000 account for roughly two-thirds of the increase in the national debt since then: tax cuts and wars in the Middle East. To say that entitlement spending is the sole cause of fiscal problems is disingenuous and demonstrably wrong."
"Blaming President Obama and the Democrats for not acting to address the budget deficit is an interesting approach for McConnell to take, given that budget-busting tax cuts were at least reigned in a bit under Obama. The graph below, also from ITEP's July report, illustrates how this happened by comparing the tax cuts enacted since 2000 in three different years: 2012, 2015 and 2018."
"As the report explains, in 2012, nearly all the Bush tax cuts, which provided benefits to all income groups but were very tilted toward high-income households, were in effect. But in the same year, several provisions enacted by President Obama were also in effect (expansions of the Earned Income Tax Credit and Child Tax Credit and a payroll tax holiday), which helped low- and middle-income working people."
"By 2015, President Obama and Congress had allowed the payroll tax holiday and parts of the Bush tax cuts to expire, and tax increases on the rich that were enacted as part of the Affordable Care Act had gone into effect."
"This decreased the deficit (compared to the Republican proposals at the time of extending all the Bush tax cuts and repealing the ACA), but McConnell was uninterested in this deficit-reducing measure because debt is not his real concern. In 2017, he pushed the Tax Cuts and Jobs Act through the Senate, which is projected to increase the national debt by $2 trillion over a decade. The legislation also ensured that the tax cuts enacted since 2000 were once again more tilted toward the well-off."