This post is to give the reader a better idea of why the Starbucks ex-CEO Howard Schultz is announcing his intent to possibly run to become the 46th US president in 2020, as an Independent candidate. To say that his plan is off to a rocky start would be an understatement.
Below is a video that has gone viral where a man at a NYC Barnes & Nobel book store event heckles Mr. Schultz.
As a disclaimer, I'm NOT on board with Mr. Schultz plans as I'm convinced that he can't win the presidency as an independent billionaire business candidate based on US history. I can remember another billionaire businessman Ross Perot.
A strong third-party self funded billionaire candidate who has never served in government, has long been a fear for both parties after business billionaire Ross Perot won nearly 19 percent of the popular vote in the 1992 race against GOP incumbent President George H.W. Bush and Democratic challenger Bill Clinton. The enthusiasm over Mr. Perot's 3rd party run was blamed for siphoning off republican votes from President H.W. Bush which gave the presidency to the Democratic Party candidate, Bill Clinton.
I'm convinced that as an Independent candidate and a self-described lifelong democrat who voted for Hillary Clinton in 2016, he would divide the democratic votes where he could just about guarantee the republican President Donald Trump's second term as the 45th US president. This reality counters one of his frequently touted claims, that he's running to be president in 2020 as an Independent candidate because he wants to bring this country together.
It is my perception, that Mr. Schultz has been planning this presidential run as an Independent candidate since before he retired as the Starbucks CEO in July 2018. He's written his memoir as a start. This belies his current assertions that he's throwing his hat in the presidential contest ring, in part, in response to the Democratic Party NYC Rep. Alexandria Ocasio-Cortez push for a marginal tax rate increase for those who earn more than $10 million dollars, as she had yet to be elected.
It's my theory that many wealthy Wall Street type executives who wished to protect their tax current cuts and to avoid the imposition of more regulations on their businesses, wanted an alternative to having to vote for the republican President Donald  Trump. The answer to their prayers, comes in the form of Howard Schultz.
As per Biography.com, "Schultz publicly announced that he was resigning as Starbucks' CEO in 2000, though he returned to head the company from 2008 to (July) 2018. The following year, he revealed his intention to run for president in 2020."
As per 7/19/18 Investopedia report, "Schultz intends to spend more time with his family and work on a book focused on Starbucks' social impact work, according to the press release."
"However, his departure from the company has sparked curiosity over his future plans. Responding directly to suspicions of a U.S. presidential run, Schultz said in a New York Times 
article
, "I intend to think about a range of options, and that could include public service. But I'm a long way from making any decisions about the future."
As per a 7/17/18 GeekWire report, "Starbucks has built itself into a global coffee giant with a bipartisan customer base. But as founder Howard Schultz settles into life away from daily involvement in the Seattle-based company, a new report from Politico assesses the danger of a potential Democratic bid for the presidency in 2020.""While he has said he is looking forward to spending time with family and working on a book, and is not interested in seeking office, Schultz allowed for a range of future options in his goodbye letter to employees in June. And in conversations with former Starbucks executives, equities analysts and others with ties to Schultz, Politico stirred the pot on the downside of any political aspirations."
"A presidential campaign would tie Starbucks to electoral politics in the public eye at a time when consumers increasingly view the world through partisan prisms," Politico wrote. "That would pose a risk for any mass consumer brand, according to financial analysts who track the company."
"Citing an anonymous source familiar with the thinking of Starbucks' current leadership, Politico reported that the desire is for Schultz not to run. "It's a huge headache," the source said."
"With a commitment to social issues that he ingrained in the company during his more than 20 years as CEO, Schultz has long been a corporate leader viewed as a potential political one. But even those close to him gave Politico mixed messages on the matter."
"Former Starbucks President Howard Behar, a longtime Schultz confidant, told Politico that he told Schultz he'd be putting a lot at risk and "better really understand what you're getting into." But he also said Schultz would be a great president. "He's smart. He's pragmatic. He's not off the deep end."
See July 2018 Politico report
here
.
In the month of January 2019, the billionaire Starbucks ex-CEO Howard Schultz has been hitting all the TV shows with an interview format to market his recently published book 
From the Ground Up
 , as he garners exposure which builds his name recognition
As per January 29, 2019, Matt Wilstein of the Daily Beast penned the following report,"The View' Makes Howard Schultz Squirm: Can You Really 'Live With' Re-Electing Trump?"
Excerpts:
Joy Behar and Meghan McCain both practically begged the Starbucks CEO not to run for president and 'guarantee' another four years of Trump.
The morning after former Starbucks CEO Howard Schultz was shouted down by a protester at a Barnes & Noble book event—"Don't help elect Trump! You egotistical billionaire asshole"—he came back for more pummeling on The View.
"Schultz, who is promoting both his new memoir From the Ground Up and his deeply controversial bid to run for president in 2020 as an independent, was all smiles when he sat down behind the table for his interview. But it slowly started to fade as he realized how worried the hosts were about his potential to be a presidential spoiler."
"The lifelong Democrat said, "I think I would have to be disingenuous to run as a Democrat today, but I think the question that I'm asking myself and I think many of us are asking ourselves is what kind of country do we want to live in? And right now, I think it's clear that the country we are living in needs significant change, not only change because of this president, but change because of the toxicity and the lack of compromise of both parties."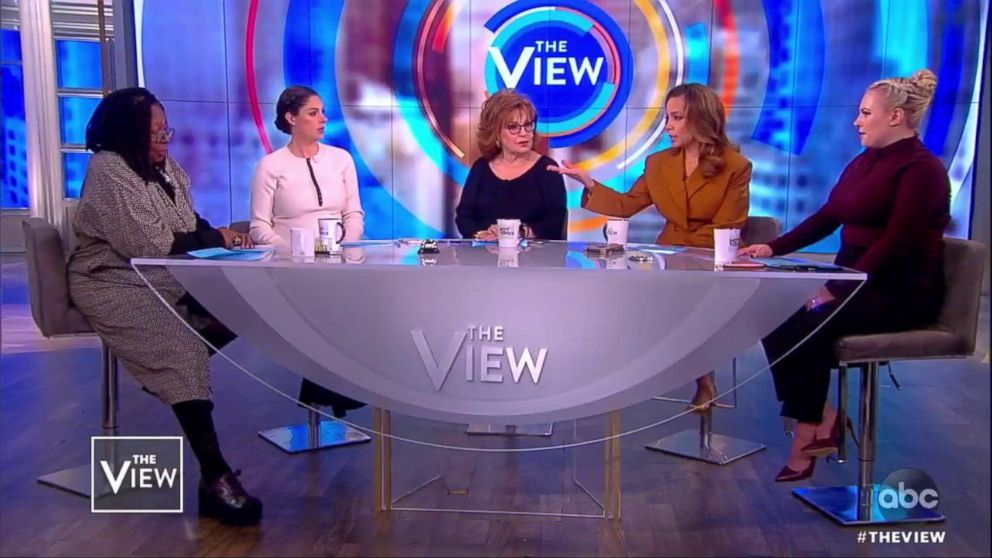 "Schultz also attacked Sen. Kamala Harris for saying we should "abolish the insurance industry" in favor of Medicare for All during her CNN town hall the night before."
"Co-host Joy Behar spent a couple of minutes praising Schultz as a "great guy" who went "above and beyond" to make sure even his part-time Starbucks employees were insured (medical insurance) before adding a "big but."
"The main thing that scares me," she said, "is that your entry into the race will guarantee Trump another four years and we cannot have that."
"Putting his hand on her shoulder, Schultz said, "Joy, I don't agree with you," arguing that Trump is more likely to win if he "runs against a far-left progressive liberal Democrat." Like he did during his interview with CNBC's Andrew Ross Sorkin, Schultz explained that it is policies like Alexandria Ocasio-Cortez's proposed 70 percent marginal tax rate on people making more than $10 million per year that spurred him to run."
"Throughout the interview, Schultz continued to get hit from all sides of The View table."
"On one end of the spectrum, Whoopi Goldberg also pushed back against Schultz's independent quest, telling him, "I think if you believe in what you believe in, then stand up for that as a Democrat and then change the party if you feel like that as opposed to going elsewhere."
On the other, Meghan McCain called Schultz a "glaring example that, as long as you're a billionaire, you can run for anything," adding: "My problem with politics right now is the influence of money and no shade to you but you do have to be a billionaire to run as an independent." He also "lost" her for good when he revealed his pro-choice stance.
"Later, when Schultz responded to Trump's recent tweet urging him to get into the race by saying, "No one wants to see him fired more than me," Behar shot back, "No one wants to see you run more than him," before comparing the candidate to Ralph Nader. "And Ross Perot," McCain chimed in."
"If you can live with the hypothetical situation that you get Trump re-elected, that's fine, but no one seems terribly convinced this is a possible, foreseeable path," McCain added."
"Well, you're putting words in my mouth," Schultz replied. "I won't live with President Trump being re-elected because that's not going to happen. And I'm going to do everything I can for that…"
As per another Daily Beast report, "Howard Schultz Blames Alexandria Ocasio-Cortez for His Decision to Run as Independent," "Billionaire former Starbucks CEO Howard Schultz says he can't run for president as a Democrat because he doesn't like Rep. Alexandria Ocasio-Cortez's proposal to slap a 70-percent marginal tax rate on income above $10 million. Schultz revealed Sunday that he's "seriously considering" running for president as an independent. In an interview with CNBC Monday night (1/28/19), he shed some light on why he feels he would not run as a Democrat: Because he could end up having to argue for massive taxes on the super-rich like himself. "I respect the Democratic Party. I no longer feel affiliated because I don't know their views represent the majority of Americans. I don't think we want a 70 percent income tax in America," he said. Ocasio-Cortez's idea to tax earnings over $10 million at 70 percent has wide support, according to polls—a recent Hill-HarrisX survey found that 59 percent of voters back it. Schultz went on to say: "The way I've come to this decision is, I believe that if I ran as a Democrat, I would have to say things that I know in my heart I do not believe."