The following high lighted material has been shared by Jane Meyer in her recent write-up, "The Making of the Fox News White House," for the March 11 edition of the New Yorker where she details the lengths that FOX TV personnel have gone to bat for the republican President Donald Trump. Would you believe that one of its news reporters was required to kill the Stormy Daniels story?
How about their giving Mr. Trump the debate questions when he was being interviewed by one of its hosts, Megyn Kelly who is no longer with FOX? FOX also killed a report about how the National Enquirer helped Trump with a "catch and kill" policy.
Here is the rest of the story…
On March 4, 2019, the Newser report published the following report, "New Yorker. Fox Killed Stormy Daniels Scoop"
Excerpts:
 "Fox News has always been partisan. But has it become propaganda?" Here are three nuggets generating early attention:"
"Debate questions: Three sources (two from Fox, one close to Trump) tell Mayer that Roger Ailes, the late network honcho, told candidate Trump in advance of a question about harassment that Megyn Kelly would ask him during a 2015 debate. Trump also allegedly was told that the candidates would be asked about whether they would support the GOP nominee, no matter who won. Trump alone said he might not, which helped his image as an outsider, notes Mayer. "These claims are hard to evaluate: Ailes is dead, and they conflict with substantial reporting suggesting that the rift between Trump and Fox was bitter" at the time, writes Mayer."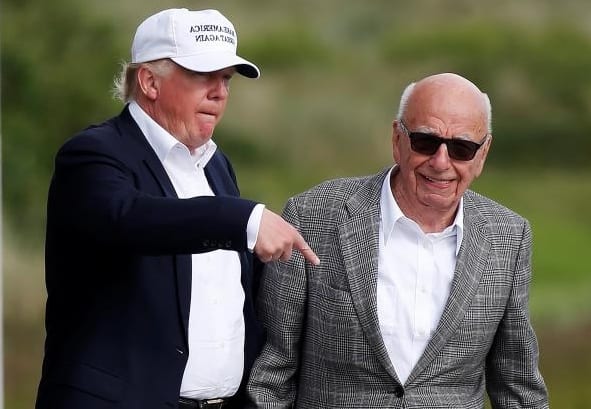 "Stormy Daniels: Fox reportedly killed a story about Daniels in the home stretch of the 2016 election. Reporter Diana Falzone got proof of an affair between Daniels and Trump, writes Mayer, along with emails about hush payments. The story never ran. Then Fox executive Ken LaCorte reportedly told Falzone, "Good reporting, kiddo. But Rupert wants Donald Trump to win," referring to Fox founder Rupert Murdoch. "So just let it go." The network similarly killed a Falzone story about how the National Enquirer helped Trump with a "catch and kill" policy, writes Mayer. The Wall Street Journal reported on the policy after Trump became president."
"The rankings: Trump ranks the loyalty of reporters on a scale of 1 to 10, according to the piece. Fox News' Bret Baier gets a 6, while Sean Hannity scores a 10. Hannity doesn't win this particular competition, however. "Steve Doocy, the co-host of Fox & Friends, is so adoring that Trump gives him a 12," writes Mayer.
Read Mayer's full New Yorker piece
here.
As per a CNN Report by Hadas Gold, "
A new report about the close relationship between Fox News and President Donald Trump says the President personally asked a top White House aide to make sure the Justice Department stopped AT&T from purchasing Time Warner.
Ever since the Justice Department sued in 2017 to block AT&T's acquisition of Time Warner, theories and accusations of political animus has swirled around the antitrust case.
At the heart of the theories is Trump's public dislike of CNN, which was a division of Time Warner. The company that has since been renamed WarnerMedia, which also includes networks such TNT and HBO, in addition to CNN."
"In
a new piece for the New Yorker
, investigative journalist Jane Mayer reports that a few months before the Justice Department filed its lawsuit, Trump pressured Gary Cohn, the former director of the National Economic Council, to tell the Justice Department to block AT&T's Time Warner deal."
According to Mayer's source, Trump called Cohn and then Chief-of-Staff John Kelly into his office and said to Kelly, "I've been telling Cohn to get this lawsuit filed and nothing's happened! I've mentioned it fifty times. And nothing's happened. I want to make sure it's filed. I want that deal blocked."
"After the two men walked out of the Oval Office meeting, Cohn told Kelly not to follow through with the president's request, according to Mayer's report."
"Trump's animosity towards the merger is no secret. Trump repeatedly talked about wanting to block it on the campaign trail and in office. A 2016 campaign press
release cited by AT&T
 during the appeals trial state that "AT&T … is now trying to buy Time Warner and thus the wildly anti-Trump CNN. Donald Trump would never approve such a deal."
Cohn, the White House and the Justice Department did not immediately respond to request for comment. The Justice Department has long denied that politics played a role in their decision to bring the suit."
While the Justice Department fought to block the AT&T deal, another mega media merger 
passed through regulatory approval
: Disney's purchase of 21st Century Fox, the parent company of Trump's favorite television channel Fox News.
The chairman of 21st Century Fox is of course, Rupert Murdoch, who has become the president's close confidant.
"Mayer noted in her report that "under Trump the government has consistently furthered Murdoch's business interests, to the detriment of his rivals," including the approval of Disney's purchase of Fox, a deal in which the Murdoch family will make more than two billion dollars."
This blog was updated on 3/4/2019.