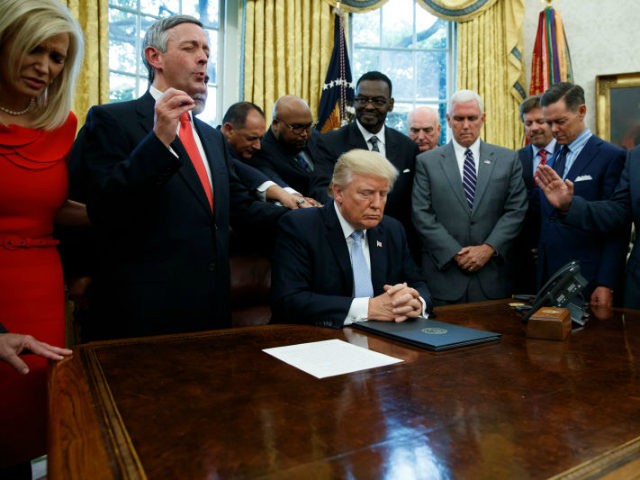 For a disclaimer, as a person of faith, I'm in agreement with almost nothing of the US White Evangelicals' religious teachings, but I do believe in the Trinity. I'm not an expert on this subject, however, I'm curious as to how the Evangelical thinking is influencing the politics of today. I've had to rely on a myriad of sources  to be able to write on this subject.
I'm doing a series on the subject of the White Evangelism community in the USA, as its population comprises about 26% who self-identify themselves as Evangelicals, and because its members have voted in 2016 for the republican President Donald Trump by a margin of 80%, plus, they continue to approve of his presidency at rates that exceed 70%. They make up the largest faction within the President's Republican Party at about 35%.
In addition, the president relies on a group of Evangelical Christians for spiritual guidance within the White House. There are 2 key members of the Evangelical faith who work with President Trump, his Vice President Mike Pence and his Secretary of State Mike Pompeo.
See: Is Mike Pompeo Meshing His Rapture Believing Faith With Developing Foreign Policy Goals?
See: : Evangelicals Have Out-Sized Influence In President's Crafting Of US Foreign Policy
As per a 5/15/2018 Quartz report, "Trump's foreign policy looks a lot like Rapture Christians' plan to welcome the apocalypse" by Heather Timmons, "While Trump's alleged adulterous affairs and irreverent style might make him seem an unlikely vessel for Christian prophesy, he has been compared in evangelical circles to King Cyrus the Great, an ancient Persian king who predicted the Jews' return to Jerusalem. In March, Benjamin Netanyahu  made the comparison, and Pirro did the same on Fox News today."
"Christian evangelicals "don't like Trump because they think he's holy," explains Ziegler. "They like him because they think he's God's tool."
For all of the above reasons, I want to know more about the president's followers who are Evangelicals and how they could be effecting the president's policies because he's very motivated to accommodate them, as their backing is crucial to his maintaining  power within the Republican Party.
See: Sociologists Unravel The Mystery Of President Trump's Supporters Who Continue To Back Him
I'm starting with the Trinity as there was a time (until 2011) that this doctrine hadn't been widely accepted in the Evangelical world.
As per Wkipedia, "The Christian doctrine of the Trinity (Latin: Trinitas, lit. 'triad', from Latin: trinus "threefold") holds that God is one God, but three coeternal consubstantial persons or hypostases—the Father, the Son (Jesus Christ), and the Holy Spirit—as "one God in three Divine Persons".
The following article indicates that the concept of the Trinity started gaining traction by Evangelicals around 2011…
But for me, this is a most basic tenet as the bible reiterates over and over again that there is only One God. If a believer separates out the son Jesus Christ as a distinct and separate deity, then they are putting the lie to God's own words that He's the only One.
Examples:
Yahweh, He is God; there is no other besides Him." Deuteronomy 4:35
"Yahweh, He is God in heaven above and on the earth below; there is no other." Deuteronomy 4:39
"See now that I, I am He, And there is no god besides Me" Deuteronomy 32:39
"Hear, O Israel! Yahweh is our God, Yahweh is one [echad]!" Deuteronomy 6:4
"You are great, O Lord God; for there is none like You, and there is no God besides You" 2 Samuel 7:22
"For who is God, besides Yahweh? And who is a rock, besides our God?" 2 Samuel 22:32
"Yahweh is God; there is no one else." 1 Kings 8:60
"You are the God, You alone [bad], of all the kingdoms of the earth." 2 Kings 19:15
"O Lord, there is none like You, nor is there any God besides You" 1 Chronicles 17:20
"You alone [bad] are Yahweh." Nehemiah 9:6
"For who is God, but Yahweh? And who is a rock, except our God" Psalm 18:31
"You alone [bad], Lord, are God." Isaiah 37:20
"Before Me there was no God formed, And there will be none after Me." Isaiah 43:10
"'I am the first and I am the last, And there is no God besides Me." Isaiah 44:6
"Is there any God besides Me, Or is there any other Rock? I know of none." Isaiah 44:8
"I am Yahweh, and there is no other; Besides Me there is no God." Isaiah 45:5
"Surely, God is with you, and there is none else, No other God." Isaiah 45:14
"I am Yahweh, and there is none else." Isaiah 45:18
"Is it not I, Yahweh? And there is no other God besides Me, A righteous God and a Savior; There is none except Me." Isaiah 45:21
"I am God, and there is no other; I am God, and there is no one like Me" Isaiah 46:9
"And Yahweh will be king over all the earth; in that day Yahweh will be the only one [echad], and His name the only one[echad]." Zechariah 14:9
"No one can serve two masters; for either he will hate the one [hen] and love the other, or he will be devoted to one [hen] and despise the other. You cannot serve God and wealth." Matthew 6:24
"But do not be called Rabbi; for One [hen] is your Teacher, and you are all brothers." Matthew 23:8
"

"The foremost is, 'Hear, O Israel! The Lord our God is one 

[hen] 

Lord;

 " Mark 12:29
"you do not seek the glory that is from the one and only [monos] God?" John 5:44
"I and the Father are one 

[hen]." John 10:30
"This is eternal life, that they may know You, the only [monos] true God" John 17:3
"The glory which You have given Me I have given to them, that they may be one [hen], just as We are one

 

[hen]" John 17:22
"since indeed God is one [hen]" Romans 3:30
"to the only [monos] wise God, Amen." Romans 16:27
"there is no God but one [hen]" 1 Corinthians 8:4
"yet for us there is but one [hen] God, the Father, from whom are all things and we exist for Him; and one [hen] Lord, Jesus Christ, by whom are all things, and we exist through Him." 1 Corinthians 8:6
"Now a mediator is not for one party only; whereas God is only one [hen]." Galatians 3:20
"There is one [hen] body and one [hen] Spirit, one [hen] hope, one [hen] Lord, one [hen] faith, one [hen] baptism, one [hen] God and Father of all who is over all and through all and in all." Ephesians 4:4-6
"Now to the King eternal, immortal, invisible, the only [monos] God" 1 Timothy 1:17
"which He will bring about at the proper time—He who is the blessed and only [monos] Sovereign, the King of kings and Lord of lords, who alone [monos] possesses immortality and dwells in unapproachable light, whom no man has seen or can see. To Him be honor and eternal dominion! Amen." 1 Timothy 6:16
"For there is 1 [hen] God, and 1 mediator also between God and men, the man Christ Jesus," 1 Timothy 2:5″
As per a 11/30/2011 Christian Post report by Mark Hensch, " Evangelicals Take Stand on Trinity," A group of 73 evangelicals and counting have joined together in a shared declaration stating that when it comes to the three persons of God, it's one-for-all and all-for one."
Titled "An Evangelical Statement on the Trinity," the document was posted in November on TrinityStatement.com and affirms that God is one being comprised of three aspects that are co-equal and co-eternal. It was a necessary move, signees say, given the lingering debate over Trinity doctrine in the Christian community."
"This is the central tradition of Christianity," said William David Spencer, the declaration's writer. "Historically, Christianity is monotheistic. Because of this, we have to deal with the fact God the Father, God the Son and God the Holy Spirit all appear in the Bible. The question then is how we understand it."
"For Spencer and other signers like him, taking stock of the Trinity requires maintaining the Bible's emphasis on one god and three manifestations of that God. It's a tricky task, said the professor of theology and the arts at Boston's Gordon-Conwell Theological Seminar, but one he concedes is vital to the Christian faith."
"We believe that God is one God in three equal, co-eternal persons," Spencer said. "Drawing artificial distinctions around God undermines His oneness. We don't want to posit 3 separate gods or beings."
"Dr. Richard Pierard, professor emeritus of history at Indiana State University, said he signed the document to challenge the view that the Trinity takes the form of 3 separate beings. Besides creating more than one god to worship, he said such a role would lead towards ranking God's separate persons in an all-too-human pecking order.'
"The doctrine of subordination disturbs me very much," Pierard said. "It weakens the power of the Trinity. There are functional differences between the three persons, but there's no hierarchy. Each is equal to each other."
"Spencer said that the doctrine of subordination arose from Christians confused by the Bible's references to Father, Son and Holy Spirit. He said their disorientation drove them to create a new explanation for Christ that lost sight of the one God."
"Unique is an absolute term," Spencer said. "Something is either unique or it isn't. By analogy, when you talk of God, you can't have God and then less of a God."
"Spencer added that such an approach most often stemmed from the relationship between God the Father and God the Son. By dividing the 2, he said Jesus' sacrifice on the cross would count for less given he wasn't the entirety of God when he gave his life. In keeping the Trinity three co-equal persons in one God, he said Christians could better understand their savior and the supernatural existence he lived beyond earthly understanding."
"Another problem, Pierard said, is how an unequal Trinity would take shape on Earth. If man is created in God's image, he said, wouldn't that mean certain people were ranked above or below one another depending on their relationship to the Trinity? Such thoughts, he said, had been used to justify the dominance of one category of people over others. He cited men over women and certain races over others as examples of this trend."
"If we are created in Gods image, we are all equal if He's co-equal," Pierard proposed. "But if there's ranking in the Trinity, there's ranking here on Earth too."
"Dr. Mimi Haddad, president of Christians for Biblical Equality and another key signer of the declaration, said "The Trinity has one will, one purpose and one being," Haddad said. "The 3 persons share equal power, glory and authority. Subordination wrecks the doctrine of oneness in God completely."
As per the 11/28/2018 article published by juicyecumenism.com, "Evangelicals Earn "F" on Beliefs about the Trinity" by Joshua Arnold,
In a 2018 study on Christian beliefs by two Christian ministries, Ligonier and LifeWay, American evangelicals earned what would qualify as a grade of "F" on the Trinity. A majority of my fellow evangelicals answered 3 out of 8 questions about the Trinity heretically, meaning they answered only 62.5% correctly—a failing grade.