On the 22nd of May 2019. the US Department of Justice Department (DOJ) and the House Intelligence Committee reached a deal over documents from the FBI's special counsel Robert Mueller's 3/22/2019 final report on its 22 months long Trump-Russia probe, after the prosecutors' office said it's willing to provide counter intelligence material to the congressional panel as long as it agrees not to take any retaliatory action against Attorney General William Barr.
The US House Intelligence Committee Democratic Party Chairman committee's chairman, Rep. Adam Schiff of California, had issued a public warning that the committee would decide on an "enforcement action" against The Attorney General Barr after he refused to hand over an unredacted version of FBI's Mueller's final report.
This victory comes on the heels of another one where a federal district judge has recently  ruled that President Trump's accounting firm Mazars USA, must turn over to the Congressional oversight committee's whatever financial records it subpoenaed.
See: Washington Post article: Judge rules against Trump in fight over president's financial records
Then there's been a leaked IRS memo published by the Washington Post where its legal department states that the Treasury Secretary Steve Mnuchin must turnover the subpoenaed 6 years of President Trump's IRS tax return records by the House Ways and Means Committee, headed by the Democratic Chairman Rep. Richard Neal.
                                                                 ****
                                                                 ****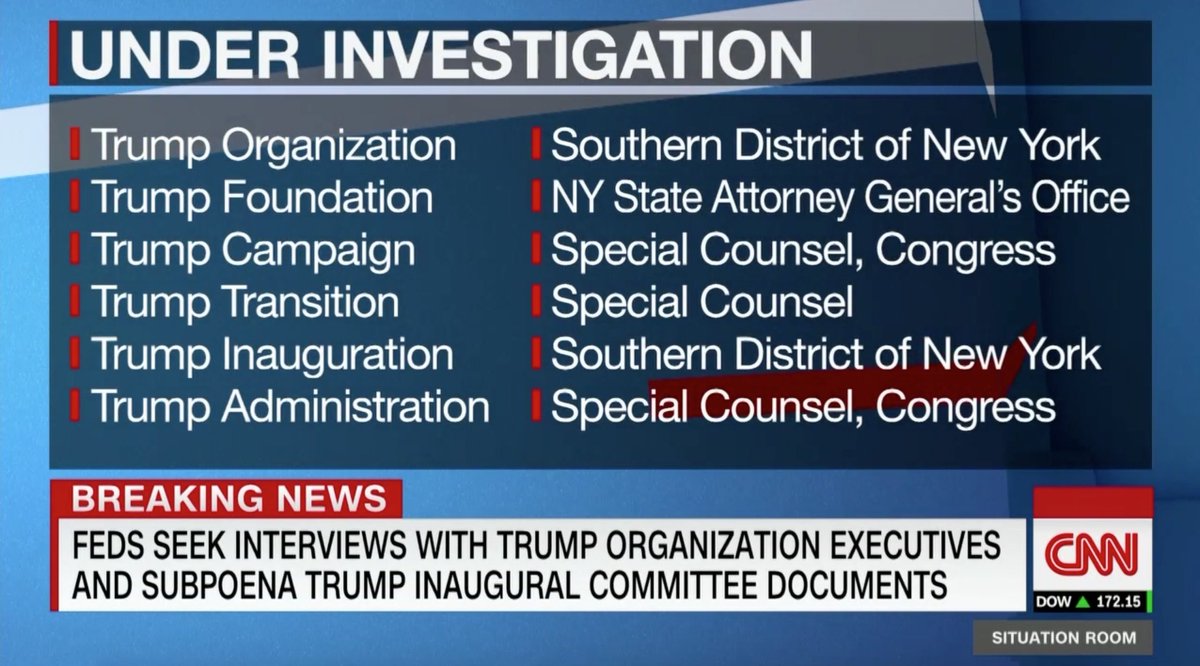 See tweet by Harvard law professor and US Constituion scholar  Laurence Tribe:
"I'm relieved that our efforts in this direction have come to fruition. Justice is starting to triumph. Thanks to @JohnBonifaz, @ronfein, & @jedshug"
                                                     ****
This means that when and if NY US Southern District Courts (SDNY) indict anyone involved in FBI's Trump-Russia probe who also has committed crimes in NY, they cannot escape criminal liability with a presidential pardon.
                                                          ****
Update on 5/22/2019:
As per 5/22/2019 Axios report by Marisa Fernandez, New York's state legislature passed a bill on Wednesday permitting tax officials to turn over President Trump's state returns to any one of three congressional committees, the New York Times reports."
"Why it matters: Trump has refused to comply with a congressional subpoena for his federal tax returns, which are likely to contain similar information to his state returns. If Gov. Andrew Cuomo signs the bill as expected, the move could ignite a heated battle between New York state and Trump's legal team."
As per 5/22/2019 Axios report by Zachary Basu, "
A district judge in New York has declined to issue a preliminary injunction preventing Deutsche Bank and Capital One from complying with a congressional subpoena for President Trump's financial records."
"Put simply, the power of Congress to conduct investigations is inherent in the legislative process."
— Judge Edgardo Ramos
                                                                   ****
Here's background on DOJ agreeing to turn over some redacted data from FBI's Mueller report to US House Intel members…
On May 21, 2019, Laura Jarrett of CNN penned the following report,  "First on CNN: Justice Department willing to hand over counterintelligence if Schiff backs off 'enforcement action'"
Excerpts:
The Justice Department is trying to stave off an "enforcement action" against Attorney General William Barr this week, making a rare offer to have the House Intelligence Committee review materials from special counsel Robert Mueller's report if House Intelligence Chairman Adam Schiff agrees to back down.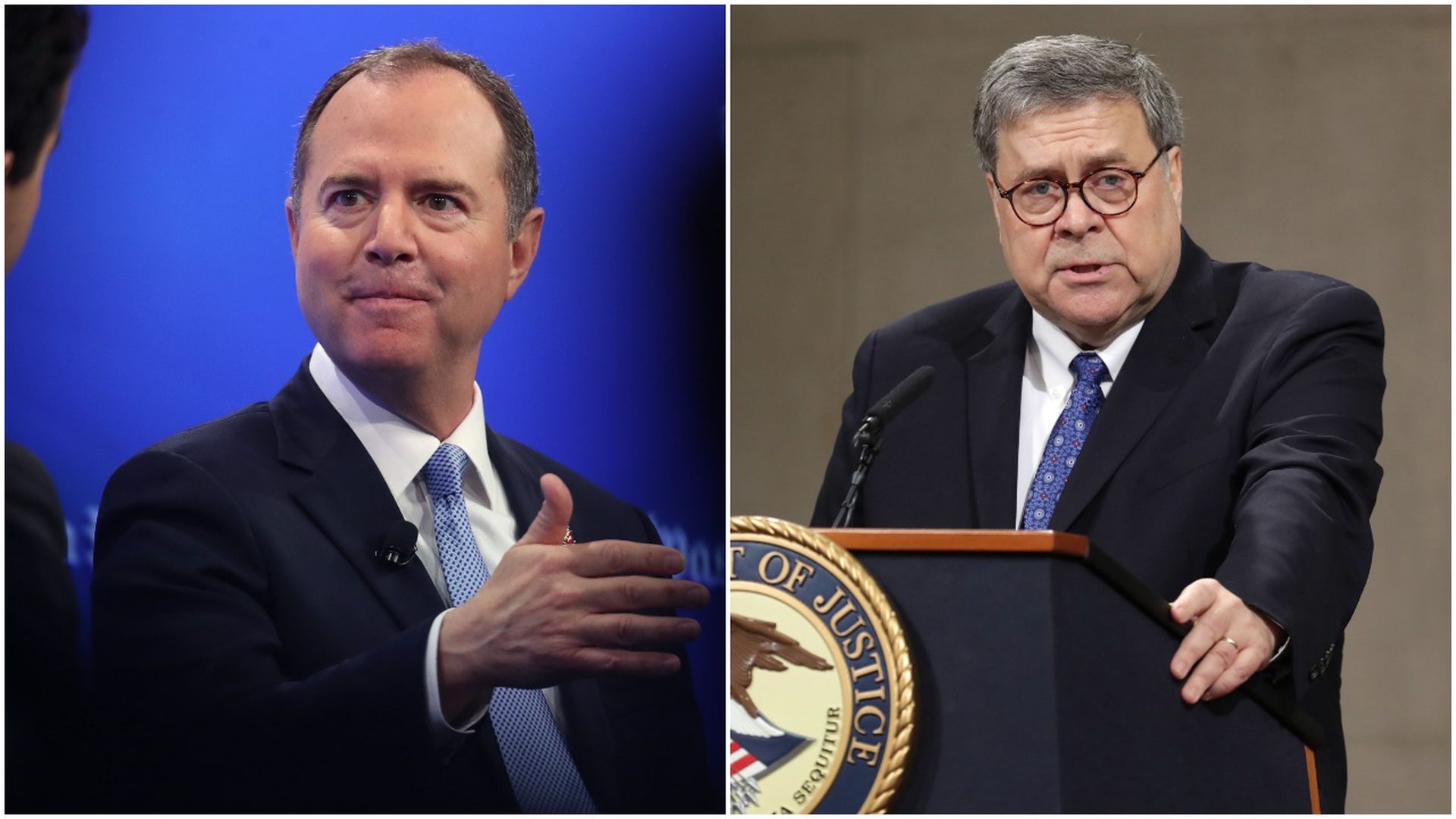 ****
The Justice Department had previously offered to show all committee members a less redacted version of the Mueller report, but now says it's continuing to review the initial tranche of 12 categories of documents Schiff wants, and will make them available "in relatively short order," according to a letter obtained by CNN.
                                                             ****
"The Department has already begun the process of identifying, locating and reviewing the materials potentially responsive to the categories of documents," Assistant Attorney General Stephen Boyd wrote Tuesday, "a process that will not continue should the Committee take the unnecessary and unproductive step of moving to hold the Attorney General in contempt."
                                                                    ***
Boyd's letter also confirms that last week's offer of having all members of the House Intelligence Committee review the less redacted version of the Mueller report remains on the table — and it now extends to the Senate Intelligence Committee.
Link: First on CNN: Justice Department willing to hand over …