This is great news, I hope. The US House Judiciary Committee members headed by the Democratic Party Chairman Jerrold Nadler have been negotiating for quite awhile to have the FBI's Special Counsel Robert Mueller testify before them in a public hearing but Mr. Mueller has resisted, preferring to first give a public opening statement, followed by a closed hearing. He has expressed his goal of not having his 3/22/2019 final report regarding the FBI's 22 months long Trump-Russia probe become even more politicized than it has already become.
At the end of March 2019, the US Attorney General William Barr revealed his true colors of being President Trump's lackey who heads the powerful US Department of Justice (DOJ). He managed to prove that he can't be counted to mete out justice fairly when he deliberately acted to mis-characterize the FBI's Mueller report which was totally countered by the FBI's redacted findings that were made public about 4 weeks later. The unfortunate fact is that while millions watched on their TVs, the Attorney General Barr whitewash the FBI's report that he received around 3/22/2019, few peoples will take the time to read the 448 page FBI report delivered 4 weeks later.
Because of the Attorney General Barr's whitewash of the FBI's Mueller report, many Americans have been left with the impression that the FBI had totally exonerated the president of any wrong doing. To counter this falsehood, over 900 federal prosecutors from both the Republican and Democratic Parties have gone on the record to assert that based on the FBI's Mueller findings, if Donald J. Trump were not president, he would have been criminally indicted.
However, it'd be helpful if Mr. Mueller would clarify what he truly intended to imprint in the minds of the American peoples about his findings which list numerous felonious acts committed by the republican President Donald Trump. It looks like he's stepping up to the plate to explain once and for all time, the conclusions contained within his final report.
Here's the rest of the story…
On May 29, 2019, Jordan Fabian of The Hill Penned the following news item, "Mueller to make first public statement on Russia investigation"
Excerpts:
"Special counsel
Robert Mueller
on Wednesday (5/29/2019) will make a statement about his investigation into Russian interference in the 2016 election, the Justice Department announced."
"The on-camera appearance will be the first time Mueller speaks publicly about the probe since he was named special counsel two years ago. The Justice Department did not elaborate on what he plans to say but said he will not take questions."
House Democrats are seeking to have Mueller testify before the Judiciary Committee but lawmakers have thus far not reached an agreement with the special counsel regarding possible testimony.
The White House was alerted on Tuesday night that Mueller may make a statement on Wednesday according to a senior White House official. It's not clear if the Judiciary panel was alerted about Mueller's appearance ahead of time.
See: Lawfareblog.com/ Full Text of the Mueller Report's Executive Summaries…
Update post Mr. Mueller's 5/29/2019 statement…
Mr Mueller's press conference where he took no questions took less than 10 minutes. He made it clear that if he were required to give testimony at a Congressional hearing, he would not share anything more than what's contained in his 3/22/2019 final report. He has given his notice to resign from the US Department of Justice (DOJ) and he announced that he's closing down his office. He thanked all those who worked in his department for their professionalism and hard work.
He emphasized the point that the Russians did indeed launch a major cyber attack and propaganda campaign against the 2016 US elections/ voting infrastructure.
He did make clear that he would have stated in his report that President Trump had been cleared of any wrongdoing, but he couldn't do that.
He pointed out that he couldn't say that the president didn't commit a crime, because of  a longstanding Department of Justice's policy which bars him from taking that action against a sitting president. He reiterated the fact that charging the president was not an option he could consider, but that the US Congress is the government entity empowered by the US Constitution to hold the president criminally liable for his numerous attempts to interfere with the FBI' s 22 months long Trump- Russia probe.
Finally, he said that his final report should be the only testimony necessary for Congress to decide how to proceed. As per a 5/29/2019 Lawfare tweet: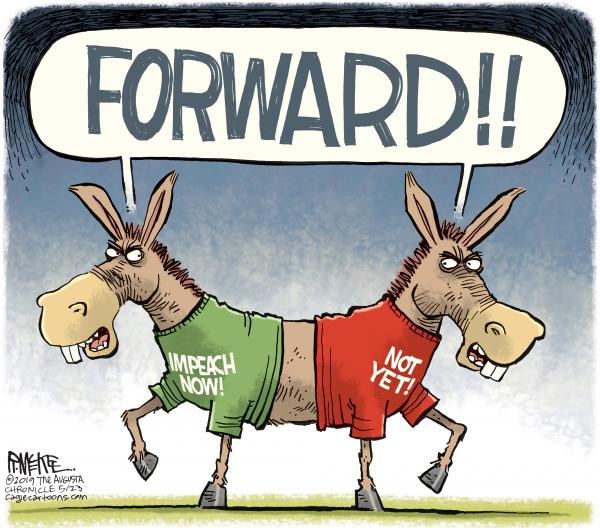 Here's what the House Judiciary Committee Chairman Rep. Nadler tweeted: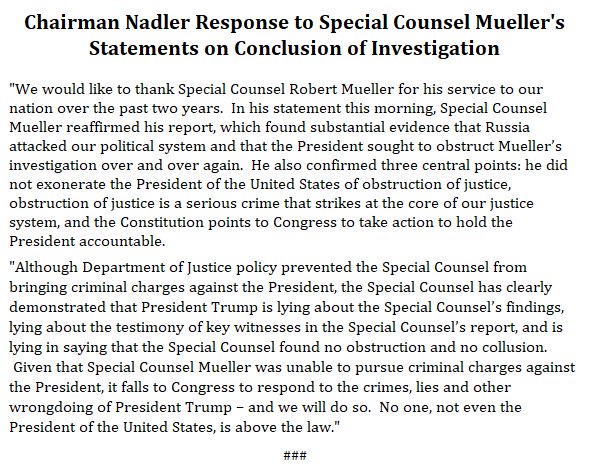 On a more positive note, the FOX TV News department and its senior legal adviser Judge Andrew Napolitano have both informed their audience that what Mr. Mueller stated, was a contradiction to how the Attorney General Barr portrayed the FBI's Mueller report, as being an exoneration of President Trump's misdeeds.
Ari Melber tweeted:
New document from Mueller's office contrasts Barr's assertion about how Mueller determines if there "was an obstruction of justice" — to Mueller's different explanation: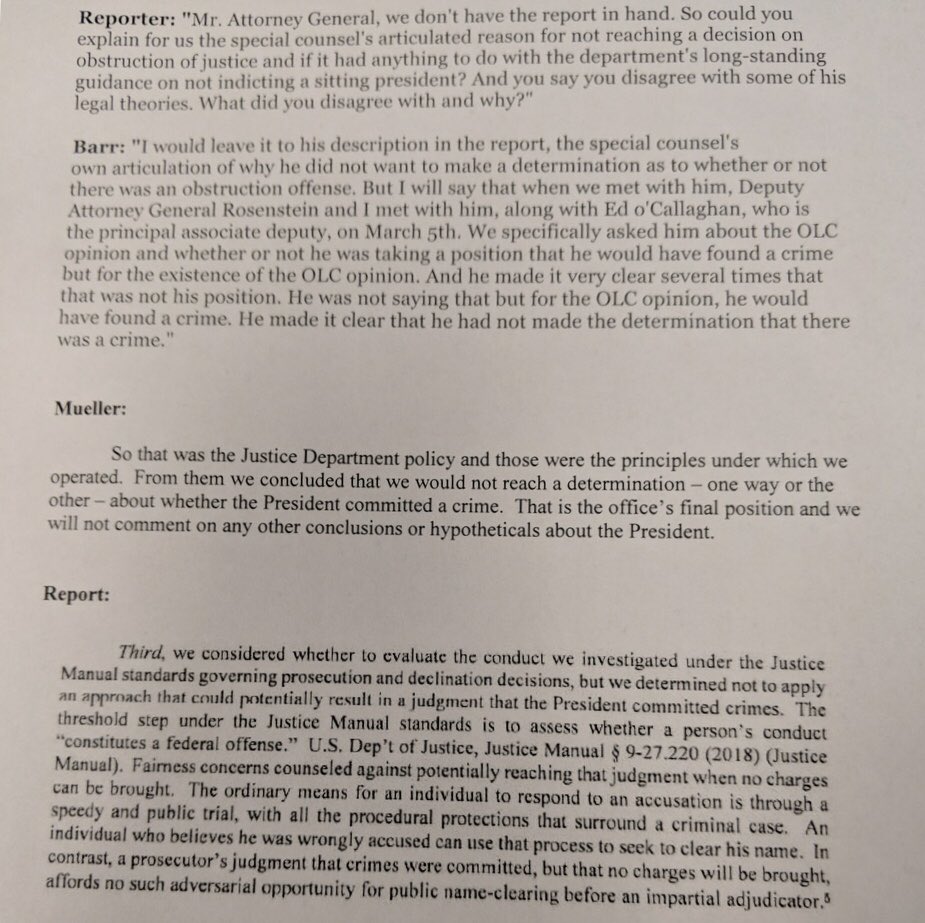 As of this afternoon, the Democratic Party leadership within the US House of Representatives led by the Speaker Nancy Pelosi is still resisting the formality of commencing an impeachment inquiry.